Plan a Silent Auction: The Updated (and Comprehensive) Guide
Silent auctions are extremely popular nonprofit fundraising events. During a traditional silent auction, items are displayed around the room, and supporters make donations by writing bids on sheets of paper placed next to each item.
These events have been a staple of the fundraising world for a long time now, but why? 
Silent auctions have an incentive built right in. With so many prizes available in exchange for charitable contributions, silent auctions provide organizations with an ideal opportunity for engaging donors and raising a lot of money.
Plus, new digital tools have made planning and hosting your own silent auction easier than ever.
For example, take mobile bidding. This new bidding method allows participants to bid straight from their phones. Not only will your organization receive more bids through mobile bidding, but it also provides a more seamless and engaging experience for your donors.
If your organization has considered hosting its own silent auction, you may have been intimidated by the complexity of the project. Not to worry! Hosting a silent auction is a lot of work, but the payoff is worth it for organizations willing to put in the effort and careful planning. Let's walk through the whole process step-by-step:
You and your team will be ready to start planning your next silent auction in no time! Let's get started:

1. Set a goal and budget for your silent auction.
Any project is easier to organize, delegate, and manage when you've got a concrete vision in mind. What would define success for your silent auction?
Having a goal to work towards is essential for getting started building a plan and strategy for your silent auction. Step one of planning your event is to set a clear and achievable fundraising goal.
Consider the size of your audience, their financial ability to support your cause, and your organization's budget to set an ambitious but achievable fundraising goal.
What's your average intake for a single fundraising event? How many attendees do those events typically receive? What is your average ratio of expenses and revenue per fundraising event? These are the sorts of points you need to consider as you determine a goal for your silent auction.
There are a number of additional considerations you'll need to make at this early stage in the auction planning process. Ask yourself these questions:
Is a silent auction the right type of event for us?
Silent auctions are just one of the many types of charity auctions that nonprofits can host. While any auction requires a good amount of time and money, silent auctions are less dramatic and structured.
Because they're more casual, silent auctions are more flexible and can be incorporated into any number of fundraising events. Plus, since they're less structured, you'll have more time to interact with supporters.
However, it can also be easy for this type of event to fade into the background if you don't take an active approach to engaging guests. Whether or not a silent auction is right for your organization will  depend on the feel of your event and what would best suit your supporters.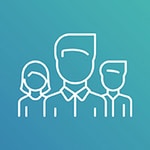 Do we have enough people to run our silent auction?
Silent auctions have a lot of moving parts, so you'll need plenty of hands on board to help. First, form a cross-functional team of staff and volunteers committed to planning and marketing the event.
Additionally, you'll need volunteers to ensure the event runs smoothly. Make sure you have enough hands to cover set-up, checkout, and clean up. Most importantly, ask volunteers to serve in more auction-specific roles, such as emcee and auction monitors. Because these roles are more specialized, try to find people who have experience with silent auctions.
Make sure you'll have enough staff and volunteers to help plan and execute your silent auction from the beginning, so you can pull off the most successful event possible.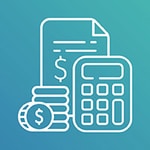 What is our budget?
Silent auctions entail many logistics, so the expenses for hosting one can quickly add up. You'd never want an event to put your organization in a bad financial position, so start with a clearly defined budget. Here are some expenses you might need to factor in:
Auction or event planning software
The venue
Staff hours
Food and drink
Supplies (tables, decorations, etc.)
Entertainment
Luckily, it's fairly easy to control how much you spend when planning an auction. You might want to splurge on some items, but you can get many of them donated to cut down on expenses.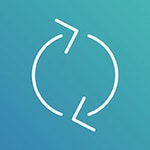 Will silent auctions be a recurring staple of our fundraising?
While your organization can raise a lot of money with just one silent auction, consider making them a recurring staple among your other fundraising events. The more practice hosting auctions, the more successful yours will be. This is true for a few reasons:
Silent auctions can be difficult to plan. It takes time to hone your strategies before your events will run as smoothly as possible.
Since you rely on in-kind donations to procure auction items, soliciting gets easier as you establish long term donor relationships.
When hosting it year after year, your silent auction will start gaining a reputation. You should only see a bigger and bigger turnout!
Host one silent auction, and your organization should see excellent results. Host multiple silent auctions, and your results should be even better!

2. Book a silent auction venue and choose a date.
Since the date of your event will likely be determined by when the venue is available, these two steps will go hand-in-hand.
For most fundraising events, weekends generally work best. Avoid holidays and summer months, if possible.
As far as the venue goes, think about your cause and supporter base to determine which setting would best cater to your organization. Silent auctions typically fall into one of several general fundraising contexts or categories, each of which is hosted in different types of spaces.
Consider where your silent auction might fit among these types of events, and use it as a springboard for exploring venues:
An Annual Gala or Other Major Party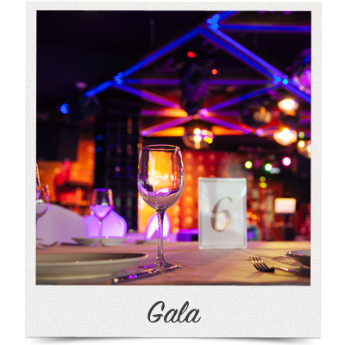 As a night of glitz and glamor, a gala can be an excellent silent auction setting. People will already be feeling lavish, which often translates into big bidding!
Additionally, silent auctions tend to be less engaging than live ones, so it's ideal to pair them with other fundraising events instead of making them the centerpiece. Since a gala is a night filled with all kinds of entertainment, a silent auction fits well into this type of event.
Click here for some fresh takes on the standard benefit gala.
A Major Donor Dinner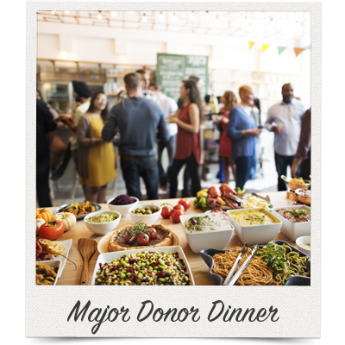 Your major donors play a huge role in helping your organization reach its fundraising goals. Why not do something special and show your appreciation for them by hosting an exclusive silent auction?
Since your major donors have the capacity to make big monetary gifts, they will be the ideal auction attendees. They'll be able to bid on even the biggest ticket items, so your silent auction should be a huge success!
See how dining options can promote fundraising!
A Golf Tournament Fundraiser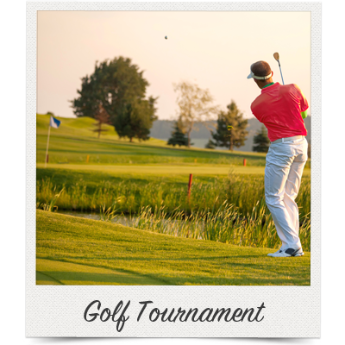 A golf tournament at the country club is another silent auction setting that's sure to make guests feel elegant and get them into the bidding spirit. Plus, the leisurely nature of a day on the golf course lends well to the addition of a silent auction.
Because the tournament will take place over a few hours, guests will have plenty of time to browse your items and other golf fundraising activities if they need a break from the heat.
Download our free eBook on golf revenue strategies!
Back-to-School Night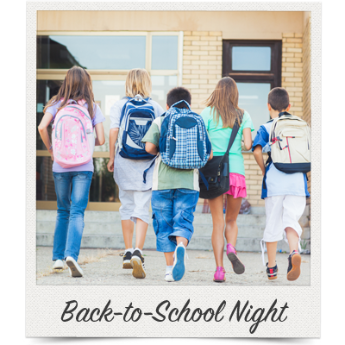 These events are extremely popular fundraising ideas for schools and PTAs of all sizes. Large, open communal spaces like cafeterias and gyms serve as great auction locations.
Since school auctions are family and community-oriented, see if you can get some students to create some low-cost items for you. With items so sentimental, your bidders (a.k.a. proud parents) won't be able to resist!
For more on school auctions, make sure to check out our step-by-step guide!
An Art Auction Event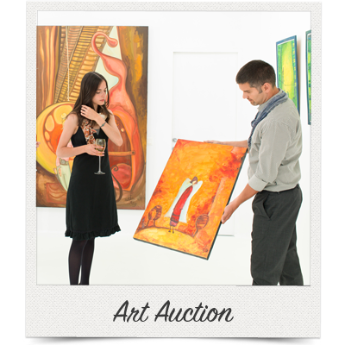 Galleries and art museums lend themselves perfectly to silent auctions. Your guests will more than likely want the chance to see each piece up close and in person.
Silent auctions are the best type of auction for showing off top items. Because each piece of art will be hung or displayed around the room, donors will have plenty of time to check out each item. None of your attendees will want to miss out.
Learn the art of selling artwork at your silent auction!
3. Build your silent auction team.
Planning and pulling off a successful silent auction requires many hands!
Get a dedicated team of staff and volunteers together to help you with the rest of your auction planning and execution. Having a large and devoted team on your side will ensure that all of your bases are covered, so you can pull off your silent auction without a hitch. Plus, all the extra sets of eyes will prevent any blind spots or glaring issues making it past the first planning phases.
There are a few essential team members to recruit:
Auction Chairs
The auction chair and co-chair will be the staff members in charge of the event. They'll organize and oversee the efforts of all other contributors to ensure that the auction runs smoothly.
Procurement Team
The procurement team will be dedicated to one thing and one thing only: soliciting auction items for the event. It can be made up of staff, volunteers, or both.
Logistics Team
The staff and volunteers on the logistics team handle all other aspects of event planning, including tickets, marketing, and procuring other auction materials.
A Team of Volunteers
You'll need plenty of volunteers to cover setup, registration, checkout, and other tasks. For more information, jump down to our Silent Auction Checklist section.
These are the most essential members of your team, but there are plenty of other tasks that will need addressing as your silent auction comes together. A dedicated team member to help manage vendors or set up your event website, for instance, might need to be recruited. Try to plan ahead as best you can by considering all of your needs before diving headfirst into organizing the auction.

4. Solicit auction items to offer your guests.
This might go without saying, but your team will need to procure a wide range of amazing items to auction off. Look for items that are unique, appealing to your supporter base, and somewhat varied in value.
How do you get these items? Send out your procurement team and have them start soliciting!
Have the procurement team start by leveraging personal connections, then move on to local businesses and retailers. Make sure to record the auction item solicitation process in your event planning software as they come in, so it's easy to keep track.
Popular silent auction items that reliably perform well fall into a few general categories. Here are a few examples to help you start brainstorming the perfect items to offer your donors:
Arts, Culture, and Entertainment

Passes to a TV taping
Signed memorabilia
Theater tickets
Music or art lessons
Museum membership
Food and Drink

City bar crawl
Upscale 5-course meal
Regional wine package
Pig roast or crawfish boil
Brewery tour and tasting
Gift Baskets

A Night at the Movies
Spa Day
Gardening Basket
Ultimate Coffee Basket
Rainy Day Basket
Goods and Antiques

Custom artwork
Designer handbags
Antique furniture
Jewelry
Home gym set
Services and Community

Year of massages
Professional makeover
City tour with the mayor
Chauffeur for a week
Billboard ad space
Sports and Fitness

Super Bowl part package
Signed equipment
Private yoga lessons
Shadow a coach
Pro golf pointers
Technology

Laptop
Cell phone
Digital camera
Coding lessons
Media subscription package
Travel and Outdoors

Exotic getaway
Private river cruise
Hang gliding
Luggage set
Camping equipment
Want even more ideas? We've compiled an exhaustive list of 115+ of the most reliable and creative auction item ideas to browse.

5. Market your event and auction items.
Unless you're hosting your auction for a specific group of donors, for the biggest turnout, you'll want to market to your entire supporter base.
While you might not have room to accommodate your entire base in the venue, if your event sells out, that only means you'll need a bigger venue next year!
Make sure to include the link to your event registration and ticketing page in all event correspondence, so those who want to attend can RSVP, "yes!" For the best results, take a multichannel marketing approach, with promotions across direct mail, email, social media, and other platforms.
Of course your attendees will come to your silent auction to show their support for your mission, but don't forget about the real stars of the evening: your auction items.
The best way to market your items is by creating a auction catalog. While you can certainly compile a physical catalog, it's much easier and more cost-effective to create one online using auction software. There are a few essential pieces of information that you need to include in your auction catalog, including details about the items and the event itself:
Organization and Event Details
Information about your silent auction, organization, and cause.
A tentative event schedule and instructions for using your mobile bidding software.
How your organization plans to use the proceeds.
An acknowledgement of all contributing parties (item donors, corporate sponsors, volunteers, etc.)
Sponsor advertising (if applicable).
Auction Item Details
The rules for bidding.
The name and number of each auction item.
A short but descriptive blurb about each item (including restrictions).
The starting bid and estimated market value of each item.
High quality photos of each item (where applicable).
We recommend creating an event website to register guests, share important details, and host your silent auction item catalog. Here's an example: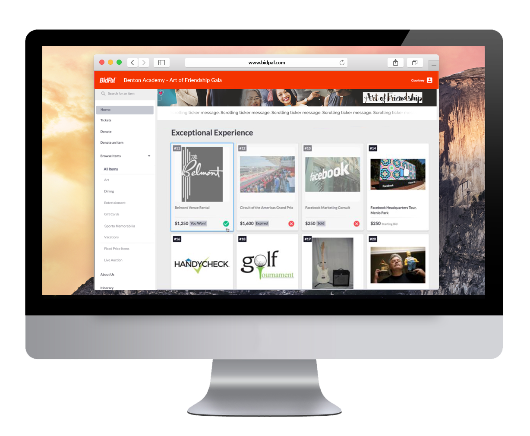 Using an auction site as your catalog not only lets you cut out printing costs but it also allows supporters to bid online before the event. Make sure your auction management software supports microsite creation.

6. Choose your silent auction bidding method.
Now that you've begun to nail down some specifics about your silent auction, it's time to consider exactly how your guests will be bidding. You have two main choices: mobile bidding tools and paper bid sheets.

Mobile bidding tools have quickly revolutionized the silent auction game. Not only do they provide a more intuitive and foolproof experience for your guests, they also help streamline the planning, management, and data collection processes for your team along the way.
Watch mobile bidding software from OneCause in action:
BidPal Mobile Bidding by OneCause
Check out 5 Bid Sheet Challenges and How to Avoid Them for a deeper look at the benefits mobile bidding can bring to your silent auction.

Some organizations still prefer to use traditional paper bid sheets for their auctions. This method leaves more room for human error, so it's important to format your bid sheets correctly. This reduces the chances that guests will be confused and use the sheets incorrectly, helping you raise more in the long run!
Here are the most essential pieces of information and fields to include on your paper bid sheets:
Your organization's name
The name of the item's donor
The name and lot number of the item as listed in your auction catalog
A brief but specific item description
Its estimated market value. This is important for tax-exemption reporting.
The starting bid amount, usually 30-50% of its market value.
The minimum raise amount, about 10-15% of its market value.
The win-it-now price, about 150-200% over market value.
Between 10 and 20 blank rows for bidding. This amount prevents the page the page from appearing too sparse.
Paper bid sheets are still an effective option for many organizations hosting silent auctions, but they require careful planning and forethought. Take your time when designing bid sheets and be sure to institute a plan for effectively timing their collection on the big night.

7. Set up the silent auction venue.
The day of the auction, you and your team should arrive at the event space early to set up. You'll have to arrange all items so that they're readily visible and so that browsers will have plenty of room to place their bids.
How you display your items plays a huge part in how they perform, so be strategic! The more appealing you can make your items look, the more bids you'll receive.
During this stage, you'll also want to print out table tents and bid sheets (if you're using them) and set up a registration and checkout space with multiple lines to get guests in and out efficiently. Let's review a checklist of essentials to remember as you set up your venue, then we'll cover other important logistics to keep in mind:
1. Find an event space and stock tables.
For your silent auction display, you'll need an open event space with lots of tables for displaying items. You should have enough tables to show off all of your auction items, but be mindful of your arrangement. You'll want to set up tables in a way that promotes traffic flow around the room so browsing is easy for bidders.
2. Procure auction items.
The items you pick can really make or break your silent auction. To find the items that will most appeal to your guests, you'll want to consider the interests of your supporters and the general income level of your attendees. Additionally, the most competitive items tend to be those things and experiences attendees can't find anywhere else.
3. Create a beautiful item display.
Just as important as your items is how you display them. Group your items into categories (e.g. sports, travel, gift baskets, etc.) and designate tables for each. Stick to one row of items per table. Place table tents in front of each item that include the package name, lot number, value, starting bid, and minimum raise.
4. Choose a bidding method.
Mobile bidding software makes bidding more convenient for guests and will streamline your checkout significantly. If you want to host a more traditional auction, you'll need to provide bid sheets for each of your items. Make sure to put each sheet on a clipboard and have plenty of pens handy for supporters to place bids.
For more guidance in silent auction item procurement and packaging, we recommend our guide on the topic.
1. Hire an emcee.
The emcee will be the volunteer in charge of hosting the event. Their job will consist of opening bidding, making announcements throughout the night, and closing bidding once the auction is over. Because they're running the show, this person should be energetic and engaging.
2. Staff auction monitors.
Auction monitors will help the emcee ensure that the event stays on track. They'll be placed around the venue to answer any questions guests have, double check that bidders are playing by the rules, and talk up items to increase bidding.
3. Recruit general volunteers.
You'll likely also need volunteers to help you with more general tasks like set-up, registration, checkout, item running, and clean-up, especially if you're hosting a large-scale event.
4. Compile a master list.
The master list is a record of all auction items that includes all the relevant information about each. If you've been staying on top of tracking your items in your event planning software platform, it should be fairly easy to generate.
5. Generate auction programs.
Auction programs are crucial for orienting guests at your silent auction. If you're using auction software, you can skip out on printing auction programs. All of the information included on your auction site will be translated over to the mobile bidding platform, so guests can browse items and learn more from their phones.

8. Keep silent auction best practices in mind.
Familiarize yourself and your whole team with these best practices as your silent auction comes together. We'll cover five of the most important to remember:
Best Practice #1: Thoroughly track all items from the beginning.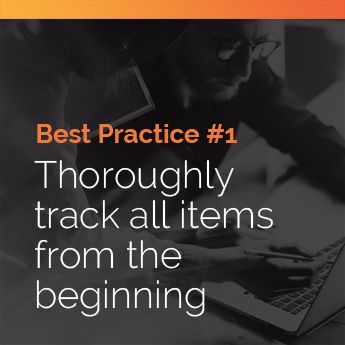 In order to stay on top of all of your important auction item information, you'll want to thoroughly track your items in your event planning software as soon as you receive them.
Once you've entered all items in the platform, generate a master list to serve as a comprehensive record of your items. This makes tracking your items much more manageable as you're marketing them, displaying them, and distributing them to winners.
Additionally, if you're hosting another auction next year, you'll be able to look back for insights into how your items performed so you can keep improving! Record these key points of information for each item:
Item name and description
Item lot number and retail value
Name and contact info of the item's donor
Starting bid amount and minimum raise amount
The winner's name, contact information, and winning bid
Best Practice #2: Close your bidding strategically.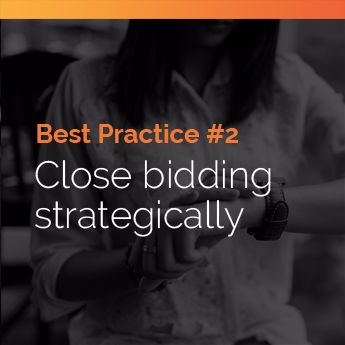 During your silent auction, it's important to be strategic about closing bidding on your items. If you're using paper bid sheets, stagger closing times and shut items down by category, with the least popular categories being the first to close.
With mobile bidding, you won't have to stagger item closing. Because you won't have to worry about collecting and sorting bid sheets, you can keep all auction items open as long as possible, thereby maximizing your revenue. You can even start to move items to checkout while the auction is still running.
Whether you use paper bid sheets or mobile bidding tools, closing bidding strategically is important for two reasons:
It maximizes your funds. Not all of your items are valued the same. While bidding on the less popular items is probably trailing off, you'll want to provide winners with the most time for bidding on the most popular items.
It prevents cheating. If you're using bid sheets, staggering will prevent cheating. When you close items down in smaller groups, it will be harder for people to sneak in last minute bids, because your auction monitors can watch each item more closely.
Best Practice #3: Offer other opportunities to donate.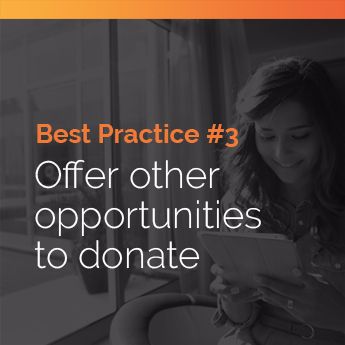 Not all of your attendees will walk away with items or even make a bid, but that doesn't mean that they don't still want to support your organization! That's why you should offer your guests other opportunities to donate beyond just bidding.
Providing other donation opportunities, like text-to-give tools, allows guests to contribute in the way they want.
There are all kinds of ways to increase intake at your auction. Check out some of our favorite additional silent auction fundraising strategies below:
Use your auction as a grand finale. Silent auctions with dinner and awaards ceremonies make excellent finale events for your peer-to-peer fundraising campaigns. Conduct a competitive campaign in the weeks before to fire up your community and generate more buzz.
Make a live appeal. You can challenge guests to help your organization reach a fundraising goal by the end of the night. Heighten the urgency by projecting a fundraising thermometer from your event software that updates in real-time.
Set up a donation booth. If you're using bid sheets, having a booth dedicated to processing donations will abate the issue of a long checkout line. This kind of convenience can encourage guests to follow through with donations, so your organization can raise more.
Sell fixed-price items. Set up a table to sell custom t-shirts, merchandise, raffle tickets, or sign up parties. That way, guests who don't receive an auction item can still purchase something to show their support for your organization.
Best Practice #4: Don't make your silent auction silent.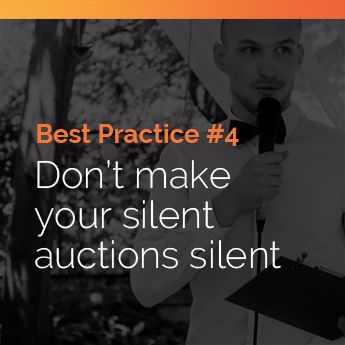 Because silent auctions aren't as structured as live auctions, the bidding can easily fade into the background as guests mingle. Make sure that the bidding is always the focus of the night! While they may be called silent auctions, they definitely shouldn't be silent.
Actively engage your guests with announcements, visuals, and other strategies. Drawing guests' attention back to bidding will keep it at the forefront of their minds and results in more bids. Here are a few ways to keep everyone engaged all night:
Have your emcee make announcements. Throughout the night, your emcee can give guests updates about different auction items and how much time is left to bid. The ticking clock will definitely put a little pressure on them to start bidding!
Send texts through your mobile bidding app. Through your mobile bidding app you can send guests text messages alerting them when an item they want has been outbid, reminding them when items are going to close, and more.
Use an auction scoreboard. Auction scoreboards give guests real-time updates about auction items. Feature popular items to heighten the competition or highlight those that haven't received bids to kick off the bid activity.
Best Practice #5: Assign each bidder a number.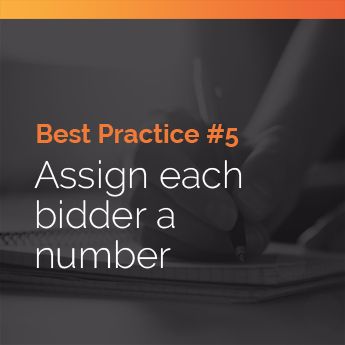 Make bidding as convenient as possible for your guests. One way to do this is by assigning each bidder a number. That way, in order to place their bids when using paper bid sheets, bidders only have to write down their number.
Many event software programs will automatically assign bidder numbers for you. If you're using paper, go down your guest list alphabetically and assign each bidder a three-digit number. Taking this simple step can have a few major benefits for your team and your guests:
It's more convenient. With numbers, bidders will only have to write 3 digits next to the amount they want to bid. When bidding is quick and easy, you're sure to see more activity on your items.
It creates an anonymous bidding system. Some people will hesitate to bid against people they know, or may not feel comfortable publicly writing out their contact info. Using numbers creates an anonymous bidding system that will make guests more comfortable.
It leaves less room for error. No more trying to decipher bidders' messy handwriting or taking the time to compare bidder names to your guest list to make sure they match up. Using bid numbers will leave a lot less room for error.

9. Troubleshooting your silent auction
Silent auctions are complicated events to plan and manage! Chances are you'll run into one or more of these common problems, so we've outlined easy solutions and insights to help your team move forward:
There's not enough space to display all my auction items.
Have you found that you're a little tight on space as you begin setting up your silent auction? Avoid the urge to cram your items together at all costs. An overloaded table will be distracting to your bidders and will obscure the visibility of your items, making them appear less valuable.
Before you give up and rearrange your display, try to get creative. Is there any way you can create more space? If not, you can try grouping some similar items together to create packages that can be displayed together. Oftentimes packages sell for a higher price point than if items were sold on their own.
You may also want to consider implementing mobile bidding. Mobile bidding allows more room for your items as it eliminates the need to place paper bid sheets and pens on each table. If all else fails and you do end up having to double up rows of items on each table, make sure to place the less valuable items in the back row.
None of my guests are bidding on my auction items.
When your auction items outnumber your bidders, you've created a buyer's market. When they're overwhelmed with choices, your guests can become indecisive and refrain from bidding. You'll want to transform that buyer's market into a seller's market to create more competition for each item.
Group similar items together to create packages. For example, seven restaurant gift certificates could become "Dining Out For a Week." Another option is to place commoditized items in an online auction and sell them for full price. For instance, most of your donors will need to have their oil changed in the near future, so why not offer an oil change gift certificate that benefits your organization?
Aim for a ratio of one item to every two guests. This is the ideal ratio for creating the most competition while also providing guests with plenty of options.
Guests are waiting until just before an item closes to bid on it.
Instead of mingling and enjoying the event, your guests are camping by the items they want to protect their bids. Furthermore, since people aren't using most of the time allotted to them to bid, your organization runs the risk that you won't receive the highest bid possible.
Consider trying mobile bidding software, which will allow guests to place bids from anywhere. The software even sends guests text messages when they're outbid. If your organization would prefer to use bid sheets, you can solve this problem by filling out the bid amount fields on your bid sheets before the auction starts. Start with the minimum bid amount in the first row, then incrementally raise that number for each row by adding on the minimum raise amount.
With this system, bidders no longer have to do the math or wait to place their highest bids, speeding up the bidding process significantly. To place a bid, they'll only have to write their bidder number next to their maximum amount. Leave the camping for the outdoors!
Some of my silent auction items are being ignored by guests.
You should not, under any circumstances, mark items down or extend bidding time the night of the event. Why? Lowering the starting bid amount will only teach your attendees that it's okay to wait until the last minute to bid, because that's when they'll receive the bargains. Additionally, you're devaluing the items so generously given to you by your donors, which can lead to hard feelings.
Extending bidding time, on the other hand, is unfair to those who have been playing by the rules and bidding at your auction from the beginning. The best way to solve this problem is by being proactive. If you expect that some items aren't going to be as popular, set them at a lower starting bid amount (about 20-25% of the market value).
If you still have items left over after your auction, consider holding an online fire sale where you can re-auction the items to a wider audience and, if necessary, lower the starting bids.
Guests are ignoring the rules and bidding after an item has already closed.
During the bidding, competition can get fierce. Some of your attendees might want to win an item so badly that they resort to bending the rules and sneak in bids after the emcee has closed an item down. If you're using mobile bidding software, you won't have to worry about this one! The software will automatically shut bidding down at the set time.
If you're using bid sheets, including the bid amounts on the sheets should mostly prevent this problem, because people will initially be able to bid at the highest amount they're willing to pay. However, it's better to be safe than sorry. As your emcee is closing down each item, have your auction monitors close at hand.
The minute the item closes, monitors should pick up the pens, circle the final bid amount, and collect the bid sheet from the table. This will make it clear who really put in the final bid and give sneaky bidders little chance to place another bid after the fact.
If you've experienced any of these problems in your past silent auctions or want to avoid them your first time around, study up on how silent auction software helps you streamline the processes and bypass problems like these!

10. Host your silent auction.
The big night has finally arrived! In a nutshell, your silent auction will probably look a little something like this:
Arrival. Guests arrive and check in at registration. Most of them have already fully registered online.
Bidding. Most silent auctions last a couple of hours, so guests will have time to peruse your items and place bids.
Program. Next, have someone from the organization share a little bit more about your nonprofit and its mission.
Closing items. About ten minutes before the end of the auction, announce that bidding is about to close, or send guests a text reminder!
Checkout. The winners have been determined! Direct them to checkout, so they can pay for and receive their items.
Be sure to implement smart processes to keep your silent auction organized and running smoothly! Consider these tips for both check-in and check-out:
During Check-in
1. Enlist the help of auction software.
Using effective charity auction software will make the whole check-in process go much more smoothly. Since all attendee data is tracked in the platform, registering guests and taking tickets should be a breeze.
2. Have volunteers in place.
Your volunteers should be ready and waiting at check-in to greet and register guests, take tickets, and pass on any important information. Make sure your check-in is equipped with all the right tools, so volunteers can get guests in efficiently.
3. Pre-register guests' credit cards.
If guests haven't registered their credit cards on the auction site before the event, you'll want to do it now. Pre-registering credit cards will streamline the checkout process and ensures that guests will follow through on their bids.
4. Get guests set up with mobile bidding.
If guests haven't registered with mobile bidding, have volunteers explain the interface and get guests set up. If you're not using mobile bidding software, you'll need to manually assign bidder numbers for each guest.
During Check-out
1. Check out with mobile bidding.
If guests are using mobile bidding and they've already submitted their credit cards, their payments will automatically be processed when they win an item. They can even instantly send a receipt to their email address. No waiting in line required!
2. Set up a physical checkout booth.
Before the auction, set up a physical check-out booth for guests who wish to pay by cash or check or for those who feel more comfortable making a physical transaction. Make sure you have plenty of volunteers and the right payment processing tools.
3. Designate a separate pick-up area.
To get guests out quickly, create a separate area for item retrieval. If guests have paid through mobile bidding, their payments will be recorded in your auction software, so matching paid items with their winners is simple.
4. Record winner data.
Once the winners have been determined, you'll want to record the winners' names and winning bid amount for each item. If you're using auction software, this information will automatically be tracked, so you'll have one less thing to worry about!
For more guidance on the checkout process, check out our more detailed list of silent auction checkout tips.

11. Track your team's results.
We hate to break it to you, but you're not done with your silent auction just yet. You'll want your next silent auction to be even better, so set yourself up for future success by tracking your results.
Evaluate which items were most popular and which didn't perform as well as expected, so you can choose the best items for next year. If you've been using an event planning software to help you with your auction, tracking your items should be easy.
Since you've been recording all of your items in one platform, you can generate a variety of highly accurate and up-to-date reports, such as full item analyses, proceeds by category, and more. Evaluate your own performance, too. What aspects of event planning or execution could be improved? You might already have a few ideas.
How silent auction software can help
The right tools make all the difference. Partnering with a leading auction software provider gives your team access to a range of additional events features, including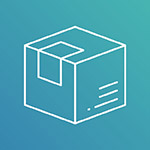 Item and Package Management. Auction software provides your organization with one convenient place to track and package all of your items. Because it was made specifically for auctions, you'll have all the fields you need to keep track of all the relevant item data.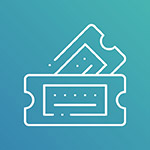 Online Ticketing. Never worry about sending tickets through the mail again! Create an online event site, so guests can buy tickets quickly and conveniently. Highly flexible ticketing options and sponsorships make it easy for guests to customize ticketing packages to their liking.
RSVP Management. Your online ticket page will link right up to your software, so attendee information will automatically be recorded in the platform. You can also create seating charts and assign tables if your auction has a seated portion. Keeping track of your guest list has never been so simple!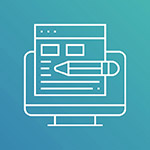 Online Event Sites. Create an online hub for your auction by generating an event site. From your site, guests can pre-register, learn about mobile bidding, buy tickets, view your auction items to start getting hyped about the event, bid online, and more! This is an excellent marketing strategy to promote your event.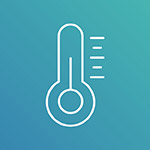 Scoreboards and Thermometers. Auction scoreboards and thermometers keep guests engaged by giving them real-time updates, so they can monitor the bidding or see how their contributions are adding up during your live appeal.
---
Now that you're an expert in planning your own silent auction, it's time to get started! Before you and your team dive headfirst into choosing venues or procuring items, though, you might want to continue your research with a few additional resources: