Selecting an online event fundraising software provider is tough work. During your search, every feature seems like a "must-have" for online event registration, which is why you'll need to determine what your organization needs and wants before you start comparing products.
There are, however, multiple features you simply can't pass on. Luckily software capabilities that are crucial to your event's success are fairly common among most providers, but OneCause offers them all.
Planning your online event registration doesn't have to be chaotic. Check out our top 6 features for a smooth registration process:
If you're ready to read up on those necessary fundraising event software features for stellar successful online event registration, let's dive in!

ONLINE EVENT REGISTRATION FEATURE #1: DIVERSE TICKET PACKAGES
When it comes to ticketing, you'll need to be able to offer your donors different levels to accommodate for varying budgets and levels of interest, so be sure to select a software provider that can handle multiple ticket packages.
You might think about offering a VIP special that's exclusive to major gift donors. A package like this might include the best seats in the house and extra offers like custom merchandise for a 5K run, VIP reception for a gala, or early access to mobile bidding for an auction event.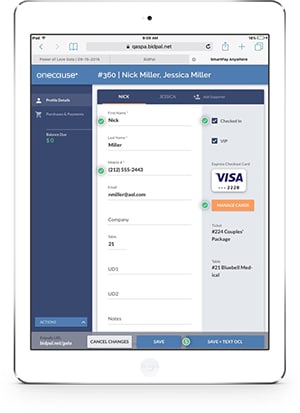 Another common package idea is an early bird special for donors who purchase their event tickets earlier than others. The rates for packages like these can be discounted to build incentive to commit earlier rather than later and may be popular among donors who want to support your organization but can't necessarily donate large gifts.
Of course, you'll always want to offer a standard package, too, that simply offers admission to your event. This might be the perfect option for new donors who have yet to build a significant attachment to yourorganization. Remember that inviting them to an affordable event is the perfect place for stewardship!
You can even offer the option to sponsor a ticket, which simply means a donor would purchase another attendee's ticket so that attendee can go for free!

The bottom line: Online event registration runs smoothly when you cater to as many donors as possible. Offering different ticket packages allows donors to participate in your event at a level they're comfortable with.

ONLINE EVENT REGISTRATION FEATURE #2: SPONSORSHIP CULTIVATION
Just like you customized your packages for different donors, you can develop different ticket packages for sponsors. Packages for sponsors are typically the most exclusive and expansive as you'll want to express your gratitude for their support—both financial and general.
You'll need to make sure your software can properly organize sponsorships.
Make sure your software offers features for cultivating these important relationships because you'll have a lot to organize like where your sponsor's logo will be featured throughout your event, if they'll have a booth, or if you can provide online visibility for sponsor logos on a microsite!
We suggest offering sponsors different levels of involvement. The most common packages are often categorized as Gold, Silver, and Bronze. Gold typically is the most expensive but also comes with the most brand promotion, where as Bronze is the least expensive with the fewest opportunities for brand exposure and Silver falls somewhere in between the two.
These relationships demand cultivation so partner with a provider who offers clear steps toward cultivating sponsors, like easy search tools for your sponsors, displayed in the image above.
The bottom line: Sponsorships need cultivation, too! Find a provider that helps to make steps toward sponsorship cultivation during online event registration easier for your organization, like providing them with the perfect tickets for them, unlimited contact with your nonprofit, and more.
ONLINE EVENT REGISTRATION FEATURE #3: MICROSITES
Each event needs proper promotion to spread the word and make your fundraising successful. If no one knows about your event, no one will come to support your cause! A microsite helps differentiate your campaign from other fundraising initiatives by allowing you to promote, advertise, and sell tickets online prior to the event.
Make sure you select an event fundraising software that allows you to create new websites for new fundraising events. For example, OneCause is one of the only providers that allows your organizations to create additional microsites at any point in time!
The help of the right provider allows your organization to create a website to promote your event and further your cause with compelling copy and powerful images and videos. Your event's website should include your motivation for your fundraiser and accurately portray your passion for your cause. It can look something like this: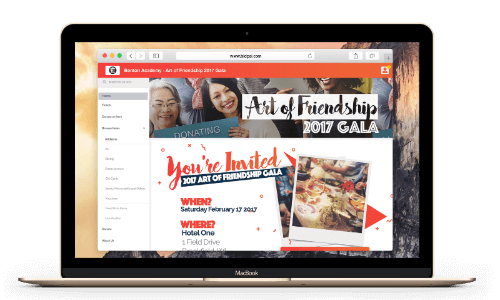 You can direct donors to your upcoming event's website for extra information on your project and cause. Of course, they'll be able to purchase tickets on your event's site, too. You can also tweet out your website's link and send out email blasts with your link to create more traffic.
Plus, you'll be able to use the data from this website for further campaigns, improving every fundraising event website from the last! These fundraising insights will help you cater your next event to donors' interests, therefore creating more potential for revenue.
The bottom line: Microsites are incredibly important for your event's promotion as well as registration. Work with a provider who offers microsites to make online event registration run smoothly. Keep in mind, that if the first step to hosting a fundraising event goes well, the others may follow suit.

ONLINE EVENT REGISTRATION FEATURE #4: IPAD CHECK-IN
An iPad check-in service is the ultimate feature to make event registration run smoothly. While your guests will have registered online in a flash, they'll now be able to check-in to your event in a flash, too!
With iPad check-ins, your organization can construct a hassle-free set-up. No wires, no restrictions! This completely mobile and portable method makes registration easy and check-in speedy for your guests.
With iPad check-ins, your donors can confirm their contact and payment information in just a few minutes while checking into the event.Plus, they'll be able to make additional donations and receive their table number and seating arrangements for your fundraising event.
You'll want to invest in an event fundraising software solution that offers iPad check-ins because this way, donors can happily speed through registration. To purchase their tickets online, they'll just need to provide their name and confirm their credit card. Then they're ready to bid!
The bottom line: Easy event registration continues through event check-in ,and an easy check-in process with iPads leaves your donors satisfied and gives them the option to avoid being stuck in long lines.

ONLINE EVENT REGISTRATION FEATURE #5: PROMOTIONAL CODES
Similar to the discount for your early bird ticket package, you can offer general coupon codes to offer discounts or other incentives on different packages.
Working with a provider that can manage promotional codes within your event allows you to give your donors more options when it comes to registration!
Your organization can segment your donors and offer different groups of supporters different promotional codes. A loyal donor might receive a promo code for $10 off a regular admission ticket while a new donor might receive 5% off a regular admission package.
Your organization could even send out a last minute promo code to encourage donors who haven't registered to do so!
Your donors can enter their promotional codes on a screen like the one pictured above.
The bottom line: Promo codes allow your organization to involve donors in new ways and make them feel valued by giving them exclusive discounts! Sharing promo codes shows you care about their involvement with your organization and their wallets, too.

ONLINE EVENT REGISTRATION FEATURE #6: SEATING ARRANGEMENTS
For fundraising events like galas and dinner parties, you'll need a solution that can handle all your seating needs. You'll need be able to arrange seating charts while keeping in mind your donors' seating requests. And that's just the beginning!
You'll need a solution that can handle all the small, but important details about seating arrangements. When it's time for donors to check-in to your event, your software should make the process speedy and give donors all the necessary information, like table number and seating.
With OneCause, you can quickly determine the guest count for each table, letting you know where your organization can and can't place donors. You can even group tables by sponsor and determine your VIP seating to reserve the best seats in the house.
When guests register for your fundraiser via your event's website, your organization can allow donors to make seating requests and provide their party's names, so you can place them at the most appealing table.
The bottom line: Online event registration doesn't stop online—it's a crucial element in event planning. Make sure your organization's software can handle all your event's seating demands so your check-in and event can proceed without any bumps in the road.
---
Now that you have our 6 top features, you'll know exactly what to look for when searching for a solution to help you run the smoothest online event registration.
If you're interested in learning more about improving your fundraising strategy, check out this additional resource: