How to Create a Nonprofit Marketing Plan: Top 10 Steps
To create the strongest marketing results for your organization, you need to consider how to best use the team members, tools, and resources at your disposal to optimize your outreach. Follow these steps to construct the perfect marketing plan for attracting more attention and supporters to your mission.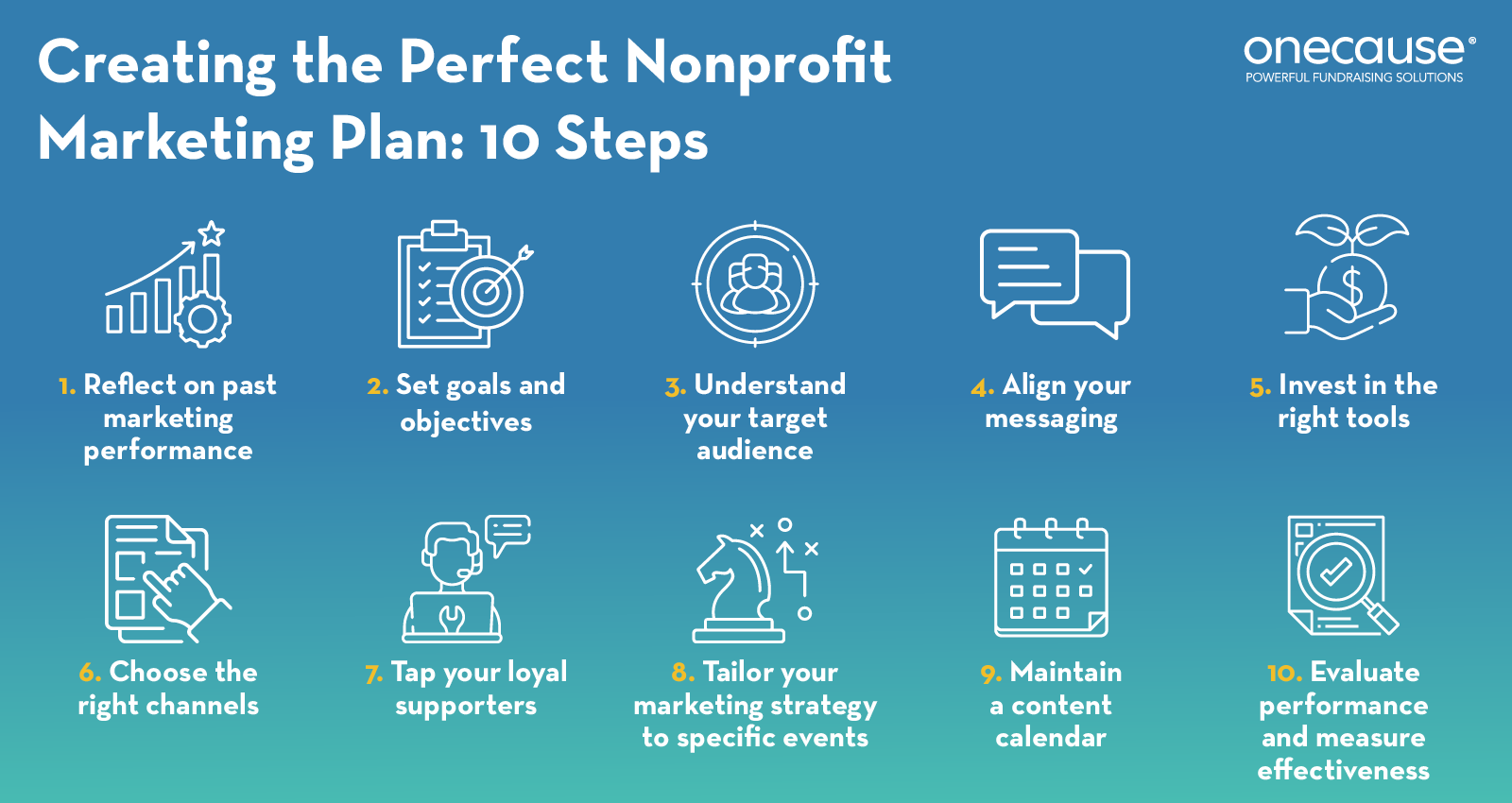 1. Reflect on past marketing performance.
Your nonprofit may already have a marketing strategy in place, but is it producing results? Conduct a SWOT analysis to identify what's working and what's not. A SWOT analysis allows your organization to outline its strengths, weaknesses, opportunities, and threats.
Let's break down what a marketing SWOT analysis looks like: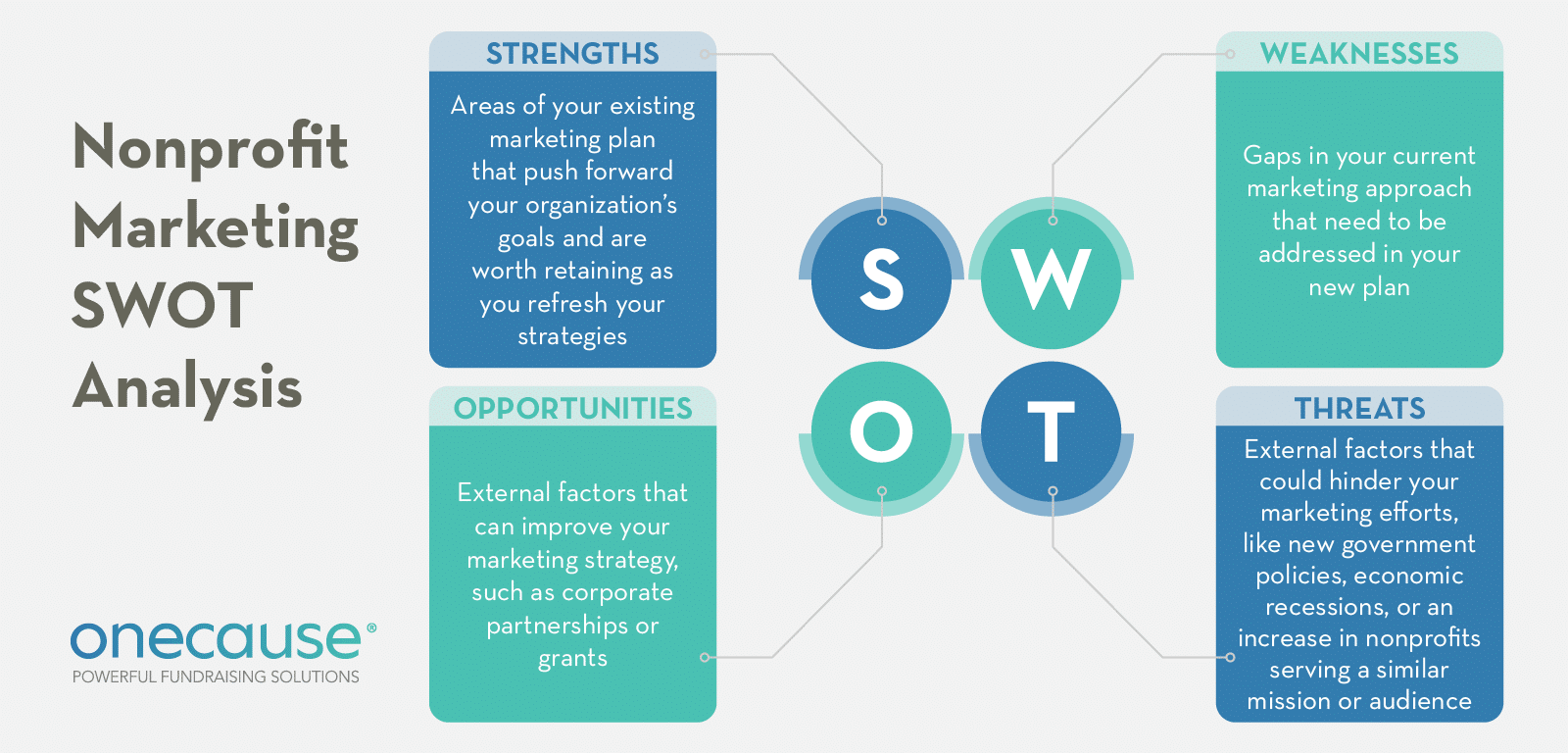 Strengths. Your nonprofit might be hitting your key performance indicators, sparking lively conversations on social media, or generating engaging blog content. Outline the areas of your existing marketing plan that push forward your organization's goals and are worth retaining. Even your best strategies might still have room for improvement, so be open to ideating how you can hone your strengths for even better results.
Weaknesses. Your weaknesses are gaps in your current marketing approach that need to be addressed in your new plan. For example, your nonprofit might struggle with driving engagement on your website or maybe you lack the staff and volunteer support needed to produce content on social media. By identifying the obstacles that are holding your nonprofit back, you can reallocate resources, increase your impact, and operate more effectively.
Opportunities. From your weaknesses, you can pinpoint external opportunities to improve your marketing strategy and bolster your approach. For instance, if your nonprofit is struggling with marketing its events, you might begin forming corporate partnerships to expand your reach. Or, if you've identified gaps in your fundraising budget for marketing, you might apply for grants.
Threats. Threats are external factors that could hinder your marketing efforts, like new government policies, economic recessions, or an increase in nonprofits serving a similar mission or audience (and therefore vying to attract your target supporters). While these aren't in your control, you can proactively set up your nonprofit marketing plan to be flexible and adaptable.
Gather insights and opinions from a variety of stakeholders to determine how your marketing plan can improve. Your stakeholders might include:
Marketing committee members
Board members
Staff
Volunteers
Major and long-time donors
Don't just reach out to stakeholders that think highly of your organization. Critiques are invaluable, as these will point your organization in the direction of optimizing its approach. It's important to be open to both positive and negative reviews to help your nonprofit's marketing strategy become more effective.
2. Set goals and objectives.
Now that you've conducted a marketing audit and know your areas of improvement, it's time to set concrete goals for your marketing strategy. Set reasonable yet ambitious goals, allowing your organization to grow over time.
However, it's not enough to simply set broad goals like "We want to expand our social media presence" or "We'll work on developing better event landing pages." The more detail you provide in the goal-setting process, the better off your organization will be in enacting change.
This is where the SMART model can help. SMART goals are specific, measurable, attainable, relevant, and time-bound, giving your organization a complete roadmap to how you'll meet these goals and assess results.
Let's say your nonprofit wants to improve its email marketing strategy. From your SWOT analysis, you found that your clickthrough rates are low and you're sending out emails too erratically to inspire conversions. Here's how you could turn your goal to strengthen your email marketing approach into a SMART goal:
Specific: Our nonprofit will send out an email newsletter every week that covers upcoming projects and events, highlights progress from our latest fundraising campaign, and calls for donations and volunteer support.
Measurable: Our goal is to increase our email click-through rate by 15%.
Attainable: When we started including CTAs in our emails, our click-through rate improved by 5%. A 15% boost in our click-through rate therefore seems reasonable and within our grasp, especially since we'll be sending emails on a regular basis and providing more valuable content in our newsletters.
Relevant: Increasing our email click-through rate will lead more supporters to our event landing pages, donation page, and other relevant resources. This will increase the likelihood of them participating in our campaigns or events, leading to higher engagement rates and stronger supporter relationships (plus more revenue to power our mission)!
Time-bound: We will begin launching our new email newsletter strategy in one week and aim to achieve a 15% increase in average click-through rate in 6 months. We'll plan to host a meeting to check in on our progress once every month and restrategize as needed.
Following the SMART framework ensures you're generating goals that are relevant to your marketing strategy and will expand your reach. You can also use them to foster accountability across your team, so be sure to identify the relevant point people for each goal and make sure they're aware of the timeline and success measurements.
3. Understand your target audience.
One of the best ways to nail down the details of your target audience is by developing a supporter persona. A supporter persona is a fictitious profile that outlines characteristics that are typical of your real-life supporters.
To craft a supporter persona, consider the following details:
Age
Income
Geographic location
Interests
Causes they support
Preferred communication methods
Giving preferences
To develop your supporter persona, base these details off of a few real-life supporters. Ideally, you should create separate personas for your donors, volunteers, and other contributors. This way, you can adjust your messaging based on who you're attempting to reach.
For example, if your organization is hosting a food drive, you'll need to reach donors to help fund the cost of canned foods and give them to your organization as well as volunteers to help organize the cans and hand them out to individuals in need.
Once you know the different groups you're targeting, you can send separate communications using segmentation features. You can even segment your email contacts list into different subgroups and tailor messages to the specific subsets of your audience.
4. Align your messaging.
Your messaging across different channels, from social media and email to your blog content, should be consistent. If the way you describe or visually portray your nonprofit changes from platform to platform, this can easily confuse supporters and lead to a decrease in trust. When shaping your messaging, it's important to consider both your verbal and visual branding.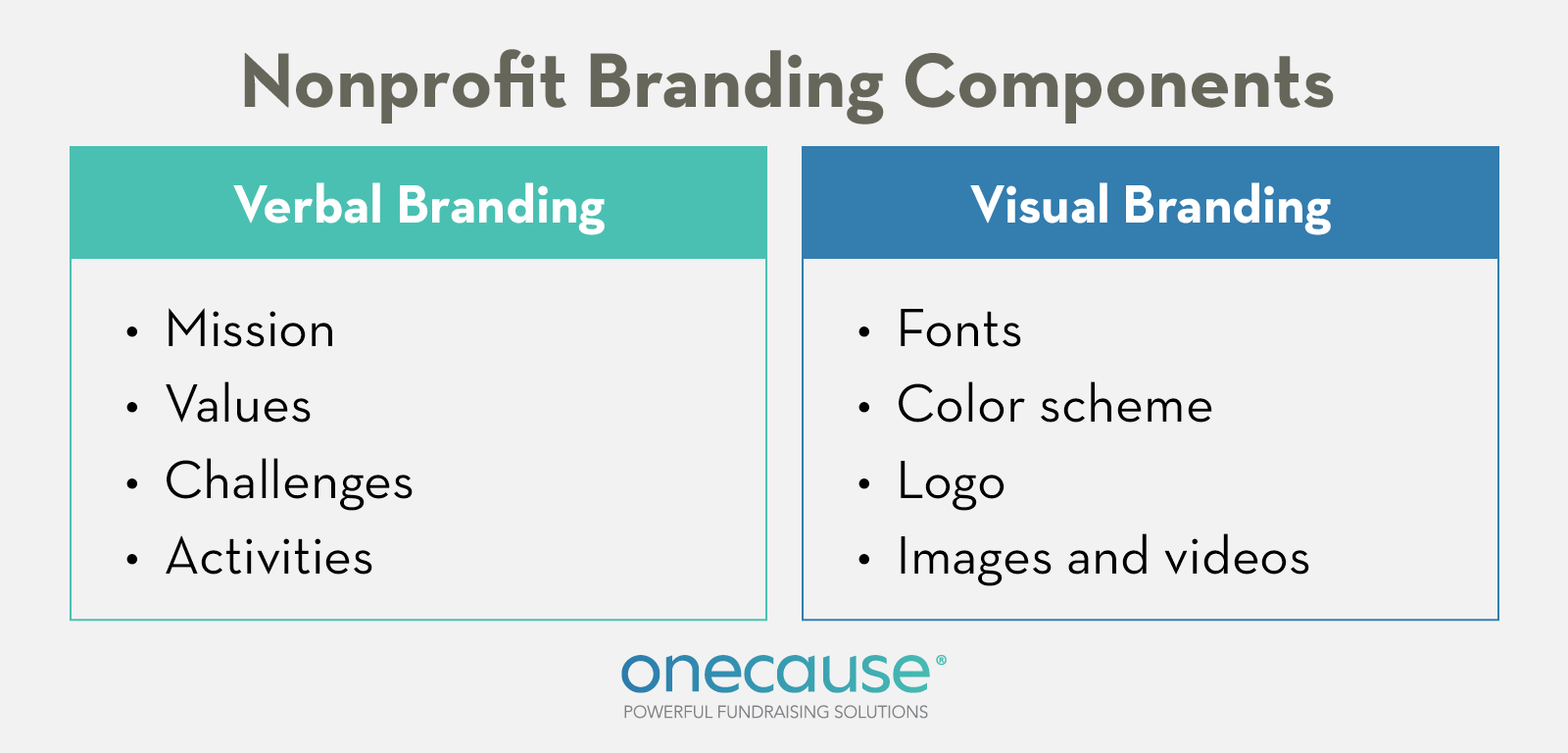 Verbal branding
Verbal branding is critical to building a strong relationship with your target audience. With your team, answer the following questions to inform your marketing communications:
Mission. What is your core mission statement? What community does your organization serve? What ideal world are you striving to create? When discussing your organization's purpose, the language and tone should be unified so supporters have a solid understanding of who your organization is and what you stand for.
Values. What guiding principles define your organization and inform your operations? Values shape your organization's culture, helping to rally your team around your cause and attract like-minded supporters. For example, your nonprofit might value compassion, empathy, and innovation.
Challenges. What problems is your organization trying to solve? How will your projects and programs address these issues and create change? Prospective and new supporters might not have background knowledge of the issue that inspired your nonprofit's founding, so avoid using technical language and clearly articulate the problem at hand.
Activities. How is your organization working towards making your mission a reality? What programs, events, and activities will you lead to benefit your community and steward relationships with supporters?  Answers to these questions will help donors and volunteers see the value in supporting your organization.
It's equally important to consider not only what you say, but how you say it. Your organization might want to adopt a casual, friendly tone to relate to a younger audience. Or, a serious, professional tone might be more appropriate to set your organization across as a trusted thought leader. Think through which type of tone is more likely to resonate with your target audience and makes the most sense based on your mission.
Visual branding
Visual branding complements your verbal branding to make your messaging more lively and exciting to engage with. By creating a strong visual identity, supporters will immediately recognize that your content belongs to your organization.
Infuse the following elements into your marketing materials:
Fonts. Choose a legible header and body font so supporters can easily read your content. For example, many organizations use sans-serif fonts like Arial or Helvetica for their straightforward design.
Color scheme. A color palette can communicate different emotions about your brand and evoke feelings in your supporters. Choose 2-3 colors that complement each other well and speak to your organization's value. For instance, a forest conservation organization might use earthy colors like brown, green, and blue in its color scheme to reinforce its commitment to serving the environment.
Logo. Your logo should be a simple, creative design that is emblematic of your organization. Add your fonts and color scheme and select a visual symbol that communicates your mission or values to supporters. For example, an animal welfare organization dedicated to saving homeless pets might create an illustration of a dog and cat in a house.
Images and videos. Visuals like photos, graphic designs, and videos can make your content more interesting to interact with and break up long chunks of text. You don't constantly have to generate new visuals to share with your audience. Instead, repurpose content such as photos from your last fundraising gala or the organizational video featured on your nonprofit's homepage.
By adding your visual and verbal branding elements into your marketing communications, you'll strengthen your nonprofit's online presence, increase your visibility, and connect with new and existing supporters.
5. Invest in the right tools.
The right technology can streamline your marketing efforts, saving your organization time and making it easier than ever to market your campaigns, events, and other activities. Invest in the following tools to reduce your team's administrative burden and hone your marketing strategy:
Fundraising platform with built-in event marketing tools
Your fundraising and marketing strategy should work in tandem to promote your success. Leverage an all-in-one fundraising platform that has everything you need to market events and hit your fundraising goals out of the park. These features should include:
Microsite builder. To create extra buzz for your upcoming event, develop a microsite that acts as a one-stop shop to everything supporters need to know. Add your custom touches to boost brand visibility and call out exciting perks like catering, live entertainment, or prizes for the top donors. Plus, make the registration process simple by embedding a form right into your event fundraising page with the help of your fundraising platform.
Email communications. Use donor data insights to power off segmented email invitations to your event, increasing the likelihood that supporters will open your messages and register. Plus, you can use your fundraising platform to automate post-event donor receipts and thank supporters for their attendance. Remember, post-event marketing is critical to steward strong relationships and encourage repeat giving, so continue to engage with your attendees via email!
Texting and live-chat. In-event messaging can help you keep energy levels high and motivate donors to push your fundraising goals forward. Use your fundraising platform's in-event messaging tools to advertise when fundraising activities begin and end, highlight real-time event updates (like outbid notifications), promote in-event donation matches, and craft custom calls-to-action that inspire more giving.
Real-time analytics. With your fundraising platform, you should be able to track giving, donor engagement, and event results in the moment. If your donor engagement metrics are low or you're not hitting your fundraising milestones, you can use these insights to adjust your strategies and drive more revenue for your cause.
The right fundraising platform will fuel your organization's fundraising and communication strategies for any event, whether you're hosting an auction, gala, or peer-to-peer fundraiser. Do your research to find the perfect solution to meet your nonprofit's unique needs.
Social media management software
Social media is one of the best resources at nonprofits' disposal to expand their reach. However, organizing your content and engagement tactics on multiple platforms can quickly eat up your time and overwhelm your staff and volunteers. To support your social media content strategy, work with social media management software.
Social media management software can help your nonprofit:
Schedule content to be posted in advance
Track engagement metrics
Analyze performance across multiple platforms
Before, during, and after your campaigns and events, post engaging social content with the help of a software solution that will unify your social strategy and engage donors.
Constituent relationship management software
Constituent relationship management software (CRM) organizes all of your donor data in one place so you can develop comprehensive donor profiles, track donor behaviors, and personalize your interactions to prompt donors to give more frequently (and in larger amounts).
Throughout your different marketing campaigns, leverage your CRM to segment your supporters and tailor your communications to different subgroups. Highly relevant donation appeals and messages are more likely to lead to conversions, allowing you to meet your goals. You can also use your CRM to collect data insights and use these to reframe your marketing and fundraising approach in the future.
Content management system
A content management system (CMS) can help your nonprofit improve its main website and turn it into a powerful marketing tool—allowing you to attract new supporters to your cause and engage existing supporters. Work with a comprehensive CMS to:
Add your branding throughout your website
Access website templates
Develop streamlined forms
Incorporate accessibility elements
Mobile-optimize your site
There are many free CMS solutions available, but not all are user-friendly to nonprofits that are new to web design. Look for a website builder that meets your level of expertise and will support you throughout the web design process.