During Your Event
Let's dive into how the OneCause Fundraising Platform enables engagement through event day experiences.
Express Check-in
Let's face it – no one enjoys waiting in line. With Express Check-in, guests can skip the line and immediately start enjoying themselves at your event. It's as easy as 1, 2, 3!
Guests receive a text before your event to enter missing information (e.g., phone numbers, credit cards, email).
They can even answer a pre-event questionnaire (e.g., vaccination status, special requests).
Attendees receive a QR code ticket, allowing them to quickly move through check-in and get into your event faster.
Express Check-in saves guests time, reduces bottlenecks at registration, and gives your attendees a seamless experience as they enter your event!
The OneCause Fundraising Platform provides you the flexibility to still offer a traditional check-in should you still want or need to. Enhanced features in the platform that make traditional registration easier include:
Ticket transfer: A guest's plans changed? The check-in tool allows your staff and volunteers to easily transfer the guest's ticket to a new attendee in seconds.
Walk-up ticket sales: Sell tickets at check-in to guests who arrived without one.
Non-ticketed bidder: Enable supporters to bid on your auction by adding them as a bidder in your event without having to sell a ticket.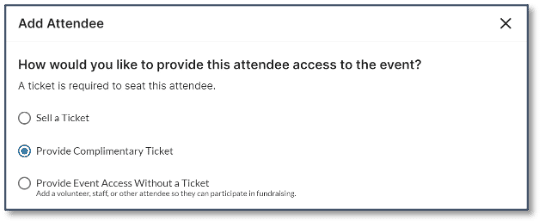 The check-in process was designed to be intuitive and quick so that your guests can more quickly enjoy your event, engage your staff, and spend more time giving with less time waiting in line.
Chat
Need a way to drive deeper engagement with attendees, both in-person and remote? Leverage the chat function within the OneCause Fundraising Platform.
This tool allows for real-time communication during your event, including:
Event announcements.
Concierge assistance to attendees.
Org to guest communications.
Guest to guest communication to foster fun!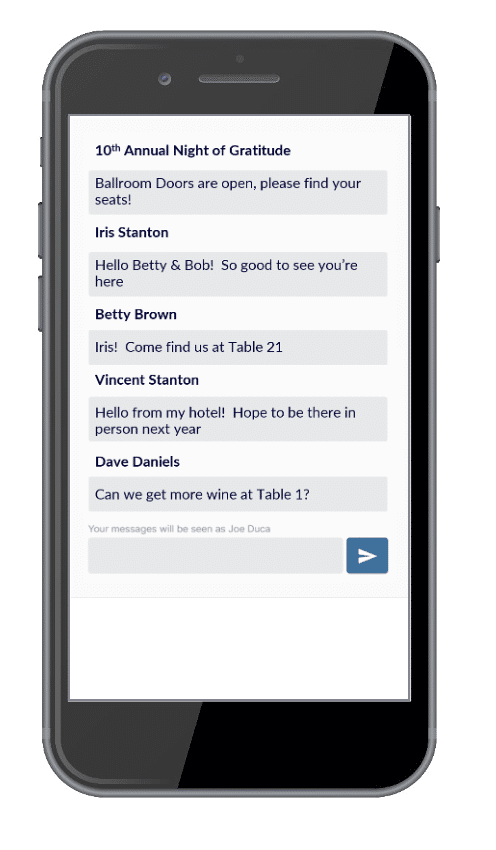 These make Chat the perfect way to keep your attendees interacting with your event, your cause, and each other. And it helps keep them engaged throughout your event.
Raffle and Fixed Price Items
Raffles are an easy way to get guests involved and donating without requiring a large donation. The platform makes it simple and seamless to configure multiple raffles so that guests can simply purchase raffle tickets anytime, anywhere.
The platform was also built for raffle law compliance and ensures your raffle follows the necessary local and state regulations.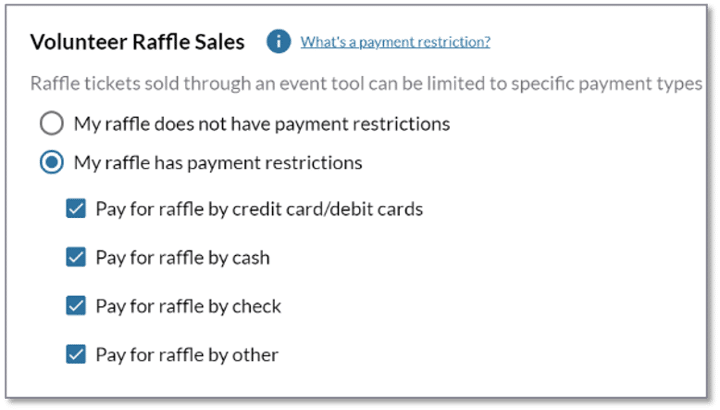 From games to a wine pull, the platform also allows you to sell multiple fixed-price items that guests can quickly purchase on their phones.
And, if your raffles and fixed-price items are meant for only your in-person guests, your event site can show items only to guests who are attending onsite.
Live appeal
During your fundraiser, your big event appeal can be a make-or-break moment. You'll want to set it up to attract and engage as many donors as possible.
The OneCause Fundraising Platform helps inspire people to give with these built-in tools:
Use a thermometer to report real-time fundraising results and progress towards your goal.
Add seed donations to your thermometer to increase and show giving momentum.
Include impact levels to be attributed to your goal.
Provide optionality to recognize donors' names or remain anonymous on screen and in real-time.
Live Auction
Another main portion of the live appeal is your live auction. The live auction is a moment your nonprofit is waiting for to bring in big donations. Leveraging the OneCause Platform for your live auction allows you to engage and excite your attendees further with:
Auction lot descriptions that can be previewed on your event site.
Dynamic slides that provide item details and images.
Winner spotlights after each lot is sold.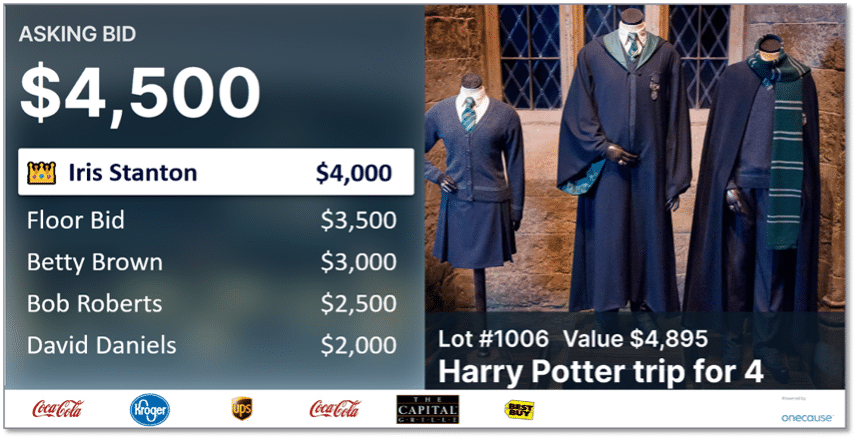 With bidding ready to begin, this slide converts into a bidding tracker, which displays the current bidder and asking bid. The OneCause Fundraising Platform allows for your live auction to engage both in-person and remote attendees via:
Mobile bids: Bids made by guests directly from their mobile devices.
Paddle raise: Bids made in the room by guests who raise their paddle.
Floor bids: Bids made directly in the system during the live auction with attendee name or paddle number.
Proxy bids: Bids made on behalf of a donor who is attending virtually.
Through the platform, your nonprofit can engage all types of donors during your big donation moments and increase mission moment proceeds dramatically.