Pro Online Fundraising Tactics
Now that we've covered the essentials to online fundraising as well as some new, innovative ideas, let's dive into pro-tips to be sure your next campaign goes off without a hitch!
Keep the Giving Process Simple
In order to have a successful online fundraising campaign, you need an easy-to-use online tool. Your fundraising page should be customized and personalized with campaign-specific images, messaging, and goals.
Be sure to make the giving experience simple by following these key steps:
Limit the items required for submission. The more steps you require and the more information you ask for, the more likely a potential donor is going to lose patience and not follow through with their donation. (Think of any information you need for upcoming donation opportunities – such as name, email, phone number, or address.)
Make the giving experience mobile friendly. These days, it's all about meeting donors where they are – their smartphones! Whatever form your online fundraising campaign takes on, be sure it is mobile friendly. This will allow your donors to support you anytime, anywhere.
Have a clear call-to-action. While it's nice to engage donors with volunteer opportunities, your mission statement, and links to learn more – your donation form is not the place to do it. Keep it simple with a 'Donate Now' call-to-action.
Incorporate Social Media Integrations. Facebook, LinkedIn, Twitter, and Instagram are powerful tools. Be sure to incorporate social media integrations so that you and your donors can spread the word about your online fundraising campaign far and wide.
Take advantage of engagement Tools. We're talking fundraising pages, team fundraising, fundraising challenges, matches, and competitive fundraising elements.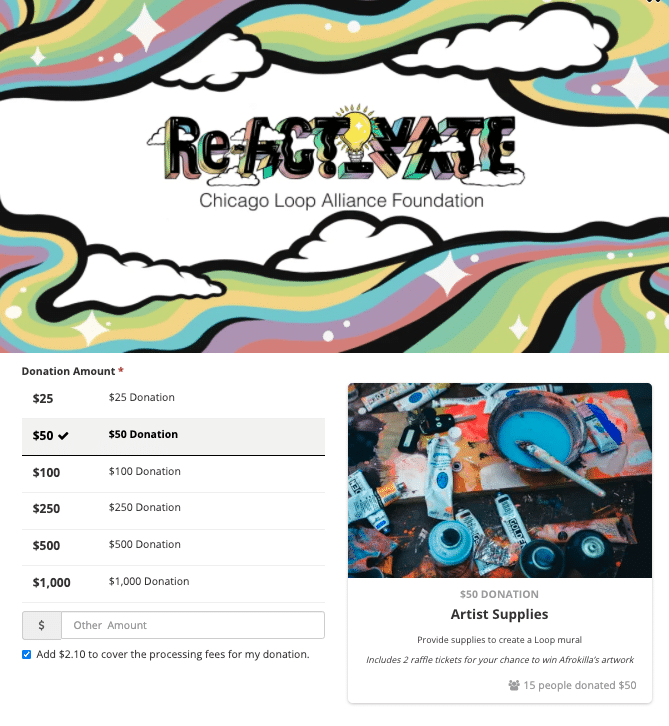 ONLINE FUNDRAISING TIP: A positive donor experience begins with the right technology. OneCause online giving features a simple, two step donation process.
Promote Additional Ways to Stay Engaged
In order to cultivate better relationships with your supporters online, your organization has to be consistent in its outreach, communications, and engagement. One of the easiest ways to do so in your next online fundraising campaign is to promote additional ways to stay engaged.
Keep in mind though that every supporter is different. With a wide variety of different reasons that they give to your cause, so no single engagement opportunity will satisfy your whole community.
That is why your organization should offer a variety of differing opportunities in order to maintain relationships with as many of your supporters as you can. Some ideas include:
Recurring donations
Upcoming events
Volunteering
Auction item donation
Tours of your facilities
ONLINE FUNDRAISING TIP: Offering many different options to your many different supporters is a great way to ensure that more of your community remains involved with your organization, while also demonstrating that you care about your supporters as individuals.
Suggest Different Giving Levels on Your Form
Giving levels offer your supporters donation choices in the form of pre-set amounts. Rather than leaving the donation amount up to your supporter, think about providing giving levels that can serve as real-time impact statements for your organization.
By offering various giving levels, you shine a light on your nonprofit's greatest needs and then ask your donors to support that. How might this look?
$15 can provide a meal for a family of four
$25 can allow 5 children to receive Christmas presents
$50 can provide medical supplies for a family in need
$100 can send two kids to camp
$150 can provide a seat of textbooks for a student
ONLINE FUNDRAISING TIP: The more details you can provide, the better! Making the need real can make the request actionable. People want to know how their donation will make a difference and adding giving levels to your form can show clear impact.
Focus on Storytelling Strategies
Stories are powerful tools. They help us make sense of the noise that surrounds us by putting it into a form that makes sense and moves us. For nonprofits, there's no better tool to connect with volunteers, clients, and donors.
Why is storytelling so important in online fundraising?
Nonprofits have to cut through the noise and stand out online.
Everyone's attention is becoming increasingly fragmented.
We need a way to connect people and humanize our missions in a virtual world.
Humans weave everything we do, see, and believe into a story. Stories are how we learn. They're how we make sense of chaos. If your organization identifies and tells good stories, you'll more quickly hit your goals (and you'll set yourself apart from your competition, who probably aren't telling enough good stories.)
Our favorite way to practice storytelling is through video. Get out your smartphone camera (we aren't looking to make a Hollywood movie here!) and capture the story of your mission. Your donors will be able to connect with your mission in a whole new way and you'll be able to take your online fundraising campaign to the next level.
ONLINE FUNDRAISING TIP: Storyboard your video so you have an arc, tight message, and compelling content outline to get started.
Use Data to Target Your Campaigns
Data is the key to unlocking your online fundraising potential. It allows you to engage better with donors and grow at scale (while still being personalized). Take your online fundraising to the next level by using data to segment your donors and target your campaigns.
Segmentation allows for fundraisers to know who their audience is and cater to their needs, and it comes in handy for email marketing.
How you decide to segment your donors depends on the needs of your organization. Let's take a look a few ways that that you can segment your donors to help make sure you are connecting with donors where they are.
How your donors were acquired
Size of gift
First time v returning donor
One-time gift vs recurring donations
Age/demographics
Donor interest
ONLINE FUNDRAISING TIP: Figure out what will help you scale your online fundraising while also keeping a personal touch to your efforts and roll with it.
Integrate Your Software
In order to accurately record and analyze all of your engagement data, you'll need to integrate your online fundraising software. We know your time is valuable and pushing your mission forward can become extremely difficult (and time consuming) when your information lives in multiple platforms.
Not to mention, it's difficult to get a wholistic view of your donors when their history with your organization isn't all in one place. Make it easy on yourself! Be sure you choose a software that integrates with any other technology you have in place. You'll thank yourself in the end.
Check out these benefits:
Less work importing and exporting data
Cut down your risk of human error
Personalize your donor communication
Build a stronger relationship with your donors
Improve customer service
Take a Multi-channel Marketing Approach
Multi-channel marketing refers to using a variety of mediums to spread the word about your event in advance. Many event planners know that reaching a wide audience, from Baby Boomers to Gen Z, can be a difficult task. The best way to do so is to diversify your communications.
Use methods such as:
Email newsletters
Social media networks
Text messages
Video marketing
Direct mail
Print handouts
Bulletin boards
ONLINE FUNDRAISING TIP: A tactful multi-channel strategy is key to attaining maximum engagement with your event. But don't try to do it all at once! Choose 2-3 tactics that work best for your team and your mission and roll with it.