Solution
When a community cares, OneCause Cares. 

About a year prior to Kayla's passing the Leadership Team at OneCause approved a new employee benefit called 'Kickstart Your Cause.' This employee-driven program allows OneCause full time employees to donate software to a nonprofit of their choice.  It's part of the company's commitment to invest in their employees and their communities, and impact positive change.  

The CMO at OneCause was instrumental with getting behind and implementing the Kickstart Your Cause program. That same executive was also Kayla's neighbor, and personally moved to make a difference.  
In March 2021 the community rallied behind Kayla's Hope Week while the Marketing Officer submitted a sponsorship application on behalf of Kayla's Hope. The OneCause Mobile Bidding solution was swiftly put into play to support the event.  
After normal working hours and over the weekends, the group of friends and neighbors got creative with their fundraising plans. The software helped bring everything to life.  
The 7-day birthday week event highlighted a 'hashtag of the day" to spread awareness about mental health issues. Supporters were challenged to post pictures to their social channels supporting the "Matters" theme: 
#KindessMatters 
#ArtMatters 
#YouMatter 
#CommunityMatters 
#FriendsMatter
#LoveMatters 
It was a precious tribute to their beloved Kayla.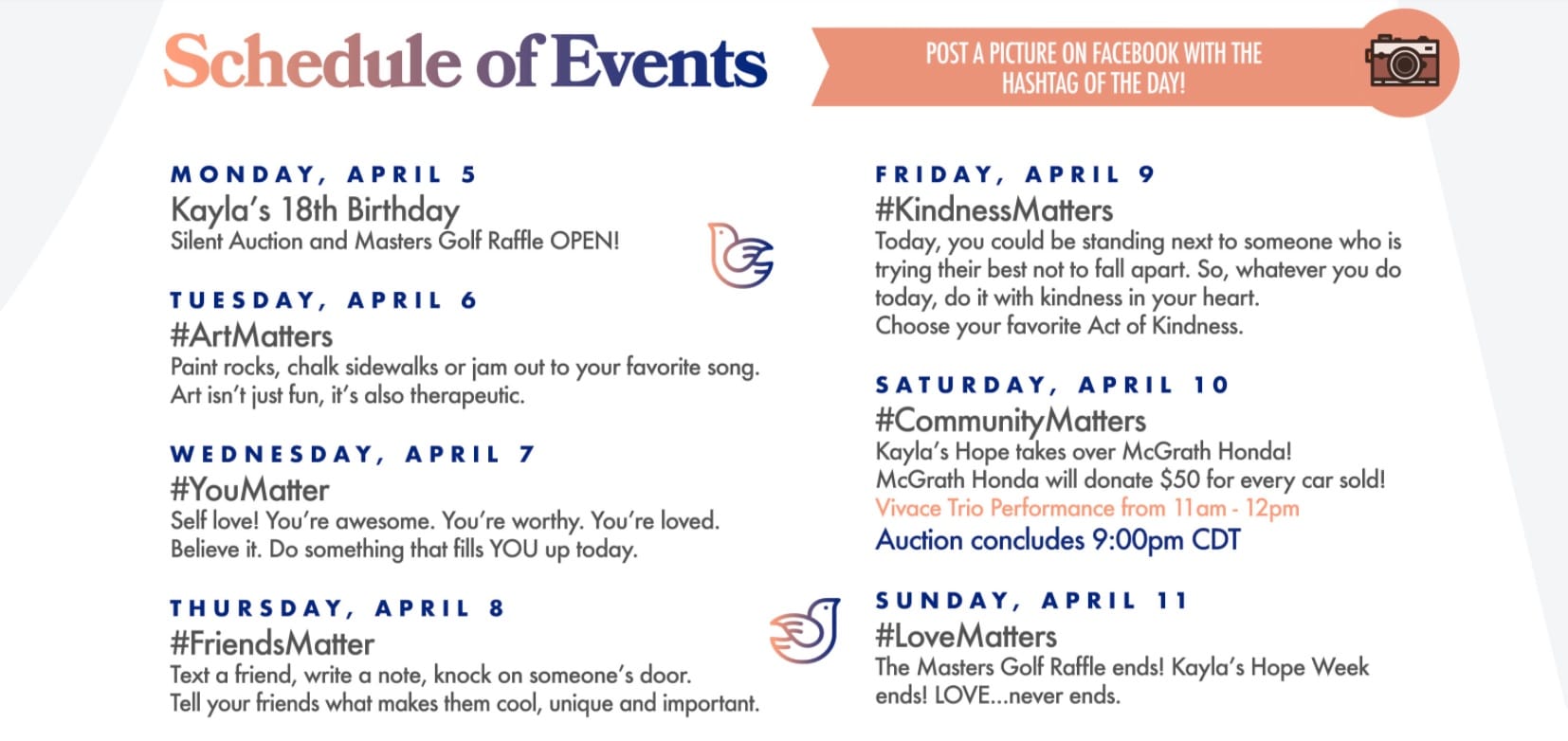 Timing was perfect for a friendly competition over the Masters Tournament, one of the four major championships in professional golf which took place over Kayla's birthday week. Hans Lehmann, Kayla's Dad, hosted a sold-out drawing opportunity where participants were randomly paired with a golf buddy for the chance to win a prize.  
They also held a silent auction, which was so popular it had zero items with no bids. They featured Kayla's Hope merchandise. T-shirts, golf shirts, and stunning bracelets were available, and sales did not disappoint.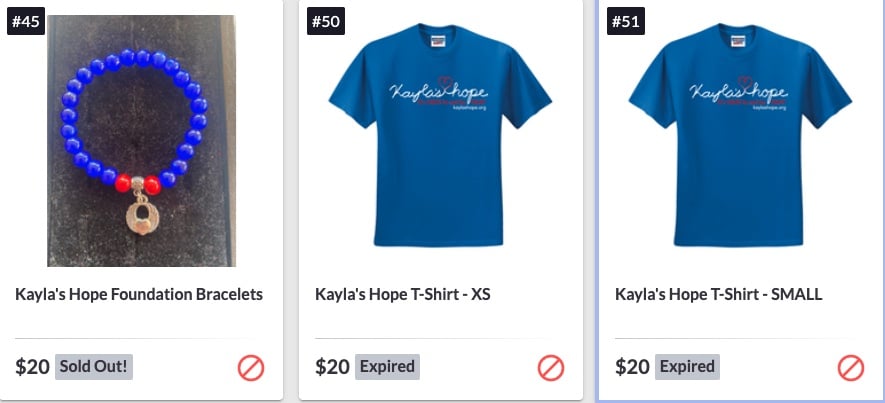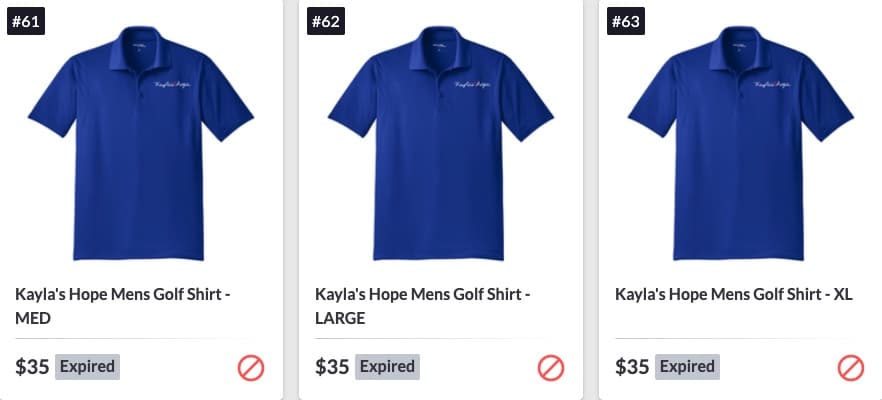 There were multiple giving opportunities available to supporters throughout the week. Aside from a direct donation, Kayla's Hope Foundation partnered with a local car dealer  McGrath Honda who offered a $50 donation for every car sold! 
The neighborhood group behind the event was thoughtful, intentional, and authentic in everything they planned. Their messaging was endearing and most welcoming: 
Text a friend, write a note, knock on someone's door. Tell your friends what makes them cool, unique, and important.  
Love….never ends. 
Choose your favorite Act of Kindness. Today, you could be standing next someone who is trying their best not to fall apart. So, whatever you do today, do it with kindness in your heart. 
Self-Love! You're awesome. You're worthy. You're loved. Believe it. Do something that fills you up today.  
Paint rocks, chalk sidewalks, or jam to your favorite song. Art isn't just fun, it's also therapeutic.  
 So, when there is a will, there really is a way. And with love, community, and OneCause fundraising software Kayla's Hope was able to turn loss into impact.  
Lehmann summed up her experience, "I loved it! Oh my gosh! It was great. I'm shocked people were so involved.  The OneCause software was so user friendly. I was impressed with how it works and the comprehensive reporting. You could easily tweak it for real time updates. The software is perfect."