Pro Tips for Live Streaming Success
Take full advantage of your nonprofit's live stream program with these 10 tips.
1. Set your budget & goals.
As with any new campaign or event, it's helpful to set clear goals and guidelines in advance:
Determine your budget. Work with your team to determine a workable budget for your new virtual project.
Set your goals. Determining specific revenue goals goes a long way to set your fundraiser up for success.
Work backwards to determine specifics.

What's the timeframe of your virtual campaign or event?
Will you need new technology to collect donations or stream video?
What is the live stream platform your donor demographic will connect with?
Will your virtual event occur alongside an in-person event?
Carefully work through the specific guidelines your live stream event must stick to in order to support your goals. Outlining these in advance is essential for keeping the planning process focused and driving the success of your live stream.
2. Choose the live stream platform that will complement your fundraising software.
Your fundraising software AND live stream platform should amplify the other. Make sure you choose a live stream platform (listed above) that will strengthen giving on your fundraising software.
Your virtual fundraising software should allow for:
Flexible branding & creative campaigns
Versatile fundraising options
Social integration
Gamification & motivation
Promote engagement with a multi-media experience
3. Create a virtual fundraising team.
Don't try to handle everything on your own! Form a virtual fundraising team to handle tasks like:
Technology set-up (live stream)
Promotions and social media
Sponsorships
Fundraising monitoring
Live stream talent
Splitting up tasks will simplify the entire process from planning to follow-up.
We recommend recruiting your team early and clearly defining each individual's role.
4. Promote your event to excite your audience for event day.
Heavily promote your virtual campaign or event in the weeks leading up to the big launch!
Use marketing outlets and opportunities like:
Video content (Show your supporters you are prepared for a live stream program with clean and authentic video promotion.)
Email invitations
Ambassador updates
Text messages
Announcements from partners and sponsors
Because anyone can join a virtual fundraiser, broadcasting your message to as wide of an audience as possible will be essential.
5. Plan your [short] program.
A virtual run-of-show looks very similar to an in-person event. Just because a camera is involved now doesn't mean you don't know what you're doing!
One difference is… keep it short. You, as a producer, want to ensure that the program is of a reasonable length, it should not be the same timing as an in-person event. Most virtual and online events are running 45 minutes to 1 hour max.
This is probably the most important point because, unlike an in-person event, viewers can simply log off or change the channel if they don't want to view your program anymore.
Don't know where to start? Here is an example run-of-show for a 30-minute virtual gala.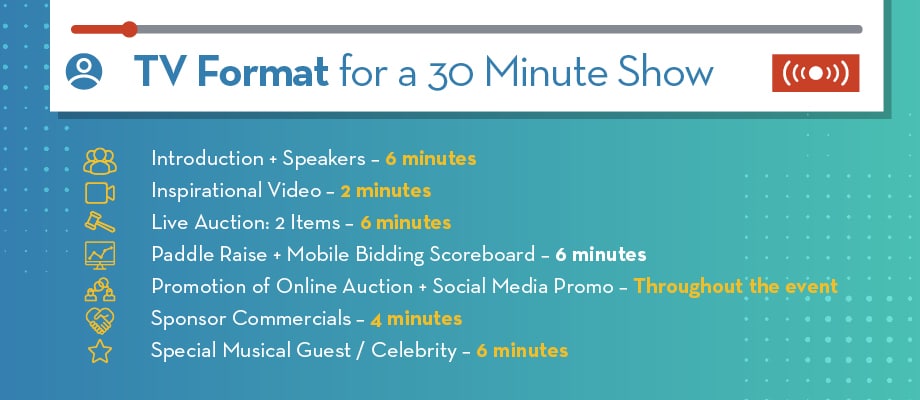 6. Tell your nonprofit story on your live stream program.
Why is storytelling so important in virtual live stream run-of-show?
Nonprofits have to cut through the noise and stand out online.
Everyone's attention is becoming increasingly fragmented.
We need a way to connect people to our causes since they can't connect in-person.
We need to inspire giving in a virtual world.
Think about:
The story: Find real-life stories that function as proof points to your nonprofit's mission.
The hero: What is everyone's favorite part of any story? The hero. While your nonprofit is doing incredible work for your mission, it's all made possible by the generosity of your donors. Make them the hero of your story – every time.
The conflict: A story has conflict. So, you first need to lay out your value proposition, introduce the pain point, and then how you fix it.
You now have a story to tell!
7. Include engagement tactics in your live stream.
Even though your audience is not right in front of you it is still important to engage with them and interact. Use these great tools for engaging in a virtual world:
Q & A / Poll / Chat – Most live stream platforms allow you to encourage communication throughout the live stream. Take advantage of these capabilities and connect with your audience!
Social Media – Be sure to get a social media plan in place for your event.

Think about different ways you can encourage guests to participate
Use creative hashtags
Encourage watch parties
Live behind the scenes on social channels
Text Messages – Through your fundraising platform you should be able to collect cell phone numbers of your guests through registration.

Send push notifications throughout the show
Remind viewers to bid on auction items
Create urgency to donate to your fund-a-need
Provide updates on times, fundraising progress and closing times
The ideas are endless for how you can grab attention, increase engagement and ensure fundraising success!
8. Do a tech dry-run.
The live stream event is days away now. Do NOT let the day come without doing at least one test run-of-show so you are familiar with the technology and can troubleshoot any issues before event day.
Let's avoid every event planner and fundraiser's nightmare and bring together your virtual fundraising team to test:
Microphones
Internet bandwidth
Video quality
Live stream platform features
Virtual background
9. Don't be too formal.
Let's be honest. Your audience could be in their pajamas watching your live stream event, so let's not act like it's a formal gala over live stream. Have fun, bring humor, and convey your mission in human and relatable terms.
Ways to have fun on a live stream include:
Create a theme
Plan entertainment
Play music
Keep up the energy
Promote prizes
Quality and professionalism does matter – it reflects your brand. But let's be clear. The goal of visual storytelling IS NOT to go and produce a Hollywood video! It's to produce a video that highlights your nonprofit's mission with quality that is good enough that it isn't distracting for viewers.
This way, your message will shine through and your fundraising engagement will soar.
When you're preparing for a live stream, be sure to incorporate these ideas and more into your event. Your donors will feel the energy through their screens, and you'll see the benefits come through in your fundraising.
10. Give viewers a reason to stay until the end.
There has to be a reason for viewers to stay tuned-in throughout the show. Think about tactics that keep people watching, including:
Important information that's being released
Fundraising Updates
Discount code
Entertainment or performances
Videos, photos or mission moments
Giveaways
Just remember, fundraising in a virtual world doesn't have to be daunting. Just follow these simple steps to create a program and experience that keeps them tuned-in and engaged with your cause.