Though easily confused, peer-to-peer fundraising and crowdfunding are significantly different, especially when it comes to how your organization collects funds.
While the terms might be used interchangeably, the fundraisers themselves are not. They're used for different (yet similar) purposes.

We'll dissect the differences between the two so you can select the best fundraiser for your organization. Use the table below to get started, or jump right to any question you have:
Crowdfunding

What is crowdfunding?
Crowdfunding harnesses the power of personal connections and social sharing. An individual or organization solicits from their friends, families, and peers with the help of their online crowdfunding page. The crowdfunder sets a specific fundraising goal and a timeframe for which the funds can be raised. Just as the name suggests, it's truly a "crowd" effort! Donations are typically small to medium-sized gifts that are given online.
Sometimes, crowdfunding campaigns feature giving tiers to incentivize gifts of a certain size (i.e. a $20 contribution will earn a free car decal!).
An individual or organization solicits from their friends, families, and peers with the help of their online crowdfunding page that features their compelling copy, powerful photos, and the ability to accept online donations.
On the other hand, organizations will either use crowdfunding for a specific campaign or in conjunction with another fundraising event, like an auction.

Who uses crowdfunding?
Because it's viewed as a staple for personal fundraising, crowdfunding is used by individuals everywhere to raise money for health expenses, tuitions, mission trips, and plenty of other different projects.
While it's mainly used for individuals, organizations can also use crowdfunding to raise money for specific campaigns.

Why do individuals use crowdfunding?
Crowdfunding offers plenty of perks for individuals looking to raise extra funds and it's usually a free or inexpensive way to raise money.
With proper promotion and the right crowdfunding platform, individuals can raise incredible amounts of money during their campaigns.
Crowdfunding helps you raise awareness by spreading the word about what you're raising money for. It's an easy educational tool and the more people who know about your cause, the more likely you are to see an influx in donations.
Plus, with your crowdfunding campaign, you'll be able to unite people. Think about it: many individuals will be brought together simply because they heard about and support your campaign!

How does a crowdfunding campaign work?
A crowdfunding campaign can quickly come together in just a few steps:
Select a crowdfunding platform. Take into consideration the price of the software you're debating (and your budget!), as well as the features that come along with it. You'll want to be sure you pick the solution that fits you and is easy for your donors to use!
Set campaign parameters. You'll want to know when your campaign will begin and conclude. You'll also need to set a campaign goal. And don't stress about setting your goal a little low! Most platforms won't cut you off from accepting donations if you surpass your goal.
Share your story. Make sure your crowdfunding page is customized. Add compelling copy as well as impactful photos and videos to your site to explain why you're raising money.
Promote the crowdfunding campaign. Take to social media platforms and go crazy. Share your campaign with your friends, family, coworkers, fellow church-goers, and let other peers know about your campaign through Tweets and emails. If your platform doesn't provide templates for these messages, be sure to craft some yourself.
Sell merchandise. Adding incentives your crowdfunding campaign can be a huge benefit. Instead of just giving, your donors can buy a t-shirt or sweatshirt that you've designed. This way, they feel like they're getting something in return for their donations. Check out Bonfire for more details!
Track your progress. You'll, of course, need to monitor your campaign as it progresses. If your campaign seems to be off to a slow start, your organization can share more updates to interest donors.
Thank your donors. When you finish your campaign, even if you haven't reached your monetary goal, send your donors acknowledgement letters or emails! Remember stewardship is a huge element to future fundraising.
The step of finding a crowdfunding platform, sets up the foundation for the rest of campaign. That's why it's important to choose wisely. 
While it's easy to launch a campaign with one of the most popular sites, there are over a hundred different sites that you can choose from. Some even provide features specific to your cause or project, making them an even better choice than the platforms that cover everything. Just look at these GoFundMe alternatives to see what other platforms are out there.
There are hundreds of crowdfunding websites that support a whole host of causes and projects.

When should I host a crowdfunding campaign?
Crowdfunding pages are great solutions when individuals or organizations have specific reasons for raising money, like covering medical costs or building a school in a developing country.
You might also host a crowdfunding campaign if you're running a campaign just for one, specific day, like #GivingTuesday or a similar concept.
---
Peer-to-Peer Fundraising

What is peer-to-peer fundraising?
Peer-to-peer fundraising uses your donors' existing networks to encourage donations for your organization. Your donors can collect donations on behalf of the organization from their friends, family, and peers. It's also known as P2P fundraising, social fundraising, competitive giving, and team fundraising.

Who uses peer-to-peer fundraising?
All different types of nonprofits use peer-to-peer fundraising. From small churches to large universities, peer-to-peer fundraising campaigns are popular because of their incredible fundraising potential. Individuals don't launch peer-to-peer fundraising campaigns, seeing as these campaigns really only make sense for organizations. Check out this example from Boston Children's Hospital Walk: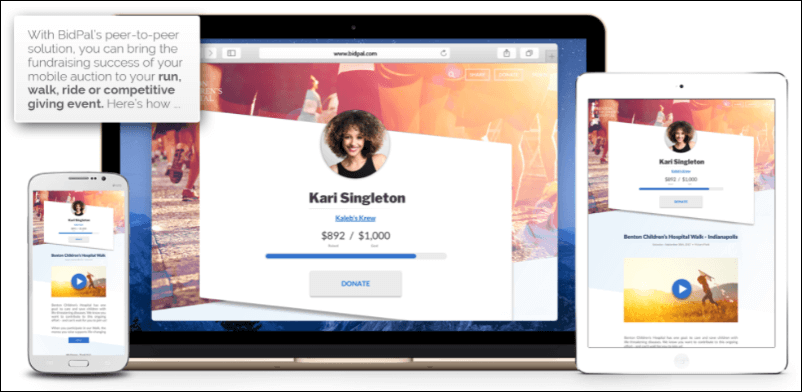 P2P fundraising requires more complex software than crowdfunding. Individual fundraising pages are usually based on a template that the nonprofit creates to maintain consistent messaging and branding. In that way, the individual has control over their personal campaign, but it's part of a larger, coordinated fundraising effort.
The nonprofit usually supports their peer-to-peer fundraisers with educational materials.
As long as your organization has individuals willing to fundraise on your behalf, you can certainly hold a peer-to-peer fundraising campaign.
Bonus! Take a look at our Top Best Practices for Peer-to-Peer Fundraising for helpful pointers.

Why do organizations use peer-to-peer fundraising?
Peer-to-peer fundraising is loaded with positive results for nonprofits (and donors)!
With this fundraising campaign, your organization will be working closely with the individuals who are fundraising on your behalf, therefore giving you ample time to get to know them. You'll be able to strengthen your donor relationships while working together to reach your organization's goals.
Plus, you'll be able to raise money in an organic way. Think about it: your organization's fundraisers will be reaching out to their networks and most people are friends with individuals who are similar to them, so if your fundraisers have interests in philanthropy, their connections most likely will, too!
Peer-to-peer fundraisers can also help you save money. Because you'll be putting your supporters in charge of fundraising (and peer-to-peer fundraising software is inexpensive), your organization will be cutting some major costs!

How does a peer-to-peer fundraising campaign work?
A peer-to-peer fundraising campaign requires a lot of organization, so check out our steps to get you started:
Choose peer-to-peer fundraising software. You'll want to select a software that meets all of your organization, fundraiser, and donor needs (things like microsites for your fundraisers to raise money through, social templates you can use to market your campaign, and an easy donation process for your donors). Take into account any transaction fees and measure your options against your budget. Think about how many users your organization's software will need to accommodate.
Determine your campaign's goals. Decide what type of peer-to-peer fundraising campaign your organization should host. Will you host an event in conjunction? Set your budget for your campaign. You can even compare previous campaigns to your expectations for this campaign to help determine different goals.
Recruit and train your fundraisers. You'll need to think about who would be excellent fundraisers for your campaign and steward those individuals. Once you have a reliable team, you'll want to train them on the art of fundraising. Be sure to give them email and social media templates. You can encourage them to create their own individual peer-to-peer fundraising pages, too!
Track your success. Stay on top of your campaign. You should know which individual fundraisers are excelling and which need some extra coaching. Empower them to fundraise to the max and share compelling updates about the campaign at the same time.
Acknowledge your supporters. On top of thanking those who donated to your campaign, you'll also need to thank those who fundraised on your behalf. Be sure your acknowledgements are personalized so your fundraisers and donors feel like their support is really valued at your organization.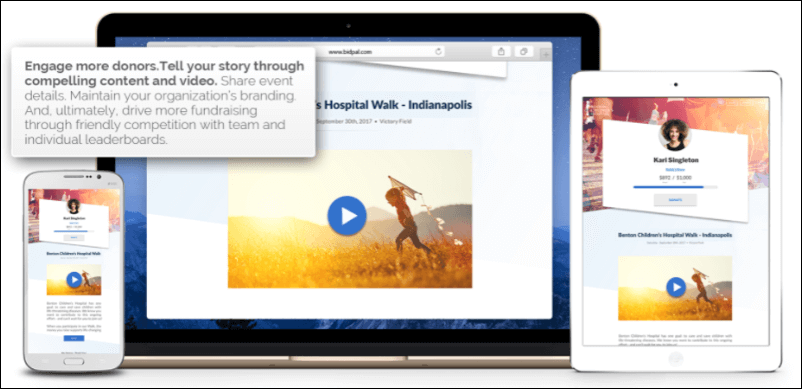 Plus, with peer-to-peer fundraising, you can host a time-based campaign, rolling campaign, or a giving day.
A time-based campaign has a timeline the campaign is structured around with set start and end dates whereas rolling campaigns continue until their monetary goals are met. These types of campaigns are often partnered with an event.
Giving days are a race against the clocks. These campaigns take place in just 24 hours with the time limit pushing donors to contribute quickly. The competitive atmosphere often encourages donors to give more than they typically would.

When should I host a peer-to-peer fundraising campaign?
Your organization can look into hosting a peer-to-peer fundraising campaign if you're looking to strengthen donor relationships and leverage their networks for fundraising.
A peer-to-peer fundraiser can also give your organization the opportunity to keep a campaign open for year-round donations.
---
Crowdfunding and peer-to-peer fundraising campaigns have plenty of similarities. It really boils down to the fact that crowdfunding is better for individual fundraising whereas peer-to-peer fundraising can support an array of fundraisers working as a team.
Now that you know the differences between the two, you can decide if crowdfunding or peer-to-peer fundraising is the best fit for your organization!
If you're interested in learning more about peer-to-peer fundraising for your organization, check out these additional resources: