5 Top Awareness Campaign Ideas & Examples
Awareness campaigns are naturally flexible when it comes to the specific strategies and ideas that you can implement. After all, every mission and its community are completely unique. Follow the core steps outlined above to give your awareness campaign a solid structure, but take some additional time to consider the different twists and ideas that might resonate with your audience. Here are five ideas and examples to get the ball rolling:
1. Create a sense of community.
Social media has made it easier than ever to reach and directly engage your nonprofit's audience. During your awareness campaign, you'll almost certainly rely on Facebook, Instagram, and Twitter to help spread the word about your cause, but try to take it a step further.
Instead of using social media as just an outlet for posting your campaign messages, think of it as a community-building tool. You can exponentially increase the value of these platforms for your campaign by encouraging supporters to actively post about your campaign, share your messages, and join conversations. Here's a OneCause success story to illustrate this idea:
Faith's Lodge is a nonprofit focused on child loss and supporting grieving families through hosting healing retreats. October is Child Loss Awareness Month, so the organization wanted to join the conversation and launch an awareness campaign to spread its mission to a broader audience.
Using OneCause awareness and peer-to-peer fundraising software, Faith's Lodge was able to quickly launch the "Say Their Name Challenge" on October 1st, giving their community a platform to share their experiences and start conversations. The social media-based campaign quickly spread online to a wide audience and was picked up in local news coverage, raising their visibility even further.
The results? Faith's Lodge raised over $30,000 in October, with 65% of those donors giving for the very first time. More importantly, their social media awareness efforts helped them reach 12,350 supporters with their mission, a testament to the power of community-building through savvy social media awareness tactics.
Read the complete Faith's Lodge success story to learn more about their powerful awareness campaign.
2. Start conversations with your awareness campaign.
Building on the previous tip about building a sense of community, your awareness campaign should also actively start new conversations about your mission. Engaging social media techniques and other viral-style challenges have quickly become the norm for accomplishing this goal.
The ALS Ice Bucket Challenge is a classic example that helped the organization raise $115 million to fund ALS research. This success was driven by the fact their challenge sparked conversations, encouraged tons of social shares, and introduced an extremely wide audience to the challenge of ALS for the very first time.
Viral challenges and impactful messaging can help to start these critical conversations and drive engagement by creating a knowledge gap. Essentially, your awareness campaign should introduce new supporters and readers to your mission in a way that gets them curious to learn more. An excellent example is the men's health organization Movember that grew out of the wild success of their first awareness campaign, an annual mustache-growing challenge.
Movember's annual awareness campaign works because it raises awareness in both the digital and real worlds. Their social media and peer-to-peer efforts help to spread their visibility online, but, more importantly, their participants' mustaches start conversations and allow individuals to share their own motivations. People naturally take note and ask questions when their relative, neighbor, or coworker suddenly begins sporting a mustache, opening up perfect opportunities for new conversations about men's health at a personal, one-on-one level.
3. Tap into existing Giving Days.
The calendar is already full of established awareness months and giving days, so take advantage of them when possible! Tapping into the increased buzz of these days and months is the perfect way to help your awareness campaign stand out and more easily reach readers who'll be inclined to become long-term supporters.
For instance, Giving Tuesday is one of the biggest fundraising days of the year for nonprofits of all sizes. Preparing in advance to launch an awareness-raising campaign and fundraising push for Giving Tuesday can have incredible results, even for small or local organizations. For example, the St. Francis DeSales High School in Louisville, Kentucky launched a full-scale Giving Tuesday campaign to engage their community and raise support amid the COVID-19 pandemic.
Rather than canceling their annual in-person events, the school quickly pivoted to start conversations and ask for support online. Their social media strategies were particularly effective at keeping supporters updated and reaching the broader community with their "DeSalesGives20" hashtag sharing campaign. DeSales raised $15,000 on Giving Tuesday alone and set themselves up for success in 2021 with a solid foundation of funding and increased community awareness.
While DeSales High School focused its Giving Tuesday efforts largely on fundraising, any other nonprofit looking to raise awareness and support online can learn from its success. Giving Tuesday is a prime example of a time when supporters will be more likely to tune into your messages, but any other annual awareness months or weeks related to your mission are ideal times to tap into that increased energy. You'll just need to make sure you're prepared with the right tools and strategies to get started right away.
4. Centralize your nonprofit's online experience.
In today's digital-first environment, offering supporters a seamless online experience should be a top priority for all new campaigns and initiatives your organization pushes forward. For awareness campaigns, this is particularly important since you'll only have the attention of brand new supporters for a short time when they're introduced to your cause and messages. Make it count by meeting your audience with a centralized, intuitive online experience.
Create a dedicated campaign page or microsite all about your awareness campaign. This will serve as the central location where supporters can learn more about your mission, connect with the community, and engage with your organization. Then, actively direct your audience to this central location whenever possible. In an awareness campaign, you'll likely rely on a few key digital outlets to help spread the word, each of which can open valuable opportunities to drive more engagement:
Your social media posts. In your posts, keep the focus on your mission but do provide a direct link to your campaign's page or site. Actively encourage readers to click through to learn more.
Your followers' social media posts about your campaign. Peer-to-peer sharing is a crucial part of successful awareness campaigns, but make sure your followers' posts are helping to drive more traffic to your website, too. Encourage your supporters to link directly to your campaign's page or site in any posts they create. You might even create easy templates for supporters to fill in the blanks about why your mission matters to them.
Emails to existing supporters. In your awareness email blasts to existing subscribers, make it easy for them to learn more by linking to your campaign's page. If your email is the only outlet where a supporter hears about your awareness campaign, you'll need to make that touchpoint count.
Direct mail and newsletters. Include the URL for your awareness campaign's page on printed materials, too, to ensure that recipients know where to learn more.
Word of mouth. While you can't guarantee that new visitors will find their way to your website after talking about your mission with a supporter, you can make it easier for them to find what they're looking for if they do decide to look you up. Prominently link to your campaign page or microsite on your organization's main homepage and navigation bar.
For more complex awareness campaigns that incorporate virtual gatherings and livestreams, look for awareness and fundraising software that makes it easy to provide supporters with everything they'll need in one location. For example, your campaign's microsite could include a virtual event center to keep the entire experience centralized and intuitive, no navigating to a third-party livestreaming platform needed.
5. Optimize your campaign's landing pages.
Once you've created a central digital location for your awareness campaign, you'll need to make sure that it's fully optimized to encourage engagement.
Web design plays a key role in ensuring that visitors immediately understand what your campaign is about and how they can get involved. Start with a simple, intuitive layout that avoids any unnecessary visuals or text that could distract readers. An impactful or eye-catching image should be prominently displayed, along with short, bold text that communicates your mission. Although you likely won't immediately ask visitors for donations, you should actively direct them toward a new opportunity to learn about your mission and why it matters.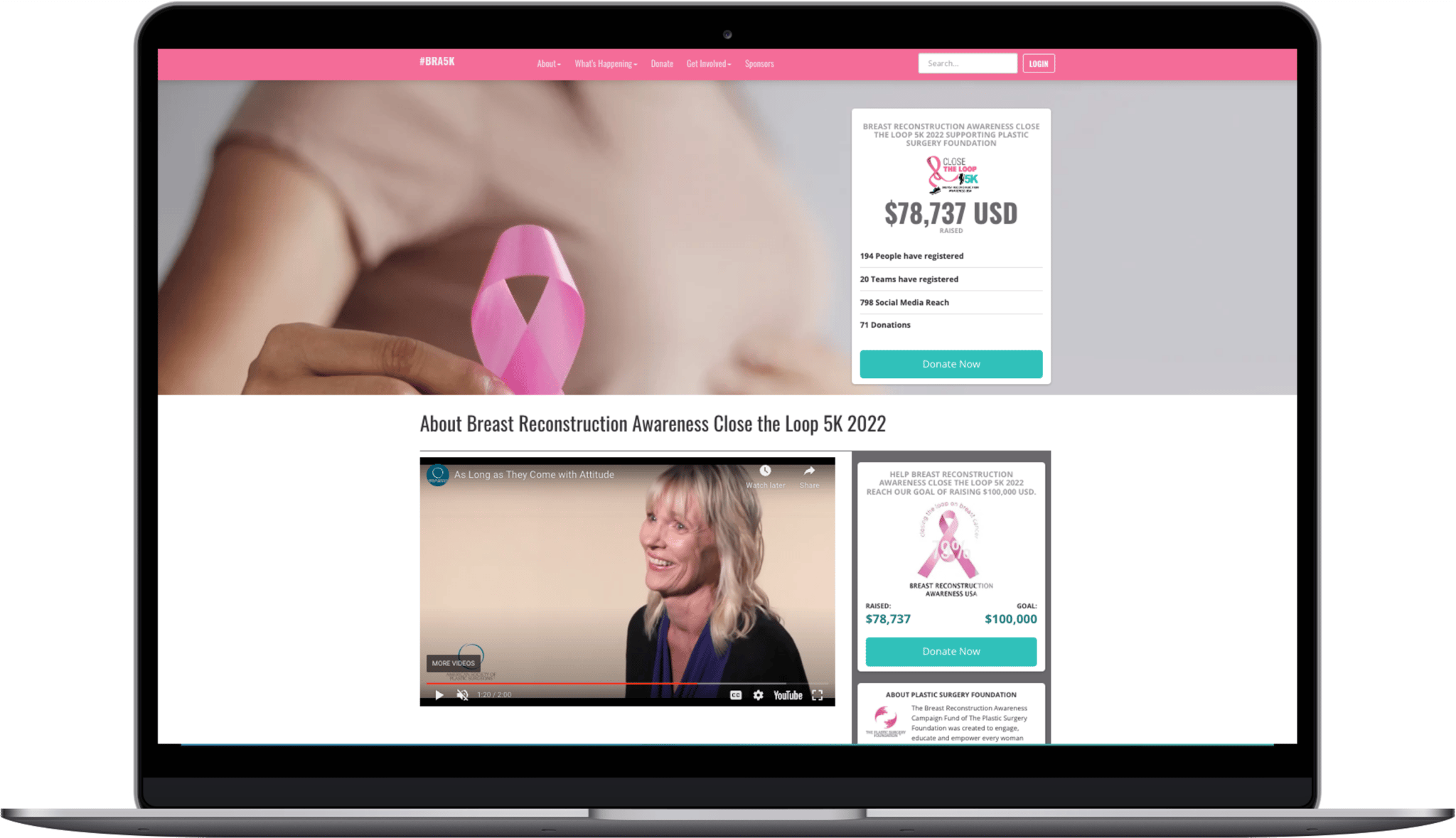 This well-optimized landing page includes all the essentials: a simple layout, impactful image, concise text, and a button that links straight to a new engagement opportunity, in this case a video they produced. Remember, awareness campaigns are all about catching the attention of new supporters and encouraging them to learn more without overwhelming or distracting them. Effective web design is a crucial part of this equation today, so study up with examples of top nonprofit websites to see how other organizations have pulled it off.