Charity Auctions: 12+ Tips to Get Started [Updated for 2018]
A charity auction is a popular type of nonprofit fundraising event. During an auction, nonprofits raise money through taking bids for auction items and then selling each item to the donor who places the highest bid.
Before we cover more specific tips, let's review the basics. Here are three types of charity auctions you might host:
Silent Auctions. With a silent auction, items are displayed on tables around the room for attendees to browse. They then place bids on a sheet of paper next to the item. The introduction of mobile bidding software has changed the game!
Live Auctions. During a live auction, an auctioneer will be in charge of calling out auction items and running the bidding. Attendees place bids by shouting amounts, raising paddles, or otherwise capturing the auctioneer's attention.
Online Auctions. Online charity auctions are essentially digital silent auctions. Photos of the items are featured on an auction site for bidders to browse. Participants will have to register and submit their credit card information before they can place a bid.
Ready to dive into our pro tips? We'll connect you with the right resources to take your charity auction to the next level! Use the navigation below to read more about how to plan and manage your auction:
Planning and managing a charity auction is no easy task, but the payoff is worth it for organizations that put in the effort! Let's get started.
---

1. Choose the Right Type of Charity Auction for Your Organization
We explained the basics of each type of charity auction above, but let's get into specifics. It's important that your organization chooses the type of event that best suits its mission, goals, and base of support.
There are a few pros and cons for each auction — silent, live, and online — that can help you determine which type of event is the best fit.
Silent auctions are an extremely popular and effective type of auction event! Here are some of their pros:
Best for interacting with donors. Because silent auctions are more conducive to mingling, they're the best type of auction for organizations to interact with donors in person.
Less hosted. A silent auction is a little less hosted. Guests will be able to socialize and bid as they please, giving them the power to choose their own experience. Mobile bidding tools are the perfect way to let your guests enjoy the night their way.
More casual. While live auctions usually revolve around meals and table arrangements, silent auctions tend to be more casual. Their less formal nature makes them easy to incorporate into other events and ideal for family settings.
There are a few possible drawbacks to silent auctions, though:
Lack of urgency. During silent auctions, attendees will have more time to bid. Being able to browse at a more leisurely pace and return to items again and again can reduce the urgency, and thereby, the incentive to bid.
Less hosted. Having a more loosely defined event structure can be a mixed blessing. While it gives guests more control, the actual auction will be less of a central focus, and you run the risk that bidding might fade into the background.
Complex planning. Since it's another type of in-person auction, silent auctions take almost as many logistics and expenses to plan out as live ones.

Live charity auctions are a classic event and a yearly fundraising staple for all different kinds of organizations! There are a few major benefits to hosting one:
More engaging. Because the auction is the central focus of the night and bidders are more actively participating, live auctions are the best type of event for engaging donors. Plus, it's easier to incorporate additional fundraising opportunities, like text-to-give tools.
Friendly competition. Live auctions are the only type in which bidding isn't anonymous, which adds a touch of friendly competition. Guests' desire to beat out friends and peers on certain items can heighten the bidding spirit!
More urgent. With live auctions, people will be bidding and winning items on the spot. This urgent nature can be a huge motivator for bidding. When guests know they have only one chance at winning an item, they'll bid and bid fast.
Depending on your budget and needs, though, a live auction might not be your best choice. Here are a few cons:
More structured. The live auction is the most structured. Since guests will essentially be participating in a live performance, they'll have less control over their event experience.
No anonymity. Open bidding can be a double-edged sword. While some guests will turn bidding into a friendly competition, others might feel uncomfortable bidding against those they know.
Complicated and expensive planning. Live auction planning requires the organization of many logistics. The costs associated with all of these logistics can quickly turn the event into an expensive endeavor.

Hosting an all-online charity auction can be a smart move! Digital fundraising techniques become more and more effective each day, and digital auctions are no exception. Here's why:
More cost-effective. With online auctions, you won't be throwing a physical event. Since you won't have to rent out a space, provide dining options, etc., you can cut event expenses significantly.
Lots of flexibility. Online auctions for nonprofits are the most flexible. An online event can run for much longer than a physical one, as part of a larger peer-to-peer fundraising campaign or as a standalone event. Lots of people can participate at any time, from anywhere.
Seamless data collection. To host an online charity auction, your organization will set up an auction site through your event planning software. The software links up to your nonprofit CRM, making donor and payment data collection seamless.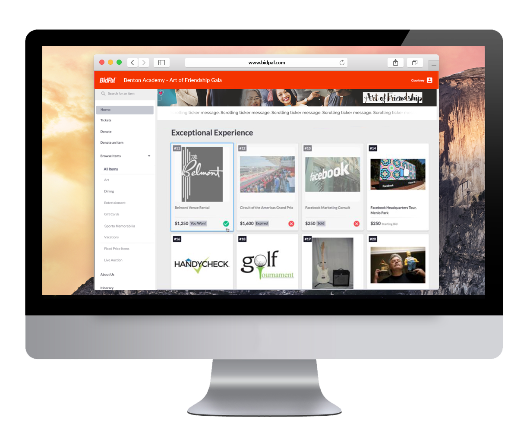 If your priorities lie elsewhere, though, you might not want to host an online auction just yet. Here are a couple drawbacks to these digital events:
No personal touch. Since the event will be happening in cyberspace, online auctions lack a personal touch. If you're hosting the event as a chance to get to know your donors better, an online charity auction is probably not the way to go.
Fewer incentives. Because there's no aspect of friendly competition or urgency with an online auction (most usually last 1-3 weeks), there are fewer incentives for people to bid.
Not a central focus. Online auctions for nonprofits run for a longer period of time and are less tangible to donors. Because it's not a grand affair but something participants will do when they have time to spare, your auction can easily become an afterthought.

2. Implement Charity Auction Software.
It's rarely a good idea to dive headfirst into planning a charity auction (let alone actually managing one!) without the right tools to support you.
Any charity auction has a ton of moving parts. Between directing your team, building your guest list, marketing your event, procuring items, and hammering down logistics, it's easy to get overwhelmed. There a few major benefits to working with the right charity auction software from the very start of your planning process:
Reach more participants. With auction sites and mobile bidding, all bidding takes place online. That means that even donors who can't make it to your auction can still participate. Having more participants will naturally make your auction more profitable, since there will be more people to provide funding!
Simplify logistics. Since many tasks are automated and they're all run through the same platform, auction software can simplify your event execution, too. In particular, mobile bidding takes care of most of the item checkout process (the most involved auction logistic if you're using bid sheets).
Raise more money. Auction software enables organizations to provide guests with additional donation avenues (for example, donation portals and fixed price items), helping them raise more money. In fact, all of the benefits we've discussed in this section result in more profitable events!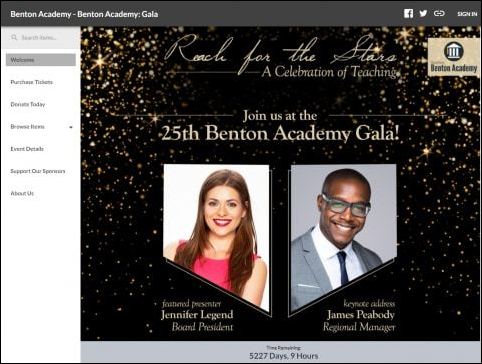 Provide donors with convenience. Since it allows donors to access many facets of your event online, auction software makes participating in your auction more convenient. When guests can quickly purchase tickets anytime and automate bidding with their phones, you're sure to see a bigger turnout and more bids!
Streamline the planning process. Charity auction software can automate many tasks for you, making planning your auction a much simpler process. Plus, since these activities are centralized, you won't have to waste time transferring data or switching between platforms to consult various information sources.
Gain deeper insights. Software houses all event planning efforts under the same roof so they can talk to each other to provide your organization with a complete picture of your auction. Robust reporting and analytics features can give you additional insights so you can keep honing your event until it's the best it can be.
Charity auction software from OneCause is a perfect example. Look for an auction platform with easy-to-use but comprehensive features: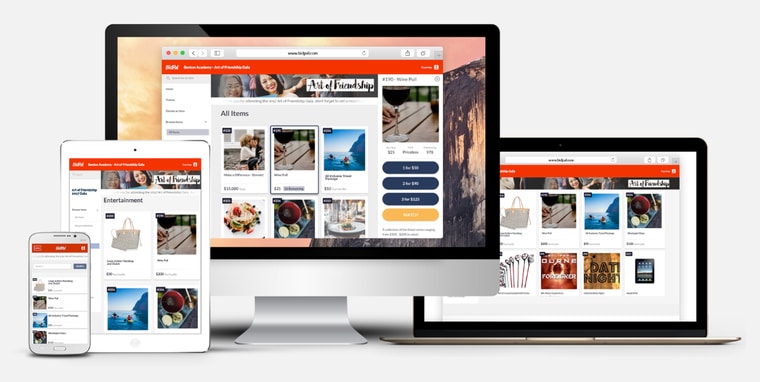 3. Study Up on How to Run a Successful Charity Auction.
There are a few core steps to the auction process. These are shared across all types of charity auctions, including live, silent, and online auctions. If this is your organization's very first fundraising auction, familiarizing yourself with the basic process now will ensure that there are no surprises later!

1. Open the Bidding.
Once it's time for the auction to begin, open up the bidding. If hosting an online or mobile silent auction, bidding will open automatically. If hosting a live auction or paper silent auction, you'll have to announce open.
2. Begin at the Starting Bid.
Each item is assigned a starting bid amount, equivalent to about 30-50% of that item's market value. The starting bid dictates the minimum amount that the first bidder can bid on the item. Make sure it's just low enough to entice bidders!
3. Top Each Bid by the Minimum Raise
Each item is also assigned a minimum raise amount around 10-15% of the market value. In order to place the new highest bid, each bidder must top the previous bid by at least the minimum raise.
4. Close Bidding
Once it's time for the auction to end, bidding will be closed either automatically or manually, depending on the format of your auction. Whoever has placed the final, highest bid on each item is the winner of that item.
5. Inform Winners of Guidelines.
By placing the bid, the winner has agreed to pay that amount and assumes full risk and responsibility for that item. Make sure to spell out the rules in your auction program so that bidders know what's expected.

4. Select the Perfect Charity Auction Setting
Your team might already have an idea for where you'd like to host your next fundraising auction. If you don't yet, no worries! Let's walk through some of the most common settings and spaces that nonprofits use to host unforgettable charity auctions:

Galas
Why it's perfect for auctions. Galas are large parties filled with many different types of entertainment and events. An auction can easily be incorporated into the program to provide organizations with an extra opportunity to fundraise. Use robust event fundraising software to get every detail perfect!
Who it's great for. Galas are excellent auction settings for large organizations holding large-scale annual events. They're generally catered to slightly older crowds in wealthier demographics.

Art Museums
Why it's perfect for auctions. With excellent lighting and rooms that are meant for displaying beautiful objects in all their glory, art museums were practically built for auctions. Many museums are already prepared to host nonprofit events.
Who it's great for. If you're raising money for an arts and culture based nonprofit, this is the setting for you. While a museum will reflect your cause no matter what, it's especially fitting if you happen to be hosting an art auction!

School Cafeteria or Gym
Why it's perfect for auctions. School cafeterias and gyms are wide open spaces that provide plenty of room for displaying auction items. Plus, they usually cost little if anything to rent out!
Who it's great for. As you could probably guess, cafeterias and gyms make excellent auction settings for K-12 schools and universities. These organizations are lucky enough to have a venue right on site.

5-Course Dinner
Why it's perfect for auctions. During live auctions, guests are usually placed at tables and arranged in a seating chart. The format of a live auction is perfectly conducive to a 5-course dinner setting.
Who it's great for. Because they can be held practically anywhere, 5-course dinners can be great auction settings for organizations of all shapes and sizes. The atmosphere is up to you!

Golf Tournament
Why it's perfect for auctions. Because they're both leisurely in nature, golf tournaments and silent auctions pair well together. Attendees can go outside to enjoy the tees and browse items when they want to take a break from the heat.
Who it's great for. Golf tournaments are the ideal auction setting for organizations with an athletic base. With a day on the course, you're sure to meet your sports-loving supporters where they want to be.

Awards Banquet or Honors Night
Why they're perfect for auctions. Awards banquets or honors nights are usually held in a venue with an auditorium. As live auctions are essentially live performances, this setting should be the perfect place for one.
Who it's great for. Since these types of events vary in scope, they're well suited to all types of organizations. Obviously, you'll need to have occasion to host an awards banquet or honors night!
---
As the concept for your event comes into focus, it's time to nail down a date and location. You should do this about 9-6 months before your auction. When deciding which venue to book and when, think about how many people will be attending, the ambiance of the event, and your supporters' general availability.
Additionally, if you're implementing mobile bidding, test out the wifi and cell reception to make sure the venue can accommodate your software. Use charity auction software that lets you create an event site. You can direct guests here for more information and to register: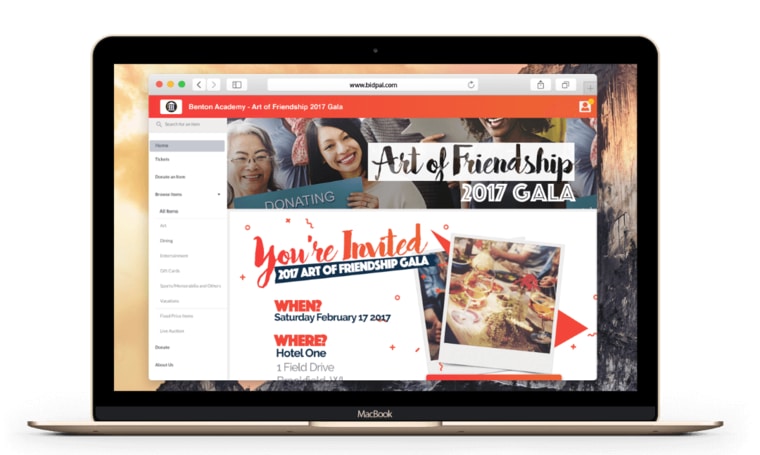 For online auctions for nonprofits, you'll need to shop for online charity auction software that also allows you to create an event site. This site will need to support mobile bidding. Find a provider that offers comprehensive charity auction support for the best results!

5. Recruit Your Charity Auction Team.
Auctions require many hands, and you'll need a dedicated and diverse team to help the event planning process run as smoothly as possible.
Not only will your organization need to form a team of staff to help oversee planning , but you'll also need to recruit lots of volunteers to ensure that the event itself goes off without a hitch.
If you're running an online charity auction, you can probably get away with a smaller team, but you'll still need people to set up your auction site, solicit items, and market your event.
With a large, devoted team on your side to help with every step of the event, your auction is sure to see success! Within your team of support, each member should be focused on one of these more specific tasks:
Event planning. The event planning team will consist of staff and/or volunteers who are in charge of most event-planning logistics, including booking the venue, organizing volunteers, marketing the event, and more.
Procurement. The procurement team has one job and one job only: to solicit auction items for the event. It can be made up of staff, volunteers, or both. All that matters is that each team member is comfortable asking for donations!
Event volunteers. Your organization will need the help of many volunteers to pull off a successful auction. At the very least, you'll need auction spotters or auction monitors and volunteers to help you run registration and checkout.

Don't forget one last essential member of your team: the auctioneer or emcee.
Both of these figures are integral to the atmosphere and success of your auction, so choose wisely! You might be wondering what differentiates these two positions:
The emcee gives the auction program, actively engages bidders with announcements, closes down item stations, and generally keeps the silent auction on track.
The auctioneer will be the ringleader of your live auction. They're the person who will run the program by introducing the items and scoping out the audience for bids.
While you can probably get away with a volunteer emcee, you'll definitely want to enlist the help of a professional auctioneer if you're hosting a live auction.

Of course, if you want to host an auction, you'll need items to auction off!
Although the items you procure will depend largely on what donors are willing to give, it can be helpful to brainstorm about what items might appeal most to your donors. If you've hosted an auction in the past, and you kept detailed records, you can look back on previous years to see which items were the most popular sellers.
If you're hosting a live auction, you might also want to consider featuring consignment items, which are big ticket items that you only have to pay for if you sell.
Additionally, keep in mind that for online auctions, you'll need to find items that appeal to people in all geographic locations and avoid items that are too large or heavy to ship.
Brainstorming Perfect Auction Items
Charity auction items that tend to perform very well share a few important characteristics. These include:
They fit into guests' interests. As obvious as it may seem, for people to bid on your items, they genuinely have to want them. Items that fit into your supporters' interests will naturally appeal to your guests.
They fall into guests' price ranges. As much as somebody is dying to win an item, they simply won't bid if they can't afford to. In order to see fundraising success, your attendees must have the financial capacity to start bidding.
They're rare or unique. It's the basic law of supply and demand. The rarer an item is, the more valuable it is. When you offer objects or experiences that your guests can't find anywhere else, they're sure to bid in fear of missing out!
Start exploring your options by checking out consignment packages! These can give you a great idea of what charity auction items have worked well for other nonprofits: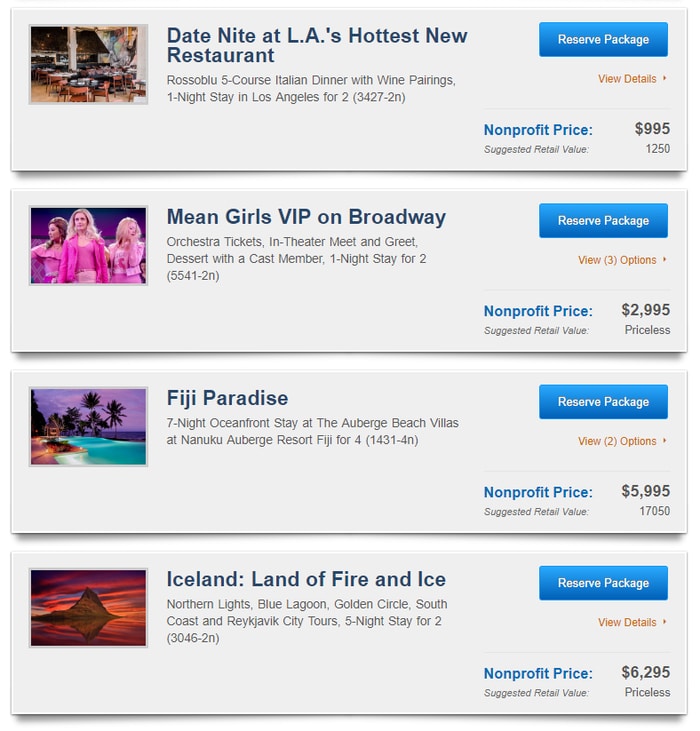 Remember some key categories as you brainstorm new auction items to solicit. Popular charity auction items typically fall into one of these:
Travel and outdoors
Sports and activities
Services and community
Arts, culture, and entertainment
Kids and family
Food and drink
We definitely recommend exploring our comprehensive list of charity auction item ideas. We've compiled 100+ of our favorite auction ideas that reliably show results for nonprofits of all sizes!
---

7. Promote Your Charity Auction and Items
Now that you know you have all of the essentials for hosting an auction, it's time to start telling supporters about your event!
You'll first want to compile a guest list. When thinking about who to invite, consider the size of the venue and who in your donor base has the capacity to bid on your auction items. Then, start sending out invites! If you're using event planning software, you can sell tickets online to provide supporters with more convenience.
Make sure to include the link to your online ticket page when you send out invites so that donors who want to attend can RSVP "yes"!
Promoting Your Auction Items
Giving guests a taste of your amazing auction items ahead of time is sure to get them hyped up about the event!
If you're using auction software, you can set up an online auction site to serve as an auction catalog.
There are some essential pieces of information to include in your auction catalog:
Information About the Event
Event details and a short introduction to your organization.
The event schedule.
Where your organization is putting the proceeds.
Rules for bidding.
Instructions for using your mobile bidding platform.
Sponsor advertising (if applicable).
Information About the Items
The name and number of each item featured.
A brief (but specific) description of each item.
The starting bid amount and market value of each item.
The minimum raise amount for each item.
High quality photos of each item (where applicable).
By featuring your catalog online, you can continuously update it as new information and items become available. You'll also cut down on all of the fiscal and environmental costs associated with printing. You can even open up online bidding to host an online charity auction solo or in conjunction with your live or silent auction.

8. Set Up Your Charity Auction Just Right.
As you move closer and closer to the big day of your auction, it's essential that you take the time to review your steps. Before moving forward with setting up your venue, make sure you've covered all your bases:
Find the right auction software.
Recruit a team and auctioneer or emcee.
Procure your auction items.
Decide on a bidding method.
Put together an auction catalog.
Plan your event and print programs.
Everything ready to go? Congratulations! Most of your planning is over.
The day of your auction, you and your volunteers will want to get to the venue well before the event starts to set up.
During this stage, make sure you also have volunteers appointed to each task and that everyone is clear on their responsibilities. There are a few set-up best practices for both silent and live auctions that you should follow at this point:
Silent Auctions
Lay out the tables around the venue in a way that promotes good traffic flow.
Create and place signs to help bidders navigate your display.
Set up auction item displays. Group items by category and make sure each is visible — one row per table.
Place labels in front of each item detailing the lot number, description, restrictions, retail value, starting bid, and minimum bid.
Set up a registration table and a checkout area with multiple queues.
Live Auctions
Double check your seating chart to ensure it accommodates all guests.
Arrange tables and chairs around the venue. Generate and set place cards.
Organize and place auction items so they're ready to be displayed as the auctioneer introduces each one.
Set up and test the sound system. Also, set up a projector if you want to display images or information during the auction.
Set up a registration table and a checkout area with multiple queues.
Now that you're all set up, it's time to enjoy your event! If you're hosting an in-person auction, the night will go something like this:
Arrival. Guests start arriving and check-in at registration. You'll either distribute bid numbers or set them up with your mobile bidding platform.
Bidding. The main event of the night! If appropriate, now is also a good time to serve alcoholic beverages, as it tends to increase bidding. Of course, encourage guests to drink responsibly!
Checkout and Pick-Up. Direct winners to the checkout line so they can pay for and receive their items. If guests are using mobile bidding, the winners will automatically be charged. No waiting in line required!
Acknowledgement. Before everyone leaves, make sure to thank your attendees for their support. Follow up with personal thank-yous after the event.
Once all the guests are gone, break down your setup, clean up the venue, and celebrate a job well done!

9. Streamline Your Check-In and Check-Out Process.
There are a few key steps you can take to ensure your entire auction stays organized from start to finish.
When guests arrive for your silent or live auction, make sure to follow these check-in tips:
Use robust auction software. Auction software will simplify and streamline the entire auction planning process from start to finish for your whole team.
Assign seats in advance. If guests will be sitting at tables, you'll want to assign seats in advance. Your software makes it easy to create seating charts.
Assign bid numbers. If you're using auction software to help run your auction, you can automatically assign bidders numbers in the platform.
Pre-register credit cards. Encourage guests to pre-register their credit cards on your auction site or at check-in. This will significantly expedite checkout later.
Have volunteers in place. Volunteers should be ready to check guests in as they arrive. They'll either assign guests numbers or get them set up with mobile bidding.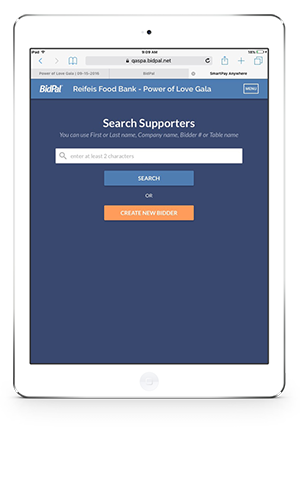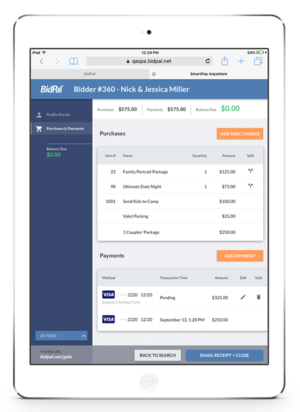 Using the right software from the very start will go a long way to simplify the check-in process.
Charity auction software from OneCause, for instance, allows your team to quickly register incoming guests, find seat locations, collect payment information, and more. All this on an easy iPad interface!
Make sure to follow a few essential tips to streamline you check-out process, too! Review these pointers with your team:
Let guests check themselves out. If guests have pre-registered their credit cards, check out should be easy as pie. Attendees are automatically be charged if they win.
Set up a physical checkout booth. You still need a physical check-out for guests who wish to pay by cash or check. Make sure you have enough volunteers to help.
Create an easy match-up system. You'll need to verify payments and match them with their items. Winners on the mobile platform will automatically receive receipts.
Designate a separate pick-up area. Set up a separate line for winners to pick up their items after they've paid. Have plenty of volunteers ready at pick-up to help.
Record winner data. For future reference, record the winner's name and winning bid amount for each item. If using mobile bidding software, this information is automatically stored.
Effective mobile software can also seriously streamline the check-out process at your auction.
With instant access to auction transactions, you can quickly match guests with their items. Plus, easily add tax or extra chargers, process live payments, and even split bills between guests.
---

10. Maximize Your Auction Revenue.
During your auction, think of ways to boost the donations that you receive. Fun events like auctions tend to get donors in the giving mood, so make sure to strike while the iron is hot!
Here are a few reliable ways to maximize your revenue from an effective live or silent auction:

1. Make a Live Appeal.
When making a live appeal, your emcee or auctioneer will ask guests for donations to help your organization reach a fundraising goal by the end of the night.
Guests can make gifts through your mobile bidding software or a text-to-give service.
As guests are submitting their gifts, display a fundraising thermometer so they can keep track of how close they are to reaching the goal!
2. Set Up a Donation Booth.
A donation booth provides guests with a donation opportunity in case they don't walk home with an item (or in case they just want to give more!).
When you set up a booth, guests who want to donate can do so quickly and conveniently instead of having to wait in a long line at checkout.
If you're using mobile bidding software, guests can make gifts right from their phones, so there's no need to set up a booth.
3. Hold a Raffle.
Hosting a raffle can be an excellent way for your organization to supplement the money you raise at your auction.
Take one of the items you've received and turn it into a raffle prize. You can sell tickets on your event site, through your mobile bidding software, and/or at a booth during the event.
Just keep in mind that raffle regulations vary by jurisdiction, so check with your local authorities to make sure you're complying with the rules.
4. Seek Out Corporate Sponsors.
Corporate sponsors can help you increase your auction ROI by helping your organization fund and market the event. Many will even donate auction prizes.
In return, the business will receive additional advertising from your event marketing materials and the reputation boost that comes with being associated with a good cause.
For the best chance of finding corporate sponsors, see if you can leverage any of your staffs', board members', or donors' professional relationships. Be sure to explore their matching gift programs, too!
5. Charge an Admission Price
Since not all of your attendees will walk home winners, nevertheless place bids, your organization might consider charging an admission price.
Many event planning software platforms have ticketing tools that will allow guests to purchase ticket packages and sponsorships online.
You can set multiple ticket packages (for example, individuals, couples, and VIP) and sponsorships to provide guests with more flexibility.
6. Sell Ads in Your Auction Catalog.
When your team is out soliciting auction items, have them provide donors with the option of buying an ad in your auction catalog. Many businesses will jump on the opportunity for additional advertising!
If you're creating a catalog online by using an auction site, you can feature sponsors' logos directly on the homepage.
If you're printing a physical catalog, make sure to leave the most prominent spots for your biggest sponsors!

11. Follow Charity Auction Best Practices.
Let's review a few additional concepts of planning and running a successful charity auction. These could have a huge impact on the final results of your event!
Treat the Items as the Stars
It's important to show off your auction items as much as possible during your event.
Being able to view your auction items in person will make them more tangible and help guests see their full value, resulting in more bids.
The way you display your items will vary depending on which type of auction you host, but no matter what, make sure that guests can see all items clearly.
Choose the Order Wisely
To maximize bids, be strategic about the order in which you auction off your items.
If you auction off the most popular sellers too soon in your live auction, many guests will leave before the bidding has closed.
Featuring the biggest sellers 3/4 of the way through your auction will maintain interest without making guests wait too long for what they came for.
Emphasize the Cause
Emphasizing philanthropy at your auction will help your organization receive more bids.
When guests are reminded that they're at a charity auction, it puts it into their minds that it's OK to spend money, since it's going to a good cause!
On your event site and at your auction, introduce supporters to your organization and tell them specifically how you plan to use the auction proceeds.
Serve Dinner During the Auction
If you serve dinner before your live or silent auction, you run the risk that people will get tired and leave before the bidding even starts.
Make sure guests are fresh and ready to bid by serving dinner during your auction instead.
When people can wine, dine, and socialize all while enjoying the auction, they'll be much more entertained and engaged.
Pre-Register Credit Cards
The checkout process can be one of the biggest headaches of your auction if you don't plan ahead.
Make sure that checkout is as easy and efficient as possible by pre-registering guests' credit cards.
Leading up to the event, encourage your guests to register their cards on your auction site. For those who don't register in advance, you should swipe their cards at registration.
Use the Right Software
Make your auction planning and execution run a little more smoothly by using auction software.
Whether you're hosting a silent auction, a live auction, an online charity auction, or some combination of the three, auction software can better your event in myriad ways.
For more detailed information on how auction software can help, click here!
---
One last, crucial best practice for any nonprofit: track your performance!
Your event might be over, but you're not done quite yet! It's important to track your performance, especially if you're going to make auctions a recurring staple of your fundraising events.
Next year will be even better if you can answer these questions now:
Did we have a good turnout?
Did we reach our fundraising goal?
Which items were the most popular?
Did any items not receive bids?
Who were the top bidders?
What could we do better next time?
The most robust auction and event planning software will allow you to generate a wide variety of reports that will give you detailed insights into your auction items and bidders.

12. See How OneCause Can Help Your Next Auction.
If you need a software and support partner for your organization's next live, silent, or online auction, explore all the features of the OneCause suite. See why nonprofits across the country trust us to help take their events to the next level!
Event Sites
Generate a site branded to your event. Promote your items for silent and live auctions, open up bidding for online auctions, sell tickets, take donations, pre-register guests, and more.
Mobile Bidding
Mobile bidding allows guests to browse items and bid from their phones, leading to a more profitable event. It also eliminates the need for a complicated checkout process.
Item Management
Centrally record all data about each of your items for straightforward tracking throughout the planning process. Group items into packages and auto-generate item numbers.
RSVP Management
All RSVPs, ticket sales, and attendee data submitted through your auction site are automatically tracked in the software. Accommodate everyone with easy seating and table arrangements.
Scoreboards and Thermometers
Boost bidding by featuring auction items on your scoreboard, and motivate guests to meet the goal during your live appeal with thermometers.
Reporting and Analytics
Run a myriad of reports on your guests' habits, your item performance, and the overall health of your event to make next year even better!

---
With these key tips in hand, you and your team are ready to get started planning your next charity auction! Whether it's a silent, live, or online auction, you're sure to knock it out of the park.
Study up on all the resources and best practices listed in this article, and be sure to continue your research, too! Get started with these additional resources: