Procuring and properly packaging items is absolutely critical to a successful auction. You can plan an exciting evening, a wonderful meal, and plenty of other engaging activities, but the fact is that without the perfect auction items, your event won't be nearly as successful as it should be.
Your silent auction packaging and display requires hard work and careful thought, too! A well-organized silent auction event almost always drives more revenue than a jumbled or hastily-designed one.
Let's walk through 5 simple best practices to help you maximize your efforts (and the results of your silent auction):
Ready to get started? Let's dive in:
---

1. Focus on your best silent auction items.
When procuring item donations, analyze your demographic and think about what will appeal to your crowd. Review results from previous years and repeat packages that sold well. Use smarter event fundraising software to generate reports on your past auctions and quickly identify your most popular packages. Use these to develop new strategies.
Silent auctions with one or two 'star attraction' items tend to attract the most attention. Think a glamorous vacation, valuable artwork, or large donated goods like cars or electronics.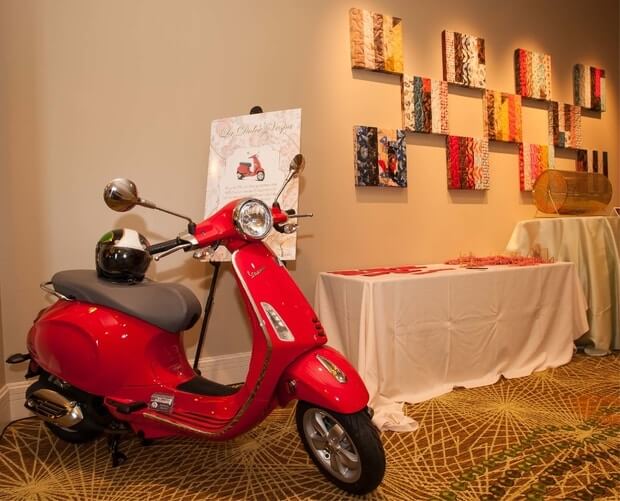 The scale of your star items will of course depend on the size of your organization and the nature of your event, but take care to secure these more important items first. Additional items can always be added later on. Explore our comprehensive list of charity auction item ideas that reliably perform well.

2. Avoid too much cellophane in silent auction packaging.
We mean this both literally and figuratively. Too much plastic can cheapen the perception of all the packaging work you've done, just as uninspired, plastic-like approaches to silent auction packaging concepts can, too.
Packaged auction baskets built around a common purpose or theme are classic auction item ideas, but don't limit yourself! Don't forget that you can package items without putting them in a gift basket, too. Consider how smaller items display when deciding whether to basket them or not. You can also get creative with your choice of gift basket type.
For example, a beverage cooler might be better for camping/grilling/picnic items and draw more attention than a traditional plastic-wrapped basket. A creative approach to silent auction packaging and basket concepts can go a long way to boost engagement with your mobile bidding tools.

3. Don't over-bundle your standalone auction items.
Over-bundling can diminish your auction's ROI. Certain items will bring in just as much individually as they would bundled with another.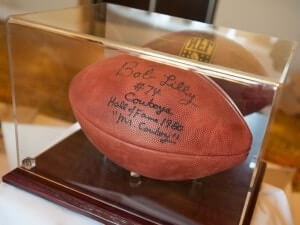 Restaurants, for example, capture the greatest percentage of retail value of any silent auction category. So think twice before bundling a gift card with a weekend's stay at a local hotel.
Another common example is sports memorabilia. Just because that signed football is small, don't feel compelled to bundle it with season tickets; if anything, a standalone item of its caliber appears even more valuable when on its own.

4. Have purpose with your silent auction packaging.
Think about how much each item can contribute to your event proceeds. Combining your items in more thoughtful ways will drive more and higher bids. Think about context.
Here's an example: Would a golf outing on a private course sell for more if you included the golf polo too? Probably not. For a very nice, private course, the outing itself is most likely more valuable than the polo, and bidders who are interested in the outing probably have their own favorite polo anyway.
But the golf polo will sell for more when paired with a visor or a sleeve of golf balls. The value of any one item in that bundle doesn't overshadow the others, and someone who's interested in one of them will more than likely find the others useful, too.

5. Create a dazzling auction item display.
Design your silent auction room layout with an "auction eye" – think about the best spots to place your 'star attraction' items and then fill in the rest.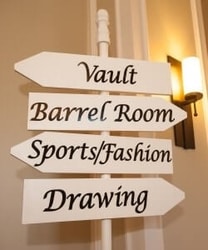 Consider the traffic flow, too. Guests should be able to easily move between the silent auction area, dining room, and the stage. Use signage to direct guests to specific auction categories, but try to place your primary items near high-traffic, high-visibility areas.
Each package must be staged so be conscious of package size. For example, a bicycle is the perfect item to place at the corner of a row/table so guests can get a good look at it. Artwork is ideally hung and jewelry placed on a bust or display platform.
If you begin to run low on table space, resist the urge to overcrowd your items, which can cause them to appear less valuable. Remember, the impression of scarcity will generate more competitive bids!
Explore our more comprehensive silent auction planning guide for more best practices on setting up your auction space.
---
Are you hosting your silent auction online?
Packaging can and should be different for an online auction than a gala or other in-person event.
For online auctions, packages are still staged. While you can't physically present the items to guests, you can still get their attention. Include a fun title, clear photo, detailed description and any relevant links to additional information on your items.
Packaging is definitely a challenge, especially if your team has never hosted an auction before. But it's not impossible! Just be smart and keep your supporters in mind at every step. OneCause can help with the rest.
For more tips on how to bolster your upcoming silent auction, continue your research with a few additional resources: