The one constant in today's world is that it is changing. Whether you're looking for a fresh approach to fundraising or you're having to move online, virtual fundraisers are an easy alternative to traditional events.
The move to online giving opens up more possibilities for nonprofits: new donors, remote supporters and longer fundraising options. But many fundraisers are still grappling with how to not only move their fundraising online but thrive in a virtual world!
Don't worry, we will show you how to take your auction online in 8 simple steps: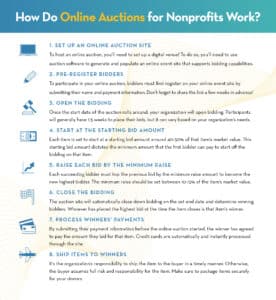 Step 1: Set up an online auction site
Step 4: Start at the starting bid amount
Step 5: Raise each bid by the minimum raise
Step 7: Process winners' payments

Step 1: Set up an online auction site
To host an online silent auction, you'll need a digital venue. After all, you have to have somewhere in the cloud to host all those fabulous silent auction items. To get started, you'll need online auction software to support your virtual fundraising.
Make sure your software has these important features:
Cloud-based software to access your planning tools and data from anywhere at anytime
Flexible design that lets you customize your fundraising site
Mobile optimized to meet donors where they are – their smartphones
Item management that enables you to track, manage, and package your auction items
Online bidding with robust features – a must have!
Payment & registration that is PCI compliant with built-in security functionality
Social media integrations to maximize your reach and communicate your cause
Text message notifications that make it easy to remind participants about your fundraiser
Custom pages for unlimited custom fundraising and informational pages
Reporting and analytics for gathering and analyzing your fundraising data
Once you've picked an online auction software or mobile bidding platform, it's time to start building your auction site.
Pro fundraising tip: Since bidders can't view items in person, include high-quality photos and a detailed description of each item and restrictions (such as blackout dates), so supporters know what they're bidding on.


Step 2: Pre-register bidders
To prepare for your online auction, bidders first register online by inputting their name and payment information on your online giving center.
You'll want to be sure to require an address at registration in order to ship silent auction items to your winners. Don't forget to share the registration link a few weeks in advance to generate excitement and maximum bidding!
Here are a few best practices to help spread the word to donors:
1. Share the link to your fundraising site. Your online fundraising site will serve as your fundraising headquarters.
Share the link with supporters so they can start registering!
Put your auction catalog, donation appeal, fixed priced items (raffles, parties, merchandise) on your site.
If you are running a peer-to-peer virtual campaign, ask your participants to spin up their personal fundraising pages and share the links on social media.
2. Leverage your Ambassadors. Think about your most loyal supporters, volunteers, donors and staff and make them Ambassadors.
Tap them to help you spread the word far and wide about your virtual fundraiser.
Set them up for success with social media toolkits and templates.
Motivate them with contests for who can get the most new bidders, donors, or social reach.
Make it fun for them to raise funds for your online efforts.
3. Blast on social media. Social is the virtual fundraiser's best friend! It's free and has unlimited reach. Create a social media plan to promote, engage, and excite supporters.
Let your social media army loose.
Be sure to embed mission messaging, impact statements, and the "why it's important" in your posts to connect with supporters.
Pro fundraising tip: It's possible that some of your donors haven't done online fundraising before, so you'll need to explain how to participate. If you are simply taking your mobile bidding online, reassure them that the only thing different is that they can bid from their couches, or wherever they want!


Step 3: Open the bidding
Once the start date of the virtual auction rolls around, open the bidding to your donors. The great thing about an online auction is that you can extend the bidding time far beyond what you can with an onsite event. We are seeing nonprofits keep their online auctions open anywhere between 1-3 weeks.
Engage your supporters throughout your online auction by:
Connecting the online auction back to your organization's mission.
Sharing impact statements and text messages about how the funds will help.
Providing updates on high value, popular items.
Identifying items without any bids.
Sending out reminders about when the auction closes.
Posting regularly on all social media platforms.
Pro fundraising tip: Make sure you have a staff member overseeing the bidding to answer any questions supporters have and to field any possible technical difficulties.


Step 4: Start at the starting bid amount
Each silent auction item should be set to a starting bid amount. This starting bid amount dictates the minimum amount that the first bidder can pay to start off the bidding on that item.
It is industry best practice to set minimum bids at 40-50% of the Fair Market Value (FMV). This range is low enough that it sparks a great deal of interest from donors, but it mitigates the risk of your organization losing out on the potential of a large donation from the starting bid being too low.
Pro fundraising tip: If the starting bid is too low, you can miss out on proceeds that could've been used to power your mission. If the starting bid is too high, you may lose out on competitive bidding between donors. Stick with the industry best practice of 40-50% of FMV and watch those bids soar!


Step 5: Raise each bid by the minimum raise
Each bidder must top the previous bid by the minimum raise amount to become the new highest bidder. The minimum raise amount should be set between 10-15% of the item's FMV.
There are additional variables to consider when choosing bid increments for your online auction:
Items with a high price and low popularity: If an item is expensive but not highly desired by your guests, it may need a lower minimum bid increment set.
Items that haven't performed well in the past: If the item didn't meet fundraising expectations in the past, consider lowering the minimum bid increment.
Items that incite bidding wars: If an item is popular among guests, don't set the minimum bid increment too low! Maximize the effectiveness of the silent auction and maximize the proceeds for your organization.
Pro fundraising tip: You don't want your attendees putting down a $5 bid increase on an item like an iPad – you'll never reach your goals! But you also don't want to enforce a $500 minimum bid increment – you'll lose out on bids! Determine what bid increment will allow for the most bids and most proceeds. Then roll with it.


Step 6: Close the bidding
The clock is ticking, and the time limit you set for your online auction is almost up! Here are a few key best practices to close out the bidding on your successful online auction.
The final minutes of your silent auction are pivotal in reaching or exceeding your fundraising goals. It's important that you drive as much bidding as possible prior to your online auction close.
Ramp up the excitement with text notifications.
Turn on the countdown clock so it appears on everyone's phone or laptop.
Post on social media several times as your online auction draws to a close.
Whoever has placed the highest bid at the time the auction closes is now the item winner.
Pro fundraising tip: With mobile bidding, your organization won't have to worry about closing the auction! Your online auction site will automatically close down bidding on the set end date and time and then determine winning bidders.


Step 7: Process winners' payments
By submitting their payment information before the online auction began, the winner has agreed to pay the amount they bid for that item. The amazing thing about online auction software is that credit cards are automatically and instantly processed through the site.
After collecting all the payments, you'll be able to evaluate the success of your online auction by analyzing your performance. Go through your online reports & analytics.
What worked well?
What could be improved?
How many online bidders were there?
What was the average contribution per bidder?
Nonprofits are always looking for ways to increase fundraising efficiency. Robust reporting and analytics will make all the difference.
Pro fundraising tip: Since the online auction is happening right in your event planning software, all item and bidder information will automatically be recorded in the platform for you to analyze now and in the future.


Step 8: Ship items to winners
Okay your online auction is over, now what? Time to close out and ship your items off to their lucky winners. Be sure to ship the item to the winning bidder in a timely manner.
When packaging items, be sure to:
Package all items securely. Take time to package your items to prevent any damage. This will save you and the winners the heartache of refunds and broken items.
Say thank you. Show donors you truly value them.  Not just for their money, but for their generosity and support. Think hard about why you're grateful to them; then spread that gratitude back to them. A handwritten note will add the perfect personal touch.
Give them more information. Let your auction item winners know exactly how their donation will be used to power your mission. Have another event coming up? Let them know the details and include a link to register!
Pro fundraising tip: Be sure you require an address at registration and insert a flat shipping charge if you need to.
Pivoting to a virtual fundraiser may be uncharted territory for your organization. But these 8 simple steps will help you go online and grow your mission in a virtual world!

BONUS CONTENT!

Not Done? Keep Learning with OneCause!
For more information on virtual fundraising, be sure to check out these additional resources: