How to Plan a Virtual Auction
To plan a virtual auction, there are several core steps you should follow: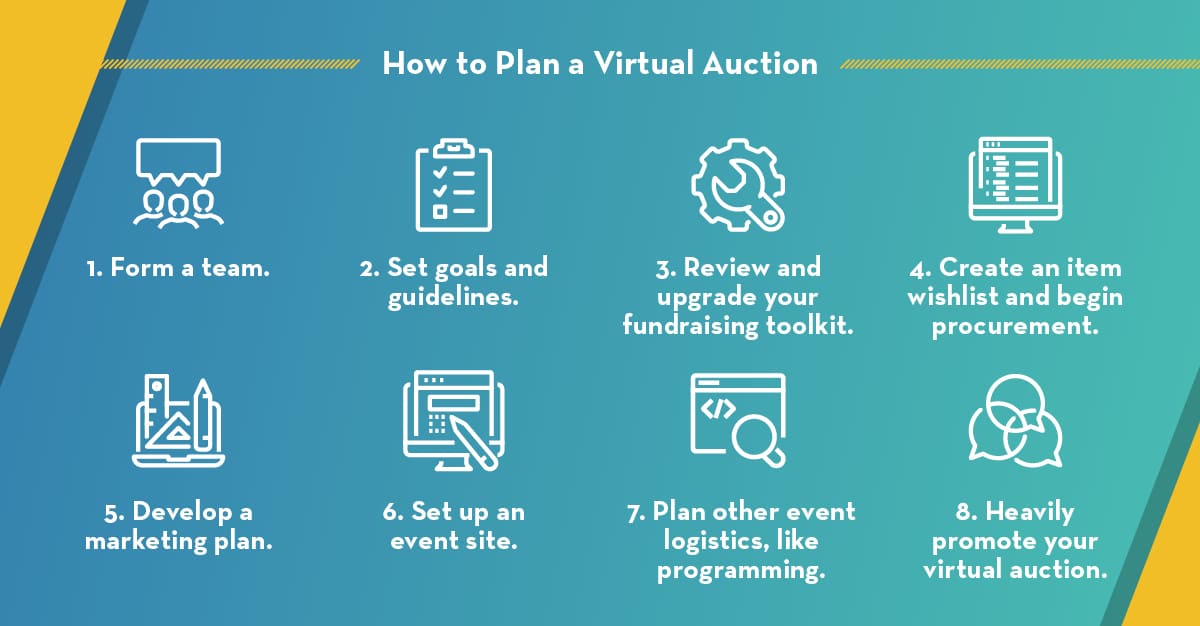 #1 Form a team to execute your virtual auction.
Don't try to tackle the entire event on your own! Form a team of staff and volunteers and designate specific responsibilities to different team members. These responsibilities could include:
Technology
Marketing
Sponsorships
#2 Set goals and guidelines for your virtual auction.
Determining these guidelines early in the process will keep your plans focused from start to finish. Begin by setting a budget, including any new tech you'll need, and then specific revenue and engagement goals for your virtual event.
In addition to setting monetary goals, you might also use a fundraising event to facilitate other goals, such as:
Acquiring new donors.
Promoting your cause or gaining publicity.
Stewarding existing donors.
Engaging prospective major donors.
#3 Review and upgrade your virtual auction fundraising toolkit.
For your first virtual fundraising event, you'll need to invest in new software to help plan and host it. If you've already hosted one or more virtual events, take some time to review your toolkit and fill any gaps.
If you're ready to see the software for yourself, take a test drive of the OneCause virtual fundraising suite of products.
#4 Create an item wish list and begin virtual auction item procurement.
Your virtual auction can only be as successful as the quality of its auction items.
While there's no secret formula to procuring the best auction items for your event, we can help you get started!
The best items for an online auction will appeal to your demographic. Think: What particular items would my donor base be excited about? When identifying the best items to procure, follow these top tips:
Review your past auction's performance. With online auction software, data from previous events will be invaluable for guiding your procurement process. What types of items were popular? What types of items only had few bids? Use this data to procure even better items for your guests.
Use donation request letters. Using donation request letters when soliciting items for your school auctions is a smart way to save your team time, give them a solid framework to expand on, and simplify the donation process.
Get creative! Your offerings need to be unique and interesting to draw as much attention and competition as possible. Get creative with your procurement team!
#5 Develop a plan to market your virtual auction.
For your auction to succeed, you'll need registrants! Marketing your virtual auction will be essential for a few reasons. Effective promotions help with:
Inviting supporters to your auction
Securing early registrations
Promoting your auction items
Generating excitement and competition
Marketing is crucial for any type of auction, live, silent, or virtual. For online auctions, digital promotions are especially important to make up for the lack of in-person engagement and to reach wider audiences to drive more bids. We recommend taking a multichannel approach to marketing your auction.
Here's how it might work: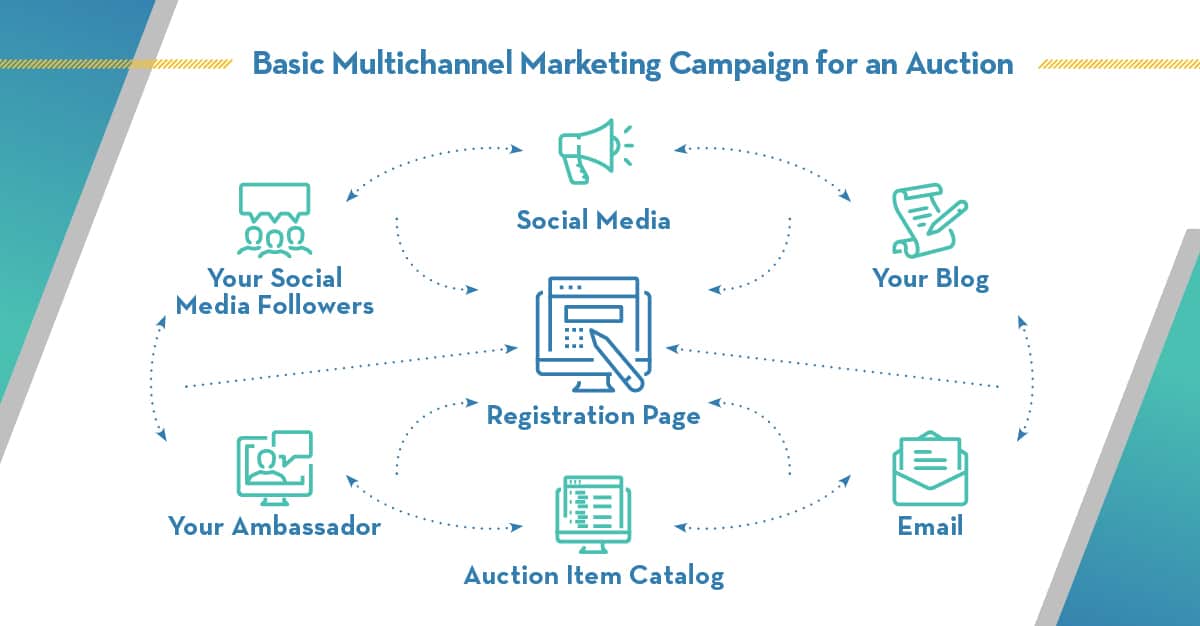 The main idea of a multichannel marketing campaign is to use each of your digital outlets to drive more traffic both to one another and to your target action – in this case, your auction's registration page.
#6 Set up your online auction site.
Your online fundraising site will serve as your fundraising headquarters and your "virtual venue." Once you've picked your virtual auction software, start building your site. Make sure to include:
Custom pages. Create unlimited custom fundraising and informational pages specific to your event and mission.
Fundraising drivers. Put your auction catalog, donation appeal, fixed priced items (raffles, parties, merchandise) on your site.
Virtual auction items. Track, manage, and package your auction items.
High quality visuals. Bring your event to life online with graphics that communicate your theme.
Social media integrations. Maximize your reach and communicate your cause on social.
#7 Plan other auction event logistics, like programming.
To incite bidding and bring your community together, a virtual program might be the perfect pair for your virtual auction.
Design your event program just like you would a normal in-person gala, just tweak for virtual adjustments.
We've found a shorter program holds the attention of donors better than a typical 2 hour gala event. Check out an example run-of-show that includes your virtual auction: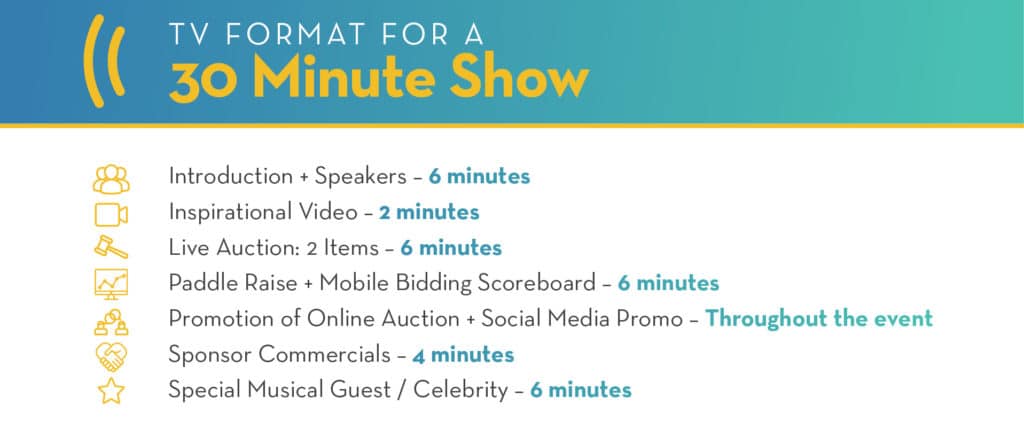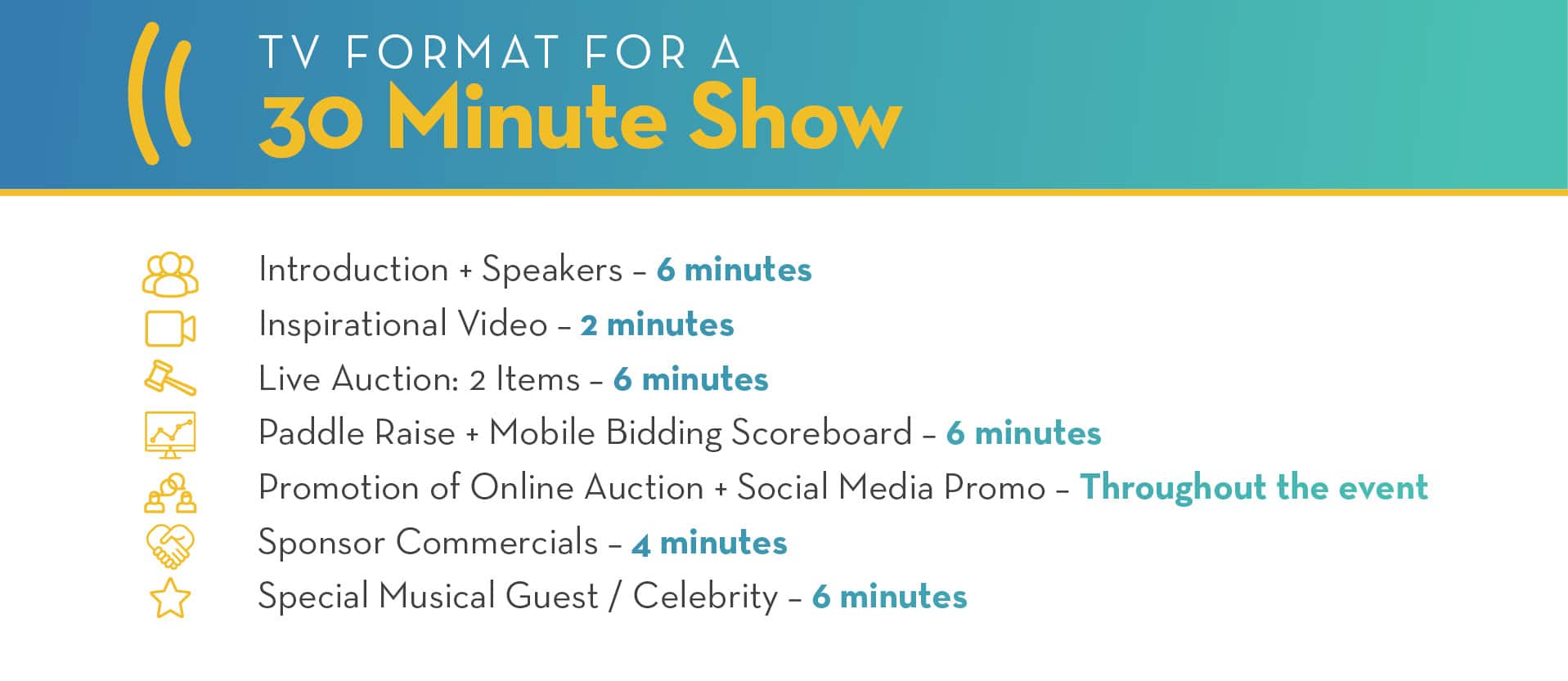 #8 Heavily promote your virtual auction.
For your virtual event to succeed, it has to stand out online. Donors need to know about your event, how to sign up, and what to expect on the big day. Get them excited with promotions via email, social media, and peer-to-peer tactics.