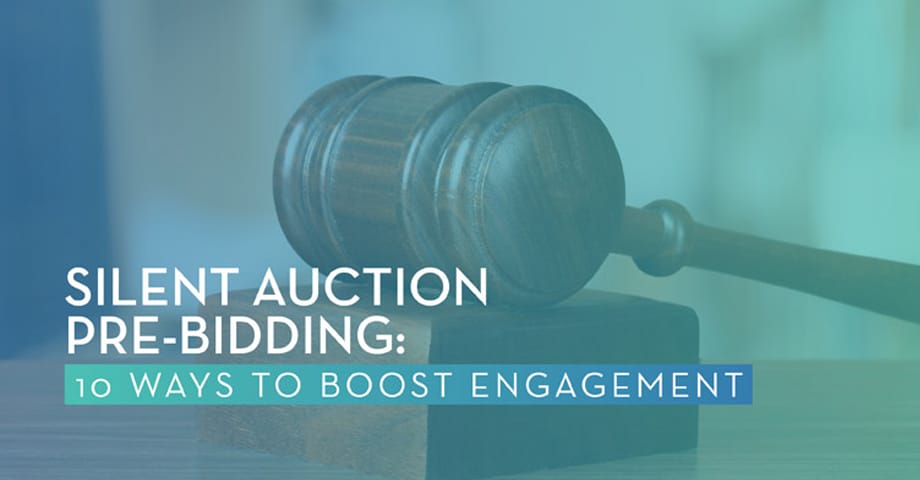 Silent Auction Pre-Bidding: 10 Ways to Boost Engagement
The modern fundraising event is no longer limited to the ballroom. It's mobile.
Your OneCause Giving Center is your primary means for selling tickets, registering guests, accepting donations and taking bids before your event.
Extend the life of your auction by engaging supporters in pre-bidding! Pre-bidding gives your organization the opportunity to build excitement for your main event and kickstart the fundraising with an online auction before the event itself. But don't feel like you have to give it all up! Only packages flagged for "Enable Online Bidding" are available for bidding/purchase while your Auction Catalog is live.
If you choose to offer an online pre-auction event to allow guests to get a head start on pre-bidding, follow a few best practices to ensure their experience is perfect:
Publish your Giving Center early and promote it often.
Don't worry about getting everything online at once.
Use social media to promote your silent auction pre-bidding.
Feature newly added silent auction packages.
Give your silent auction pre-bidding a date and time.
Educate donors on the benefits of silent auction pre-bidding.
Use auction pre-bidding to streamline event registration.
Silent auction pre-bidding is one of the smartest moves you can make to ensure a highly-engaging (and high-profit!) event. Digital and mobile tools have made it easier than ever to get your guests excited to bid and then keep them excited all night.
If you're still in the early planning stages of your silent auction, we suggest you check out our comprehensive resource on how to plan a silent auction.
Publish your Giving Center® early and promote it often.
Publish your Giving Center Early and Promote it Often.
Promote your online fundraising site as soon as possible. The average OneCause Giving Center is published approximately 39 days pre-event. This average is increasing every year as nonprofits discover more ways to leverage online pre-event giving.
Your Giving Center doesn't need to be "complete" when it's published. From event details to auction items, upload what you can. As long as the site is functional (published with key event details), you can start promoting it.
Social media makes promoting your Giving Center and pre-bidding easy. Leverage each of your social accounts! Direct social media followers with the Giving Center link. Share specific auction packages (include a photo and the direct link to bid on the package) to keep your supporters coming back to your Giving Center and get your guests excited to start bidding! Post about bidding wars. Encourage supporters to re-post, like, pin, and tweet. The number of people you can reach in a matter of seconds is astounding.
More traditional communication methods may be necessary to supplement social media promotion. Include your Giving Center's friendly URL in event invites. Mention it on calls.  Put it in your email Signature and newsletter!
Feature Newly Added Auction Packages.
The reality of fundraising is that you might not receive packages until the day of the event. Even if you have a great inventory early on, consider holding items and adding them every few days to keep online viewers coming back to the site over and over again.
Promote auction items on your Giving Center when they're ready to go and keep adding them as they come in. These real-time updates encourage supporters to visit your site again and again. Plus, you'll build excitement for pre-bidding as donors find more things to add to their wish list!
Social media is yet again a great tool for pre-bidding promotion. Publicize newly added auction packages (include a photo and the direct link to bid on the package) on social media and in other client communications to encourage pre-bidding. You can also send out an email every couple of weeks to all supporters highlighting new and exciting auction items. Always include a link it to the Giving Center.
Give Pre-Bidding a Date and Time.
Effective communication is the answer to many a question! Clearly define the exact date and time at which silent auction pre-bidding will become available on your Giving Center.
Prepare your supporters for pre-bidding with email communications before the Auction Catalog is published. Then make an announcement when your auction is open and guests can begin before your event even begins. An email blast to your guests with your friendly URL allows them to start bidding from their own smartphone.
Educate Supporters on the Benefits of Pre-Bidding.
Get a leg up on the competition! Pre-bidding allows attendees to walk into your event with bids on the table. Any packages marked "Buy Now" can be purchased immediately and taken home from the main event.
Pre-bidding allows the option for your guests to skip the event's registration line! Explain to supporters that they can avoid the entire event registration line by registering beforehand in your online Giving Center! Like standard registration, online registration requires only a credit card.
There's no "cost" to pre-bid. Pre-bidding won't charge anything to your card because the silent auction will ultimately move from online to the event site where bidding continues.
Invite non-attending supporters to your Giving Center.
Even those that cannot attend your main event can still participate in the auction! Encourage pre-bidding and remote-bidding (available once the mobile auction is published) with exclusive emails to make these supporters feel included in the main event's festivities.
Emphasize "Buy Now" items and raffle ticket purchases. These are easy wins but consider how you will ship/deliver these to remote bidders.
To allow remote bidding, simply send a one-click login text or provide your Friendly URL to remote supporters. They'll be able to access the auction from their smartphones, laptops, or tablets.
Online Only Opportunities.
Offering online exclusive opportunities is a great way to drive traffic to your Giving Center. Whether it's ticket sales or online-only raffles, encouraging supporters to access your Giving Center increases donor engagement.
Online only opportunities also help non-attending supporters feel included in your event festivities. Consider including a ticket or sponsorship package that allows supporters to underwrite the cost of attendance from someone less fortunate.
Transform your Giving Center.
Remember that your Giving Center is not static. You can change it to fit your organization's needs at various pre-event milestones. For example, you might start by focusing on pre-registration and ticketing months in advance and then transition your Giving Center to focus on auction packages and pre-bidding in the weeks before your event.
Placing a large graphic button on your Giving Center home page that links to silent auction items makes it very easy for supporters to start pre-bidding.
Pre-bidding is simple and efficient. And the exposure with your OneCause Giving Center is endless! Curiosity and competition will have your supporters bidding on packages as soon as you alert them that they are available.
---
We've gathered some additional resources to help inspire your next silent auction and promote your online Giving Center. For more information on using OneCause Technology for Good® for your next Silent Auction, contact us today!