Step 5: Promote Your Hybrid Fundraiser
As we've mentioned, a big plus of hosting a hybrid fundraiser is that people can participate in-person and remote. This becomes a great opportunity for nonprofits to open their fundraising to supporters across the country.
It's also a way, thanks to social media and social networks, to easily connect current supporters to your need to keep on fundraising.
Follow these 6 best practices to promote your hybrid fundraiser:
INFORM SUPPORTERS. Let supporters know you're going hybrid. Give them the dates of your event or campaign and tell them about the goals you hope to achieve. Don't forget to tell them how you plan to use the proceeds. Sharing impact is important in the fundraising world!
EXPLAIN HOW TO PARTICIPATE. Some of your supporters might not have done online fundraising before, so you'll need to explain how to participate. If you are simply taking your mobile bidding online, let people know it's the same site and software they would use for you onsite auction. Reassure them that the only thing different is that they can bid from their couches, or wherever they want! Virtual attendees can even organize virtual tables or viewing parties.
SHARE THE LINK TO YOUR FUNDRAISING SITE. Your online fundraising site (Giving Center for OneCause customers) will serve as your fundraising headquarters for in-person donors and online donors. Share the link with supporters so they can start bidding and donating! Put your auction catalog, donation appeal, fixed priced items (raffles, parties, merchandise) on your site. If you are running a peer-to-peer hybrid campaign, ask your participants to spin up their personal fundraising pages and share the links on social media.
LEVERAGE AMBASSADORS. Think about your most loyal supporters, volunteers, donors and staff and make them Ambassadors. Tap them to help you spread the word far and wide about your hybrid fundraiser. You can set them up for success with social media toolkits and templates. Motivate them with contests for who can get the newest bidders, donors, or social reach. Make it fun for them to raise funds for your online efforts.
BLAST ON SOCIAL MEDIA. Social is the hybrid fundraisers' best friend! It's free and has unlimited reach. Create a social media plan to promote, engage, and excite supporters. Let your social media army loose. Be sure to embed mission messaging, impact statements, and the "why it's important" in your populated posts on your fundraising software to connect with supporters.
REACH OUT TO PARTNERS. Be sure to make full use of your nonprofit's network of partners and sponsors. Businesses and other organizations can help broadcast your event to their audiences, and sponsors can provide reach to strengthen your hybrid promotional strategies.


For your hybrid event to succeed, it has to stand out online. Donors need to know about your event, how to sign up, and what to expect on the big day.
Since anyone can join a virtual fundraiser, from anywhere, broadcast your message to as wide an audience as possible.

Step 6: Tips for Planning Your Hybrid Event
The details for planning and communicating to two audiences can seem daunting. Don't worry! We've assembled the must do steps for your dual fundraising strategy.
Follow these best practices to set your event up for success:
AUDIENCE FOCUS: First start by determining if the main part of your audience is going to be in-person or virtual. This will help you shape and define your program and supporter experience. You can define 'main audience' as either:

Majority of attendees, or
Where your VIPs/Major Donors are
DUAL ENGAGEMENT STRATEGY: You also need a 2-prong strategy to maximize engagement (and giving) for both in-person and virtual attendees. Some experiences will be shared (main program, auction, donation), but some may be different, for example:

REGISTRATION & TICKETING: Be sure to setup and create differentiated Ticket Types as the primary way to know who is virtual vs in-person.

Many nonprofits are not charging virtual attendees to participate, unless there is some perk or package involved in the virtual experience (e.g., party in place, Home VIP packages). They see free online participation as a way to bring in new supporters and grow reach. It's up to you to determine what makes sense for your nonprofit and your supporters – the great thing about hybrid is its versatility!
It's okay to charge for virtual attendees (you could even have Virtual VIPs who get dinner); but in the ticket process make it clear what you get for attending in-person vs virtual experience.
Use the Giving Center to setup and showcase customer pages to explain in-person and virtual expectations and attendee experience (e.g., FAQs, maps, programming timeline, login information, viewing from home instructions, etc.).
Consider eliminating in-person registration since your attendees have already registered online. Have a greeter concierge checking people in; place any paddles or items at tables. This will reduce volunteers and equipment needed and help maintain social distancing.
Guests can put their own CC on file, plan ahead to help those who need assistance, with a chat line or volunteer in charge of support.

PROGRAM: To generate momentum and energy for both audiences, during your hybrid event by having a full flushed out program and timeline is very important.

Keep your program short – 30-60 mins – to keep both onsite & virtual attendees focused and engaged.
Create and publish a program timeline on your fundraising site (Giving Center for OneCause customers). Also post it on social media, your website, and other communication platforms you are using.
Be clear to both audiences about how they will interact and participate in the program.
LIVESTREAM: Be sure to map out how you will livestream your hybrid event to your virtual audience. With mobile bidding, your remote supporters can connect into your fundraising, auctions, and donations from anywhere.

Be sure to provide clear instructions on how to log into your program and what live streaming service you are using.
We highly recommend testing and performing dry runs of your event program and livestream technology, with your team and any vendors, to work out any issues prior to your hybrid fundraiser.

COMMUNICATION: Emphasize communication before and during your event. Communication is key to keeping both audiences up to date on your hybrid fundraising event.

If you or your supporters are new to technology, make sure your donors understand how the event will work before launch day.
Before event: Build momentum (for everyone) by communicating often, and having activities leading up to the program. This includes, social media contests, hashtags, emails, texts – and other forms of pre-event communication.
During event: use live announcements and text message communication to keep attendees in the loop during your event.
After event: After your event ends, be sure to quickly follow-up with donors to thank them for their support and offer more ways to stay engaged. You might even take the opportunity to invite them to your next virtual event! Consider sending event surveys, as well, to generate more insights on your event's strengths and areas for improvement.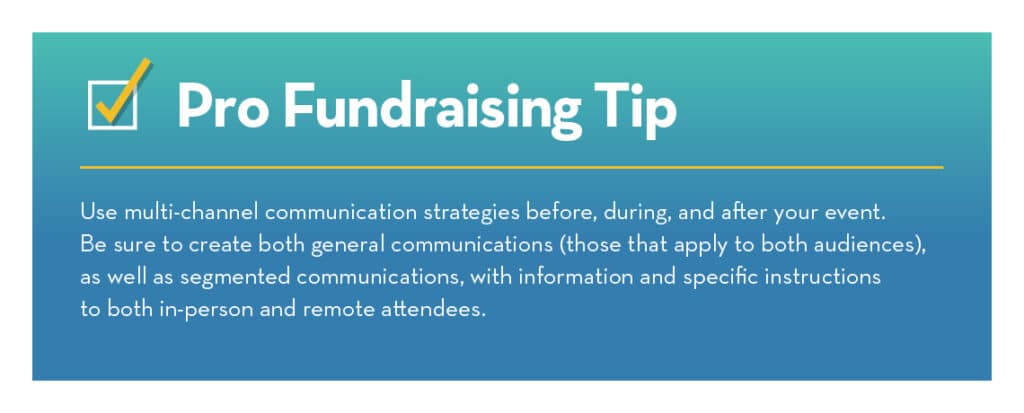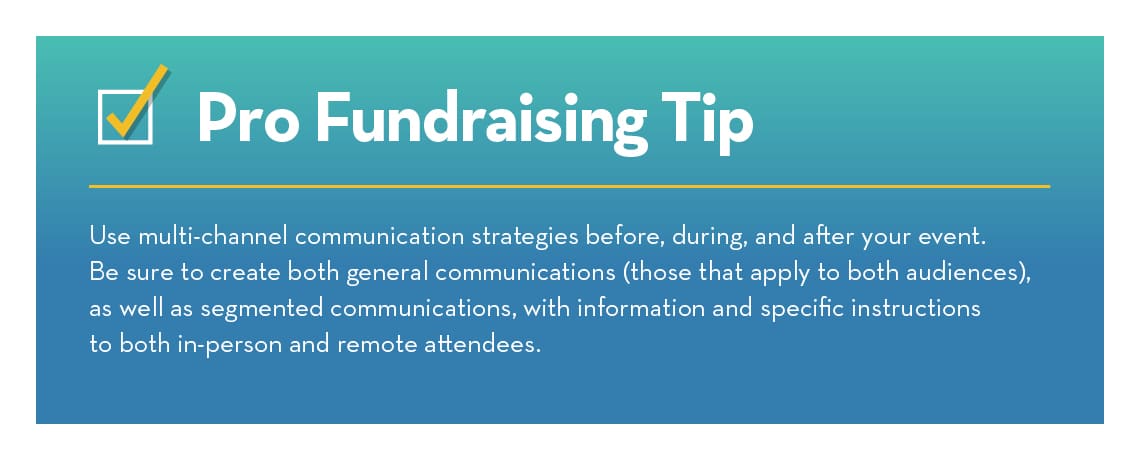 CREATE OFF-SCREEN ENGAGEMENT: To make sure you are driving engagement for those not in the room, be sure to feature off-screen activities for your virtual attendees.

Look for breaks in the program, and how you can keep remote supporters' attention. The pull is high in the virtual world for people to hop off or get distracted. You will need to find ways to keep them engaged and tuning in.
This could be done through built-in video breaks, social challenges, trivia, live shoutouts, and more.

SPONSORS: Plan out how you are going to highlight sponsors before and during your hybrid event.

Add logos to your fundraising site (Giving Center for OneCause customers). These will appear and scroll on attendees' phones and devices, providing digital visibility to your sponsors.
Create social media promotion plan to share sponsor love online.
Share sponsor videos or graphics highlight their brands, and thanks them for their support.
Announce sponsors live during your hybrid event welcome, and throughout your program.
Add logos to fundraising scoreboards during your event.

Step 7: Execute Your Hybrid Event
As the day of the hybrid fundraiser rolls around, it's time to open the fundraising!
Make sure each team member's day-of responsibilities are clearly outlined. Have a staff member (or volunteers) on hand to answer questions and troubleshoot tech challenges for virtual and in-person attendees.
Depending on your campaign and the fundraising technology you choose, execute your launch plan.  Be sure to:
Turn off ticketing options. If you are selling tickets online, be sure to have a cut off date/time, and clearly communicate when ticket sales will close for all attendees.
Start the bidding. We recommend opening up bidding at least one week before your event. But if you did not do pre-bidding, be sure to open your auction early on event day.
Turn on your online donations, fixed price items, and any other online fundraising activities.
Clearly explain the bidding and donation process to your attendees. Provide instructions on a custom page, have an FAQ page, or supply a quick training video on your site.
Send frequent communications and updates to your supporters to keep the momentum going and sustain bidding leading up to your event.
Most of all, remember you will be speaking to two audiences: in-person attendees and virtual attendees. Make sure to use talk tracks, instructions, and information to make it clear what each audience needs to do.
As we mentioned during the planning phase, it is important to clearly map out your program and timeline for both audiences, to help the day of event go smoothly. Once the live event kicks off, make sure you:
Keep supporters fully engaged throughout your hybrid event. Make sure your attendees, especially virtual attendees, stay engaged by incorporating plenty of interactive elements, using compelling multimedia, and fostering plenty of communication in your event program. It's all too easy to tune out of a live-streamed event or multi-day virtual activities.
Stick to Your Timeline: Try to stick to your timeframes and program. You have a certain amount of "patience equity" with your attendees, and when you let your program meander and run over, you squander trust and erode their patience. This concept is especially important in virtual events. The more you manage your timeline, the happy your donors and more apt they are the stay engaged in your fundraising!
Use gamification tools. Speaking of boosting engagement, gamification is an extremely effective way to ensure donors stay excited throughout the event. Fundraising thermometers, auction leaderboards, ambassador contests, matching gifts, themes, and award ceremonies can all boost your event's energy and drive stronger fundraising results.
Send updates and share progress. No matter which type of hybrid fundraiser you are running, actively engage supporters throughout. Give them updates on high value items, progress towards your goals, and reminders about when the fundraising will close. Use live-streamed and text message communication to keep them in the loop during your event.

Step 8: End Your Hybrid Fundraiser
The clock is ticking, and the end of your hybrid fundraiser is almost here.
Conclude your hybrid fundraising event with a grand finale, and close out all fundraising activities.
When possible, set up your mobile bidding software to automatically the close bidding for you. We recommend waiting until after the event to batch and process payments.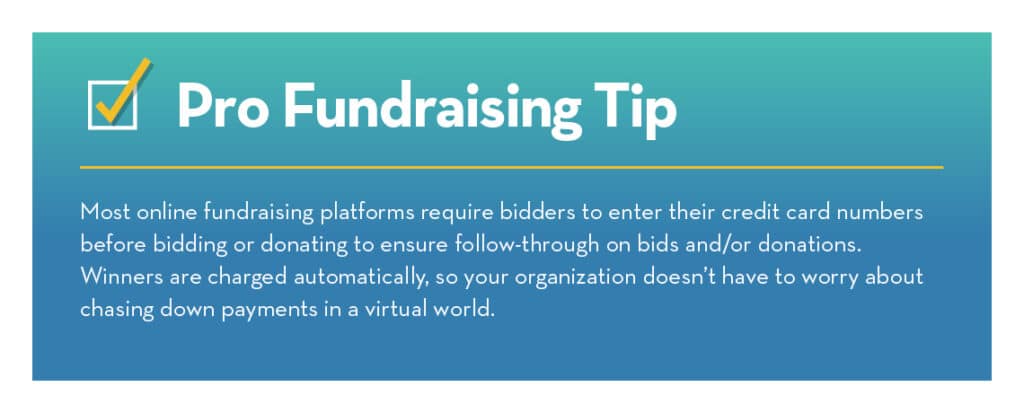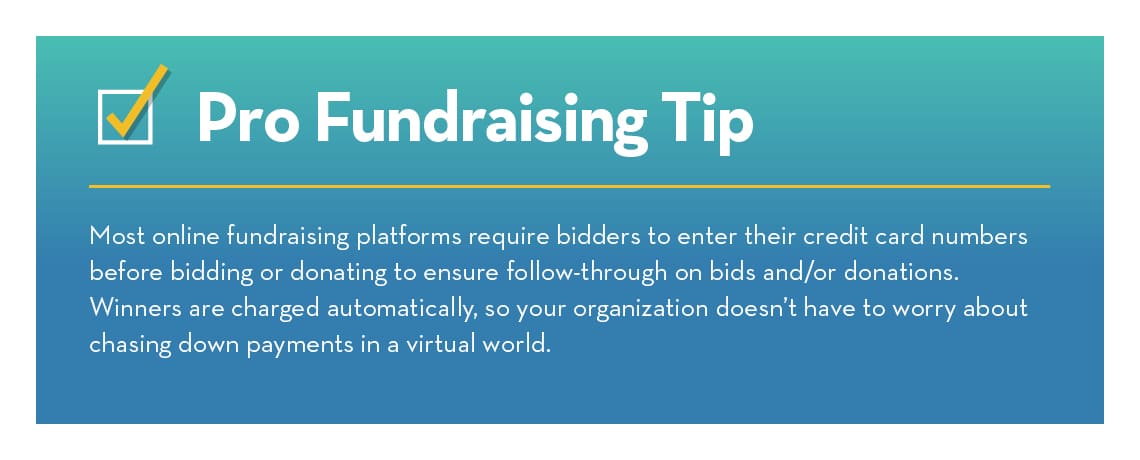 Once your hybrid event draws to a close, make sure to thank every participant, at-home and in the room with you. Donors love hearing how their support translates into concrete impact for your mission.

Step 9: Thank & Deepen Donor Engagement
Congrats on making it through your first hybrid fundraising event! After any fundraising event, following up is critical.
To drive long-term engagement, immediately follow-up with donors and express your gratitude to everyone who attended and donated. Thank them for their support, talk specifically about the impact of their gifts, and offer additional ways to stay engaged with your cause.
You might even take the opportunity to invite them to a virtual tour, educational session, or volunteer activity! Consider sending a post-event survey, to generate more insights on your event's strengths and areas for improvement.
Learn firsthand what your supporters want from your organization.
Show through openness to feedback that your organization appreciates them and their input.
When you build relationships with supporters, outside of the ask and beyond the fundraiser, you foster deeper engagement that helps cultivate year-round participation and support.


Use social media blast posts to thank everyone who helped: donors, staff, volunteers, and peer-to-peer participants alike.
Most importantly, tie all donor communications to the results you achieved, the dollars raised, and how the funds will be used to support your mission.
If individuals went above and beyond to contribute to your success, publicly recognize them and personally follow-up to express your gratitude. Here's a few simple follow-up suggestions:
Send out personal thank-you notes for large donors.
Send personalized emails that recognize donors for their support; share about impact.
Utilize social media, email campaign, 1 text message (don't overdo texts) to update on event success.
Keep donation package open post-event, 1-2 days. Direct non-donors back to the site, consider a "we are $xx away from our goal" message.
Blast results on all social channels.
Take net new donor names and build an awareness email cadence (educate and engage online).
Thank Ambassadors with a virtual goal-reached zoom call.

Step 10: Evaluate Performance & Analyze Data
Evaluate the success of your hybrid event by tracking your performance and using the reporting/analytics in your fundraising software. Tracking your results with mobile bidding software will save everything in a centralized location for your team to success and analyze.
The five main questions to consider are:
How well did we do at reaching our goals?
What can we change next time to make our hybrid fundraiser more successful?
What areas over-performed? What areas under-performed?
What was the participation % (percentage of registered attendees who donated or purchased items)?
Where was the fundraising performance? In the room or virtual/online?


After analyzing your data and your post-event survey, you will be ready to rock your next hybrid event to drive greater fundraising results and cultivate better supporter relationships.