2. Occasion and Challenge Campaigns Are on The Rise
When we look at how these Social Donors give, we find their participation in fundraising events and runs, walks, rides remained consistent from 2018. The biggest area of growth was in giving to occasion/challenge campaigns – almost doubling the percentage of U.S. adults giving in this way over the last 12 months.
So… get creative! Diversify your fundraising online and make sure you have giving days, awareness campaigns, and evergreen DIY strategies worked into your fundraising calendar.
If you have your traditional gala or run, walk, or ride nailed down, think about how you can incorporate easy-to-launch online fundraising campaigns throughout the year. They're the perfect avenue to engage your base and reach a new group of supporters.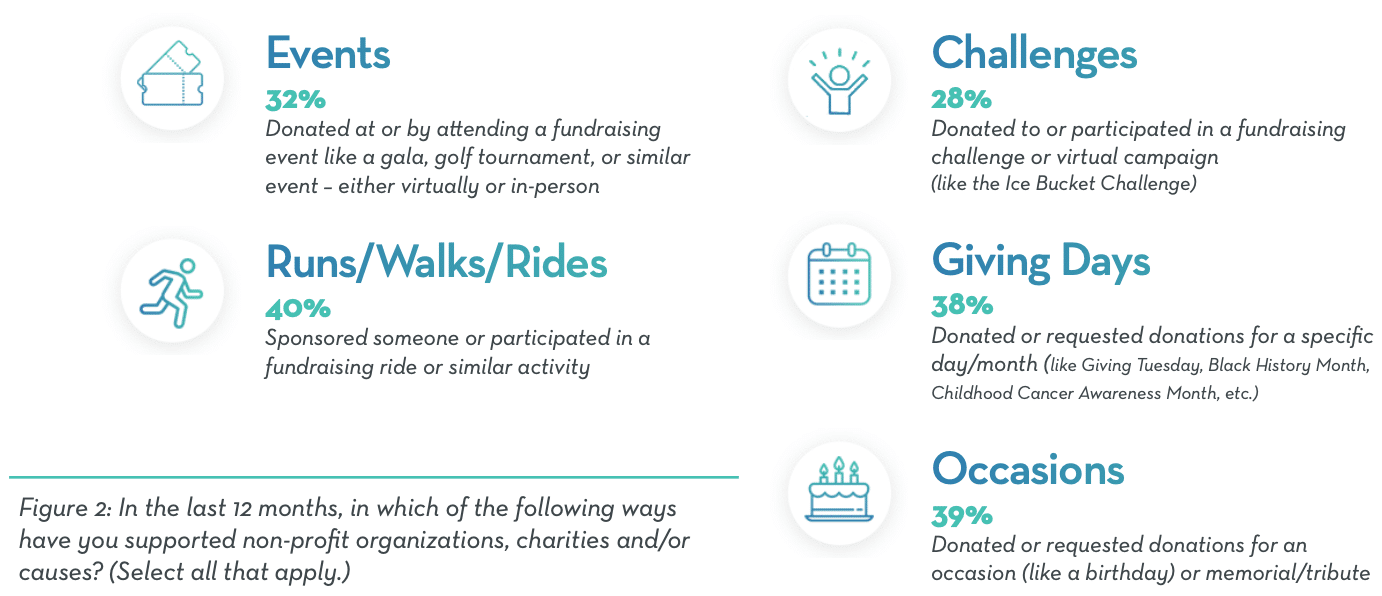 Social Donors are ready to be your cause's champion! There was significant growth in Social Donors participating in occasions and challenges. This shows a shift in giving behaviors AND a huge opportunity for nonprofits. The surge in personalized giving means nonprofits need to continue to:
Find ways for donors to Fundraise Your Way.
Offer unique giving campaigns to tap into donor passions and social networks.
Make it easy for supporters to spring up campaigns.
Ensure birthdays, gifts in honor of a friend/family member, or viral giving moment like the Ice Bucket Challenge are not just part of your strategy, but on your website, social channels, and in communications.
Be sure to think out of the box on how you embrace occasion and challenge giving. Then equip them with the resources, technology, and knowledge to fundraise for you. It will maximize your reach and your proceeds as a result.
Speaking of getting creative – check out how WellAware empowered and motivated and army of Social Donors in their ShowerStrike campaign.