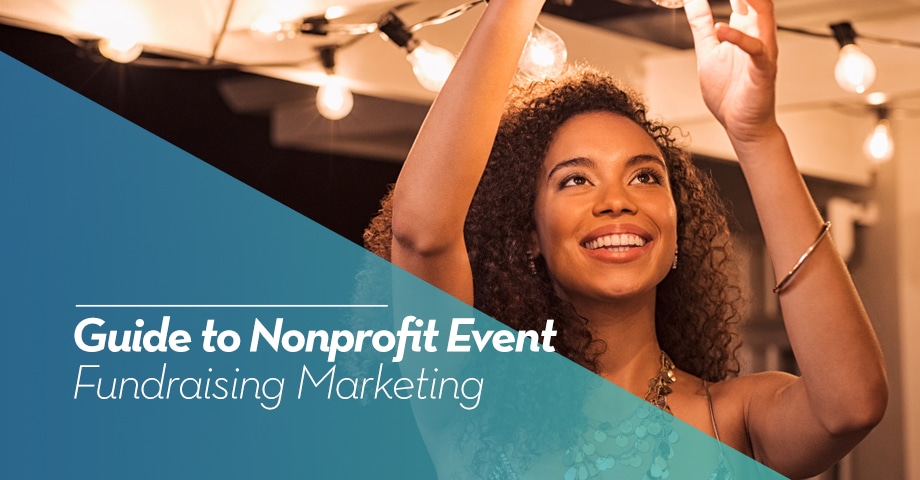 Guide to Nonprofit Event Fundraising Marketing
As those in the nonprofit world realize, few things are as effective—or as time consuming—as fundraising events. These events bring in big time donations, and can have a huge impact on furthering the organization's cause. But they can also consume resources. It's important to have an effective event fundraising marketing plan to save time and execute flawless fundraisers.
Unlike the lesson from "Field of Dreams," just because an event is built, doesn't mean that contributors will come or that donations will flood in. In order for it to be a success, the event needs to be marketed effectively before, during, and even after all of the guests have gone home. If not, the organization risks not only losing the investment in the event, but potential donations.
With this in mind, how should your nonprofit go about effectively marketing your next fundraiser? Below, we'll explore best practice tips and tricks to help your nonprofit team attract the right guests, engage them in your fundraising, and continue the excitement long after the fundraiser wraps up.
Marketing in Advance of the Event: Create The Marketing Plan
Once a decision is made to move forward with a fundraising event, nonprofit leaders' fundraising instincts immediately kick into high gear. Successful events require creating a nonprofit event fundraising marketing plan well before the date to make sure guests know about the fundraiser and come in the door ready to donate.
What should my team consider when developing an event fundraising marketing plan?
One of the most critical—but often overlooked—keys to successful event fundraising marketing has nothing to do with skills or marketing expertise. Surprisingly, it has nearly everything to do with good old fashioned time management.
About six months before the event date, begin developing a nonprofit event fundraising marketing plan, which should allow enough time to develop a realistic budget, book event space, enlist volunteers, and invest in necessary resources. Once the foundational pieces of the event are secured, it's time to build out a marketing calendar. At least two or three months prior to the event, invitations, social media campaigns, and other promotional material should be sent or scheduled. Targeted information about the event should continue to be released up until several days before the event to remain top of mind with potential guests as well as those already confirmed.
About a month and a half to two months before the event, begin executing social and promo campaigns to drive registrations by opening ticket sales and publishing your Giving Center site for maximum online fundraising exposure.
What marketing channels should we use?
Part of the early development of an event marketing plan includes determining the target audience and considering how to best engage your donors with relevant information. Important questions to think through might include: Venue type, location, style, formality, and so on. Determining these important event logistics directs where and how to market the event to your supporters. Here are a few marketing channels to consider:
Traditional advertising: Many nonprofits still find success through traditional advertising methods, such as including a print ad in the local newspaper or a hanging a flyer in the window of a local coffee shop. A well-designed direct mail piece sent to several local area codes or a radio or tv slot can also be great methods, depending on the budget allocated to the event. Also existing nonprofit mail channels, newsletters or PS in mailed donor communications or letters.
Social Media: When used correctly, social media can be an inexpensive pre-event marketing powerhouse. Every follower on a nonprofit's Facebook, Twitter, or Instagram, represents a way to broaden your network of potential donors. Encourage registered attendees to share their RSVP leading up to the event or offer an incentive like free tickets or a special prize to those who also register a friend. Your nonprofit may want to consider investing in a social fundraising platform, making it easy for your team to quickly and easily post to Facebook and Twitter from your Giving Center, or simply copy the page's URL link to share anywhere. Be sure to plan out posts on a weekly basis leading up to the event date so the closer it gets, the more excitement is built with the community!
Other Free or Low Cost Channels: While social media certainly falls into this category, there are plenty of additional tools available for nonprofits who lack the budget for full-scale traditional marketing. Here are a few of our favorite free or low cost tools to consider adding to your next event marketing plan:
Buffer: Schedule social media posts in advance to be shared with the channels of your choosing that are automatically shared at the most optimal times.
Wistia: Boost video engagement while tracking video performance.
Canva: Design high-quality graphics to share on social media or marketing materials to be distributed before your big event.
In addition, take advantage of existing email lists to create segmented email marketing campaigns. Past or interested donor names are already in your database—be sure to put those contacts to use!
Using just a few of these can pay dividends come event day. Now, speaking of event day….
Marketing During the Event: The Big Day Is Finally Here!
Event day arrives and your event fundraising marketing plan has worked like a charm. The right people were targeted and attendees are excited and tuned in, ready to engage with your nonprofit cause and fundraising. Just because the event kicked off without a hitch doesn't mean that the marketing stops. In fact, it's just getting started!
One of the biggest mistakes a nonprofit can make is to neglect continuing to market the event and cause during the fundraiser. During an event is the perfect time to share highlights and capitalize on excitement so donors will be eager to sign up again—and those who missed out will want to contribute online or sign up next time. In fact, consider event day the true kickoff for marketing the next event. Here are few ways to put nonprofit event fundraising marketing magic to work even during the fundraiser:
Photos: Make sure your team (or a hired professional) takes photos to post live on social media during the event. In order for guests to follow along and to contribute photos themselves, be sure to create and promote a unique event hashtag—like #TheBestGalaEver—and promote it before and during the event. By using an official hashtag, your team has an additional opportunity to showcase guest photos. Yet another inexpensive way to guarantee fun event photos is to set up a backdrop with fun props and to enlist the help of a photo booth photographer. Use the hashtag to share some of the funniest outtakes during the event, and encourage guests to share their own.
Social Media: Yet again, social media to the nonprofit marketing rescue. Continue to post to social media channels throughout the event and encourage guest participation in order to share excitement and build community. Provide real-time updates about how much has been raised and be sure to call out how the donations will impact your nonprofit's cause. Afterall, your attendees aren't just party-goers—they want to make a difference for your nonprofit.
Videos: Many of your organization's top donors and even new donors will all be gathered in one place. Take advantage of the opportunity and schedule short video interviews in advance with top or new donors and ask them to share a story about why they believe in the nonprofit's cause and why they've chosen to support it. While not immediately helpful, these types of videos will turn into event fundraising marketing gold that can be used long after the event wraps up!
Media: The news media can be an event's best friend when it comes to reaching a wide and unique audience. Check to see if local newspapers, television stations, or even radio stations would be interested in covering the live event or promoting it after the fact for their audience. Invite them (well in advance, of course) and offer one of the nonprofit's leaders or board members to provide an exclusive interview.
By employing these nonprofit event fundraising marketing strategies, your team will not only build excitement in the moment, but you'll be positioning your event to be even bigger and better the next time around.
Marketing After the Event: Your Job Isn't Done Yet!
Once the last glass has been picked up and the final bit of decoration left over from the event has been recycled, it's time to relax, right? Kind of. Yes, celebrate, take your shoes off and soak in all you've accomplished. And then like true fundraisers, get right back at it! The days and weeks immediately following an event present a huge opportunity for additional fundraising and further donor engagement. Post-event marketing is an art in and of itself and, if done right, can build lasting donor relationships. Here are a few things to remember:
Follow-up emails and direct mail: Even simple email thank you's sent to event guests can make a lasting impact. Follow-up emails also offer an excellent place for attendees to provide feedback via a survey. If your team has the resources and time to do so, consider sending handwritten thank you notes—particularly to high level donors. The above and beyond effort that goes into hand written notes can pay dividends as donors are likely to remember them much longer, or even tack them up on their office bulletin board. And, as such, serve as a constant reminder of your nonprofit's cause.
Update social pages with event photos and videos: Continue using social media channels to your advantage for at least 30 days after the event is over. Be sure to also share photos, photo booth outtakes, and even videos taken during the night, tagging guests and sponsors where appropriate to increase the likelihood of further sharing and engagement. Add guest or staff quotes if you can to show the real time donor engagement and personalize the event impact.
Market for next year:  In the thanks you notes and on social media, include a "Save the Date", for the next event and link to its event fundraising page—even if only a few details are available yet. Or, if it's a little too far in advance, include information about the organization's next event or fundraising opportunity.
Have the right technology in place: Gathering contact information and other post-event details can be time-consuming and exhausting. Your team needs to be able to quickly access attendee and donor information as well as details like whether an individual made a large donation, purchased an auction item, or requested an invitation to the next event. Make sure to have technology in place that contain event reports, fundraising analytics and donor information so the follow-up process is easier.
Looking for a technology solution that can be your right hand during the entire event process? Take your fundraising to the next level with OneCause, test drive OneCause today!
When it comes to hosting a successful nonprofit fundraising event, the nonprofit event fundraising marketing plan must be in place months in advance. By using a combination of traditional advertising, social media, video tools, and email marketing to get guests in the door and to keep them engaged long after the event wraps up, your cause is on the right track to successful fundraising.
Marketing a successful event doesn't have to feel like pulling a rabbit out of a hat. With smart and strategic event fundraising marketing, a fundraising event can be a great way to raise money and promote the cause throughout the entire year—well after the event concludes.
Planning an event? Check out these other helpful OneCause resources that will help make your fundraiser an amazing success: