Silent Auction Bid Sheets: 5 Challenges & How to Avoid Them
Silent auction bid sheets, while a tried-and-true process, often lead to messy events. Between scribbled handwriting, the panic of constantly checking bids, guests hovering over auction packages, and then staff manually entering in the data, there's a lot of room for error.
The easy solution to a chaotic auction event is to replace your bid sheets with mobile bidding. This way, your attendees can relax and enjoy the event while placing and updating bids from their phones and all their data can be automatically stored in your software, removing any time wasted on manual data entry.
Still think silent auction bid sheets don't need replacing? Check out our 5 reasons why they do:
Read on to learn why you need to replace your silent auction bids in order to execute a stellar silent auction!
1. Silent Auction Bid Sheets Won't Alert Donors When They're OutBid
The Problem
Your auction events are incredibly busy and entertaining for both your organization and your donors. Aside from bidding, donors will be able to mingle, eat, drink, participate in raffles, and perhaps even more, depending on the scope of your event!
It's easy for donors to get distracted from the reason they came: to bid. If donors don't keep their eyes on the bid sheet at all times, they might miss being outbid! They might not be able to up their bid before the auction completes, causing them to lose the item or package they bid on, which can have a significant impact on your event revenue.
The Solution
With mobile bidding, your supporters will be able to sign up for outbid alerts, which work exactly as you think. After your donor places a bid, your software will track it. If another donor places a higher bid on the same item, your donor will receive a notification via their mobile phone.
This way, they can choose to up their bid or not, but either way, they won't unknowingly miss out on the auction item.
Your bidder can even sign up for automatic bidding and set a maximum bid amount. If a donor is outbid, your mobile bidding software can automatically increase their bid amount to put them back in the lead and encourage hassle-free but competitive bidding! Your donor can put a limit on their automatic bidding, too, to keep their bidding within their budget.
2. Silent Auction Bid Sheets Will Keep Donors Running Around the Event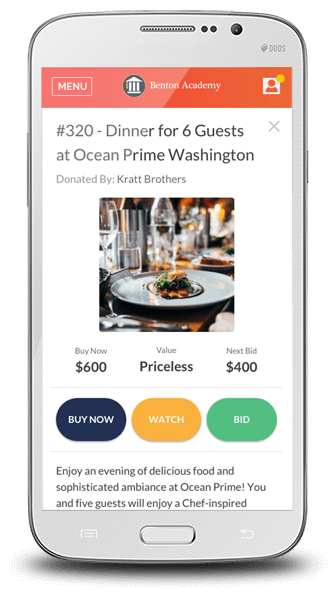 The Problem
If your bidders are proactive about checking their bids on your paper bid sheets, they'll have to run back and forth between sheets and items.
Just checking on and upping their bids will require a chaotic cardio session and leave the fun of the event behind, which could result in unsatisfied donors and poor experiences.
The Solution
Don't make your donors run laps around your event. Give them the option of mobile bidding, which will let them enjoy your auction and finish that conversation at the bar. They can savor their meals and participate in raffles, all the while bidding from their phones.
Plus, because they'll have more time to relax during your event, you'll have more time to mingle with them and strengthen donor relationships! Less runaround at your auction event will translate to happier donors and better stewardship.
See the above image for what donors can use to bid during your event. This intuitive, easy to use software will make bidding more convenient for your supporters.
3. Silent Auction Bid Sheets Will Put Your Bidders on Long Lines for Registration and Check-Out
The Problem
With an old-fashioned silent auction (the kind that require paper bid sheets), your guests will be forced to wait on long lines to register or check-out.
They'll spend significant portions of your event waiting when instead, they could be bidding on packages or purchasing fixed price items.
The Solution
Show your donors you value their precious time with your mobile bidding software. Speed up registration and check-out!
To make registration more time-efficient, you can:
Give your event staff easy access to attendee information

Record additional guest and payment information

Enter onsite purchases and additional donations

Communicate table number and seating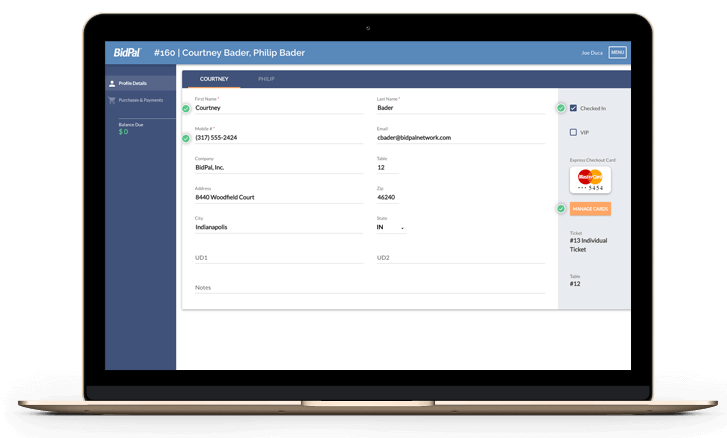 With your mobile bidding software, all the information is housed in one, central location, simplifying registration for speedy entry.
To hold your check-out process to the same standards as your registration process, you'll need the following software features:
Easy access to transactions

No required import of data

Ability to split guest bills into multiple payments

Email or paper receipts

PCI compliant payment processing on site
4. Silent Auction Bid Sheets Can Slow Down or Halt the Bidding
The Problem
Silent auctions can often start out strong but then fizzle out as donors forget about placed bids, resulting in low momentum and low bids.
The Solution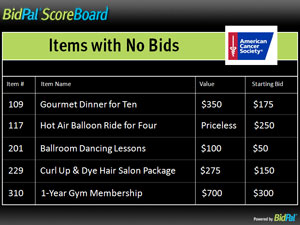 Mobile bidding encourages more frequent and therefore, more competitive bidding! With outbid alerts, leader boards, and auto-bidding, asking for donations through bids will be much more successful.
You'll be able to use features, like your leader board, with real-time updates on current bids to encourage more donations from your donors. Your scoreboard will get supporters excited about winning different packages, therefore, increasing bid activity and frequency.
In addition, your scoreboard will also highlight your donors, giving them proper recognition and yet again, strengthening donor relationships!
5. Silent Auction Bid Sheets Will Exclude Supporters Who Can't Attend
The Problem
As with any event, some of your supporters won't be able to attend due to conflicts and prior commitments. Individuals who can't attend won't be able to write down their bids on your paper bid sheets and will therefore, miss out on supporting your organization.
Plus, the more donors who are excluded from your event, the more donations you'll miss out on!
The Solution
With mobile bidding, your organization's event can reach guests who can't attend the physical event! Bidding from their phones allows them to participate in your auction, eliminating the need for paper bid sheets.
Offering this option to your nonprofit's supporters will prove to them that you value their involvement in your organization all while maximizing your opportunity for donations.
---
Now that you have 5 great reasons why old-fashioned bid sheets simply don't work well for silent auctions, you can begin your search for the perfect mobile bidding provider!
We know that with your mobile bidding software, you'll host a fantastic auction event. Happy auctioning!
Additional Resources
If you're interested in learning more about how you enhance your auction events, check out these resources:
Charity Auction Software from OneCause. There's plenty of auction software to help you manage the planning, execution, and followup of your event. Check out our guide to software so you can figure out what kind of software you need.
12+ Tips for Running a Charity Auction. If you're a first timer when it comes to organizing charity auctions or just need to brush up on your knowledge, be sure to check out our helpful tips and pointers before you begin!
Fundly's Sponsorship Letters Templates. For an in-depth look at writing sponsorship letters, check out Fundly's guide. They'll even give you free templates to make sure your letters are powerful and professional.