How to Launch an Awareness Campaign: 9 Steps for Success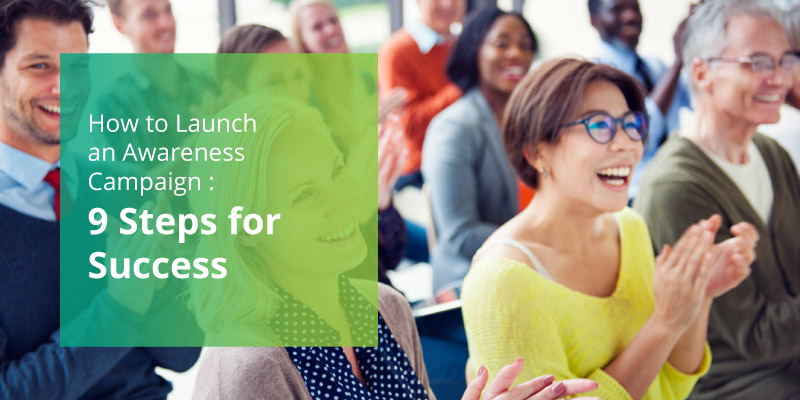 An awareness campaign is a focused fundraising effort to raise public awareness and educate individuals about a specific issue. In other words, it helps your cause gain exposure, in turn gaining more donations for your latest projects.
According to Howard University, the objectives of a standard awareness campaign include:
Communicate your message.
Influence policy makers.
Increase support.
Change negative perceptions.
Reframe donor communications.
Now that you understand the why, let's review the how:
Finally, we'll cover the last (and extremely important!) step: Hosting an event for your awareness campaign.
Ready to dive in? Bookmark this page or take some notes; you'll be launching your next awareness campaign in no time.

1. Do your research for your awareness campaign.
There are countless awareness days out there.
If one fits into your mission and schedule, consider participating in a partnership!
At a minimum, you can get inspired for your own campaign by reviewing the promotional materials and scheduled activities for other campaigns that pique your interest.
Find something your donors will love supporting and one that your organization is passionate about! This shouldn't be a hasty decision but instead one that's mulled over and carefully selected.
While rummaging around in your CRM to look for campaigns that will interest your donors, you should also look at potential fundraising event ideas that will intrigue your supporters, too! You'll want to pick something they'll be excited to attend and participate in.
Another aspect of research to consider is what aspects of your cause that you need to bring attention to. What misconceptions do people have about your cause? Do people know that the problem you're trying to solve exists?
Once you know where the ignorance or miseducation lies, you can better work to combat it.
While doing research before your awareness campaign kicks off, look into who could be a powerful player for your organization for raising awareness. This could mean a local politician or personality who has given money to or volunteered for your organization.
This could also mean conducting some prospect or donor research to find famous individuals with a history of promoting and supporting causes similar to yours. Before kicking off your campaign, reach out to them and ask them to add their voice to yours.
Prospect or donor research is a great way to maximize your impact without spreading yourself too thin. This research will allow you to see people who have supported nonprofits or political organizations with causes similar to yours, so you can more specifically target your outreach.

2. Pick a date that ensures ample planning time.
A successful Awareness Campaign requires a few weeks of planning and work.
Decide the length of your campaign. Ask yourself a few questions to help narrow down a date: is it just one day (e.g. Giving Tuesday, North Texas Giving Day)? Or is it maybe one week? Or is it one month instead?
Another great tip to distinguish your case is to pick a date and time that is unique and meaningful to your organization. Maybe it's the day your nonprofit was founded or the day major legislation was passed that affected your cause. Consider the birthday of someone vital to the cause.
A significant date helps supporters remember your awareness campaign.
Whenever you choose to pin down a date and time, just make sure it's a few months down the road so you have plenty of time to get all the logistics together! You'll want to make sure your campaign goes off without a hitch.
While setting a date for your campaign, set a date for your main awareness event, too! Will your event kick off your campaign or conclude it? Be sure to pick a day that will be easy for your donors to work into their schedules.

3. Identify your awareness campaign audience.
Defining the donor segment or target audience helps tailor the communication message, approach and the fundraising tools to engage supporters in your giving day/week/month.
Take a look at your donor profiles to help you gain insight into your audience. Ask yourself some questions, regarding demographics:
Is your CRM full of young, unmarried professionals?
Do your donors have full time jobs with healthy incomes?
Are most of your donors local?
Do your donors typically volunteer with your nonprofit?
Is stock and real estate ownership popular among your donors?
For example, if younger people make up a large part of your organization's donor demographics, then social media and mobile donations will be key modes of engagement. But if your donors happen to be a bit older, like say, in their 70's, then phone, email, and direct mail are the perfect ways to get in touch!
Once you know whom among your supporters you're trying to communicate with, consider the aspects of the community that you need to engage with to end incorrect preconceived notions or educate them about the mission.
The purpose of your awareness campaign should encompass all levels of knowledge and previous engagement with your cause.

4. Craft a powerful message for your awareness campaign.
To maximize participation, create a powerful message to motivate, captivate and engage donors in your awareness day. Get your community bought in by providing strong visual imagery and detail:
Do your research and share the facts and figures that stand out.
Humanize your brand and use emotion to appeal to donors (shock, awe, surprise, etc.).
Always include a call to action.
The American Heart Association launched the "Go Red" campaign to raise awareness for cardiovascular disease in women. The two words themselves aren't necessarily powerful, but the concept of dressing in red from head to toe is! It connects donors to the cause in a very simple and visual way.
Similarly, Red Nose Day has people around the world "getting seriously silly" to help end childhood poverty. The bright red clown nose symbolizes the entire awareness campaign.
You might also consider branding your awareness event while in the process. While you're crafting your message, make sure your event accurately shares your message and is on brand with your mission.
Remember what the purpose of your awareness campaign is all about: think deeply on the heart of your nonprofit's mission. Can you consolidate it into a few words that honestly convey what your purpose is?
Whether your purpose is to raise general awareness or correct wrong beliefs about your mission, address that in your message.

5. Secure buy-in from your board.
Involving the board (and junior boards, too!) adds legitimacy and reach to your efforts.
Use each members' social and professional networks to your advantage. To keep costs low, you'll want to expend all the resources you have available. Say one of your board members also owns a local restaurant! Perhaps he can donate a few hours in his restaurant to your organization for your awareness day (we'll get into more detail about this in the next section).
Remember that your board will approve your budget. It's easier to get your board on board if you start working with them from the start. This way, you can incorporate their suggestions and they'll be just as excited about your awareness campaign as you are!

6. Partner up for your awareness campaign.
Everyone knows there is power in numbers.
Your organization should consider teaming up with another nonprofit organization that has a similar mission. This way, your nonprofit can easily expand your donor base and gain incredible exposure for your cause while the other nonprofit does the same. Working together to further your shared cause is a guarantee for success!
You can also partner with local businesses. Think about it: local restaurants could donate fundraising event space, sports teams  can put a face to your campaign, or a local radio station can boost promotional efforts. Plus, these businesses will get the added sympathy from their audiences for sponsoring a local nonprofit! It's a win-win.

7. Take a multi-channel marketing approach for your awareness campaign.
Your promotional efforts should span across multiple outlets. This way, you can reach all of your supporters through their favorite channels of communication.
You can communicate with donors through:
Direct mail
Phone
Email
Social media
Website
You can use your CRM or donor database to help you segment your lists when approaching donors through email versus phone. If John's donor profile explicitly states he prefers phone calls over emails, you'll want to give him a ring. Sending him an email might irritate him or worse, he could rarely check his email and not receive your fundraising appeal!
Don't forget to promote your awareness campaign on your website! This is your central hub, after all, where donors, new and loyal, will turn to for information about your nonprofit.
If a new donor stumbles upon your site and wants to contribute, make sure the link to your donation form and awareness campaign microsite are easily accessible!
You can craft email and social media post templates, so you won't have to recreate these messages for future campaigns. Keep in mind that social media sites like Twitter and Facebook are very text dependent while Instagram and Pinterest are visually focused.
This means that Twitter and Facebook are the perfect spots for compelling copy that expresses the importance of your cause while Instagram and Pinterest are best suited for photos and videos of your organization making a change.
Social media is perfect for spreading awareness. While your awareness campaign is ongoing, ask your followers and supporters to use a hashtag related to your message and post relevant content.
Remember, you don't need to preach to the choir. Your donors and supporters already believe in the strength of your mission. Your job, during the campaign, is to provide the content required to educate and change negative perceptions.
Then, after you provide the content, your followers will be able to share it through their social media and influence their social networks.

8. Select your online donation software for your awareness campaign.
To simplify your call to action, make it clear and easy for your supporters to donate to your cause.
Investing in an online donation software makes it easier for your organization to manage your campaign and for your donors to contribute to your campaign!
When it comes to finding the perfect software provider for your organization, you'll first need to determine your budget. Think about exactly how much you can spend on online donation software without stretching your wallet. Don't forget to think about transaction fees and unexpected expenses.
From there, you'll need to do some soul searching and determine which features, like Text2Give, your organization absolutely needs in comparison to those you'd like and those you could do without.
Also, be sure to note the different providers' support policies and training resources. You don't want to buy a software only to not know how to use it!
Once you've narrowed down your list of providers, look into free trials! It's easiest to know how your organization will like the software if you're actually using it. Most providers offer either 14-day or 30-day free trials.

9. Host an event for your awareness campaign.
Events partner perfectly with awareness campaigns! Choose a practical event that allows you to educate your audience but still allows for you to mingle with attendees and attendees to enjoy the event. Luncheons or dinner events are great settings for presentations.
You'll also want to host an event that fits your cause! For example, if your cause is health-centered, you could host a walk, run, or ride event to promote a healthy lifestyle.
The trick here is fitting your educational content in. You can easily hand out flyers and print general information onto merchandise like t-shirts, water bottles, and backpack since it may be hard to corral your supporters for a formal presentation. You could also set up a small stage and ask for just a few moments of attention to give a brief, practiced overview of your talking points and then let your informational publications do the rest.
Another way to approach awareness event is to make them part of of your peer-to-peer campaigns. Combining these two fundraising strategies will give you a powerhouse of an event that you're sure to leave with plenty of revenue.
While your individual fundraisers are collecting donations from their peers, they can invite supporters to your awareness event. Fundraisers can advertise your event as a way for donors to learn more about the cause they're supporting.
---
Now that you have our 9 easy tips for launching an awareness campaign, there's nothing standing in your way. Spread the word about your cause and rake in those donations!
For more awareness campaign inspiration, check out these additional resources:
Best Practices for Awareness Month. Check out our tips and tricks for your nonprofit's awareness month. From boosting attendance to standing out, our resource has all the answers you're looking for.
#GivingTuesday Media Kit. Take a look at our media kit to see what software your organization can benefit from for #GivingTuesday.
Top #GivingTuesday Best Practices. #GivingTuesday is one hectic day. Learn how to make the most out of your fundraising efforts and maximize donations with our best practices.