18 Shots: Updated Golf Tournament Fundraiser Ideas for 2018
Any golf tournament fundraiser presents countless opportunities to bring in additional donations per golfer.
More specifically, there are at least 18 chances — one per hole — and approximately 4 hours of fundraising time on the course alone!
It's time to take your golf tournament fundraiser to the next level. Using BidPal Mobile Bidding by OneCause, engaging your guests on and off the fairway is a breeze! You can incorporate a mobile charity auction, amp up the competition, host online events, and create new revenue streams that add to your bottom line with these 18 ideas. We'll start with our 10 favorites:
Once you've covered these, make to sure to explore the rest of our golf fundraising ideas, too. Ready to get started? Fore!

#1 – Mulligans
Each mulligan is a second chance to swing, without adding an extra stroke to the golfer's scorecard. Allow players to purchase mulligans before the event and out on the course. With event fundraising software by OneCause, your charity golfers don't have to wait for the day of the event to purchase their mulligans!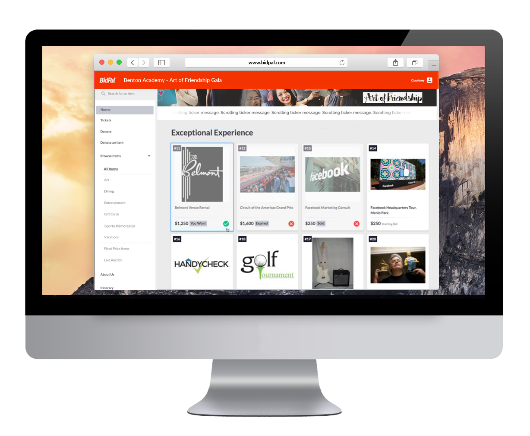 Flexible ticketing and registration pages allow your organization to sell add-ons with event tickets before the day of the charity golf tournament arrives.
#2 – Donation Appeal
Making a donation appeal on the course is easy:
Station a volunteer, committee member, or board member at a hole to ask each golfer to make a donation on the spot.
Request a fixed dollar amount.
Identify a specific financial goal and beneficiary.
Use this as a chance to educate supporters on your cause!
If every golfer donates $50 / every foursome donates $200, you're guaranteed to hit your goal of $3,600 to cover a year's tuition for a student in need. Alternatively, if every golfer donates $25 / every foursome donates $100, you'll hit your goal of $1,800, which feeds the shelter's puppies for one full year.

Offer a small gift or gesture of gratitude in exchange for their generosity. For example, a sleeve of golf balls (donated by Golf Smiths & Sons) or their names and photos on your website.
#3 – Hole Sponsorship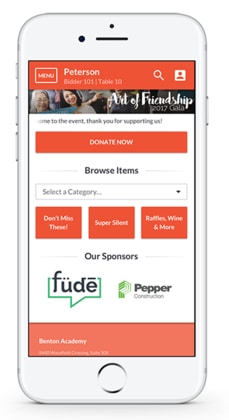 Use your Giving Center to sell up to 18 hole sponsorships, 1 sponsor per hole. Typical hole sponsorships include a sign that clearly identifies the hole sponsor name/organization.
Your sponsorships may also include a prize, in addition to the cost of the hole sponsorship, if the hole being sponsored features any of the contests mentioned here (e.g. Hole-In-One, Closest to the Pin, etc.) or for a charity auction! BidPal Mobile Bidding by OneCause is an essential tool for managing auction items and bidding while your golfers are on the course.
#4 – Hole-in-One Contest
Offer a special prize for golfers who can sink a hole-in-one on your course. You can incorporate this golf fundraising idea into your tournament to give your golfers a break from the game, or you could set it up as its own contest to save time.
The Hole-in-One contest is ideal for a par 3 hole so your golfers actually have a fair chance at winning!
#5 – Putting Contest
Once the entire foursome has made it to the green, each player abandons their traditional golf clubs and opts for one of the available "weapons": croquet mallet, field hockey stick, wiffle ball bat, etc. The first golfer to sink their ball wins.

Alternatively, you can hold a standalone putting contest on the first green or at a mini-golf course.
#6 – Helicopter Drop
The Helicopter Drop is like a drawing. Your organization sells numbered golf balls, uniquely colored (not white), before the event and during registration. A helicopter takes the purchased numbered balls, flies over the golf course, and drops the balls simultaneously at a designated target. The golf ball that lands in the cup, or closest to the pin, is the winner.
Consider awarding prizes to multiple winners to encourage participation. For example, award a smaller prize for the ball to land farthest from the pin; alternatively, use half of the Helicopter Drop proceeds and assign cash prizes to the first, second, and third place winners.
#7 – Pink Ball Contest
The Pink Ball Contest is one of the most popular charity golf outing games, and for good reason! It's easy to set up, easy to play, and easy to win.

Here's how it works: each foursome pays for one pink golf ball, which is rotated between players at each hole. At each hole, the score of the golfer with the pink ball is recorded. Any team that loses the ball is eliminated. The winner is decided by the team with the lowest score for the pink ball.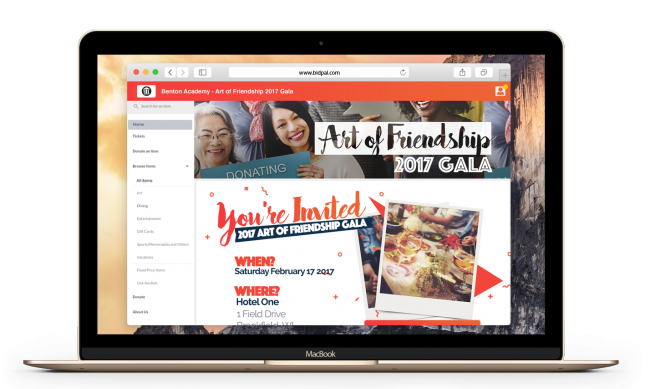 Make sure to promote Pink Ball Contest tickets on your event homepage! If it's one of the first things your donors see when they visit your custom event landing page, they'll be sure to register and raise even more for your cause. Customize your event microsite with event fundraising software by OneCause.
#8 – Logo Accessories
Sell branded merchandise that helps promote your mission! Consider golf-themed items, such as:
Golf balls
Ball markers
Towels
Golf head covers
If purchased before the event, make these items available for your golfers upon arrival so they can be used on the course. Always include the option to add these items to a ticket purchase during registration — or, even better, bundle them with higher-priced ticket packages!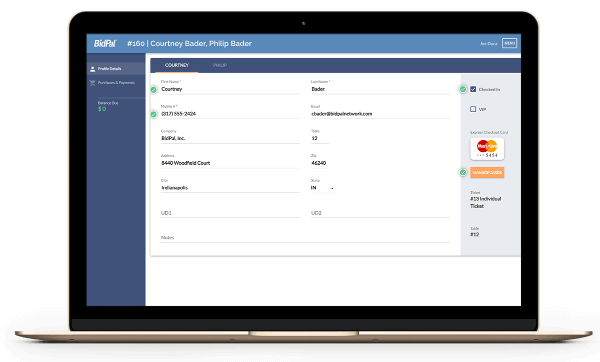 For that, you'll need online event registration software with features that support multiple levels of ticket packages, like OneCause.
#9 – Drink Tickets
Who doesn't get thirsty out in the sunny weather? Offer your donors drink tickets ahead of time to ensure they and their friends have a great time supporting your cause.

Set up drink tickets as Fixed Price Packages or Donation Packages. Golfers can purchase each drink from their smartphone. If drinks are included in the ticket price, recommend a "tip" with each drink via mobile donation.
#10 – Discounted Foursome Ticket Packages
Offering a few options, add-ons, and special rates with your ticketing is a classic fundraising technique. Sell one golfer's ticket for $200 but sell the entire Foursome for $750 to encourage teams to sign up and purchase together. OneCause Ticket Options make this easy!
#11 – Rent a Caddie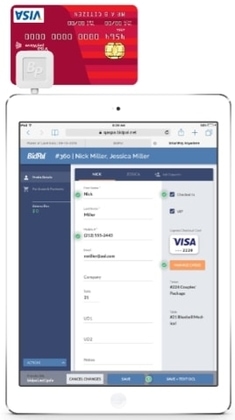 Sell caddie services on your Giving Center as Ticket Options or Fixed Price Items.
This option makes a great PTA fundraising idea or strategy for sports-based organizations. It's a great way to involve the community in your event! Ask the golf team to volunteer as caddies, carrying a golfer's clubs or driving the golf carts.
Some of your golfers might not think they want a caddie when they're registering but later decide they would. Make sure you set up mobile payment and registration options, like OneCause iPad check-in stations or even a text-to-give system, so your donors can add these donations and services when they arrive the day of your event!
#12 – Beat the Pro/Pay the Pro
Ask the golf club/course's local pro to volunteer during your outing. Station them at one of the 18 holes, then make sure you've got a mobile payment or mobile charity auction system in place.
For Beat the Pro, each golfer will place a bet with the pro that they can hit the ball closer to the pin. If the golfer wins, they are paid double! If the pro wins, the money is donated to your organization.
For Pay the Pro, each golfer can donate a specific dollar amount for the pro to drive the ball for them.
See if your pro can offer a few lessons individually, too! "Learn from a pro" prizes make excellent live auction packages for all kinds of events and missions, but golf pointers are an especially popular option.
#13 – Longest Drive Contest
Who can hit the ball the farthest to the cup from the tee? The longest drive from the tee box wins.

Your donors will love the chance to engage in a little friendly competition. Just be sure to station a volunteer or staff member with a mobile check-in station to collect the pledge of whoever wins! Save this contest for a par 5 or par 6 to give your golfers plenty of room to show their stuff.
#14 – Longest Marshmallow Drive Contest
Similar to the Longest Drive competition, one of the 18 holes is designated as the Marshmallow Hole. Station a volunteer at the Marshmallow Hole to provide each golfer a marshmallow. The prize winner is the team member that hits the marshmallow the farthest!
While a Marshmallow Drive might seem like a silly contest, you'd be surprised how many of your golfers will love the opportunity to show their skills in a new way.
#15 – Straightest Drive Contest
An alternative to the Longest Drive, the Straightest Drive contest awards a prize to the charity golf tournament player whose first shot from the tee box lands closest to a straight line marked clearly in the fairway. This contest takes some serious skill to win!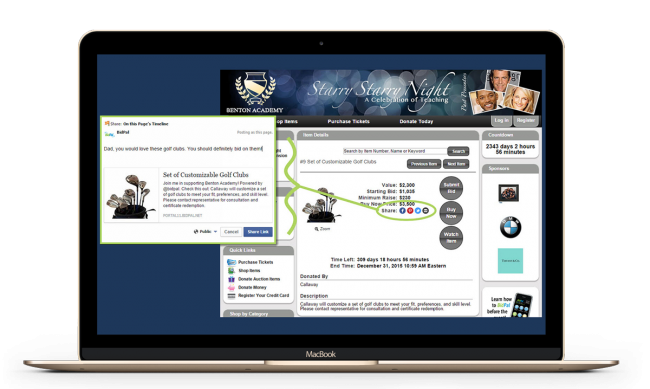 Your golfers will want to share their success with their followers. Encourage them to spread the word about your charity golf fundraiser on their own social media pages by integrating social media into your event microsite, hosted by OneCause.
#16 – Closest to the Curve Contest
A second alternative to the Longest Drive, this golf fundraiser idea contest is less about skill. Instead of drawing a straight line in the fairway, draw a curved or zig zag line. The ball to land closest to the curve wins!
#17 – Closest to the Pin Contest
Used on a par 3 hole, this contest is one of skill. The golfer to get closest to the pin after the first swing wins. Alternatively, for a particularly challenging par 3, the winner can be decided by the closest to the pin after 3 swings each.
#18 – The 19th Hole Contest
As there are only 18 holes played in a round of golf, the elusive 19th hole represents the Course Clubhouse. The first 5 or 10 golfers to return their completed scorecards to the 19th hole are entered into an exclusive opportunity drawing for a great prize! Sell the 19th Hole drawing before the event event and during registration.

Make sure that your contestants have something to do while they're waiting for the rest of your donors to show up. Provide plenty of snacks and drinks to buy, and display your charity auction items prominently to entice more bidding!
---
Charity golf outings are increasingly popular thanks to mobile fundraising technology. There are endless opportunities to engage your supporters out on the links.
Remember that you can use your Giving Center and Mobile Bidding to collect donations, sell Fixed Price Items and drive silent auction bidding both on and off the links!
We realize this is a lot of information! But it's all easily applicable with BidPal Mobile Bidding from OneCause. We recommend trying 1 or 2 of the contests above at your next golf outing to get your feet wet and adding gamification as you get comfortable.
Tee up for fundraising success at your next golf outing with these additional resources:
Fore! Great Charity Golf Outing Games. Once you've got your charity golf tournament up and running, it's time to incorporate games! Bring in extra revenue and boost attendance by offering these popular golf outing games.
Fundraising Tickets: Sell More and Maximize Revenue. A successful, high-earning charity golf tournament starts at ticketing. Sell more tickets than ever before with these ticketing tips to maximize revenue.
Online Charity Auctions Ultimate Guide. Hosting a charity auction alongside your charity golf fundraiser? We've got you covered! Check out our  ultimate guide to online charity auctions for easily adaptable tips.