Modern, Flexible Fundraising
Today's donors expect more from the software they use. Just like in everyday buying experiences, they want convenience, flexibility, and ease in their giving. Designed with today's donors' needs in mind, the OneCause Fundraising Platform creates a giving experience that's supporter driven, seamless, and gives them options.
The OneCause Fundraising Platform offers innovative and intuitive design to drive deeper campaign engagement, and robust back-end functionality to streamline planning.
Supporter-Driven Experiences
When looking for a fundraising solution, finding easy-to-use software that empowers your guests to take an active role in your event is a must-have. With the OneCause Fundraising Platform, your guests get a more personalized, frictionless event experience—and your fundraising team will have more time to focus on your mission.
Express Check-in: Put the power in the hands of your guests! Event attendees can now "skip the line" with their QR code ticket and check-in to their event prior to arrival. That means spending less time at check-in and more time connecting with your cause.
Efficient Checkout: A fast and efficient checkout experience creates happy guests, and hopefully, fundraising dollars for your mission. The OneCause Fundraising Platform offers pre-arranged check-out time slots, guest notifications when items are ready for pickup, and more. Ultimately, the OneCause Platform creates an easy end to your event that can be configured to meet your specific event's needs.
Ticket Management: Empower supporters to manage their own tickets and reduce the uncertainty around who is attending your event. Attendees can easily assign or reassign tickets to their guests on their own—no handholding required. Think about how much time that will save you and your team!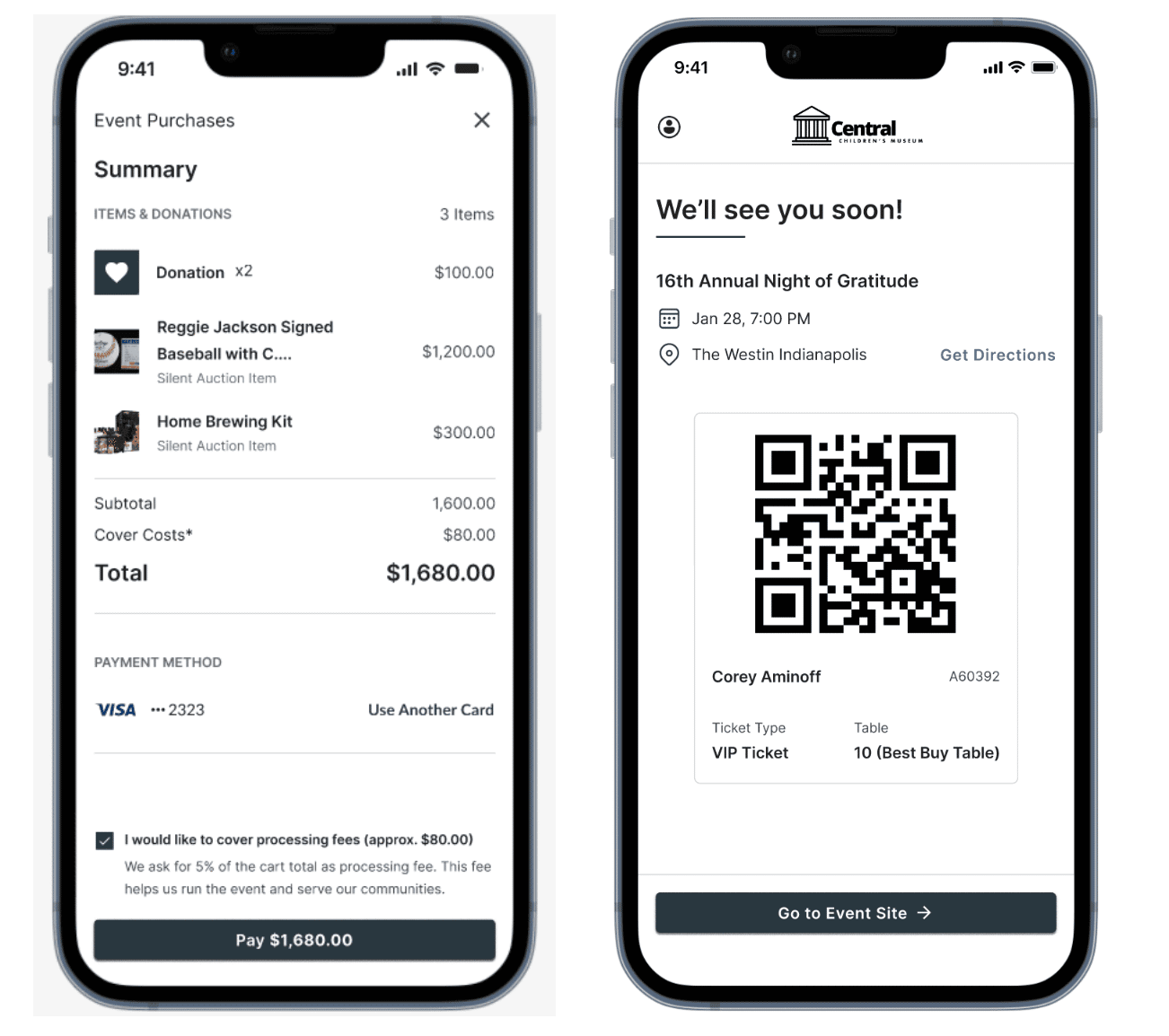 "This platform puts the attendee experience in their hands. Guest information, check in, pre-event questions, bidding, donating, purchases and checkout are all controlled by the attendee. This makes our event experience so much easier!" – Della Carver, Director, Service Center Support for the Arthritis Foundation and OneCause customer.
Event Flexibility
Unplanned changes or event pivots can be detrimental to your fundraising strategy and cause serious headaches for you and your attendees. However, these can be avoided with the OneCause Fundraising Platform. Our software is adaptable to changing event needs, and with the toggle of a button you can change your event type and guest experience flow to meet your fundraising needs.
The OneCause Fundraising Platform allows you to easily change your event type from in-person, hybrid, or virtual with the click of a button. Major event changes just became more manageable and seamless for your guests.
Our all-in-one software also offers event flexibility beyond your event type. If you're working with different ticket types (like in-person and virtual), you can customize the event experience based on how guests will be participating, customizing personalized giving, and event experience for different donor audiences
Smart ticketing makes managing multiple attendee types a breeze. You can set certain experiences (like auction items or fixed price) to only appear for certain ticket types, making it easy to manage who participates in different portions of your event.
With the OneCause Fundraising Platform, you'll create an adaptable, engaging event for your donors that enables a seamless and one of a kind giving experience