As we've seen over the past 5 years, fundraising is changing and evolving quickly, especially as we emerge from an extended time of social distancing.
With the world coming back together, how can your nonprofit engage donors who want to return to the ballroom or in-person events, without missing out on those who prefer to engage virtually?
To understand the changing needs of today's donors, OneCause conducted a recent survey of 1,000+ social donors to understand their giving behaviors, motivators, and expectations on what they need in a fundraising experience. For those curious who social donors are, that's the name given to supporters who give during ticketed events, occasions, and runs/walks/rides.
According to the 2022 Giving Experience Study, social donors are heading back to the ballroom and face-to-face fundraising, with 74% of survey respondents saying their last giving experience took place in person and 26% reporting they participated virtually.
According to the study, social donors:
Perceive in-person events as a higher quality giving experience than virtual fundraisers.
Are more likely to want to participate again next year.
Knowing these facts and giving preferences, it's a good time for your nonprofit to examine your fundraising calendar. Are you offering in-person experiences as part of your year-round fundraising strategy?
It's important to note that although social donors prefer in-person fundraising events, they still want the optionality. Meaning they want to choose how and in what ways they want to engage (i.e., virtually or in person). The idea of donor choice, and providing the flexibility in their giving experiences, is impactful to today's donors.
The level of preference for in-person vs virtual varies by giving type. See the chart below for a breakdown by events, run/walk/ride or occasion donors. The big takeaway is: incorporating optionality in your nonprofit events is critical to attracting donors and to maximize your fundraising success.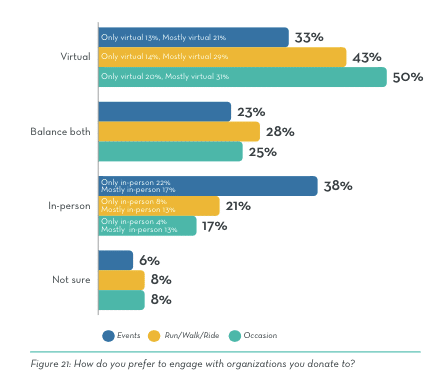 Now that you understand the influence and impact your fundraising events on today's donors, let's dive into 4 top engagement strategies to maximize participation in your in-person and virtual social fundraising: