Solution
With a little help from Zoom livestreaming, OneCause mobile bidding, and their community, PS 150 was armed for their first all-virtual fundraiser. But just like anything new, they weren't exactly sure how it would go and how donors would respond.
OneCause mobile bidding technology allowed PS 150 to stay in constant communication with their guests via social media integrations and text messaging features. This helped minimize confusion and maximize clarity, letting donors know exactly what to do and how to start bidding. They had a messaging strategy for before, during, and after the event to engage supporters throughout their virtual fundraising.
They used short and concise text messages such as, "Shop Now," to increase engagement, as well as social media posts with an emotional appeal to draw people to check out their online auction items.
The small but mighty development team's strategy included pre-event fundraising, virtual silent and live auctions, and creating a community through technology.
Pre-event Fundraising
Even before the big virtual night, the PS 150 team knew the wanted to include pre-event fundraising in their approach.
"I wasn't going to wait until the auction began to start raising some money!" said Witt.
Because they were able to pivot to virtual fundraising so quickly, Witt opened the 'paddle raise' (ask) in the days leading up to PS 150's virtual spring auction.
With their clever use of messaging and social media strategy, they walked into the event with… (drum roll please): $45,000!
Virtual Silent & Live Auction
Parents, students, and even the principal joined the zoom video stream that lasted about 45 minutes in total. Key best practices learned from their virtual event strategy include:
Auctioneer. They kept their auctioneer for the live auction and donation appeal.
Virtual Hub. A virtual event hub was hosted at the co-chair's house where the team and auctioneer conducted the virtual auction.
Live streaming. They used free Zoom to livestream with success!
Pre-event Fundraising. Donations & silent auction items were opened for bidding days earlier. This was a great way to familiarize their audience with the OneCause mobile bidding technology.
Virtual Live Auction. Using their auctioneer, PS 150 still executed their live auction by creating special silent auction categories within their mobile bidding technology, closing each item after it sold.

Tip

: Make sure to announce the Rules of a Virtual Live Auction before you begin so everyone is on the same page. For example, decide whether the item is won by the strike of the auctioneer's gavel or the result of the mobile bidding technology.
Raffle. The raffle was hosted online, and winners were announced in the weeks following.
Regular Text Messages. PS 150 used text messaging to feature items with no bids and help drive proceeds and increase their fundraising potential on their silent auction and live auction.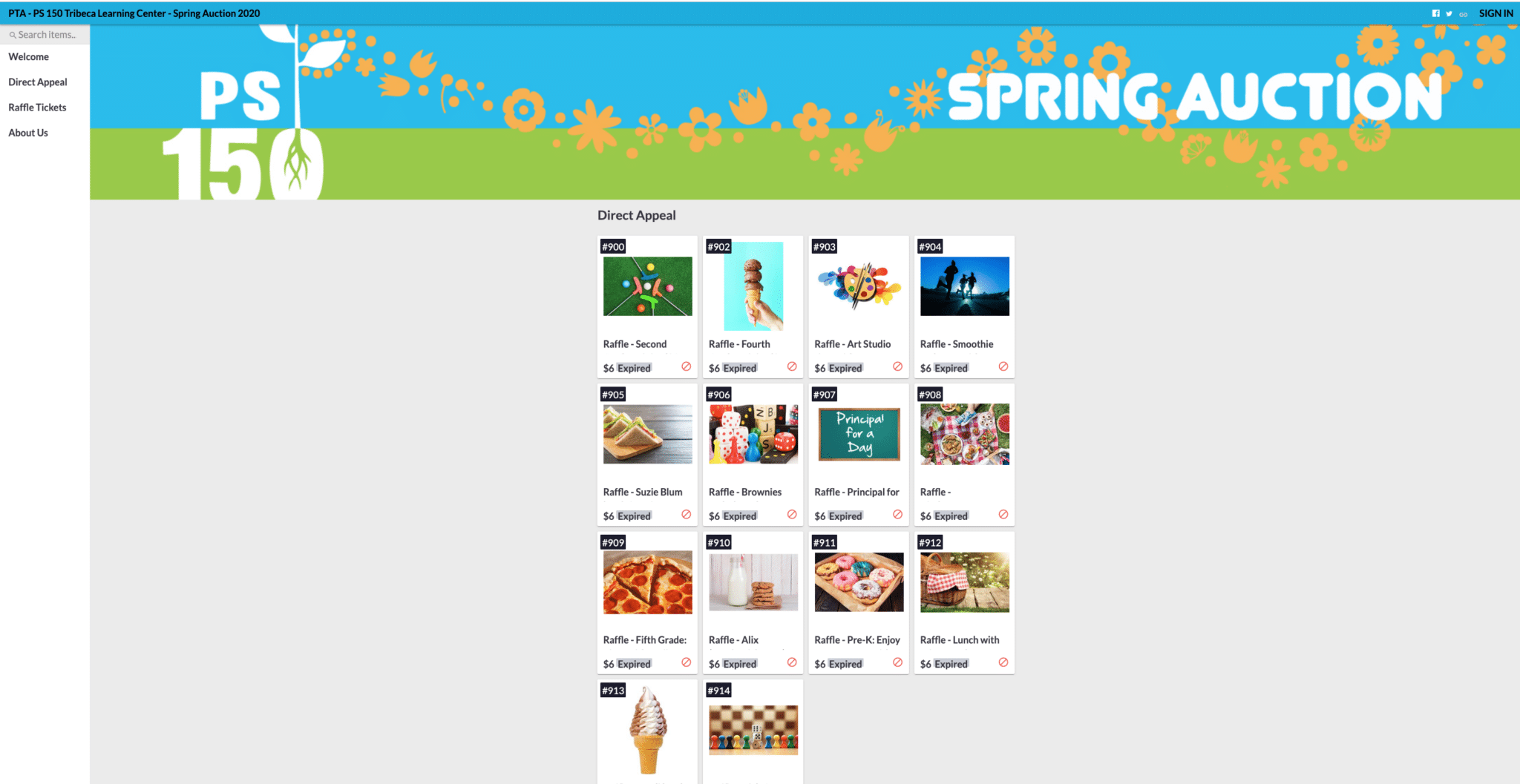 Building Community in a Virtual World
With all of the fundraising tools executed and prepped, the next step was to make sure that this virtual spring auction would foster the same community and fun that the in-person event typically does.
Proximity didn't stifle the connection and school spirit felt my teachers, parents, students, and the principal. PS 150 made sure to create a sense of community within their virtual fundraising.
Throughout their experience with virtual fundraising PS 150 created:
A Family Focused Program: Kids and parents were welcome to fundraising. Families gathered in front of computers and TVs in their pajamas ready for the virtual auction!
Competitive Bidding: Everyone got into it. Kids prompting their parents to bid and the bidding skyrocketed.
Excitement: There was a certain electricity on Zoom with people seeing their community on livestream. People were connecting and excited to see each other—even virtually.
It was the faces, the smiles and the overall energy from the families that contributed to the good vibes in the zoom room that auction night.
It was amazing to see the excitement and enthusiasm amongst our families online. Kids got involved at home telling parents to bid. It was the first time doing something like this, and we might actually do something like this for another fundraising in the future," said Witt.
The PS 150 Team made sure the fundraising didn't stop as the auction concluded either. To ride the wave of community and enthusiasm, they kept the direct appeal open post-event, raising an additional $4,000.