Every school year, the PTA faces a challenge: raising enough money to enhance their students' education.
It's easy to get stuck in a rut and repeat the same idea over and over again. But doing so can leave money on the table as students, teachers, and parents grow tired of old fundraisers. That's why we're bringing you 9 fresh fundraising ideas that can help you take your PTA fundraiser to the next level:
Let's get started with our all-time favorite PTA fundraising idea — school auctions!


1. School auctions
The Basics:
A school auction is a great way to engage parents, students, teachers, and community members.
Auction items can incentivize people to attend your event in the hopes of scoring a fabulous item. Of course, your school will need to offer up items that people will want to bid on.
Your school can gather auction items by:
Creating a procurement team, who asks their extended networks directly for donations.
Seeking in-kind donations from corporate sponsors or local businesses.
Having each classroom create or compile their own auction items, such as themed baskets or artwork.
You can use a combination of these strategies to create the best possible spread and rake in donations from eager bidders!
How it works:
Though there are several different formats that a charity auction can take, silent auctions are the most common choices for schools.
Schools are community-based organizations with families of various socioeconomic backgrounds. Since bidding is anonymous in a silent auction, people may feel more comfortable participating (whereas they might be put off by having to showcase their wealth at a live auction).
In a silent auction, bidders either write down their bids on sheets of paper next to each item, or they can use mobile bidding software. Mobile bidding software allows attendees to bid right from their smartphones. They can even receive notifications when they've been outbid, so that they can stay on top of their choice items.
No matter which format you choose, using charity auction software can help you plan and execute your event.
Why we recommend it:
Auctions are an excellent type of fundraising event because the people who donate get something in return. In other words, auctions have a built-in incentive for donating. Plus, with school auctions, thanks to your school's vast network, you'll be well-positioned to acquire some superb auction items.
Who can help you?
OneCause provides solutions for school auctions with auction and event planning and mobile bidding software.
With OneCause, it's easy to implement mobile bidding and create a branded auction site.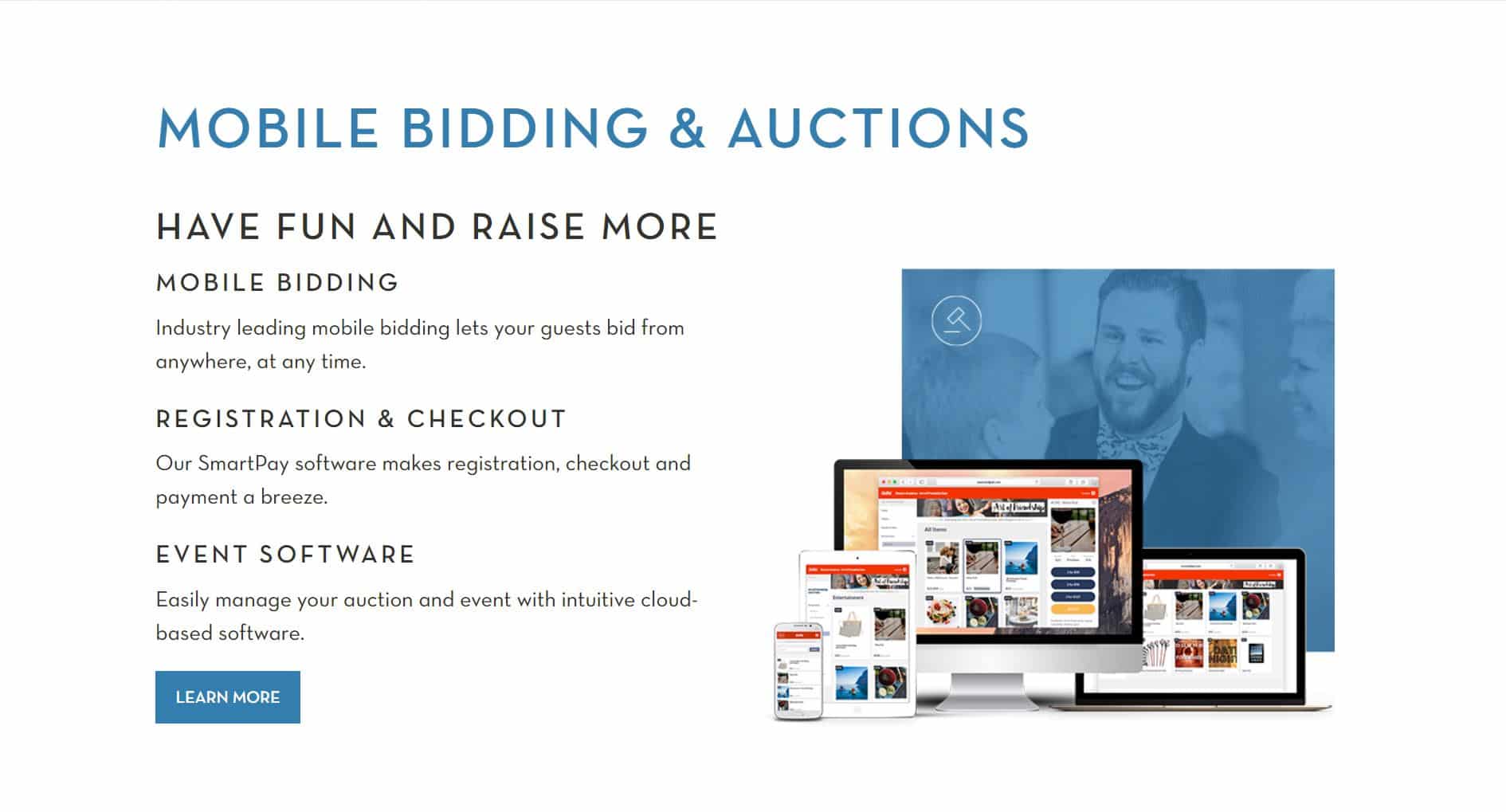 ---

2. Matching gifts
The Basics:
No matter how you decide to raise funds for your school, you can easily double your donors' gifts with matching gifts.
Matching gifts occur when an employer matches the donation of an employee. Matching gifts are usually given on a 1:1 ratio, but some can go even higher.
It's up to the donor to apply for a matching gift from his or her company — but first, the donor has to be aware of the opportunity.
How it works:
This strategy should be targeted directly to parents.
Send students home with matching gift information during your next fundraiser. You can use fliers and letters to explain how matching gifts work.
Plus, you can incorporate matching gifts more readily into your school's website. If you have an online donation form, consider including a matching gift tool so that donors can easily determine the eligibility of their gifts.
Why we recommend it:
We recommend seeking matching gifts because they're vastly underutilized and yet have plenty of untapped potential. Think of how much better of your fundraising would be if even 1/10 of the donations to your school were doubled. That would make a huge difference in your year-end numbers and boost the results of all your other school fundraising ideas.
Who can help you?
Double the Donation and 360MatchPro (its larger, more comprehensive matching gift solution) both provide matching gift tools that can help your PTA fundraiser succeed.
Matching gift tools can be integrated into your school's website. Donors simply have to type their employers' names into the matching gift search bar, and Double the Donation will provide them with complete information on the eligibility of their gift as well as the steps they need to take to make it happen.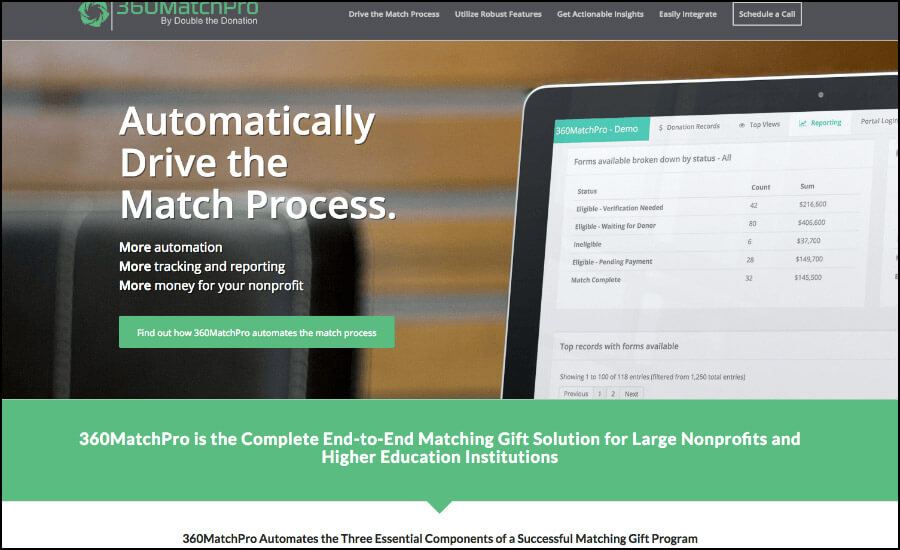 ---

3. Raffles and penny socials
The Basics:
If a charity auction is out of your (or your donors') price range, consider hosting a raffle or penny social instead.
Let's go over the basics:
Raffles
There are many different ways to host a raffle, but in general, donors purchase sheets of raffle tickets for the chance of winning a prize. The more tickets they buy, the greater their chances of winning!
Raffles work great during other fundraising events (like peer-to-peer fundraising campaigns) to keep people engaged and interested in learning more about your cause. As a result, you may need the assistance of event fundraising software to manage both a raffle and fundraising event.
Penny socials
A penny social is an auction and raffle combo. Donors purchase raffle tickets and place them in bowls next to each item. An emcee draws a single ticket from each bowl, and the winner receives the prize! The more tickets a donor purchases, the better their chances of winning.
Since raffle tickets can be sold for a low cost, these ideas can open up your fundraising event to more people. Both students and parents can participate in penny socials and raffles!
Alternatively, you can use mobile bidding software for virtual raffle tickets.
How it works:
Raffles are a bit more versatile than penny socials.
They can follow several formats, including:
Balloon raffle. Balloon raffles are just like an ordinary raffle, but each ticket is placed inside a balloon. Donors will have a lot of fun popping their balloons to see if they've won!
50/50 raffle. In this raffle, the winning donor will receive half the amount of funds raised. So, if you raise $1,000, they'll earn $500. Donors will quickly realize that the prize increases with each donation. Plus, your school is guaranteed to make a profit!
Straw draw. Students and teachers pay $1 to draw a straw. Each straw has a hidden reward attached to it, such as a homework pass, a free pencil, or the chance to be principal for a day. Make your best prizes scarce, and students may buy more straws to uncover your most valuable offerings.
Any one of these ideas can work well for your school!
For penny socials, as with silent auctions, the most important consideration will be gathering your items.
Package smaller items together to create prize baskets. Each basket can be themed. For example, gourmet popcorn, DVDs, candy, and a fleece blanket could be combined to make a movie-themed basket!
Why we recommend them:
Both of these options are particularly suited to school fundraising because they appeal to parents and students alike. There are few fundraisers that the kids can get involved in, but penny socials and raffles break that mold.
Who can help you?
OneCause offers virtual raffle tickets, which can streamline your event. After all, you won't have to worry about purchasing rolls of tickets yourself, and guests won't run the risk of losing their tickets or forgetting how many they've placed in each bowl.
---

4. Product Fundraising
The Basics:
Product fundraising is a popular fundraising idea for PTAs, PTOs, and other school groups to raise much-needed funds.
That's because it offers a win-win solution for both fundraising groups and their supporters. When people contribute to a product fundraiser, they even receive a tangible benefit for themselves: whatever product you are selling.
A few favorites include branded merchandise (like travel mugs, flip flops, or face masks) or tasty snacks (like cookie dough, cotton candy, or chocolate bars).
How it works:
For most product fundraisers, you'll collect pre-orders ahead of time. Then, you'll submit your orders to a fundraising partner to create and distribute your items. This way, you don't have to worry about managing inventory or shelling out upfront costs! The fundraising company might even charge a minimal wholesale price, allowing your school to retain the rest of your fundraising revenue.
Why we recommend it:
Product fundraisers are especially popular choices for school fundraising ideas because you already have a built-in group of eager fundraisers—your students—making it a top choice for a peer-to-peer campaign idea.
All you need to do is get a group of volunteer fundraisers who are willing to take on the role of sales people for your school. When they sell your products to their own family and friends, you can increase your fundraiser's reach farther than you would be able to on your own.
Who can help you?
Working with a dedicated product fundraising company can simplify every aspect of the fundraising process. While there are certainly tons of fundraising companies to choose from, we recommend ABC Fundraising.
ABC Fundraising offers a wide range of available products to sell and even helps set your campaign up for success by providing your team with a custom-branded online web store and order-taking flyers.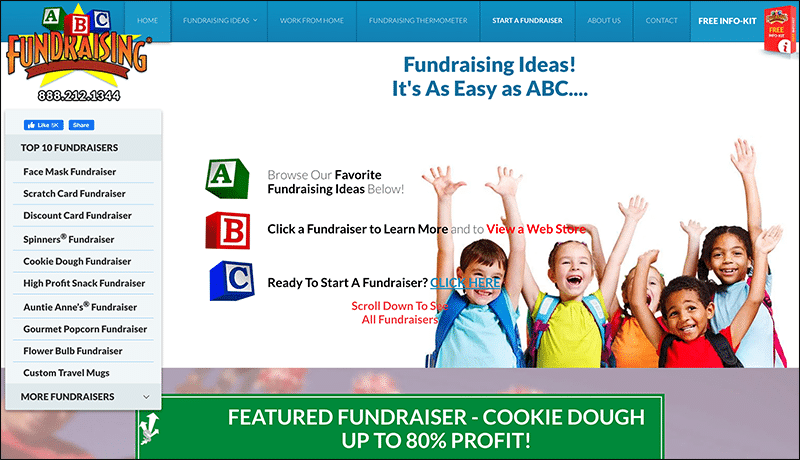 ---

5. Crowdfunding
The Basics:
If your PTA is tired of bake sales and lemonade stands, then crowdfunding might be the perfect option for your school.
Crowdfunding is the art of accepting a lot of smaller-sized donations from a large group of people. In most cases, any amount goes — even $5 is an acceptable gift (just think: it's 5 more dollars than you would have received otherwise).
Most crowdfunding takes place online, through a crowdfunding platform. You may be familiar with Kickstarter (though since Kickstarter only accepts for-profit campaigns, you'd be better off with a nonprofit-friendly platform like Fundly).
Regardless of why you're raising money, you should look for a platform with features such as mobile responsive fundraising pages, social sharing functions, and a user-friendly interface.
How it works:
Once you've selected a platform, you can create your campaign.
There are many factors that you should focus on when making your fundraising page. As you build your page, you should:
Set a goal and timeline. When creating your goal, remember to consider any platform and payment processing fees (it's always a good idea to reach a little higher than what you actually need). Once you've picked a goal, you should also choose a deadline, giving yourself enough time to reach your desired amount.
Add images and videos. Images and videos help enhance your story and connect donors to your cause. While you should include at least one high-quality image on your crowdfunding page, adding more visuals will help generate interest in your campaign, which can lead to more donations.
Write a crowdfunding description. Your crowdfunding description is one of the most important elements to your crowdfunding page. It's where you will describe your cause, explain how the funds will be used, and tell your unique story. Keep your description around 300-700 words as this is long enough to increase your visibility on search engines and short enough to keep your donors engaged.
Promote your campaign. The last step is to promote your campaign. You should start promoting your crowdfunding page even before it goes live to rally support early. That way, when you do publish your campaign, supporters will be ready to donate.
You can offer incentives for certain donation amounts. For example a $500 donation may result in a personal thank you during halftime at the next football game, while a $50 donation will result in a school t-shirt.
You can also create giving tiers.
Giving tiers are suggested donation amounts that can encourage donors to give more than they normally would.
For example, if your minimum donation tier is $10, a donor who would've given $5 may choose the $10 option because they don't want to feel like they're shortchanging your school (of course, they can still donate $5 if they choose!).
Why we recommend it:
Crowdfunding is extremely versatile, from school fundraising to medical fundraising to memorial fundraising to nonprofit fundraising. No matter your cause, crowdfunding can help.
With schools, you already have a qualified crowd, your teachers, students, alumni, and faculty. Put that crowd to use with a strong campaign.
Another benefit is that you can pair a crowdfunding campaign with another school fundraising idea and raise even more. For example, you can easily combine an online crowdfunding component with an auction event, custom t-shirt sales, and coupon books for amazing results.
If your crowdfunding campaign goes well, your team might even be ready to tackle a peer-to-peer fundraising campaign! These require more extensive planning and strategy, but the payoff from a winning campaign can be immense.
Who can help you?
As we mentioned above, Fundly offers a simple solution for schools who want to crowdfund. A campaign creator will build a crowdfunding page (for free!) and use videos, photos, and text to incentivize donations.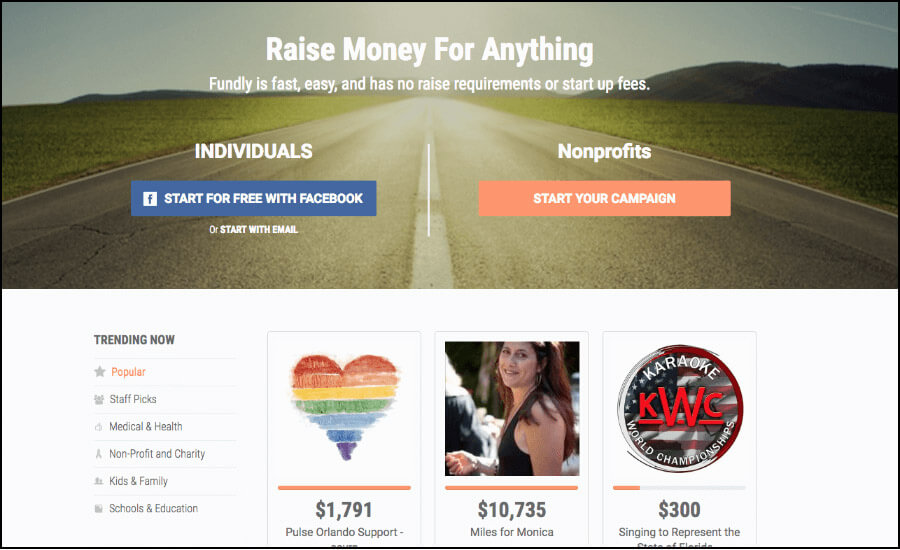 ---

6. Discount cards and coupon books
The Basics:
Something that everyone can get on board with is saving money.
Discount cards and coupon books are fundraising ideas that give back. Anyone who buys them can use them to get discounts in stores and restaurants.
These products can be especially effective for PTA fundraisers; parents are much more inclined to support a fundraising product that they can actively use!
How it works:
You can purchase coupon books and discount cards from several providers.
Look for discounts that target local, unique businesses. That way, you're not only raising money for your school but benefiting the community at large. Schools thrive on community, and everyone in the area can use the discounts!
Why we recommend it:
This fundraiser is the perfect fit for schools because you can get the students involved. Have individual students or entire classes compete to see who can raise the most. By gamifying the fundraiser, you're bound to increase the fundraising potential.
Or consider incorporating your coupon books into other fundraising events that you plan. They make excellent prizes, rewards, and incentives!
Who can help you?
There are many discount card and coupon book providers. However, if you want to offer your supporters at an online option, use Goodshop.
Any of your school's supporters can use Goodshop to purchase products at a discounted price from their favorite online stores. A percentage of the money they spend will go toward the nonprofit of their choice: your school!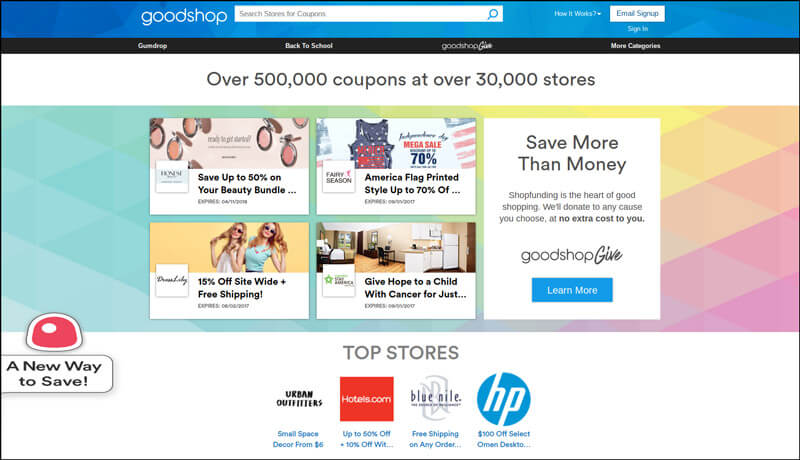 ---

7. Parents' party
The Basics:
Parents — like anyone else — need to let loose and have some fun every once in awhile.
Hosting a parents' party gives them the chance to do just that. This is among the top school fundraising ideas because it engages directly with parents and rewards them for their support, rather than simply soliciting them for funds through their kids.
Provide parents with food, drinks, ambiance, and fun! Though these events are typically more upscale, they should be relaxed enough that all of your parents feel welcome.
How it works:
Book a local restaurant to host your party.
You can either charge for admission or split food and drink costs with the restaurant.
It's also important that you make a live appeal during the party. Have a well known teacher or administrator make a brief but impactful speech to solicit further donations.
Why we recommend it:
Parents are some of your most likely donors, and a parents' party allows you to treat them to a great evening while you fundraise. Parents will feel relaxed and appreciated and therefore be more open to giving.
Who can help you?
The restaurants that can host your parent's party will obviously differ based on your location.
However, many restaurants offer charitable giving programs. The Cheesecake Factory, for example, provides several different options for fundraising with their restaurant.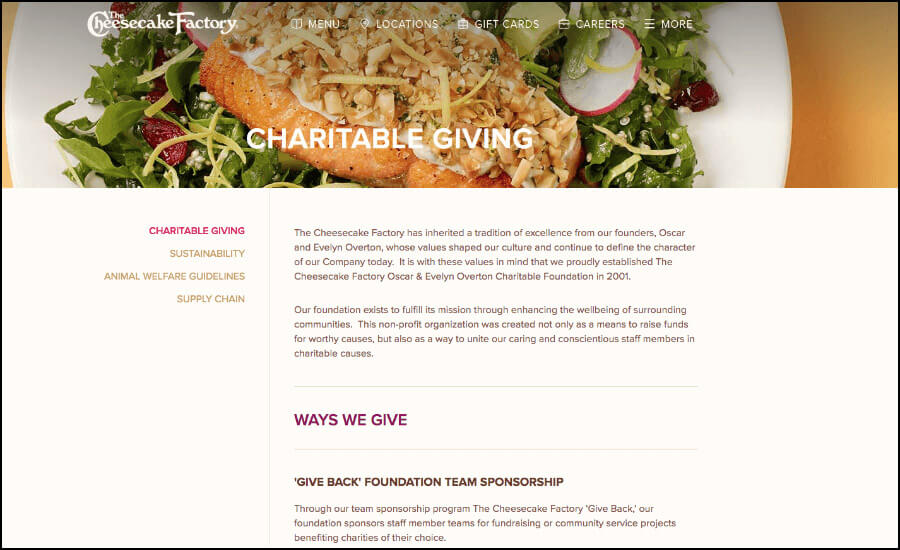 ---

8. Shoe Drive
The Basics:
With students constantly outgrowing their clothes and shoes, having a shoe drive is a great way for your PTA to raise money and give their used shoes a better home.
Plus, the entire community can participate by donating their used or unwanted shoes.
People, after all, need a way to get rid of their used shoes, so this fundraiser is an effective, low-cost way to raise money for your school.
How It Works:
To run your shoe drive, your PTA will need to set up a few drop-off locations around your school and the community.
Ask students to bring in their used or unwanted shoes by making announcements over the intercom and posting flyers around the school. To motivate students to participate, you can turn your fundraiser into a competition.
Have classrooms or grades compete against each other to see who can donate the most shoes; the winners can get a pizza party, a free period, or another reward.
Spread the word outside the school by emailing parents, posting on your school's social media, and asking local media outlets to cover the story.
In addition to promoting your event, you'll need to find a company that will pay for your shoes.
Why we recommend it:
Shoe drives are low-cost and popular fundraisers. Additionally, the up-cycling element means that you're helping the environment while you're fundraising.
Who Can Help You:
While there are plenty of organizations and companies that will take your donated shoes, only a few will pay for them.
Funds2Orgs will collect your gently worn shoes and send you a check based on the pounds of shoes you gave.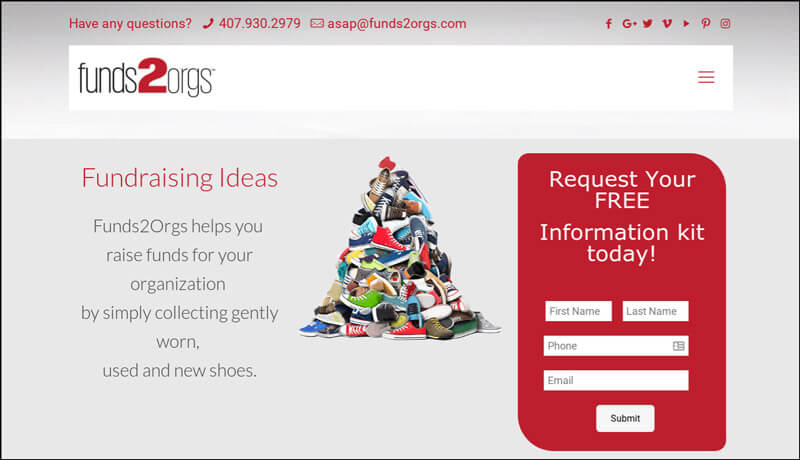 ---

9. PTA Cook-off
The Basics:
A cook-off or bake-off is a great way to rally your PTA members together for some food and fun.
In this fundraiser, participants can cook a designated food item. Attendees pay for admission and the chance to sample dishes from the best cooks in your school!
Some popular cook-off foods include:
Alternatively, you can host a cook-off potluck. In this fundraising twist, participants sign up for one of several categories of food items (ex: mac and cheese, barbecue, potato salad). Together, each item contributes to an entire meal!
How it works:
A cook-off is great fun with some friendly competition! To incentivize more people to sign up, you'll need to offer some kind of prize to the winner.
Additionally, you'll need to select some impartial judges to determine your winner(s). Creating several rewards can allow you to recognize more cooks!
For example, you might reward the best overall dish, as well as the healthiest meal, the most unique recipe, and the dish with the silliest name.
Why we recommend it:
PTA cook-offs are fun and breezy events that raise money and don't take a lot of fundraising expertise or comprehensive planning. They're an effective and low-stakes option.
---
Now that we've provided with 9 awesome PTA fundraising ideas, it's time to get started with the one that's right for your organization. If these ideas don't strike your fancy, learn more with
For more ways to raise money for your school, check out the following additional resources: