Chinese Auctions and Penny Socials: 10 Steps to Success
You know what makes peanut butter even better? Jelly. How about cookies? Milk. Brownies? Ice cream!
We could go on and on. Point is, a winning combination makes things even better.
Do you know what also makes a winning combination? Auctions and raffles!
That's precisely what a Chinese auction or penny social is: a hybrid of a silent auction and a raffle. It's two great fundraisers rolled into one.
Penny socials are a fabulous way to raise money and spirits alike, but how do you get one started?
To answer that question and more, we've pulled together a step-by-step set of instructions for running the perfect Chinese auction or penny social.
To fulfill every best practice of hosting a penny social, be sure to:
---

1. Learn all about Chinese Auctions and Penny Socials
Before you decide to host a Chinese auction or penny social, you first need to know exactly what a Chinese auction or penny social is.
For starters, you might be wondering: are penny socials and Chinese auctions the same thing?
Essentially, yes. While the origin of the term "Chinese auction" is unclear, some people steer away from using the term to avoid causing any inadvertent offense. You can always refer to Chinese auctions as penny socials if that makes you and your supporters feel more comfortable.
If "penny social" doesn't tickle your fancy, either, you can also refer to Chinese auctions as:
Tricky Trays
Lucky Number Dinners
Pick-a-Prize
Yankee Swaps
Chance Auctions
But before we stray too far, let's get back to the original question: what are penny socials, tricky trays, lucky number dinners, and yankee swaps?
Penny socials are basically traditional silent auctions with a twist.
Instead of submitting bids through a mobile bidding app or writing a bid amount on a bid sheet next to the item being auctioned off, participants in penny socials buy tickets ahead of or during the event. They then place any number of tickets into a bowl or bucket next to their desired item.
The more tickets a donor places in a given bowl or bucket, the more likely that donor is to be chosen. In that way, it's a lot like a raffle.
What are the rules?
Each participant buys as many sheets of raffle tickets as they'd like (each sheet has roughly 25 raffle tickets on it). If you're using auction software, your attendees can also purchase virtual raffle tickets online through an auction site branded to your event.
Much like traditional silent auctions, all of the tables are set up around the room, and participants are encouraged to wander about, depositing tickets into whatever baskets float their boat (either physically or virtually).
There is no rule regarding how many tickets can be placed in a single bowl or bucket.
Once all of the tickets have been "spent" on all of the baskets, the emcee will go around to each of the tables, select a single ticket from each item's bucket, and announce the lucky winners.
The winners can either retrieve their prizes right away or wait until later to claim their goods.

While this is how Chinese auctions are most commonly structured, you can tweak the format to adjust to the needs of your organization.
As long as an element of raffle is incorporated into a silent auction, there really is no wrong way to host a penny social or Chinese auction!
Also—keep in mind that many jurisdictions have rules and regulations around raffles. Check with your local authorities before hosting a raffle to make sure that you're complying with all of the guidelines.

2. Set a Goal and Budget for Your Penny Social
You've done all the research and decided that you want to host a penny social. But what will it take to pull one off?
Before you get any further into your planning, it's time to decide on a goal and budget.
Your budget will be the means, while the goal will be your final destination. You'll want to strategize wisely to make sure that both are realistic.
To run a successful Chinese auction or penny social, you'll have to account for many costs, such as:
Auction or event planning software
A venue
Staff hours
Auction items/raffle prizes
Food and drink
Supplies (e.g. tables, buckets, raffle tickets, etc.)
Entertainment

Think about all of the things you need for your auction and factor them into your budget. You'll also want to leave yourself a little wiggle room for any unforeseen costs.
The resources you have will influence how much you're able to raise. With your budget in mind, set a fundraising goal.
Dream big, but keep it realistic so that you don't lose morale. While any money raised toward your cause is an accomplishment, it can be disheartening if you don't reach your goal. Set yourself up for success!

3. Organize a Team to Lead the Penny Social
With so many logistics to organize, you won't be able to plan your Chinese auction or penny social alone.
Teamwork makes the dream work, so gather a cross-functional team together to help you plan out your auction.

Here are some of the key players you might need:
The auction chairs. The auction chairs are the head of the event planning team. They will distribute tasks and oversee the efforts of staff and volunteers to make sure that Chinese auction planning and execution go smoothly.
The solicitation team. The solicitation team will have one very important job: getting items donated to auction off at your event.
The logistics team. The logistics team will be made up of staff members who will assist the auction chair with planning the event. They'll cover all other aspects of planning aside from soliciting items, such as booking the venue, advertising the event, sending out invites, etc.
An emcee. The emcee will be the host of your Chinese auction. She'll announce the rules and winners and add energy to your event by encouraging active participation.
Auction monitors. Auction monitors are the volunteers who will be in charge of overseeing the bidding. Some of their duties will include: answering bidders' questions, making sure everyone is playing by the rules, and collecting the buckets when it's time for the drawing.
General volunteers. You'll also need another team of volunteers to take care of more generalized tasks such as setup, registration, ticket sales, and distributing items to winners.
As you can tell, you'll need many hands to help you pull off your penny social.
Having a dedicated team on your side will ensure that your event goes off without a hitch!

4. Pick a Penny Social Theme
Picking a theme is an excellent way to spice up your Chinese auction or penny social and make it more compelling to your guests..
It's a truth universally acknowledged that everyone loves a themed event.
Some simple, fun theme ideas include:
Luau. Have basket donors create colorful Hawaiian baskets. A pineapple or two here. A beach ball or inflatable palm tree there. Bonus points if someone offers up a ticket to Hawaii as one of the auction items!
Disco. Donors who remember the 70's well will enjoy this one. Some may even have some vintage outfits in their closets!
Retro 1950's. Bobby socks. Bobby Darin. This theme is chock-full of nostalgic possibilities.
Sweet treats. A new take on an old favorite: the bake sale. Members can donate baskets full of sweets and baked goods of all kinds.
Spa and beauty. Who doesn't love to be pampered a little? Toss in a couple of massage vouchers and maybe a mud mask or two, and you've got yourself a fabulous fundraiser.
Summer fun-in-the-sun. Perfect for the last weekend of school or the first real weekday of summer. Each basket should provide its recipients with a plethora of fun summer activities.
Underwater. This theme is really up to interpretation. Let your basket donors surprise you with their creativity around this simple concept.
Winter wonderland. Ice skates. Tickets to A Christmas Carol. There are a hundred different ways to create the perfect winter-themed basket.

The possibilities are endless.
Have your team brainstorm a few ideas. All it takes is a little creativity, and you're sure to wow your guests!

5. Decide on a Date and Location for the Penny Social
Granted you're holding your Chinese auction in-person (as opposed to online), you'll need to set a date and decide on a location.
Most fundraising events take about 6-8 months to plan, so you'll want to start scoping out a venue well in advance of when you hope to hold your event. The right event fundraising software will dramatically streamline the process, though.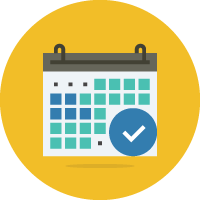 Start by determining a few tentative dates for when you might like to host your penny social. The date you choose will depend on your organization's goals and theme, but keep in mind that some days and times usually lead to better turnouts than others.
For the biggest turnout, you'll want to aim for a weekend or a weekday after 6 o'clock, so that those who work full-time will be able to attend. If possible, avoid holidays and summer months when people are more likely to be traveling.
Once you have a few tentative dates, look around for a location. Large, open venues are best, as you'll need plenty of space to set up your item baskets.
The rest is up to you! It all depends on how fancy or casual you want to go with it.

6. Solicit Penny Social Prizes
Of course, auctioning off baskets will be the way your organization raises money from your Chinese auction, so soliciting auction items will be one of the most important steps of the planning process.
The items you procure for a penny social will be a little different than a traditional auction.
Chinese auctions usually feature baskets, themed bundles of small-ticket items. For example, if you assembled a picnic basket, it might include: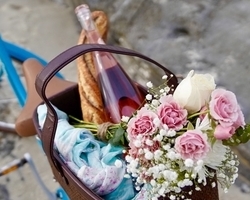 A picnic blanket.
Cups, plates, utensils, etc.
A bottle of wine or sparkling water.
A gift card to a local sandwich shop.
Chocolates for dessert.
While you don't have to go the traditional route, baskets can be a fun way to make your theme more vivid. Plus, the winners will love being a little surprised when they get to go through their baskets and see all of the amazing goodies inside!
One of the keys to making your penny social a really successful event is to have the majority of your baskets donated rather than bought.
While the prizes you'll be able to auction off will mostly depend on what you're able to get donated, keep an eye toward the items your attendees would like most.
For example, while your guests would probably love to win a $50 gift card to their favorite local restaurant, a painting done by that same restaurant's owner may not be as popular.
The more appealing your items are, the more tickets donors will buy to try and win them. And thus, the more funds you'll raise!
If you've hosted a penny social or another type of auction before, consult your event planning software to get an idea of which items were the most popular.
Now go out and start soliciting!

7. Spread the Word About your Penny Social
When it comes to your penny social, the more the merrier!
Start creating hype around your Chinese auction by getting the word out about your event.
For the best turnout, you'll want your marketing to be as ever-present as possible.
To spread the news of your penny social far and wide, try marketing through every channel available to you. You'll want to hit both traditional and not-so-traditional methods to cover all of your supporters' communication preferences.
For example, you could:
Tack up fliers around the city.
Send out email blasts.
Make a big announcement at one of your other fundraising events.
Create a Facebook event.
Post about your Chinese auction on Twitter or Instagram.
Have your planning team and volunteers tell those they know about the event.
And more!

For a better chance of a bigger turnout, you should also consider making a website for your Chinese auction.
With auction software, you can essentially create an online venue for your penny social. Feature your baskets to get attendees inspired and rushing to buy their raffle tickets in bulk!

8. Sell Tickets for Your Penny Social
For your Chinese auction to work, you'll also need to sell raffle tickets.
To raise the most money from your event, you should make buying tickets both before and during the event as convenient for guests as possible.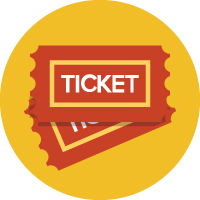 How is it done, you might ask?
Well, another great functionality of your auction software is that it will allow you to sell raffle tickets online ahead of the event. You can create an auction website branded to your event where guests can browse items and purchase raffle tickets. You can even open bidding in advance to maximize your fundraising.
Not only will online ticketing be super convenient for guests, but they also won't have to worry about buying their raffle tickets at the event. Instead, they can jump right into the fun!
You should provide guests an easy way to buy tickets at the event, too.
Make sure to set up some ticket booths around the room for those who might want to purchase more tickets!

9. Execute Your Penny Social
The day of your Chinese auction has arrived and all of your thoughtful planning is about to pay off!
Have all of the necessary staff members and volunteers arrive at the venue well before the auction is supposed to start to set up.
By far the most involved part of setup will be arranging your baskets. To create the most attractive and accessible display, you'll want to:
Provide plenty of tables and arrange them in a way that facilitates easy traffic flow around the room. Avoid U-shaped setups where people can easily become jammed up by being surrounded on three sides.
Decorate your tables. Use tablecloths, banners, streamers, balloons, and decorations that go with your theme, anything that will make the space more festive!
Group baskets into categories. This will not only make keeping track of your items much easier for your organization, but it will also allow those who come with items in mind or have particular interests to find the items they want.
Place baskets on the tables so that there's only one item per row. Although it might be tempting to double up on rows to save space, having too many items crammed onto one table can be distracting for bidders. Sticking to one row will keep your guests from becoming overwhelmed and will allow them to easily view each item from all angles.
Place a bowl or bucket next to each item so that people can spend their tickets!
Create and place a table tent in front of each basket that describes the item and its value (or indicates if it's priceless).

As far as the rest of your setup goes, you'll also want to designate a registration and checkout area where people can buy raffle tickets and a booth where winners can pick up their items.
You might want to split your checkout out into two lines—one for those paying in person and one for those purchased tickets online—to help checkout run as smoothly as possible.
Once everyone has arrived and it's time for the auction to start, have the emcee announce the rules and officially open the bidding.
Chinese auctions usually last around 2 hours to give guests plenty of time to use their tickets.
Above all: as you're executing your event, remember to have fun! Energy and excitement are infectious, so when guests see you enjoying the event, they will, too.

10. Follow up on Your Penny Social and Track Your Results
The winners have been announced, the prizes have been distributed, and the venue has been cleaned up.
But you're not quite done with your penny social just yet!
To reap all of the benefits of hosting such an amazing event, you should both follow up with your guests and track your results.
Send personalized thank-you notes to all item donors and attendees—even those who didn't win. Everyone who came to your Chinese auction likely made a donation to your organization by buying raffle tickets, so you'll of course want to express your sincerest thanks.
Not only is it common courtesy to demonstrate your gratitude, but saying thanks will also help you keep building on the face-to-face rapport you've established with your donors.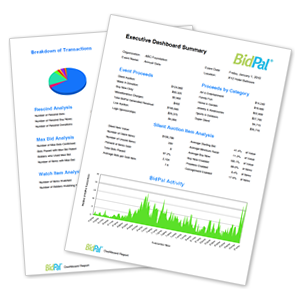 Additionally, especially if you're hosting another auction down the line, you'll want to reflect on the success of your penny social and evaluate how well you did at reaching your goals.
If you've been using event planning software to help you with your auction, tracking your results should be easy.
Since you've been recording all important item and attendee data in one place, you can generate a range of reports that will give you insights into your Chinese auction.
For example, you can track the bidders who bought the most tickets or the most bid-on items to help you figure out where you could be improving next time around. By the time of next year's event, you'll be a penny social pro!
---
Continue your fundraising event research with a few additional resources: