Fundraising tickets are a huge element in the success of any fundraising event. If your ticketing process is smooth and seamless, your donors will have a positive experience and start off their participation in your fundraising event with a good mindset.
There's a lot that goes into event registration and ticketing to make sure it's effortless for donors, like selecting the right software for a comprehensive process.
While ticketing is just one feature of OneCause's larger fundraising event software, many nonprofits use OneCause's solutions for multiple events.
You may be thinking, well, why OneCause? We'll cover a few features to give you our answer and help you familiarize yourself and your organization with ticketing solutions:
If you're ready to learn more about ticketing with OneCause's event fundraising software, let's get started!

Fundraising Tickets Feature #1: Integration
OneCause's ticketing solutions continue to prevail unsurpassed by competitors because the solution is integrable.
As opposed to providers like EventBrite, OneCause's ticketing solutions work hand in hand with their fundraising event solutions to automatically transfer data, so you'll never have to manually enter data again.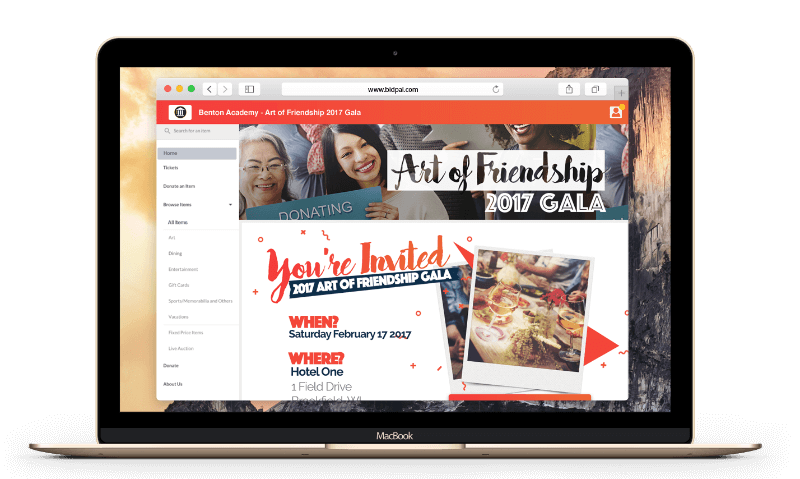 Streamlining your fundraising tickets and event process creates a flawless event where no details, or donors, are forgotten and no time is wasted. Integrating your ticketing with your event software means all your data is compiled in one central location and easily accessed at any point.
For example, your upcoming auction ticketing process can give your organization new donor data, which you can then use to create new donor profiles and use personal insights to help tailor your future events to your donor base's liking.
The bottom line: With the data from your fundraising tickets flowing directly into your event software, your organization can quickly contact donors with fundraising appeals or other information about the upcoming event, which brings us to feature #2: data.

Fundraising Tickets Feature #2: Data Inclusion
Your nonprofit can use the data you collect with your fundraiser event tickets for other events and campaigns.
Your current event has the potential to draw in new prospects, which means you'll have new donor data. You can use this information to expand your donor base and fundraising outreach.
Your organization can also take a look at trends that form within your ticketing process. If most donors purchase the VIP package and no one looks into to Early Bird package, your organization will know to create more VIP driven packages for your next event and shy away from Early Bird specials.
You'll be able to track data like:
Constituent data
Revenue
Ticketing trends
Event popularity
Fundraising statistics
You can take a look at which events are more popular with your donors based on your data. Perhaps your audience was more keen on walkathons than they were on a dinner gala. Your organization will then know to host more relaxed active, fundraising events outdoors, instead of formal events indoors.
The bottom line: Your organization can collect and analyze the data received from OneCause's ticketing solutions to strengthen your fundraising strategies moving forward.

Fundraising Tickets Feature #3: Incorporated Statistics
Just like you can draw data from our ticketing services, you even have the option to incorporate your nonprofit statistics, too!
You can help your organization get a head start by using previous reports and analytics to inform  for your upcoming event ticketing strategy.
Luckily, OneCause's fundraising tickets are customizable so if you conclude your donors would prefer more lower priced packages or are more interested in variations of VIP ticketing, our services can adapt based on your knowledge and statistics.
The bottom line: OneCause's ticketing solutions allow your organization to incorporate your nonprofit statistics to create the most popular and successful ticket options. OneCause's software adapts to your organization's needs to offer a ticketing process that your donors will love.

Fundraising Tickets Feature #4: Unlimited Ticketing
You'll be able to compile endless amounts of data with OneCause because we offer unlimited fundraiser event tickets. That means you can host as many events as your nonprofit pleases!
Increase revenue and streamline every event each time you kick off a campaign or start a fundraiser, all thanks to OneCause's infinite fundraising tickets.
From dinner parties to 5K runs, OneCause can handle ticketing for every type of event your nonprofit wants to host. From different packages and tiers to coupon codes and discounts, OneCause's ticketing solutions can streamline your event's registration so you don't have to do the hard work.
Plus, unlimited tickets brings unlimited customization. For example, VIP ticketing gives nonprofits the opportunity to provide an exclusive donation opportunity to key stakeholders and donors. While on the other hand, customizable pricing tiers allow nonprofits to easily price member packages! With these resources at your disposal, you'll host stellar events.
The bottom line: With OneCause, the sky's the limit. Plan anything within the scope of events as many times as you wish, and OneCause can help you master the ticketing.

Fundraising Tickets Feature #5: Mobile Optimization
Didn't think our ticketing solutions could get better? Because we know plenty of individuals consume the most content on their mobile devices, we've made our ticketing process mobile-friendly, too.
With our mobile-optimized fundraising tickets, donors can easily scroll through ticket packages and purchase their fundraiser event tickets right then and there.
There's no pinching and zooming needed to be able to fit all the options on your donors' phone screens. OneCause makes sure all your packages are displayed legibly on any screen size, whether that's a laptop, tablet, or smartphone. These online ticketing forms are perfect for mobile and text giving.
The bottom line: Everyone carries their cell phone close by and most people view a ton of content on these 4 inch screens, so you'll need to cater to that preference to see the best turn out for your event. With OneCause, your ticketing process is already mobile-optimized so you don't have to do any extra formatting.

Fundraising Tickets Feature #6: Scalable Solution
OneCause's ticketing services are targeted to nonprofits of all sizes. We realize you aren't buying ticketing solutions in isolation, but that you're looking for a comprehensive fundraising event software that can handle the beginning and end of any event.
From schools to healthcare organizations to museums to community-based organizations, OneCause's ticketing services are expansive and adaptable, not to mention scalable. Our solution works for any type of organization with any size staff and donor base, so there's no need to wonder if OneCause can handle your nonprofit.
Our clients aren't necessarily vertical, so our solutions are based on the need of organizations who are looking to automate beginning-to-end fundraising. Our software works with nonprofits to help create the right ticketing options and overall fundraising strategy for you.
The bottom line: OneCause's ticketing solutions can handle a wide range of staff members and donors as we've worked with schools and organizations of all different sizes.

Fundraising Tickets Feature #7: Multiple Capabilities
You can even use OneCause's ticketing services for more than just ticketing. It's the solution that keeps giving!
Check out Rebuilding Together's campaign: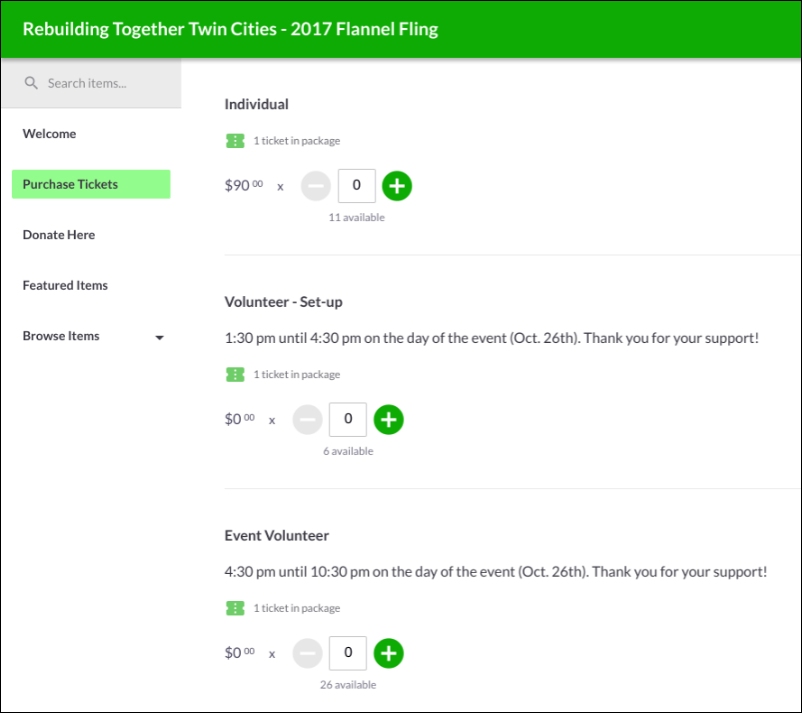 They used our ticketing not only to offer different sponsorship levels and packages but also for volunteer registration before and during the event. A volunteer will simply select a "volunteer ticket," priced at $0, which allows Rebuilding Together to register the individual as a volunteer in their event fundraising solution!
The bottom line: OneCause's solutions are great for ticketing and various registration possibilities, too! You can manage every aspect of your event in a simple, streamlined platform.
---
Our online ticketing creates an amazing registration experience for donors that's unmatched by any other. With increases in sales and gained exposure, your nonprofit with be unstoppable with OneCause's fundraising event software. All that's left to do is plan your next fundraising event!
If you're interested in improving your fundraising strategy, check out these additional resources: