Solution
The Wakeman Agency, ever vigilant for justice, devised a comprehensive plan for execution. As part of the strategy, The Wakeman Agency recognized the need for mobile technology and relied upon software developer, OneCause to configure a personalized mobile experience for petition signors.
The OneCause team determined the OneCause Text2Give solution would not only optimize the experience but also serve as a delivery mechanism to fight mis-information and create an urgent call to action.
Together with OneCause, the Emmett Till Legacy Foundation and The Wakeman Agency mapped out an innovative plan for the mobile texting platform:
Reserve keyword: "Emmett"
Develop a personalized, branded, mobile site
Create a simple, call-to-action form to capture petition signatures
Publish a mobile leaderboard to display the real-time signature count
Design call-to-action opportunities for social sharing
Promote Emmett's story through immediately accessible mobile landing pages
Rally audiences through push notifications
Cultivate social proof through real-time signor leaderboard
Facilitate gratitude via auto text and email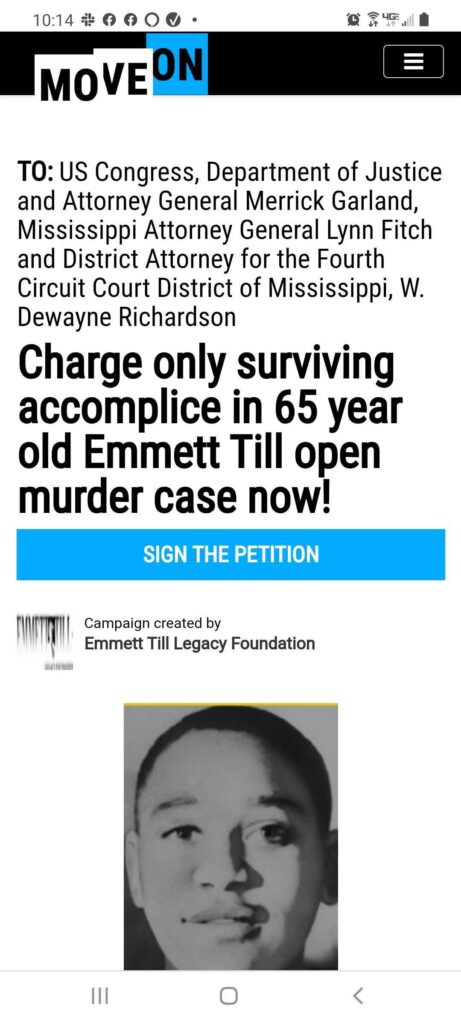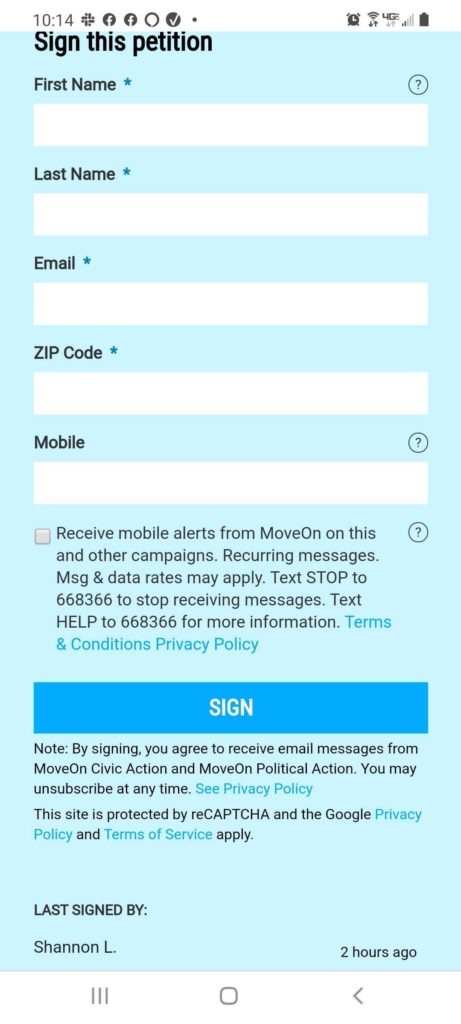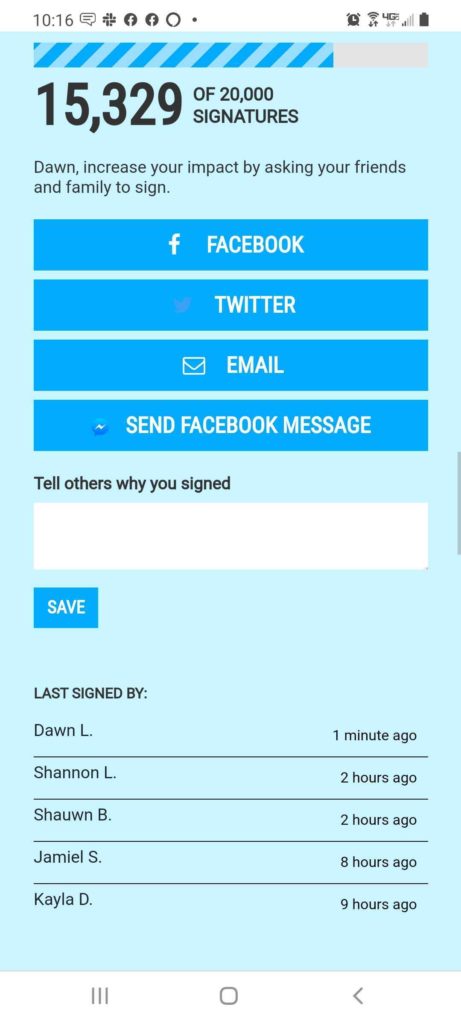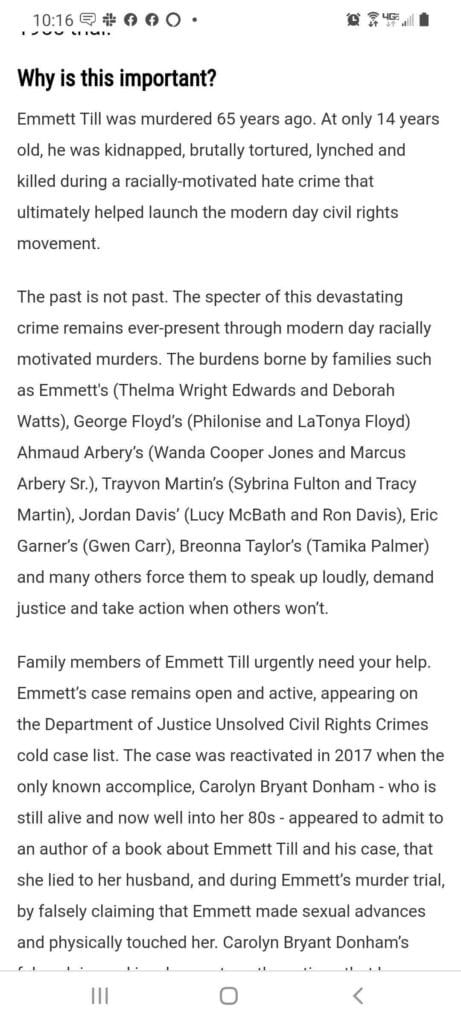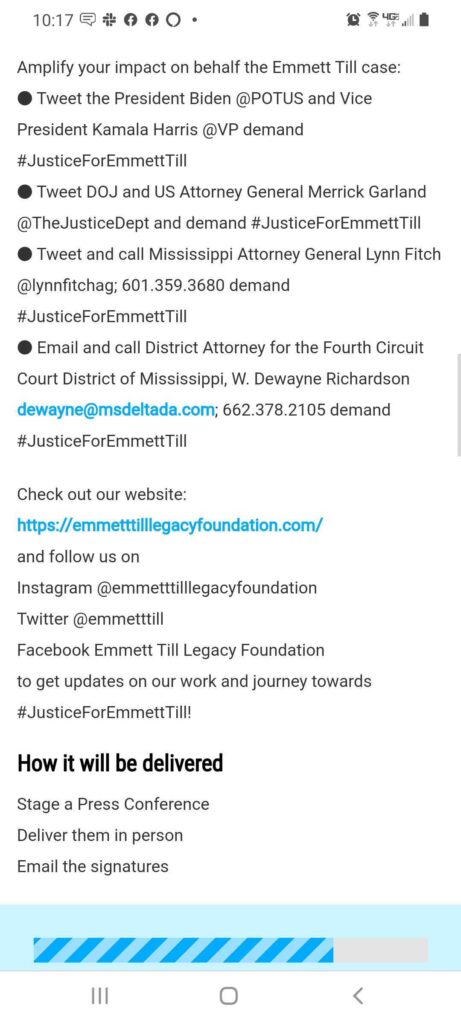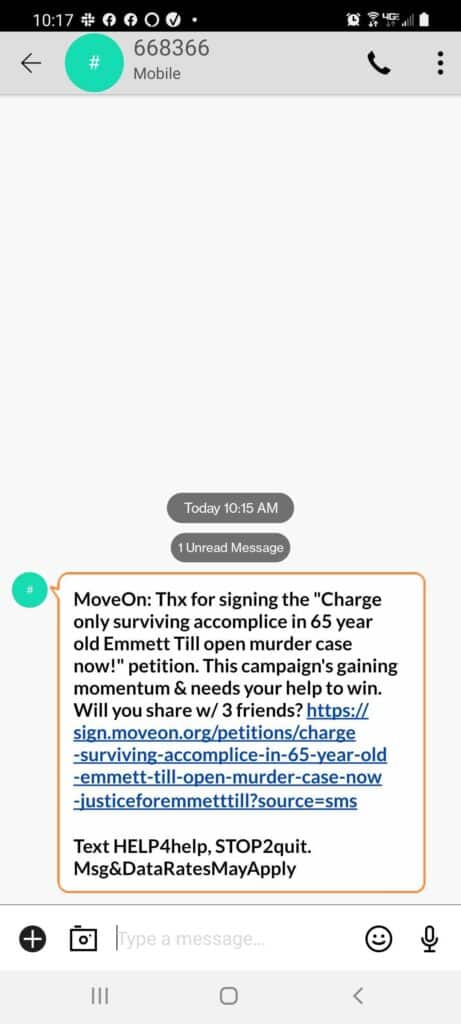 But there was more that OneCause was able to offer.


The "OneCause Cares – Kickstart your Cause" is an employee driven benefit program available to every full-time employee at OneCause. It is part of the company's social responsibility initiatives and commitment to invest in our communities and impact positive change.
Under the program, each full-time employee may sponsor a nonprofit organization on an annual basis. The sponsorship includes granting OneCause software free of charge to an employee's nonprofit of choice.
The Emmett Till story resonated profoundly with one New York based OneCauser who used the employee benefit to award the Text2Give software to the Emmett Till Legacy Foundation at no cost. As word spread internally, pride and engagement intensified within the OneCause workplaces and outwardly on social outlets. Passionate about the cause and mindful about affecting change in their own teams, OneCause rallied a call-to-action during a lunch and learn meeting which drove immediate signatures and support.
According to Jennifer Lynn, Chief of Staff from The Wakeman Agency, "The Foundation is thrilled." Lynn further shared the sentiments from the Emmett Till Legacy Foundation: "This is doing what we wanted it to do. People are still signing the petition which helps place pressure on authorities to take action and bring about long-overdue justice for Emmett."

Lynn added, "The campaign is keeping a steady drum-beat that the Foundation wanted in terms of pressure as they continue to try to bring long-overdue closure, action, and justice for Emmett Till."