One of the most important aspects of your auction event is the items you procure. These packages, or donations for attendees, will focus your silent auction event and most importantly, drive contributions in the form of bids.
We know what you're thinking, so how do I pick silent auction donations that my attendees will want to bid on? We're glad you asked because we have the solution!
We've picked out 5 amazing silent auction donations that everyone is sure to love:
Read on to learn which donation items will help drive the most bids at your next silent auction!
---

1. Travel & Experiences
Silent Auction Donation Overview
This silent auction donation is a surefire way to please any jetsetters or adventurers in your audience. These packages, popular at most auctions, offer once in a lifetime experiences to bidders. Auction off an exciting experience at your next silent auction!
Featured Package
OneCause's featured travel and experiences' package is the Puntacana Resort & Club Caribbean Paradise trip! Give your lucky winner and a guest of their choice a 4-night stay at the Westin Puntacana in the Dominican Republic with airfare for the winner and their guest.
With a location that's oozing with art and culture, your guest can enjoy Puntacana's 25 designer golf courses, white sand beaches, rich museums, and delicious cuisine throughout their stay.
Your winners will even have access to the resort's marina, restaurants, and shopping village for added fun. Between the resort's yoga classes and scuba diving opportunities, you simply can't go wrong with this trip!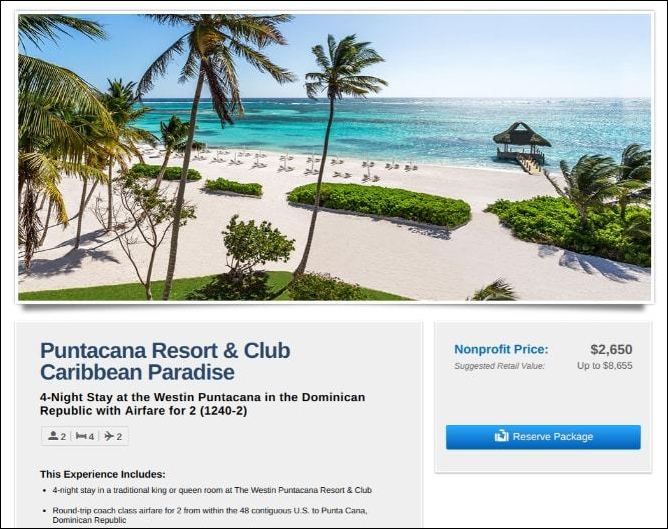 Estimated Cost of This Silent Auction Donation
Depending on the scope of your auction donation, the price range could vary quite a bit. For OneCause's specific Puntacana Resort & Club Caribbean Paradise, the retail price is $8,655. But don't stress! The risk-free nonprofit price is only $2,650, that is to say if the auction item doesn't find a buyer, your organization doesn't pay.
Pro Tips from OneCause
Don't offer up a package to a location that's too obscure because you might lose interest. Pick a popular vacation site with a good reputation so your winner can enjoy their stay without worrying about safety or cleanliness!
Plus, you'll need to make sure it's a good deal. If your attendees can't afford to bid on the travel donation, you won't see any bids!
Bonus:  If you're looking for pointers on how properly auction off this package, check out our 5 Silent Auction Bid Sheet Challenges and How to Avoid Them.
Add This Package to Your Auction!

2. Sports & Activities
Silent Auction Donation Overview
Perfect for the athletes in your audience, these packages can include tickets to big games, sports memorabilia, and more! These packages will be popular for medical centers and health-oriented organizations, among many others, to auction off.
Featured Package
OneCause's featured sports and activities package is the Classic Wrigley Field Rooftop Experience, which includes rooftop bleachers access, and an all-inclusive dining package at a regular season Chicago Cubs game.
Your guests will receive round-trip airfare and a 3-night stay at the Hyatt, Hilton, or Marriott while invited to participate in this Cubs tradition that has been practiced since Opening Day in 1914.
Kick back and enjoy a hot dog and ice cold beverage while watching the ballgame. This is an experience any baseball fan won't be able to turn down!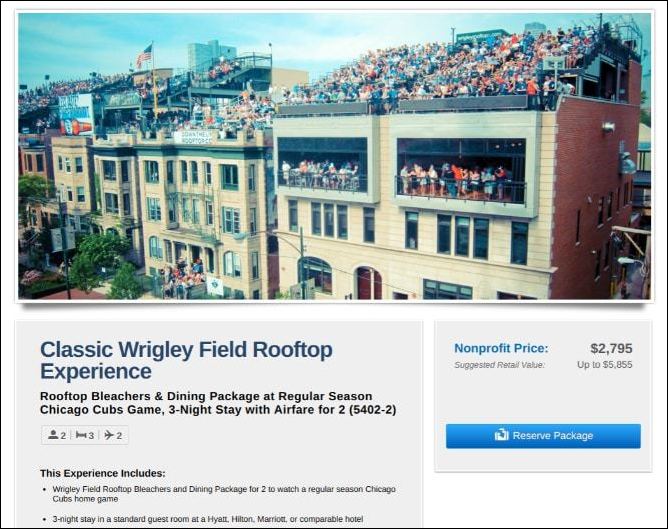 Estimated Cost of This Silent Auction Donation
Like all packages, the cost will depend on the features included. OneCause's Wrigley Field silent auction donations has a suggested retail value of $5,855, but your nonprofit will only pay $2,795 to auction it off! Don't forget, this package is risk-free.
Pro Tips from OneCause
This rule goes without saying, but we'll give you a reminder: offer a package that will be of interest to your audience. If your audience is based in southern California and has little interest in the Chicago Cubs, this might not be the best silent auction donation for you. Instead, find a Lakers game or comparable package that your bidders will fight over!
Thinking carefully about your base of support is an essential part of silent auction planning.
Bonus: Check out these 5 silent auction rules for smooth sailing at your next event!
Add This Package to Your Auction!

3. Gourmet Food & Drink
Silent Auction Donation Overview
A desirable option for the foodies and wine connoisseurs in your audience, these silent donation auctions can include everything from wine tastings in California to cooking classes in France. These packages are perfect for any nonprofit organization to auction off. Who can say no to great food and drinks?
Featured Package
OneCause's gourmet food and drink package is the Tuscany Culinary Escape. Your winner and a guest of their choice are invited to a private cooking lesson, lunch date, and a winery and olive oil tour and tasting.
They'll stay 2 nights in a superior room at the Hotel Ponte Sisto in Rome and be able to view world-renowned landmarks like the Piazza Navona, Trevi Fountain, Spanish steps, and Trastevere district.
Your winners will also enjoy 5 nights in a classic room at the Renaissance Tuscany II Ciocco Resort and Spa, which is a 1500 acre estate 200 miles north of Rome, surrounded by rich greenery and quaint villages.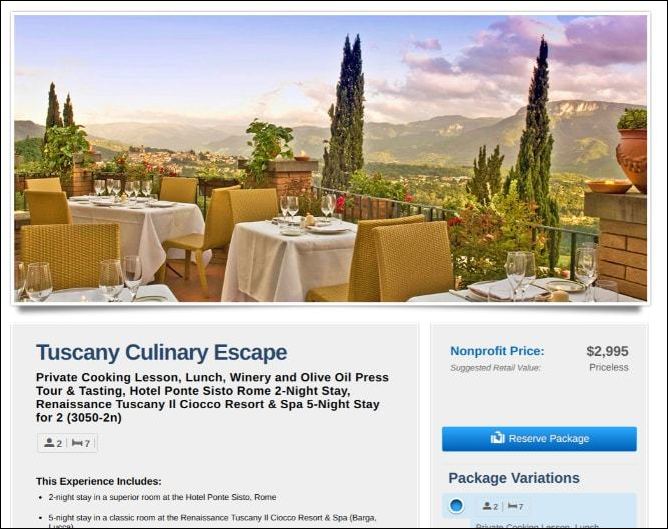 Estimated Cost of This Silent Auction Donation
Like any food and drink package, the cost will vary based on the silent auction donation you're auctioning off, but OneCause's Tuscany Culinary Escape is listed at $6,495 for the nonprofit's price. It's simply priceless for the winners (and risk-free for the nonprofits)!
Pro Tips from OneCause
Make sure to keep your audience's preferences in mind! Perhaps your bidders are more interested in Spanish cuisine, a trip to Barcelona might evoke more competitive bidding.
Keep a budget in mind, too. This particular package is a bit more expensive than others so you'll want to start the bidding at a higher point. Make sure your bidders' wallets can afford a trip to Italy and back.
Bonus: When it's time for checkout, you won't want to miss a step. Check out our 5 easy tips for a speedy and successful silent auction checkout.