One of the most important aspects of your auction event is the items you procure. These packages, or donations for attendees, will focus your silent auction event and most importantly, drive contributions in the form of bids.
We know what you're thinking, so how do I pick silent auction donations that my attendees will want to bid on? We're glad you asked because we have the solution!
We've picked out 5 amazing silent auction donations that everyone is sure to love:
Read on to learn which donation items will help drive the most bids at your next silent auction!
---

1. Travel & Experiences
Silent Auction Donation Overview
This silent auction donation is a surefire way to please any jetsetters or adventurers in your audience. These packages, popular at most auctions, offer once in a lifetime experiences to bidders. Auction off an exciting experience at your next silent auction!
Featured Package
OneCause's featured travel and experiences' package is the Puntacana Resort & Club Caribbean Paradise trip! Give your lucky winner and a guest of their choice a 4-night stay at the Westin Puntacana in the Dominican Republic with airfare for the winner and their guest.
With a location that's oozing with art and culture, your guest can enjoy Puntacana's 25 designer golf courses, white sand beaches, rich museums, and delicious cuisine throughout their stay.
Your winners will even have access to the resort's marina, restaurants, and shopping village for added fun. Between the resort's yoga classes and scuba diving opportunities, you simply can't go wrong with this trip!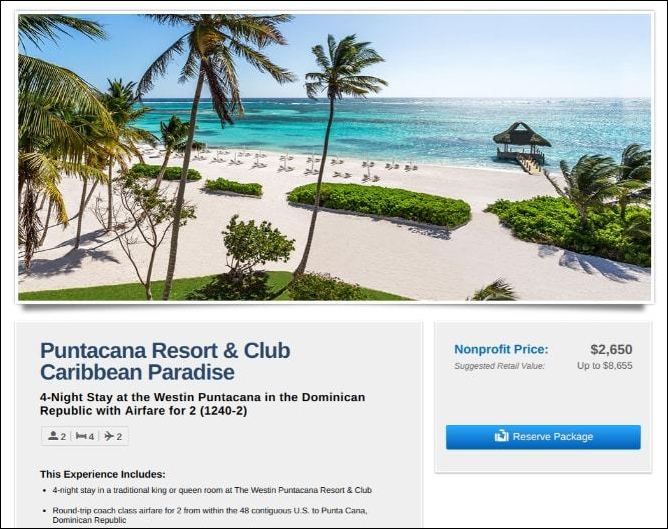 Estimated Cost of This Silent Auction Donation
Depending on the scope of your auction donation, the price range could vary quite a bit. For OneCause's specific Puntacana Resort & Club Caribbean Paradise, the retail price is $8,655. But don't stress! The risk-free nonprofit price is only $2,650, that is to say if the auction item doesn't find a buyer, your organization doesn't pay.
Pro Tips from OneCause
Don't offer up a package to a location that's too obscure because you might lose interest. Pick a popular vacation site with a good reputation so your winner can enjoy their stay without worrying about safety or cleanliness!
Plus, you'll need to make sure it's a good deal. If your attendees can't afford to bid on the travel donation, you won't see any bids!
Bonus:  If you're looking for pointers on how properly auction off this package, check out our 5 Silent Auction Bid Sheet Challenges and How to Avoid Them.
Add This Package to Your Auction!

2. Sports & Activities
Silent Auction Donation Overview
Perfect for the athletes in your audience, these packages can include tickets to big games, sports memorabilia, and more! These packages will be popular for medical centers and health-oriented organizations, among many others, to auction off.
Featured Package
OneCause's featured sports and activities package is the Classic Wrigley Field Rooftop Experience, which includes rooftop bleachers access, and an all-inclusive dining package at a regular season Chicago Cubs game.
Your guests will receive round-trip airfare and a 3-night stay at the Hyatt, Hilton, or Marriott while invited to participate in this Cubs tradition that has been practiced since Opening Day in 1914.
Kick back and enjoy a hot dog and ice cold beverage while watching the ballgame. This is an experience any baseball fan won't be able to turn down!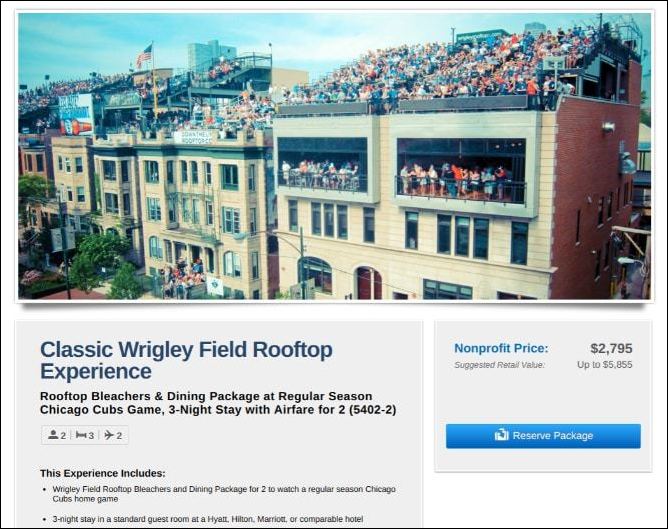 Estimated Cost of This Silent Auction Donation
Like all packages, the cost will depend on the features included. OneCause's Wrigley Field silent auction donations has a suggested retail value of $5,855, but your nonprofit will only pay $2,795 to auction it off! Don't forget, this package is risk-free.
Pro Tips from OneCause
This rule goes without saying, but we'll give you a reminder: offer a package that will be of interest to your audience. If your audience is based in southern California and has little interest in the Chicago Cubs, this might not be the best silent auction donation for you. Instead, find a Lakers game or comparable package that your bidders will fight over!
Thinking carefully about your base of support is an essential part of silent auction planning.
Bonus: Check out these 5 silent auction rules for smooth sailing at your next event!
Add This Package to Your Auction!

3. Gourmet Food & Drink
Silent Auction Donation Overview
A desirable option for the foodies and wine connoisseurs in your audience, these silent donation auctions can include everything from wine tastings in California to cooking classes in France. These packages are perfect for any nonprofit organization to auction off. Who can say no to great food and drinks?
Featured Package
OneCause's gourmet food and drink package is the Tuscany Culinary Escape. Your winner and a guest of their choice are invited to a private cooking lesson, lunch date, and a winery and olive oil tour and tasting.
They'll stay 2 nights in a superior room at the Hotel Ponte Sisto in Rome and be able to view world-renowned landmarks like the Piazza Navona, Trevi Fountain, Spanish steps, and Trastevere district.
Your winners will also enjoy 5 nights in a classic room at the Renaissance Tuscany II Ciocco Resort and Spa, which is a 1500 acre estate 200 miles north of Rome, surrounded by rich greenery and quaint villages.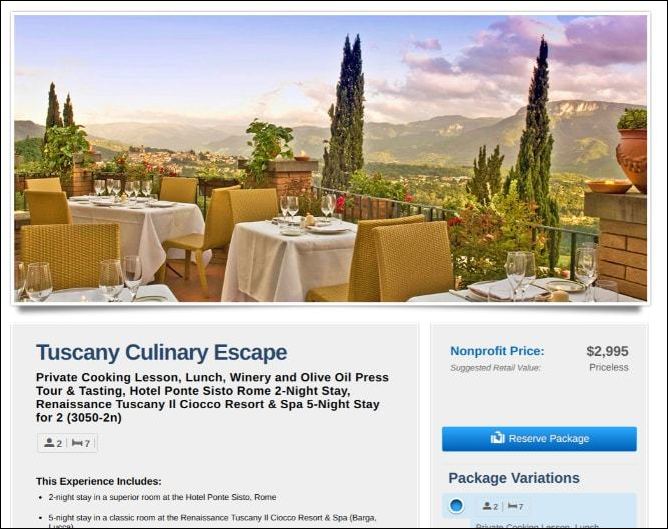 Estimated Cost of This Silent Auction Donation
Like any food and drink package, the cost will vary based on the silent auction donation you're auctioning off, but OneCause's Tuscany Culinary Escape is listed at $6,495 for the nonprofit's price. It's simply priceless for the winners (and risk-free for the nonprofits)!
Pro Tips from OneCause
Make sure to keep your audience's preferences in mind! Perhaps your bidders are more interested in Spanish cuisine, a trip to Barcelona might evoke more competitive bidding.
Keep a budget in mind, too. This particular package is a bit more expensive than others so you'll want to start the bidding at a higher point. Make sure your bidders' wallets can afford a trip to Italy and back.
Bonus: When it's time for checkout, you won't want to miss a step. Check out our 5 easy tips for a speedy and successful silent auction checkout.
Add This Package to Your Auction!

4. Arts, Culture, & Entertainment
Silent Auction Donation Overview
These silent auction donations will be a dream come true for your audience's artists and creative types. From concerts to art showings, these packages will give your winners the ultimate entertainment experience. These auction item ideas are especially great for arts nonprofits to auction off at events.
Featured Package
OneCause's featured arts, culture, and entertainment donation is the Ultimate Broadway experience. Your winner and three guests will pick tickets to one of five shows: Aladdin, Anastasia, Cats, School of Rock, or The Lion King.
In New York, your winners will have a private meet-and-greet with 2 cast members at a pre-show, 3 course dinner and an in-theater meet and greet with another cast member following the show.
Plus, you'll have a 3 night stay in a standard guest room at the Hyatt, Hilton, or Marriott and of course, airfare for 4 individuals.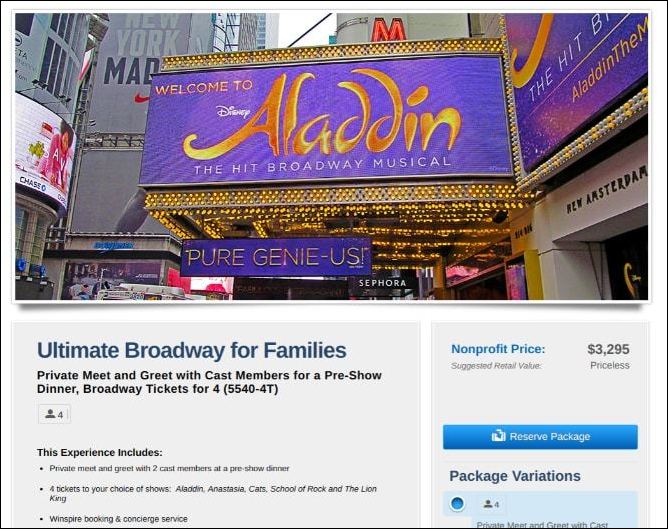 Estimated Cost of This Silent Auction Donation
Price ranges will vary based on where you send your guests and which activities you include in the package. OneCause's Ultimate Broadway package runs at $6,495, a riske-free price for nonprofits, and will be a priceless experience for your winner and their guests!
Pro Tips from OneCause
Because this category can be very broad, be sure to select popular activities that many can enjoy. For example, while perhaps only a few donors feel extremely passionate about a renaissance art museum, many might enjoy a pop concert.
As always, make sure the packages will appeal to your audience in order to encourage competitive bidding!
Bonus: The success of your auction lies in the packing and procurement of your items. Take a look at our 5 Auction Item Pitfalls and Best Practices for tips!
Add This Package to Your Auction!

5. Kids & Family
Silent Auction Donation Overview
Kids and families silent auction donations can range from family portraits to family vacations. Perfect for young families, these packages are sure to be a hit at your next auction event. These donations are wonderful options for health care, community, and family-oriented nonprofits to include at their next auction events. Pair your school silent auction with powerful text-to-give tools for maximum effect!
Featured Package
OneCause's featured silent auction donation is the Disney World Family Adventure. Your winner's family of 4 can enjoy a 4 night stay at the Hyatt Regency Grand Cypress in Orlando, Florida, which includes outdoor gardens, a lagoon-style pool, 12 tennis courts, and 45 holes of golf.
With a shuttle from the hotel to the parks, your winners can use their $1,050 in Disney gift cards and redeem them for admission, food, and souvenirs inside the parks, where the fun awaits!
With included airfare and roller coasters galore, your winner's family will love a stay to enjoy the magic of Disney.
Estimated Cost of This Silent Auction Donation
Like previously mentioned, different packages will have different costs, depending on where your nonprofit books from and which features you want to include. OneCause's Disney World Family Adventure is listed at $4,995 for nonprofit's. The whole package is worth up to $10,470, so it's sure to be an experience your winner won't forget.
Pro Tips from OneCause
Remember this category of donations is best for young families, which means if your audience is filled with elderly bidders, it might not encourage competitive bidding and result in larger donations.
On the other hand, if this is the perfect package for your bidders, make sure you select a popular location, park, or activity to get bids flying!
Bonus: Looking to boost engagement and donations on the night of your auction event? Promote your text-to-give tools to guests.
Add This Package to Your Auction!
---
Your silent auction's success relies heavily on the packages up for auction, so your nonprofit will need to select popular options to get the bidding wars fired up. Keep your audience's preferences and interests, as well as your organization's budget and goals, in mind throughout the item procurement stage. Then make sure you've prepared for smooth processing and checkout, too!
Now that you have our top 5 silent auction donation categories and packages, you're capable of hosting a stellar silent auction event for your nonprofit and seeing significant profit! Happy auctioning!
Additional Resources to Keep Exploring
Charity Auction Software Guide. Procuring amazing auction donations is only part of running a successful auction event. If you need help managing and organizing your event from start to finish, software can help. Check out our charity auction software guide to get started!
Chinese Auction and Penny Social Guide. New to hosting Chinese auctions and penny socials? OneCause has your back! Check out our guide for everything you need to know.
School Auctions: A Step-by-Step Guide. The silent auction is the prefect fundraisers for schools because guests of all different economic backgrounds can conveniently bid using their phones or bid sheets. That way, they don't have to publicly announce their bids. Learn more about planning a silent auction for your school with our comprehensive guide.