Pairing the excitement of bidding on auction items with the fun of getting together with your nonprofit's community, donors of all stripes love to be invited to auctions year after year to help raise money for your cause.
Not only are they a fan favorite, but they're effective, too. Since auctions incentivize supporters to grow their bids as much as possible to ensure they've beat out the competition for their item of choice, charity auctions stand out as one of the best ways to maximize your community's giving potential.
That being said, hosting an auction event to remember can still be a challenge. With the logistics of event planning, registering attendees, processing bids, and getting items to their rightful winners, many organizations balk at the thought of hosting their own auction.
Luckily, with comprehensive mobile bidding software your team can take your next auction into the 21st century.
Think your nonprofit is ready to find its next bidding software platform?
Check out our top mobile bidding software platforms and find out how much web traffic they're receiving from interested organizations like yours by reviewing their Alexa Global Ranking score.
[go_pricing id="fundraisin_5b6885c8b3b36″]
Remember: the higher their ranking, the closer to #1 they are! Platforms with lower rankings (or no ranking at all) haven't yet garnered much web traffic and might not be the right choice for your cause.
Ready to dive in? In this post, we'll review the different mobile bidding software features these options bring to the table and how they can help make your nonprofit's next auction your best one yet.

1. OneCause
Mobile Bidding Software Review
When nonprofits adopt OneCause's robust mobile bidding software, they can expect to host exciting, engaging auction events that their supporters will be talking about long after the last item is called.
OneCause's mobile bidding solution, BidPal Mobile Bidding and Auction Software, offers all of the features your team needs to simplify charity auction event planning, execution, and close-out.
BidPal's mobile bidding software feature set comprises:
Auction item procurement and packaging tools to help your team stay on top of your items and ensure they leave the event with their bidders.
Event registration and ticket sales features to streamline the process of signing up attendees and processing their payments.
Donation tracking and donor management solutions so your nonprofit can effectively manage relationships and lay the groundwork for future giving.
Social media management software that empowers your team to promote your auction event on sites like Facebook and Twitter.
Mobile bidding software including an app that helps you manage your open auction events, engage with supporters, and plan future auctions.
See OneCause's mobile bidding solution in action.
https://bidpalnetwork.wistia.com/medias/p4lq9wwwft?embedType=async&seo=false&videoFoam=true&videoWidth=500
Why This Mobile Bidding Company is Great for Auctions
The OneCause mobile bidding platform is the perfect fit for nonprofits that are ready to dive headfirst into the world of mobile bidding while still getting the extensive features they need to plan great events and build strong relationships with supporters.
Instead of being a standalone mobile bidding tool or an add-on feature to a general fundraising platform, mobile bidding software by OneCause balances essential auction features with exceptional fundraising event tools, donor management software, and communication solutions, making it a truly comprehensive charity auction solution. This sets it far above comparable solutions like Gesture or Greater Giving that offer few features with less support.
How This Mobile Bidding Platform Ranks on Alexa
Want to see how many people are excited to learn more about OneCause's mobile bidding software online? Take a look at their exceptional Alexa Global Ranking of 666,610!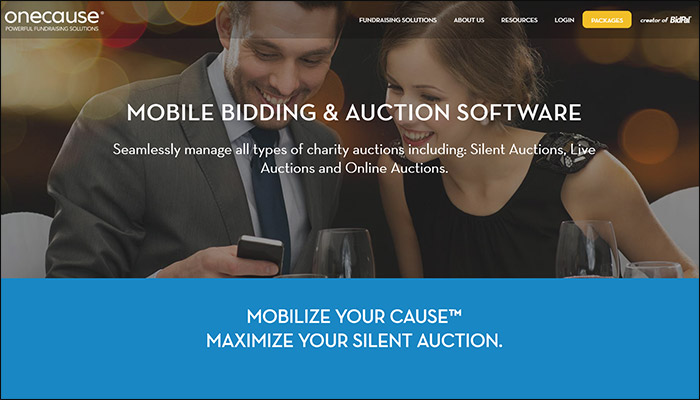 Discover OneCause's mobile bidding software!

2. Cause4Auction
Mobile Bidding Software Review
Cause4Auction's unique mobile bidding platform offers nonprofits the event planning software they need to streamline event logistics and carry out a more effective auction strategy. For organizations looking for a simple auction solution, this software stands out.
Whether your team is new to auction events or interested in a solution to minimize planning missteps, Cause4Auction's mobile bidding software gives nonprofits the essential tools they need without extra frills.
Cause4Auction's mobile bidding software platform consists of:
Intuitive auction planing tools that empower your team to create auction events, upload items, and make the auction the event you envision.
Auction item adding features to help your team track and add new items that your supporters will bid on.
Flexible bidder profiles that your team can create, edit, and update with ease. Profiles can be added manually or automatically created at registration.
Bidding notifications and winner updates to help your supporters stay on top of their auction progress.
Self or manual checkout features that allow item winners to pay for their prizes through their phone at the end of the night without input from your team.
Why This Mobile Bidding Company is Great for Auctions
Cause4Auction recognizes that not all nonprofits have the same auction priorities, and many organizations simply want a streamlined solution to carry out their events.
With this in mind, their mobile bidding software gives teams a just-the-basics solution that might be suitable for growing organizations or those new to auction fundraising events.
How This Mobile Bidding Platform Ranks on Alexa
Cause4Auction has not yet received enough website traffic to rank on Alexa's Global Ranking scale.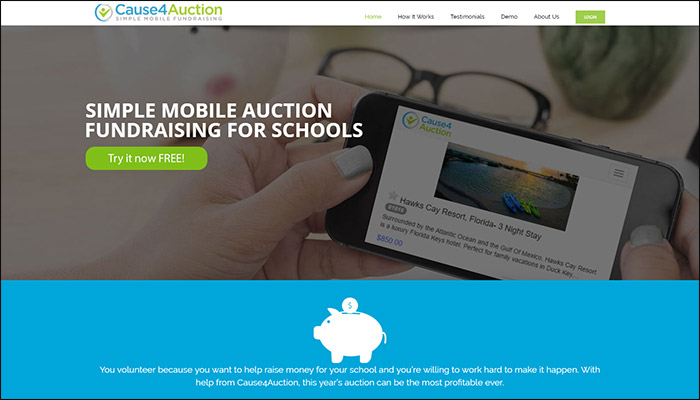 Find out more about Cause4Auction's mobile bidding solutions!

3. WinningCause
Mobile Bidding Software Review
WinningCause recognizes that auction events can be some of the most expensive investments that nonprofits will make during their fundraising calendar, so they've developed an affordable platform with cost-saving functionalities in place.
For organizations that opt into their Better Than Free Plan, your bidders can help cover the cost of the event by adding a small, tax-deductible donation on top of their auction bid payment at the end of the event.
WinningCause's mobile bidding software includes:
Free registration. Organizations can launch a WinningCause auction account absolutely free; they won't be charged unless they launch a successful auction.
Event setup and item inventory. Keep the auction event planning process intuitive and work through the platform's step-by-setup event setup process.
Online auctions. The platform empowers organizations to launch live online auctions to access the widest range of bidders.
Mobile responsive auctions. Not only can anyone access your auctions online, but the events are mobile responsive for smartphone users.
Why This Mobile Bidding Company is Great for Auctions
Since WinningCause offers several flexible pricing plans, nonprofits of all shapes and sizes can afford to launch accessible auction events.
Even better, because their auctions are hosted online, organization's can save on event planning costs like renting a venue, providing food, or hiring a cleanup crew.
How This Mobile Bidding Platform Ranks on Alexa
WinningCause has not yet received enough website traffic to rank on Alexa's Global Ranking scale.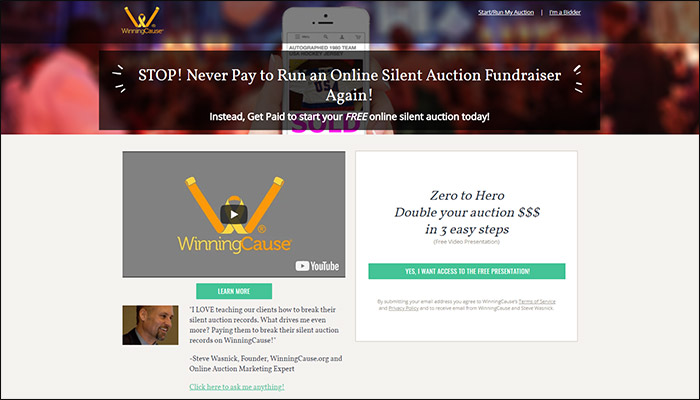 See what WinningCause's mobile bidding software has to offer.!

4. Accelevents
Mobile Bidding Software Review
Accelevents' mobile bidding software is offered as part of their broader online fundraising and event management platform for nonprofits. Once your team sets up an auction event page, supporters can start bidding.
When you adopt Accelevents' nonprofit software platform, you'll have access to all of their auction and mobile bidding features, as well as other helpful solutions for managing your donors and launching fundraising campaigns.
Accelevents' mobile bidding software features include:
Flexible bidding for your auction's supporters. They can either bid by phone without needing a specialized app, or they can make their bid online.
Event ticketing features so your team can sell and track auction event tickets. Set varying ticket tiers, prices, and even sales quotas.
A mobile app for your auction bidders. They can use this app as a ticket alternative for streamlined check-in, or to participate in the auction at home.
Bidding notifications to keep your supporters excited during the duration of your auction, whether it's just for one night or over the course of several days.
Donation page building to help add revenue streams for your charity auction. You can create standalone pages for each auction event and encourage attendees to give.
Why This Mobile Bidding Company is Great for Auctions
Auction events are a big part of your nonprofit's fundraising strategy, and your team needs to have tools on hand to make it easier to incorporate these events into your fundraising plan.
Since Accelevents includes mobile bidding software and auction event planning software as part of their overall software suite, your team will never be at a loss for how to manage these events.
How This Mobile Bidding Platform Ranks on Alexa
Alexa's Global Ranking system places Accelevents in 1,271,958th place.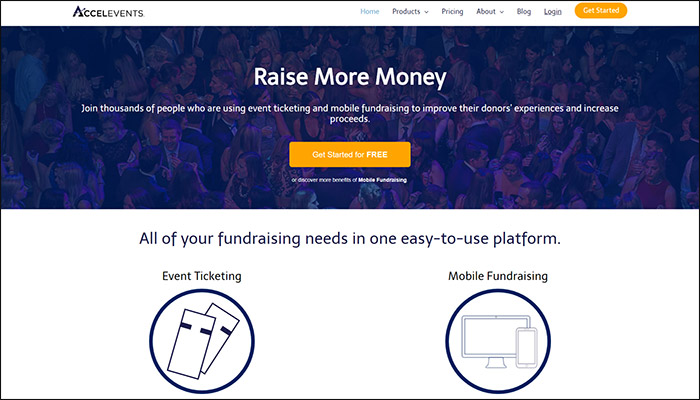 Learn more about Accelevents' robust mobile bidding software.!

5. MobilBid
Mobile Bidding Software Review
MobilBid is a Canadian mobile bidding software platform that offers a host of auction solutions to help nonprofits add efficiency to their events without sacrificing an enjoyable experience for their attendees.
Guests can bid from anywhere (even outside of your event venue) with the software's mobile bidding features. Even better, guests can register with their own smartphone, so there's no need for volunteers or staff to check people in through tablets.
MobilBid's mobile bidding software features offer:
Simple event creation tools that allow your nonprofit to launch a customized auction event page without hassle (or tech expertise).
Checkout solutions to make closing out your auction an easier process. At the end of the event, bidders are automatically sent invoices for their items.
Engagement tools like bidding notifications to keep up the momentum of your auction fundraiser and to help your supporters cheer one another on.
Gamification features including a bidding leaderboard. This tool ranks your top bidders and can be customized to match your organization's identity.
Event analytics solutions to help your team learn from key event performance indicators. Over time, you can leverage this insight to improve your event strategy.
Why This Mobile Bidding Company is Great for Auctions
MobilBid is a highly customizable auction platform, which can prove helpful for nonprofits that are looking to leverage these events to build brand awareness of their cause.
From the moment supporters register for the event to when the receive their item invoice, your team will have complete control over their experience.
How This Mobile Bidding Platform Ranks on Alexa
Alexa's Global Ranking system places MobilBid in 14,521,203rd place.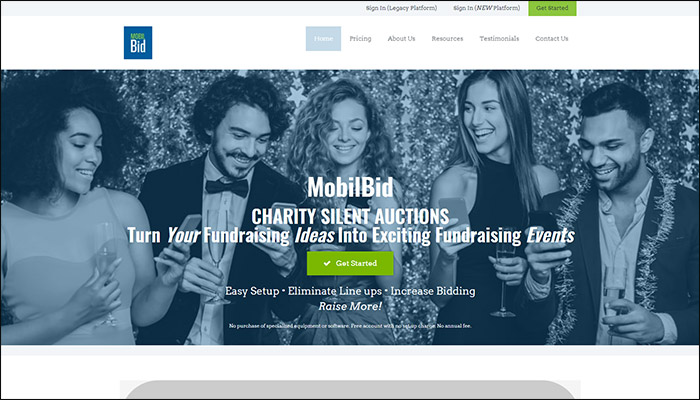 See what MobilBid's auction software can offer your cause.

6. Bidr
Mobile Bidding Software Review
Bidr's mobile bidding software embraces the up-to-the-minute excitement of auctions and leverages smart mobile giving strategies to help your team ensure that smartphone bidders have all the tools they need to easily support your next event.
Not only does Bidr offer mobile bidding solutions, but the platform also makes text-to-give fundraising available for organizations that want to pair their event with an ongoing fundraising campaign.
Bidr's top mobile bidding software features include:
Advanced ticketing. When your attendees can pre-register for the auction, you'll avoid long lines and registration hassles at your auction events.
Text raffles. In addition to holding your silent auction, offer a text raffle to add another way for your attendees to give back to your cause.
Real time auction dashboards. Stay on top of your auction's performance with analytics dashboards that update in real time as your event unfolds.
Customized text messaging. Draft and send customized text messages before, during, and after your auction to build a strong line of communication with supporters.
An auction item marketplace. Looking for auction items? Browse the platform's auction item marketplace to find the right options for your event.
Why This Mobile Bidding Company is Great for Auctions
Bidr stands out from other mobile bidding platforms by embracing the role that smartphone users have to play in your digital auction experience.
By creating strong mobile connections early with their advanced ticketing tools and text message streams, supporters will be ready (and excited) to make their bids on the day of the event.
How This Mobile Bidding Platform Ranks on Alexa
Alexa's Global Ranking system places Bidr in 1,640,665th place.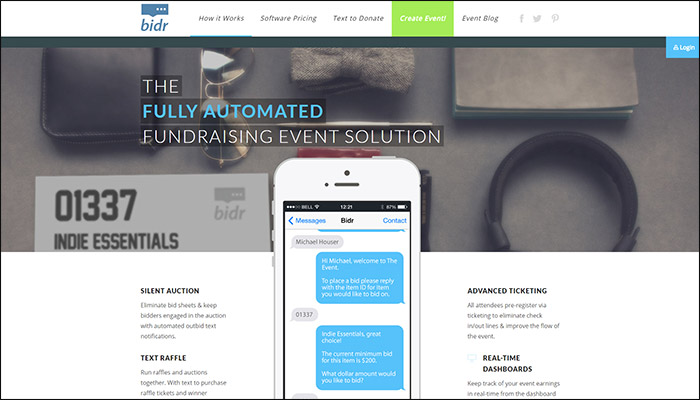 Learn more about Bidr's mobile bidding tools.

7. Clickbid
Mobile Bidding Software Review
Clickbid's mobile bidding platform offers a comprehensive auction management solution for nonprofits that are looking to take hold of their auction event strategy. If your nonprofit wants a hands-on platform, Clickbid has you covered.
With tools to address nonprofit auction needs from the ground up, your team will have access to a wide range of solutions to ensure your auctions are a big success with supporters. After the event, you'll be able to learn from analytics data and improve your strategy next time around.
Clickbid's mobile bidding software suite includes:
Convenient smartphone bidding. Your supporters don't need to download an app to make their bids; they can engage with your auction via text.
Mobile check-in (and check-out) tools. Easily sign your supporters up as bidders and then process their winning items at the end of your auction from a smartphone device.
Year-long auction events. Hold long-term auctions that last the whole fundraising calendar to widen your base of potential bidders.
Ticket sales. Market and sell tickets using your mobile bidding platform. Process payments before or during the event through your smartphone device.
Event landing pages. Create customized auction event pages to attract and engage your supporters before, during, and after your event.
Why This Mobile Bidding Company is Great for Auctions
Clickbid's extensive mobile bidding software platform provides nonprofits with a wide range of tools they can leverage for more effective events, including "Fund a Need" displays.
With this feature, your supporters can keep track of your overall fundraising progress and determine if they should up their bids or encourage more attendees to make bids of their own.
How This Mobile Bidding Platform Ranks on Alexa
Alexa's Global Ranking system places Clickbid in 11,050,326th place.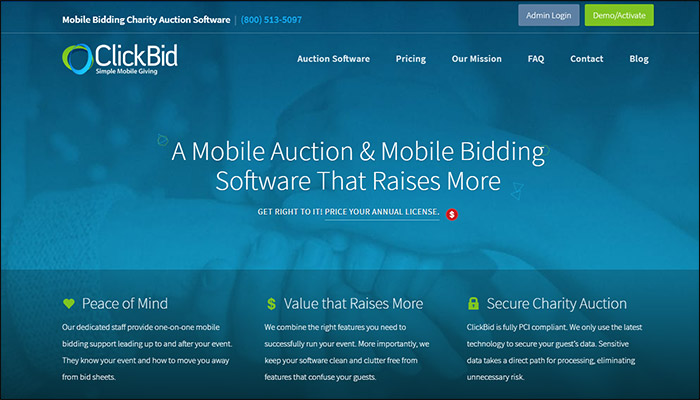 Find out more about Clickbid's mobile bidding software suite!
---
For your nonprofit's next charity auction event, give a mobile bidding auction to try! Your supporters will love the convenience of participating right from their smartphone, and your team will appreciate the more efficient event logistics.
With these mobile bidding software reviews on hand, your nonprofit is sure to find the best platform for your cause.
Check out these additional mobile bidding software resources to continue your research:
OneCause's Mobile Bidding & Auction Software. Want to learn more about OneCause's comprehensive mobile bidding software suite? With OneCause, your nonprofit can host engaging and efficient auctions to boost fundraising for your cause without behind-the-scenes planning headaches.
Double the Donation's Charity Auctions Guide. Find out how mobile bidding and auction software can strengthen your nonprofit's fundraising events  strategy by checking out Double the Donation's in-depth guide to hosting charity auctions.
OneCause's Top Charity Auction Item Ideas. Ready to start planning your next charity auction? Check out our favorite charity auction item ideas to get inspired. Your next auction is sure to be a hit with these popular and creative auction items!