BONUS CONTENT: Competitive Social Fundraising in Action
Now that you better understand the concept of competitive social fundraising, let's see these concepts in action. The Indy Tech Gives campaign is a great example. Let's check it out!
Indy Tech Gives is a fundraising campaign that was created by OneCause in 2019 to empower other technology companies to raise money for the Indianapolis community while using the OneCause Peer-to-Peer software.

In June 2022, twelve Indianapolis-based technology companies began to raise money for eight Central Indiana nonprofits. Over the course of six weeks, this campaign saw success through creating:
Flexible structure
Creative engagement
Powerful fundraising initiatives
Flexible Structure
With many different companies participating, it was important that the structure of the campaign was adaptable. The ability to connect all of the businesses through the campaign highlighted the importance of Affinity Groups.
Affinity Groups allow for 3 levels of competition:
Participant vs participant
Team vs team
Company vs company
This sense of community and dependence empowered participants to go above and beyond in their fundraising efforts for their nonprofit!
Creative Engagement
Now that hundreds of employees were registered, the Indy Tech Gives team needed an engaging strategy to keep supporters locked in and fundraising.
Personal events played a huge role. They empowered participants to engage their supporters in ways that are personally meaningful to them.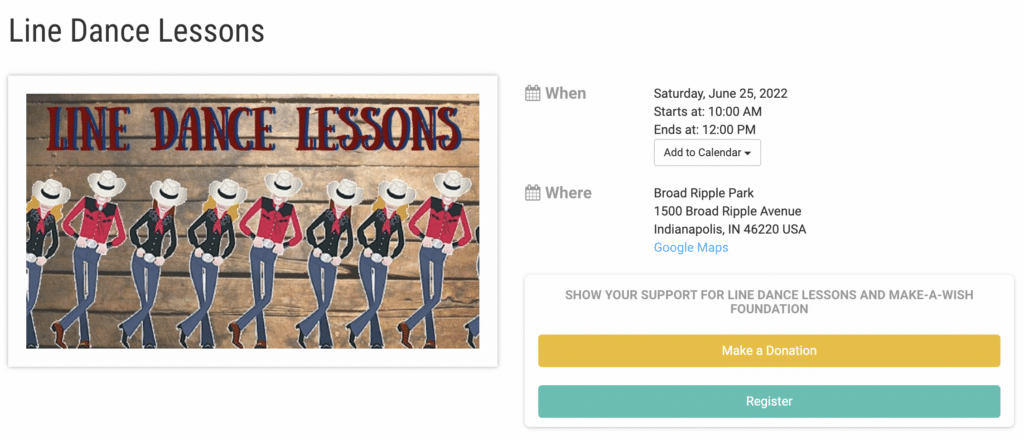 Some events that participants hosted over the six week long campaign included line dancing lessons, a virtual bake sale, and a yoga class. Each of these personal events helped excite participants and supporters to raise money for the cause by creating giving experiences that were personal, fun, and unique.
Powerful Fundraising Initiatives
Beyond engaging participants through a flexible campaign, a successful competitive social fundraiser needs to equip their supporters with the power of fundraising. The Indy Tech Gives team implemented powerful fundraising through drawings and campaign leaderboards.
To prevent the lull in fundraising efforts towards the middle of the 6-week campaign, Indy Tech Gives created drawings to incentivizes participants to keep on fundraising over the entire campaign.
Drawings included gift cards for:
Securing five donations over the course of a week.
Reaching the recommended fundraising goal.
Promoting and sharing on social media.
These drawings helped keep the fundraising momentum strong throughout the campaign and reduce the fundraising burnout which can occur over longer campaigns.
Besides drawings, the Indy Tech Gives team utilized different leaderboard structures to motivate the fundraising efforts of their supporters. Not only were participants able to see their standings among other individual fundraisers, but also the impact of their social media promotion and collective company ranking.
Indy Tech Gives highlighted the importance of celebrating other efforts in the fundraising process, like social shares, to keep those who might struggle to raise funds to still promote the campaign.
Results
These efforts utilizing these three strategies resulted in great success. Here are the outstanding results:
Over 280 participants from 8 companies
 887 donations collected
 Over $61,000 raised for Indianapolis nonprofits