Step 3: REVIEW your work and officially LAUNCH your event
Once your event fundraising site is ready, it's time to launch! Before go live, test your registration and donation flows to make sure you are giving your participants and donors the experience you want.
It's a good idea to have someone not connected with your event to review your portal to make sure your messaging and content makes sense. And, most importantly, make sure dates and times are correct!
Once you've reviewed and tested your peer-to-peer fundraising site, it's time for soft launch. Roll it out to a small audience. Send to your board or a select group of repeat donors so they can give everything a last once-over and share feedback before the big reveal.
Having some sort of soft launch is also important because your initial audience will be the first to register and make the initial donations. This means your site will have some action before you promote wider. Next, it's go-time!

Step 4: PROMOTE your bikeathon to your audience
For most nonprofit teams, promoting peer-to-peer events is the most fun part of the planning/execution process. Marketing and promoting your event starts bringing your participant audience together with your cause.
Thanks to the peer-to-peer elements you built into your event fundraising site, your promotional strategy has two parts: outbound marketing content your team pushes and organic traffic brought in from current participants. With participants attracting new donors and competing against each other to raise funds, your bikeathon packs a 1-2 fundraising punch.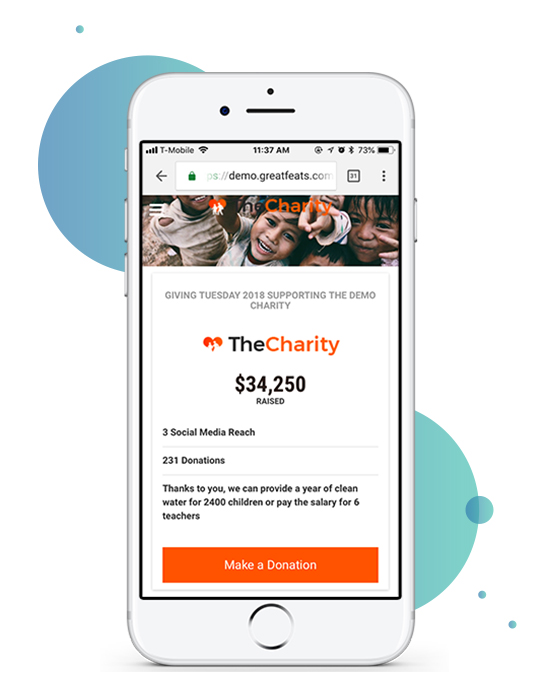 Successful peer-to-peer marketing and promotion tactics include:
Email: Don't underestimate the power of emails. Send targeted email to your entire database, as well as those who have participated in your events in the past.
Personal Outreach: t's worth personally contacting your top fundraisers from previous years to invite them to join this year and thank them for all of their support. Let them know the difference they make.
Social Media: This is a no-brainer for peer-to-peer bikeathons. Follow community influencers and any participants who follow you, and make sure to engage with their posts. Build a detailed social media calendar starting a good 3 months before the bikeathon to make sure nothing slips through the cracks.
Direct Mail:

People still love getting mail and formal invites to a charity bikeathon. Consider crafting creative

direct mail

invitations for your top fundraisers to grab their attention and boost your event's registrations.

Print Collateral: Leveraging the same branding as your online fundraising site, create a series of posters, flyers, and print ads to promote the bikeathon throughout the local community.
Sponsor Ads: Partner with local radio and TV stations to spread the word to the community in exchange for including their logo with your other sponsors.
Sponsor Teams: Have your sponsors invite their employees to participant. If you have a registration fee, consider providing each sponsor with a discount code to make their employees feel special and motivate early registration.