Whether you know it as a helicopter drop, golf balls from heaven, or golf ball raffle, the classic golf ball drop fundraiser is a surefire way to amp up the excitement and raise tons of money for your nonprofit.
Often paired with other golf tournament fundraiser ideas, this fun raffle-style event is pretty straightforward.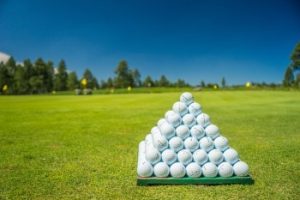 Participants enter the contest by purchasing a golf ball with a unique number on it. Then, at a designated time, you drop a large number of golf balls onto a golf course from a helicopter, crane, or cherry picker. The owner of the ball closest to the hole wins a prize!
Though a golf ball drop may not seem complicated, many organizations struggle to nail down this time-tested fundraiser.
Why? One reason is that with so many ways to approach this idea, it can be tough to create clear golf ball drop fundraiser rules that work for your event.
Lucky for you, we're here to help. In this post, we'll walk through 4 easy-to-implement rules every event planner needs to know before they sell a single golf ball. These tips and guidelines are sure to spell success for your fundraiser:
Let's tee off on the first point.

1. Sell golf ball drop raffle tickets online in advance of the event.
What's the golf ball drop rule?
As with any event fundraiser, in order to raise the maximum amount of money during your golf ball drop, you need to streamline the registration process as much as possible.
A great way to do that? Require participants to purchase their golf ball raffle tickets online prior to the start of the event.
Not only will online registration make it easier to collect participant data, but it will also limit event-day stress for your team. Pre-registered attendees will be able to select their raffle packages in advance well before the big day, meaning no long lines at a registration tent or hurried volunteers rushing to get everyone's tickets in order before the drop.
How do you do it at your fundraiser?
To facilitate online registration for your golf fundraiser, work with an event fundraising software vendor who understands the unique challenges that raffles (and specifically, golf tournaments) can present.
You'll need to make sure your event platform enables you to do all of the following:
Set up a branded event website to store all of the vital event details guests need to know.
Sell distinct ticket packages so guests have plenty of options for how many golf balls they want to purchase.
Offer special discounts and promotions to give your event the extra marketing edge it needs.
Because golf ball drops are a special type of fundraising idea, you need to hold out for a ticketing platform that can accommodate your needs and help you raise more than you ever imagined through ticket and raffle sales alone. Learn more about the event registration process (and get some tips for maximizing it) by reading this helpful post!

2. Offer more than one pricing category during golf ball drop registration.
What's the golf ball drop rule?
Speaking of registration, it's vital that you set clear-cut parameters around the raffle ticket options you'll offer your guests.
As a rule, it's best to allow your golf ball fundraiser participants to choose from several different pricing levels. 
The reasoning behind this is simple: limiting your fundraising options limits your fundraising potential. To avoid that, you should always give your donors as many ways to participate as possible. That way, everyone who attends your helicopter ball drop can purchase a raffle package that fits their giving capacity and interest level.
How do you do it at your fundraiser?
Depending on how many guests you're planning to host, and how many golf balls you're planning to drop, you have a number of options for how you'll diversify your ticket packages.
For example, you might sell:
Discounted golf balls in packages of 5, 10, or 20. The more you buy at once, the more you save!
VIP golf balls that provide their own perks, like a chance to win a special secondary prize.
Golf ball baskets that combine raffle tickets with other purchases, like branded merchandise or swag bags.
Make sure your offerings are varied enough in price that you can draw in donors at every level.
And don't forget: you'll need to know from the outset just how many golf balls you'll be dropping. Then you can set clear maximums for each package option and inspire guests to purchase their entries as quickly as possible before they sell out.

3. Let participants in your golf ball drop buy multiple opportunities.
What's the golf ball drop rule?
In some fundraising contests, it's best to limit entries to one per person. In a golf ball drop, it's quite the opposite.
In your promotional materials and rule sheet, encourage guests to buy as many raffle tickets as their hearts desire!
Logically, the more opportunities supporters have to participate, the higher their chances are of winning. That's a clear incentive to buy more golf balls, and for you, that means even more chances to bring in that much-needed funding.
How do you do it at your fundraiser?
As we mentioned in the last section, one of the first steps to planning your helicopter drop fundraiser is to decide on the amount of golf balls you'll be selling.
Of course, you don't want a surplus of golf balls that don't get sold, but on the flip side, you can't risk limiting your fundraising ability by selling too few raffle tickets. To decide on the perfect number, first answer these important questions:
What's your fundraising goal? Some simple math can help you calculate a reasonable amount of golf balls to sell. Just divide your goal number by the average price per golf ball, and you'll have a solid starting point to work from.
How many guests can you expect? Look to your event software records or your donor database history to get an idea of how many guests previous similar events have drawn. If this is your first foray into golf fundraising, you can also send out a save-the-date or RSVP form to gauge event interest before finalizing plans.
Does your event venue have limitations? Obviously, golf tournament fundraising takes place outside, almost certainly on or near a golf course. That said, always ask your tournament coordinator or course manager about capacity restrictions before deciding on the number of guests you can accommodate.
Once you have a better idea of how many golf balls are realistic for your helicopter drop, build in a little extra room for those guests who want to purchase 5, 10, or even 50 golf ball raffle opportunities.
If guests are determined to win the prize (and excited to support your event), you certainly don't want to stand in their way!

4. Set prize packages for your golf ball drop fundraiser.
What's the golf ball drop rule?
You know how the golf ball drop fundraiser works: whichever guest purchased the ball that lands in (or nearest to) the hole takes home the coveted prize. But it's up to your organization to decide what that wonderful prize will be!
As you lay out the rules for your golf ball drop, be explicit regarding what the winnings will be. You might offer…
A single cash prize.
A unique item or experience donated by one of your sponsors.
Tiered prizes for the 3-5 closest golf balls.
Entry into another raffle to take home a cash prize.
Keep in mind that one of the ways to make this golf ball drop rewarding (and fun) for everyone is to set up a variety of prize packages that more than one individual can take home.
That way, more donors have a chance to win, and you'll encourage even more people to participate by purchasing a golf ball ticket.
How do you do it at your fundraiser?
You can get creative when it comes to outlining your prizes!
For example, consider offering a "reverse prize" for the owner of the ball farthest from the hole.
Or, coordinate with your volunteers to select a handful of raffle ticket numbers prior to the event, each of which will receive a different prize package. Keep these numbers sealed tight in a secret envelope to maintain the mystery!
No matter what you do, work with sponsors, volunteers, and board members to line up prizes that are valuable and exciting for your guests. For a jumping off point, check out these top auction item ideas that work just as well as golf ball drop prizes!
---
All kinds of golf fundraisers require a little bit of logistical work on the front-end, but the payoff is well worth the effort.
Keep these golf ball drop fundraiser rules in mind and you'll be one step closer to a hole-in-one fundraising event!
For more tips on planning your best fundraising event yet, check out these additional resources: