It's well-known that nonprofits tend to have a problem with employee retention. The historic nonprofit employee turnover rate has always been high and the average time that people stay at their jobs consistently low.
Research from the Nonprofit Finance Fund suggests that some of the top challenges regarding staffing for nonprofits include: offering competitive pay, employing enough staff members, and cultivating strong leaders.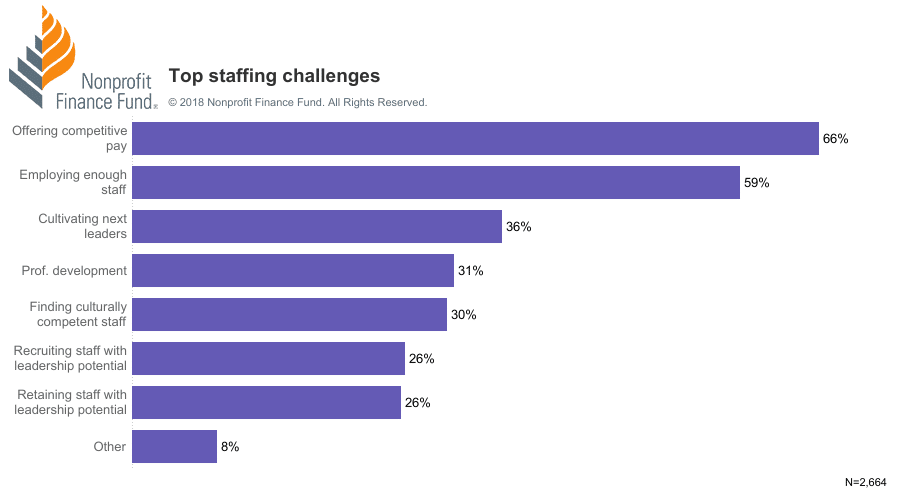 While it may be tempting to only address these employment issues as they appear for your nonprofit, getting out of this reactive mindset will help prevent the problem in the first place. We recommend taking a proactive approach to strategize your hiring process and counter these challenges before they arise.
When you create a hiring plan for your nonprofit, be sure to consider important aspects for each of the following steps:
Improved employee retention starts with transparency from your organization. Set accurate expectations for your employees from the beginning. Let's dive deeper into each step of the hiring process to see how!

1. Conduct an analysis of your organization's needs.
Before you dive into the hiring process, it's always a good idea for your nonprofit to do some self-analysis to see where you currently stand in terms of future planning and staff positions.
To get an accurate view of your nonprofit's current staffing situation, you need to take inventory. Follow these three important steps to take inventory for your nonprofit:
Write down all of the positions that are currently filled at your nonprofit.

Ask each of your employees to write a description of their current duties at their position.

Ask yourself what your organization still needs to accomplish in order to grow.
This process will help you identify gaps in your current workload and employment status. You may find that your nonprofit doesn't need another employee but a better organization system for employee workloads. Or you may find that you need not one but two new hires to fill the work gaps.
This analysis shows your nonprofit where your gaps in workload truly are so you have an accurate breakdown of your needs.
Don't forget that some of your needs might be better addressed by a fundraising consultant rather than a new employee. Read through Aly Sterling Philanthropy's hiring guide for fundraising consultants to learn more about what needs a consultant can fill for your nonprofit. Compare that list to the gaps in your nonprofit's workload to see if anything matches.

2. Decide what type of contract your nonprofit will offer.
The types of contracts your nonprofit can offer employees are highly dependent on your workload needs. Your employment options include:
Full-time employment.

Full-time employment is what most nonprofits think of when they consider hiring. They want a 40 hours/week employee who will prioritize the organization's needs in their work.

Part-time employment.

You might choose to hire a part-time employee if you only need 30 hours or less of work completed each week. These employees may have other priorities in addition to your nonprofit.

Contracted employment.

Contracted employment is a great solution for nonprofits who need a highly specific task completed every now and then. These employees will not become a part of your full-time staff.

Consultants.

Hire an effective nonprofit consultant when your nonprofit has needs such as organizing and

implementing effective capital campaigns

, establishing a strategic plan for the future and training your leaders or board of directors.

Volunteers.

Volunteers help your nonprofit with the groundwork of implementing your mission. They don't need a lot of training to get the job done.
The type of employment you offer depends on your needs as well as your budget. You'll need to ensure fair compensation when bringing on new employees to keep them at your organization for long periods of time.
Try researching what other organizations pay for a similar position to decide what compensation is fair. If you can't afford the compensation required for a full-time position, you might need to consider part-time or contract options instead.

3. List the important skills necessary for the open position.
Now that you know the needs of your organization and what type of employment will best fit these needs, it's time to start thinking about your ideal candidate for the open position. Start organizing these qualities by listing them out.
The qualities you may consider for your new hires may include (but aren't limited to):
Effective written and verbal communication skills to

communicate with donors

and staff.

Time-management skills to prioritize the needs of the organization.

Experience working with other nonprofits or other organizations with similar missions to your own.

Background working with CRM or

fundraising software

similar to those that your organization uses.
After listing the important qualities and skills that you want in your ideal candidate, organize those qualities into three categories: necessary, desired and additional.
Necessary qualities and skills are those that your nonprofit needs from the candidate. They are make-it or break-it qualities from candidates. Desired qualities or skills are those that can be learned on the job, but it's helpful if the candidate comes in knowing them. Additional skills are those that would be great for candidates to have, but probably won't be a determining factor in your final choice.
For instance, if you're hiring for a major gifts officer, a necessary quality might be good communication skills. If your major gifts officer has trouble communicating, they won't be effective at stewarding prospects, as this is the core of the position. A working knowledge of CRM software is a desired feature because it can be taught if necessary. Finally, philanthropic education is additional. It's a good quality to have but won't make a big difference in the hiring process.

4. Write an effective job description for the position.
It's amazing how many job postings leave out vital information that candidates should know before they apply. Make sure your description includes all of the vital information! Use the lists you created above to include the following elements in your job description:
The primary duties of the position.

Be sure to include the high-level duties as well as the day-to-day tasks a candidate can expect if hired.

Preferred experience levels of an ideal candidate.

State the specific level of experience you want your candidates to have as well as technical experience working with important software solutions.

The next steps for candidates to take.

Request all of the materials you need to make effective considerations. Request resumes, cover letters, writing samples or other important materials.
Remember to be as specific as possible in your job description. Use effective action verbs when describing the duties of the position. For example, if you're writing a description for a major gifts officer, you might write:
Research major gift donor prospects.

Design and operate a donor stewardship program.

Draft major gift proposals.

Call and email major gift donor regularly.
Each of these duties has a strong verb and is essential to the identification and solicitation of major gift prospects. Be sure to be as specific as possible so that you can easily compare the qualities of your candidates to the position requirements.  

5. Promote the job opening to potential candidates.
Once you've written your job description and have a clear view of what your ideal candidate will look like, it's time to start promoting your job opening!
You already have an effective marketing strategy in place for launching awareness campaigns. Use some of those established networks to promote your job as well. Use awareness campaign communication channels such as social media, emails, phone calls and website messaging to inform your current supporters of the job.
These channels are especially important for small- to mid-sized nonprofits because supporters who have already shown commitment to your cause can become effective professionals. Larger nonprofits may benefit more by using a nonprofit job board designed for recruiting experienced professionals.

6. Ask the right interview questions.
After your job posting has started gaining traction and candidates have begun applying, it's time to nail the interview stage. In the interview, you're trying to evaluate whether or not the candidate will be a good fit for your organization.
Therefore, you'll need to ask questions relating to how they will perform the job duties as well as questions that give you insight into their professional personality. Try asking questions such as:
How diverse is your nonprofit experience?

How would you cultivate a lasting donor relationship?

What are your top strategies for promoting a fundraiser?

What are your processes for seeking nonprofit grants?
Pay close attention to the answers and look for similarities between the answers and the processes that your organization already has in place.
Make sure you also pay attention to the voice and tone of the candidate. To fit in and represent your organization, your new hire will need to naturally adopt the voice and tone of your nonprofit. The closer they are to your brand, the faster they will assimilate with the rest of the staff.

7. Onboard your new hire.
Before you even host an interview or post to a job board, you should have an onboarding plan in place for new hires. No matter if you're hiring an executive director or a part-time assistant, your new hires should always feel that they have the tools and resources necessary to thrive while working at your nonprofit.
Divvy up the responsibilities of the hiring team so that you can prepare your new hire with:
An effective workspace with access to necessary materials.

An outline of the general decision-making process and chain of demand.

Staff communication policy documents.

Schedule and deadline procedures.
You should also be sure to explain to the new hire how they fit into your nonprofit's future. Validating them and showing them their importance to the organization can further motivate the new hire.
One effective way to do this is to give all of your staff members access to your nonprofit's development plan. Then, contact a fundraising consultant to refine your own strategies. After it's finalized, distribute the guide for everyone to see.
Keeping employees and beating the average nonprofit employee retention rate begins with hiring the right people with the necessary qualifications to ensure they fit into your team. With these seven steps, you're ready to hire the right next member of your nonprofit's team!
Author Bio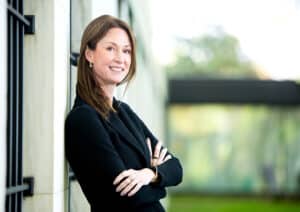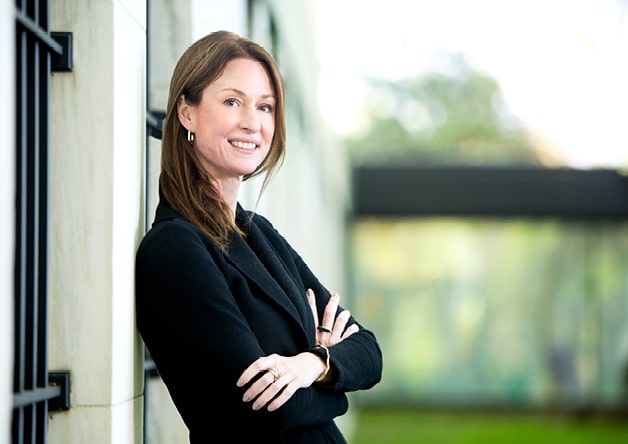 Long before Aly Sterling founded her eponymous consulting firm, she was solving the unique yet similar problems encountered by nonprofit organizations. Her decision to start her own business in 2007 was driven by her belief in leadership as the single most important factor in organizational success, and her determination to work with multiple causes at one time to scale societal change. Today Aly manages the direction and growth of her firm while advising clients on the organizational challenges that affect their sustainability and mission success.