Solution
The U.S. Ski & Snowboard Foundation went all in with OneCause's Peer-to-Peer Software Solution. And as a result, their team went from 4 in-person to raise money for the foundation to an unstoppable online fundraising movement of Peer-to-Peer campaigns to power the foundation's mission.
It all started with the teams. As the voices of the foundation, they began using team-specific peer-to-peer micro-sites to help drive traffic and get supporters engaged and excited.
"Before OneCause, we had never had landing pages for our teams. So, with them, we've grown awareness for our cause. It's a place to direct donors for information, to learn about the team, and to donate… just to feel a part of the organization and a place to follow the athletes throughout the season," said Luedtke.
Luedtke worked to create Peer-to-Peer landing pages that were intuitive, engaging, and shareable for each campaign – and there's no doubt that she succeeded! The U.S. Ski & Snowboard campaign picked up momentum, gaining more donors, fundraising dollars, and social media shares.
One of the most notable campaigns was created to support the Jeff Shiffrin Athlete Resiliency Fund, to both honor Jeff Shiffrin's legacy as well as contribute to the ongoing pursuit of excellence for all athletes across all sports.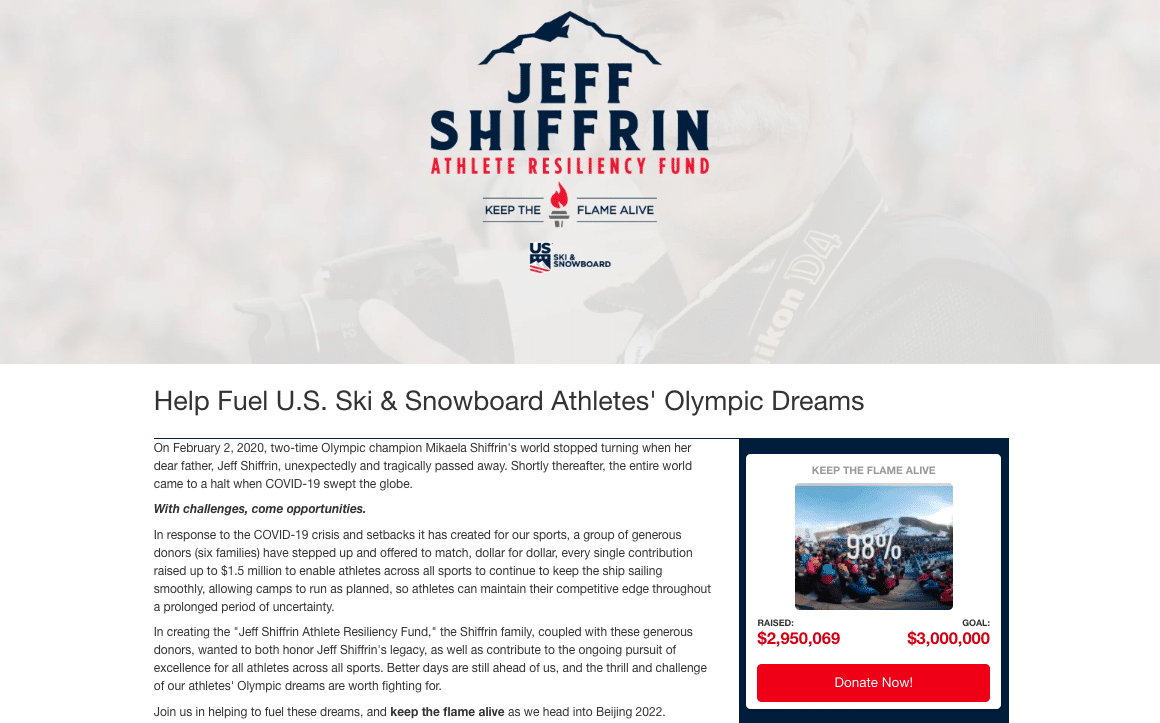 "The campaign speaks for itself. There are hundreds of stories from our athletes that are connected to the campaign explaining what resiliency means to them. It was also a matching grant, so it was nice to have a place where we could put all this information into one spot on the peer-to-peer site to direct our supporters to. Centralizing our fundraising efforts was a game changer, and we saw the effects of it in our fundraising dollars," said Luedtke.
The strategy and effort put into these Peer-to-Peer campaigns by the U.S. Ski & Snowboard Foundation team led to their incredible results. Luedtke attributed their success to three key points:
Expanding their donor base
A strategic marketing approach
The right fundraising tools
Expanding Their Donor Base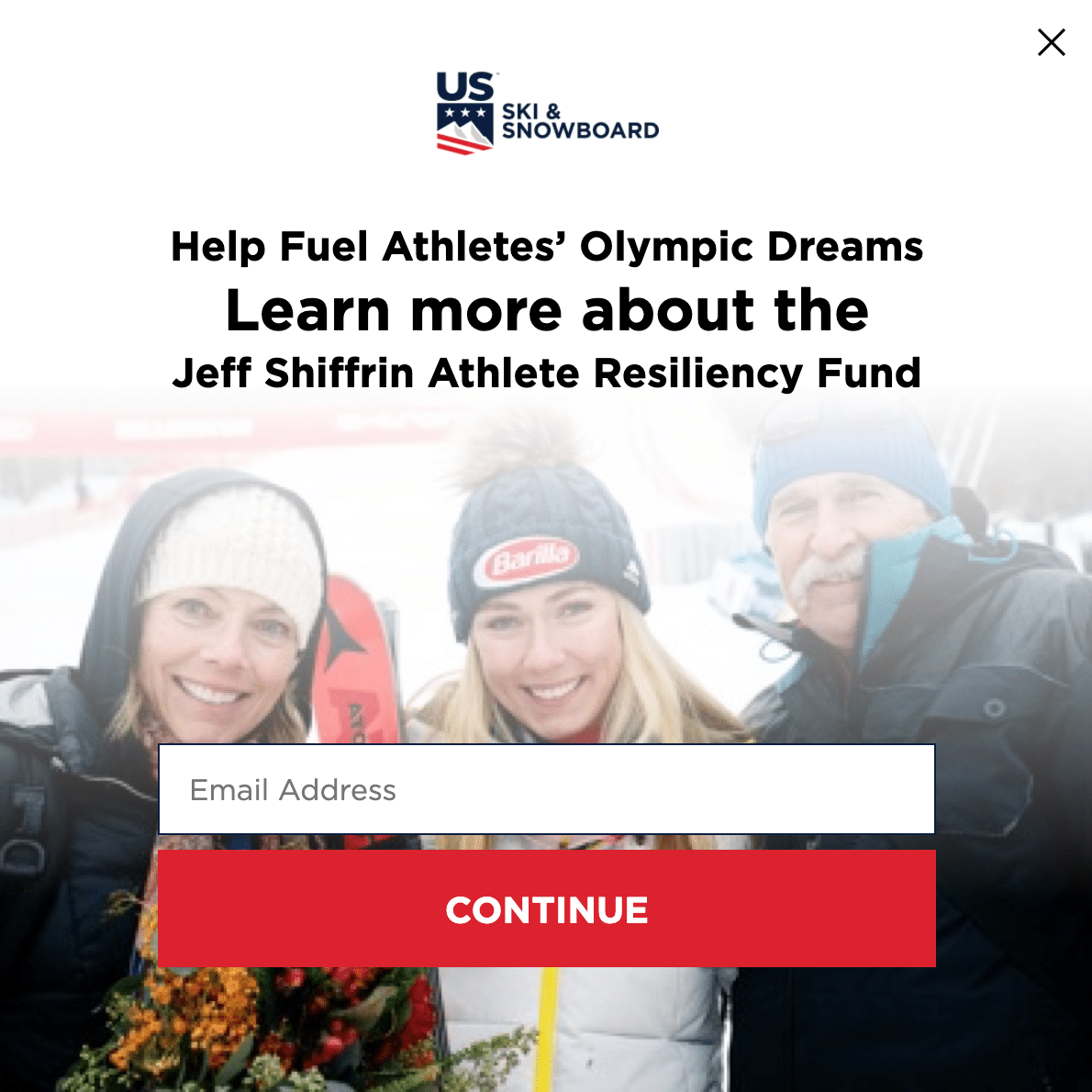 The U.S. Ski & Snowboard Foundation understands that fundraising success goes far beyond meeting donation goal. That's why their team made expanding their donor base a top priority.
The team launched a pop-up on the Jeff Shiffrin Athlete Resiliency Fund page, which invited viewers to help fuel athletes' Olympic dreams and asked for an email address to learn more.
"We are already looking like we're going to be growing our donor base by 500+ people. It's amazing because have never been able to track hard data like we've been able to with OneCause. It's allowed us to move faster and see higher results across the board," said Luedtke.
Because OneCause offers Salesforce integration, for the first time, The U.S. Ski & Snowboard Foundation was able to spend less time managing their expanded donor base and more time cultivating relationships.
A Strategic Marketing Approach
Expanding the foundation's donor base with these new contacts created a solid foundation for the U.S. Ski & Snowboard Foundation to build off of. From there, they worked turn those new names into new donor relationships, and produce loyal, year-round supporters.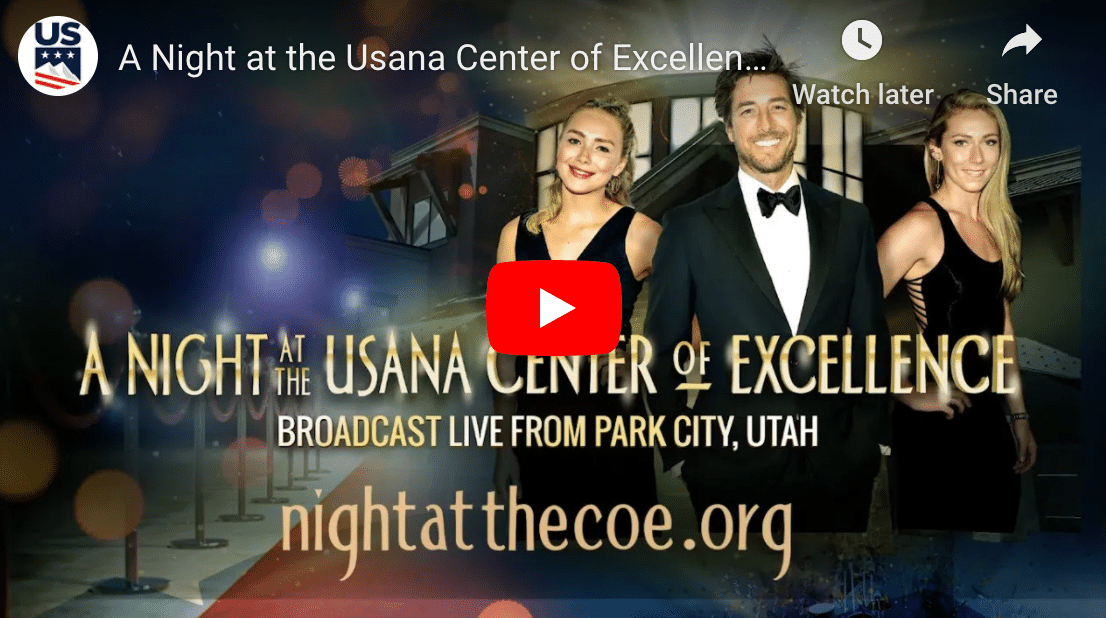 The team launched a strategic marketing approach to take those new and existing donor contacts, steward them, and help build their connection with their cause over the new year.
By segmenting their donors by their interest and donation amounts, the foundation was able to foster a unique giving experience and stronger donor relationships. By hosting virtual events, like A Night at the USANA Center of Excellence, the foundation was still able to create a cohesive supporter experience with the organization.
"The foundation supports seven different Olympic sports, and our virtual event in November supported each of those. By having detailed donor information, we were able to engage them in their specific interests after the event and serve them up content that is related to that," said Luedtke.
The Right Fundraising Tools
With the right fundraising tools, you can raise more, engage your supporters, and spread awareness of your cause anytime, anywhere. U.S. Ski & Snowboard foundation knew that the experience you have with the technology you choose can make or break your fundraising experience as well as your supporters' donation experience.
For the foundation, finding that perfect fit meant having a solution that checked all those "must-have" boxes, but above all, made it easy on their team and their supporters to fundraising for their worthy mission.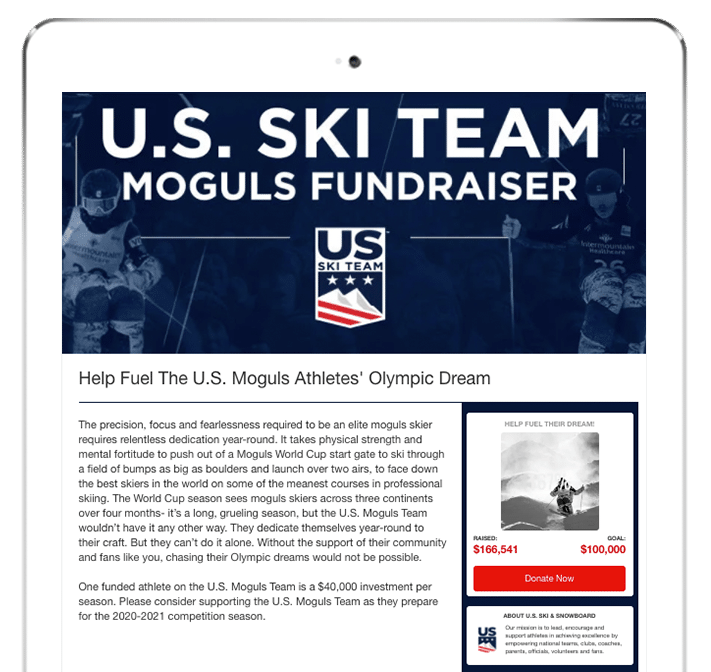 "We found that OneCause was the right fit for us. When it came to technology, what we've come to realize is that it's not as hard as you think. We learned so much over the last 6 months. We're constantly learning. And we're recognizing that it's easy to put together, you just need the right technology," said Luedtke.
Because it was essential for the U.S. Ski & Snowboard Foundation to have the right technology that provided an easy, engaging experience, Luedtke's advice to nonprofits is – test it out!
"The first time we used OneCause's Peer-to-Peer solution was with our staff. We invited all staff to check out the website for feedback. Knowing that our staff was able to utilize the tool seamlessly, I was confident that donors of all generations from all around the world would be able to navigate it," said Luedtke.
Knowing that the fundraising tool they chose would provide their supporters with a positive giving experience meant Luedtke and the rest of the U.S. Ski & Snowboaring Foundation team could proceed confidently in their efforts to power their mission.