Elevated Campaign Brand
The idea of consistent branding isn't new for nonprofits. But with the power of social media, email, text messaging, and peer-to-peer, it's even more feasible.
With OneCause, Turnstone was able to brand their fundraising site to look as if it was an extension of their own domain.
They were able to customize:
Event Description
Branded Logo & Colors
Impact Statements
Video Embed
Branded Donation Thermometer & Form
Social Media Integration with Template Posts
I loved that I could have all the branded content and resources right there with the donation button right next to it," said Widenhofer.
Their embedded video was something new they tried on their fundraising site for this campaign.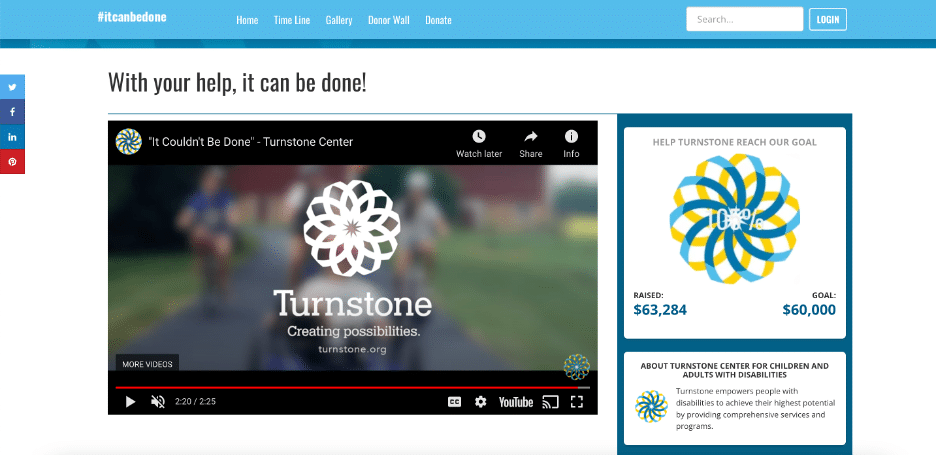 Turnstone knew visual storytelling would be a powerful tool for this online campaign. Along with their storytelling approach, they were able to leverage a compelling narrative in a visual experience to put their donors at the heart of the story and make an emotional connection.
They were able to budget for a professionally done video, but also create organic videos themselves through social media networks or directly from their phone.
There's a time and a place for a clean-cut, professional video, but there's also a time and a place for organic videos that are made on your phone. Each approach has room in the online fundraising world and typically yields great results," said Widenhofer.
By sharing their brand consistently and using the tools that OneCause provided through Peer-to-Peer software, Turnstone was able to develop a cohesive campaign that donors, new and old, could recognize as genuinely Turnstone.