Background
Alice Austen was a trailblazing, Victorian woman who lived in New York City in the 1800s and created a life full of activism and challenging the status quo. As a photographer, she worked to provide a unique view of Victorian life, connecting with contemporary issues like feminism, LGBTQ+ interests, and urban development. 
The Friends of Alice Austen House was created in her honor to foster creative expression, explore personal identity, educate, and inspire the public through the interpretation of the photographs and the historic home of Alice Austen.  
Today, the house and nonprofit operate as a museum. It offers contemporary spaces for today's photographers and a wide garden, which is open for community events. The museum also offers educational programs year-round to help with personal identity exploration. It is through funding and donations from their community that they can continue to spread their mission. 


Challenge
In the aftermath of the 2020 global health crisis, Alice Austen House was looking to recover from a yearlong halt to fundraising. They needed a way to reenergize their fundraising efforts to continue to provide educational experiences at no charge to the public.   
At the start of 2021, the museum wanted to host a fundraising campaign to specifically target and engage their Board of Directors. The team wanted to create a fundraising experience that would allow board members to connect with the cause in their own way, help them share their story and personal commitment to the mission, and amplify their individual impact, all while making it an easy and manageable fundraising experience.   
"Our donors are less than excited for a virtual event after the pandemic. We needed a tool that would engage our board members and get them involved in new ways. We wanted to go beyond asking for donations and into something more engaging that connects our committed volunteer leaders to our mission," explained Executive Director of The Alice Austen House, Victoria Munro.  
They needed a solution that could facilitate engagement and create an easy, but impactful fundraising experience for the board. Easier said than done!   


Solution
Munro looked for a fundraising tool that would allow for engaged social activity beyond just a donation page on their website. During her due diligence process, Munro discovered and connected with OneCause and began to explore the Peer-to-Peer solution.
Munro was attracted to the software because of its flexibility and emphasis on donor engagement, and making giving fun, with features like:
These unique, easy-to-use, social fundraising tools sparked high-level supporter engagement that their busy, volunteered-based, Board Members could quickly and seamlessly manage. The answer was easy – they decided to partner with OneCause. 
With their new peer-to-peer software in place, The Alice Austen House's 2021 fundraising efforts were underway, and they were ready to grow their fundraising potential through:  
Implementing Mission Driven Storytelling
Munro and her team recognized that successful fundraising relies on the use of meaningful storytelling. By using their board members' stories, the museum was created a unique fundraising experience that encapsulated the purpose of their cause and kept the focus on their mission. 
"We wanted to prioritize mission centric fundraising and the impact the museum has on those connected to it. Without the mission, I do not feel like our fundraiser would have been as successful," stated Munro.  
To create this storytelling focus, the museum asked its 13 board members to choose an object within the museum and write why it was important to their connection with the cause. Through this framework, each participant shared their own impact story without the need for a huge time commitment to fundraise. 
The board members then created individual participant pages within the campaign's giving site focused on these stories, with each story brought to life by one of Alice's photos.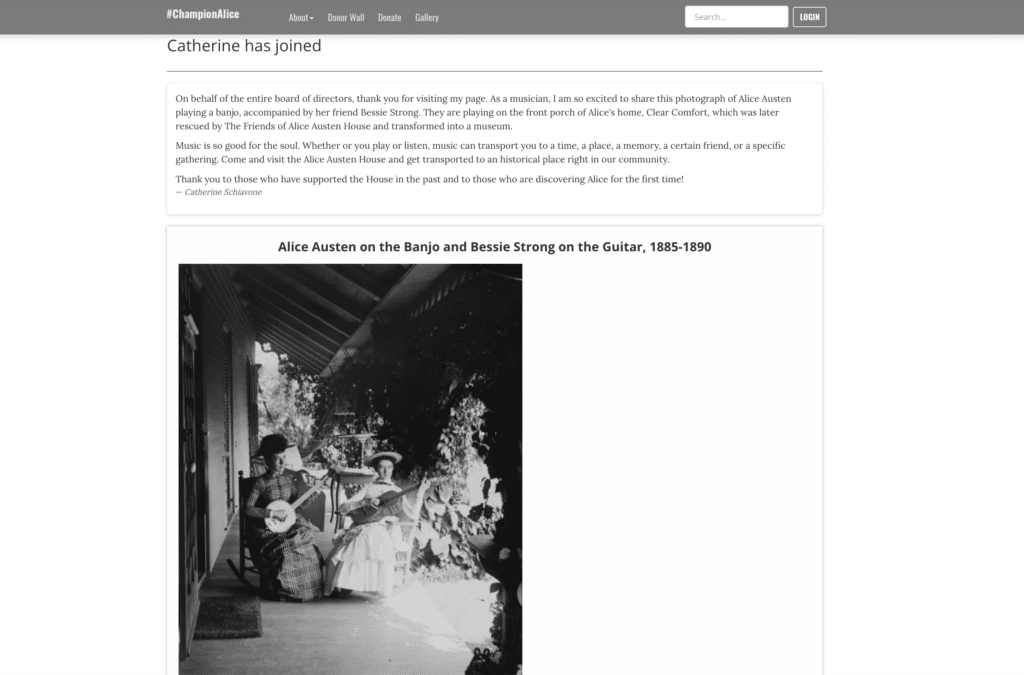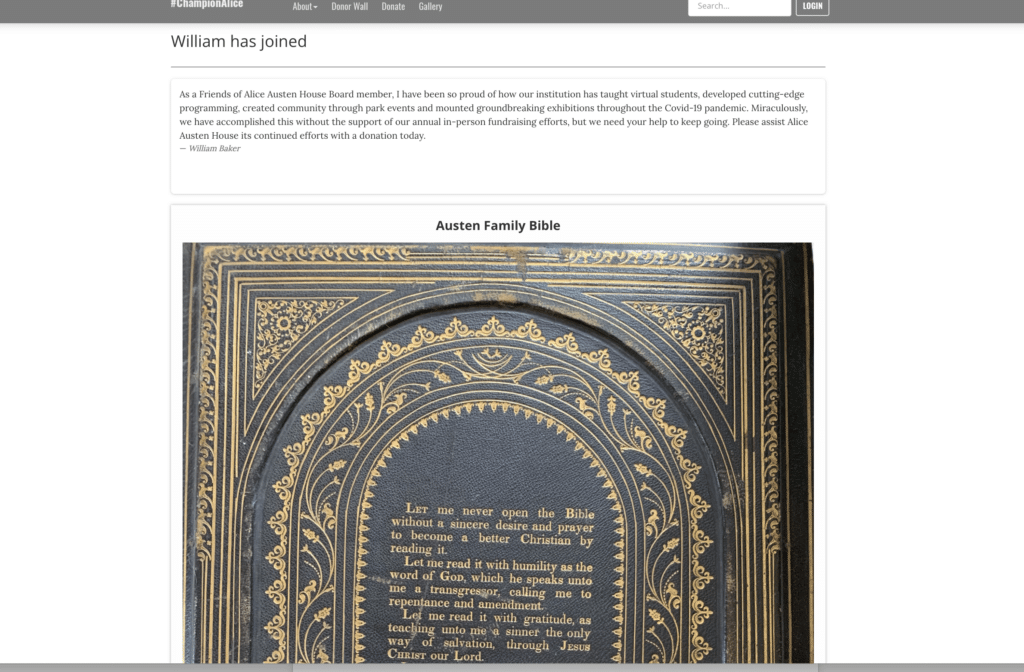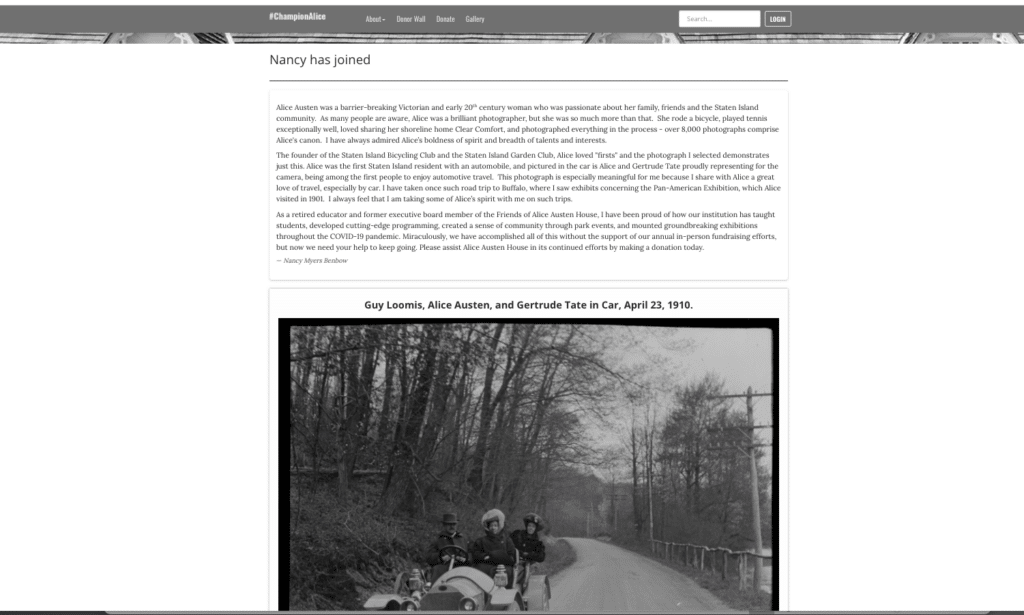 Alice Austen House is a testament to how powerful storytelling is. Their board members' stories established a strong campaign foundation built on social proof and personal connection. 
Leveraging Supporter's Networks
Once the participant pages were created, it was time for The Alice Austen House to spread the word about their campaign.  
With their stories written, the board members of The Alice Austen House were ready to help the museum, what Munro called, "friend-raise." Through this act of "friend-raising," board members were to share their story with their individual networks to drive steady traction to the campaign site. 
"Our board members were amazed at the response they received from their personal networks. It allowed them to see the power of their friendships, connections, and storytelling, all while raising funds for a cause they are deeply committed to," expressed Munro.  
Donations to the board members' fundraising pages began pouring in. This success led the Board to dedicate more time to promoting the campaign, amplifying the reach and number of donations. All while creating an even larger community of new Alice Austen supporters.