Solution
United Way of Champaign County's approach to this online Power of the Purse was simply to optimize what they already planned for a virtual world. This meant using their OneCause Giving Center to be a one-stop-shop for all event information to make it easy for donors to give.
They didn't have to 'recreate the wheel' but they did have to pivot quickly and efficiently using their OneCause mobile bidding solution.
Their 3 main event priorities when shifting virtual were:
Sponsorships
Event promotion
Virtual programming
Sponsorships
One of the first series of calls the United Way development team made prior to moving virtual were to the sponsors. They needed confirmation that the sponsors would still support the event in a virtual format.
With much anticipation, the phone calls sounded like this:
[United Way] "Hi, we are thinking the best option is for Power of the Purse to go virtual. As of right now we will make it a priority to present your brand on our online fundraising site, social media, and within the virtual livestream. Can we still count on your support?"
[Sponsor] "ABSOLUTELY!"
To stay true to their word, United Way had a "Sponsors" tab on their OneCause Giving Center.
All sponsors were listed there as well as on the main body of the homepage and the presenting sponsor in their header.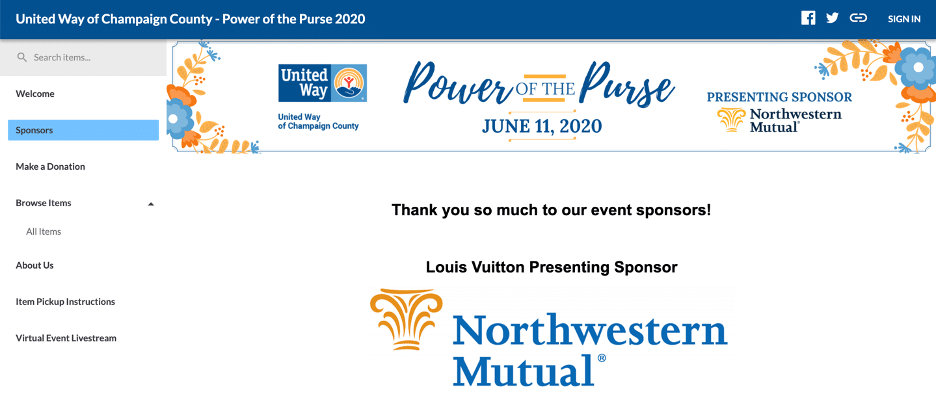 Social media was another channel of communication to promote the Power of the Purse sponsors. All sponsors were tagged on Facebook in a post on their nonprofit page.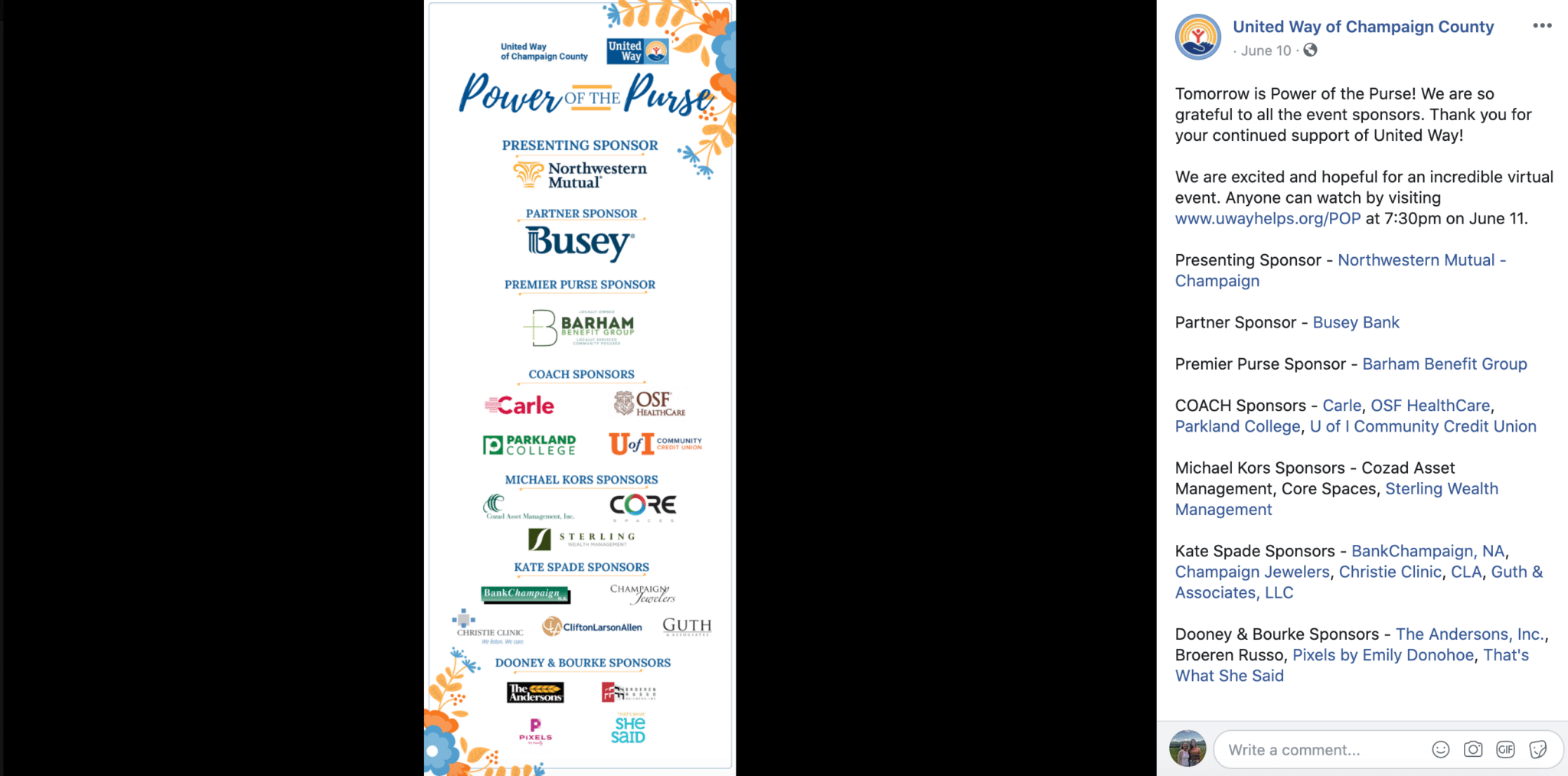 These two channels of communication as well as live sponsor promo on the night of the virtual event contributed to the satisfaction of their sponsors.
United Way of Champaign County was expecting to lose a sponsor or two, but with their proactive sponsorship promotion plan, 100% of their sponsors from the in-person event committed to the virtual pivot.
Event Promotion
Because Power of the Purse is typically sold out a couple weeks before the event, opening the event to so many more people was exciting for United Way!
We weren't constrained by a ticket number anymore. With a registration link being the only prerequisite for the event, women from even outside of Champaign were excited to be able to come to the popular annual event. Our reach multiplied!" said Guyette.
To take advantage of the limitless number of supporters that could attend the livestream event and participate in the raffle & online auction, United Way used their longtime supporter network to reach new donors.
They asked these longtime supporters for a list of potentially interested names in their network so they could start communication with them to get them registered for Power of the Purse 2020.
Once more women were registered, they also knew that the in-person luxury of holding a purse and seeing all the angles of the item would be gone in a virtual world.
To adapt, they included a picture of the purse on the OneCause Giving Center as well as posted a 360º video showing all angles of each fashionable purse on Facebook.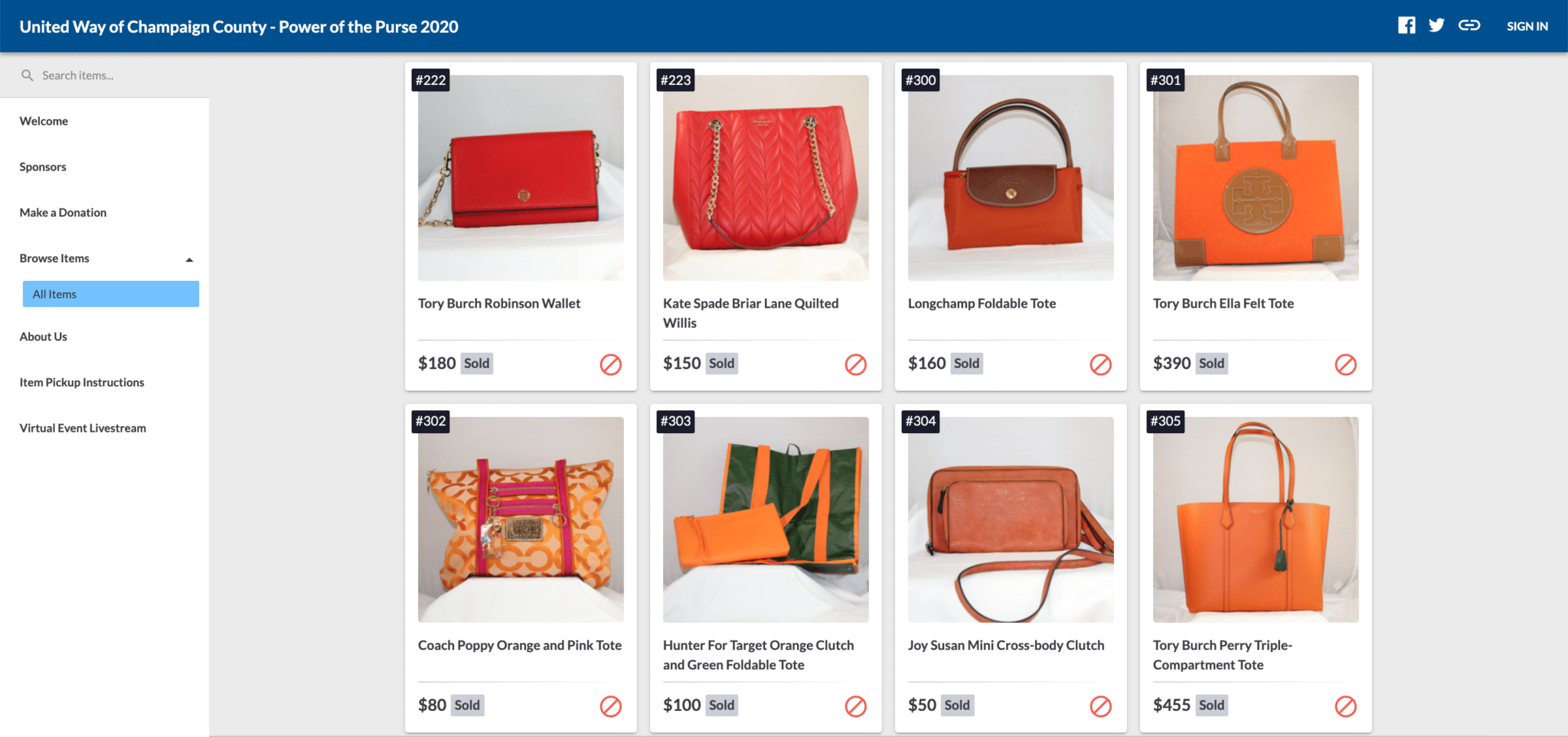 By growing their network and using social media to entice women to join the Power of the Purse, United Way of Champaign County was ready to bring their virtual campaign home with their short livestream event.
Virtual Programming
United Way structured their virtual campaign by having the silent auction & raffle run for two days and on the night of the second day, bidding closed and the livestream event would kick off.
Their goal was to make it easy for supporters of the auction and raffle to make it to livestream program.
To do so, they created a tab in their Giving Center that linked directly to the YouTube Live event. Having all the information in one place on the Giving Center minimized confusion for donors and made the giving experience easy.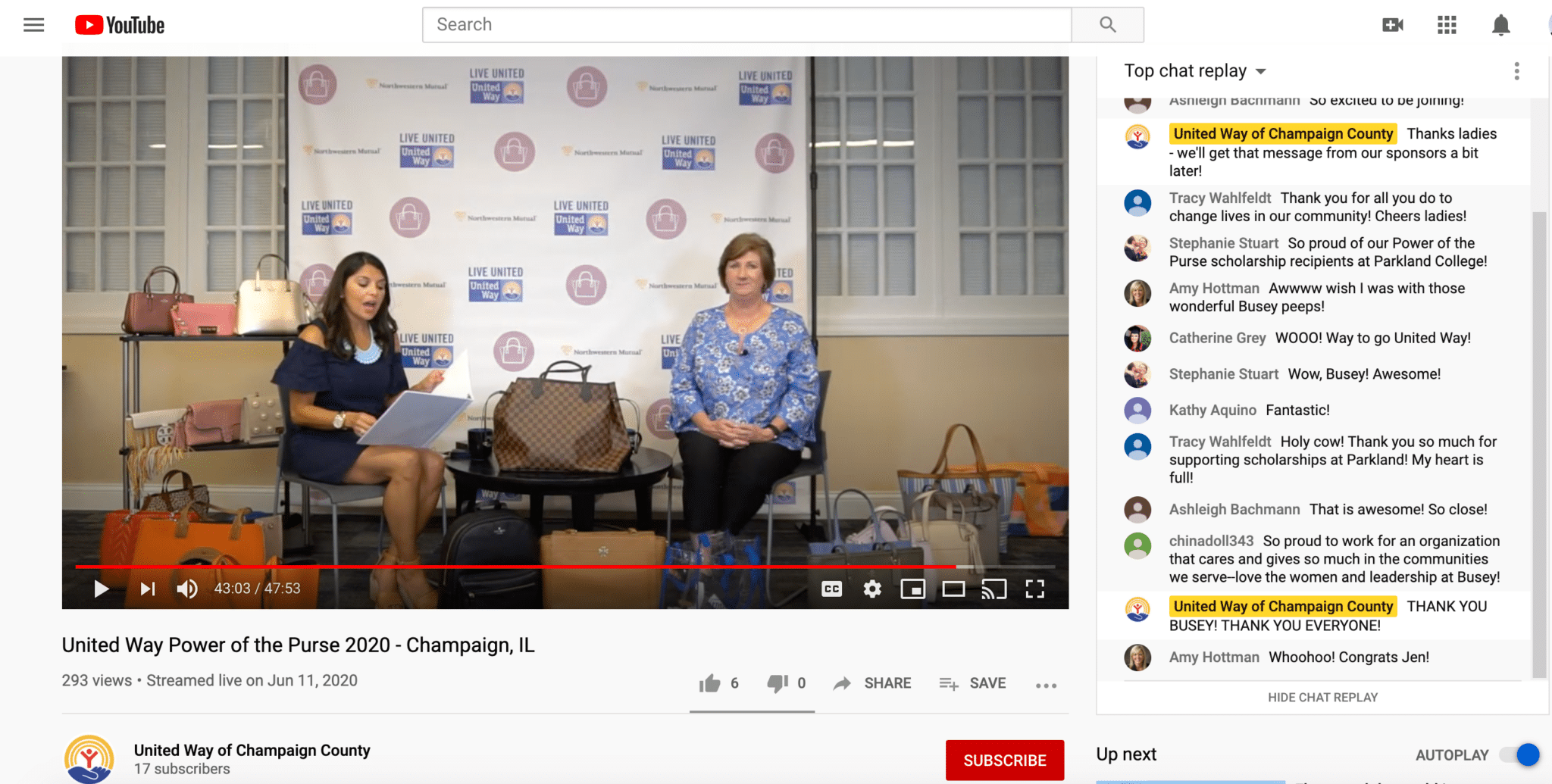 We knew that our supporters would be engaged from the auction and would especially want to know who the raffle winner was. It made sense to us to flow right into the livestream with important information that donors & supporters would be interested to find out. I would definitely recommend this strategy!" said Guyette.
The livestream was simple and done in 30 minutes with maximum impact. In their program, they included:
Mission Moments
Organization Update
Sponsor Highlights
Donation Appeal (with purse thermometer)
Raffle Winner
Donor Thank-Yous
Total Raised