Solution
They put together their campaign, Stronger Tomorrow 5k, in less than 3 weeks.
We've used OneCause Mobile Bidding for our annual gala, but we had never thought about executing a peer-to-peer fundraising event. The opportunity presented itself, and OneCause Peer-to-Peer had all the features that would excite our donor base and reach them in a virtual world," said Taylor.
Accompanied by marketing and communication to donors, these 3 features of OneCause Peer-to-Peer software allowed Dream on 3 to keep their mission at the center of their campaign with some competitive fun:
Dream Kid Challenges
Point Competition & Leaderboards
Team Fundraising
Dream Kid Challenges
Dream on 3 needed to connect supporters to their virtual 5k. But how?
They pulled their team together and crafted up a creative way to weave their mission into the competitive fundraising within their peer-to-peer campaign.
Using a customized page on their peer-to-peer software, they created 4 "Dream Kid Challenges" for participants to earn points over the 4 weeks leading up to the 5k.
We were so excited to do the challenges to bring our mission into focus in our virtual campaign. People would post photos and videos and then challenge other participants to accept the challenge. People could see the enthusiasm around our mission," said Taylor.
The challenges included:
Dream Kid Maggie's Cheer for a Stronger Tomorrow Challenge
Dream Kid Noah's Push Up Challenge
Dream Kid Will's WWE Post Challenge
Dream Kid Zane's Wear Your Favorite Fan Gear Challenge
Participants would accept the challenge and then share on social media using the campaign hashtag, #StrongerTomorrow5k, in hopes of passing the challenge on.
When they shared to social media using the campaign hashtag, their post automatically was added to the photo gallery page on their peer-to-peer site.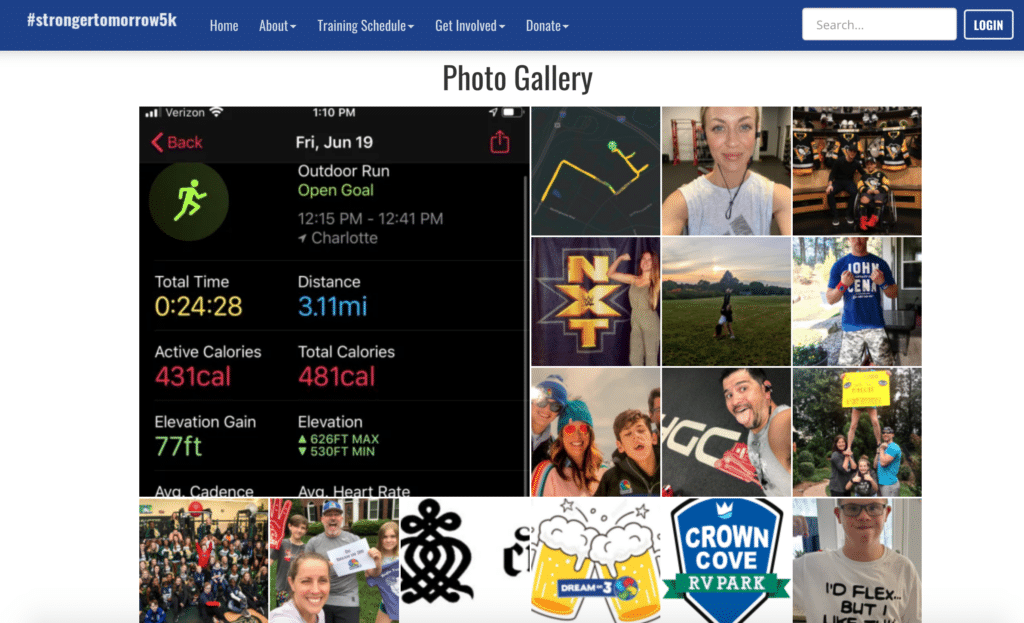 Point Competition & Leaderboards
Motivating participants is core to building momentum and hitting fundraising goals. Because the OneCause software allows for challenges, Dream on 3 took advantage of leaderboards and the built-in point system to keep the competition hot throughout the campaign.
Leaderboards are especially key in displaying the top fundraisers and how much they've raised or how many points they've earned. Donors will be more motivated to fundraise when they see their name on the top of your list.
By motivating and rewarding social media reach and recruitment, the focus wasn't solely on dollars raised. Dream on 3 encouraged participants to amplify the cause, creating a viral fundraising network online.
This virtual fundraising network even reached outside of Dream on 3's traditional geographical donor base. Donations were rolling in from out West—a long way from their home in Charlotte—all thanks to their online supporter network and new donors.
Harnessing the power of peer influence keeps a peer-to-peer campaign rolling, and Dream on 3 did just that!
You are managing people's excitement over the friendly competitive fundraising, virtual fundraising successes, and their Dream on 3 networks. Once you set your peer-to-peer campaign up, it runs itself on the features of the OneCause software," said Taylor.
Team Fundraising
Dream on 3 took advantage of (arguably) the biggest strength of peer-to-peer: team fundraising.
20 teams formed with easy registration, and the energy and momentum spread like a wildfire as teams engaged their social networks.
The teams battled it out, seeing whose networks can bring in the most dollars (earning points), all the while creating a fun, competitive and socially motivated giving experience.
The success of team fundraising is all about the drive of friendly competition. This is where the leaderboard exclusive to teams comes in handy.
Being a nonprofit organization with a love for sports, competition feeds right into the mission of the organization. Team fundraising and friendly competition brought all supporters closer to the spirit of the Dream on 3 mission.