Solution
The CSC team developed a plan for their virtual event: an intimate online cooking demonstration. CSC teamed up with Sullivan's Steakhouse to deliver an engaging online fundraising experience. The virtual software provided a unique opportunity to create a sense of an online community via chat functionality, giving attendees a way to communicate, joke, and bond together via online and real-time chat conversations.
Also, by hosting their event online with OneCause, they were able to connect with a broader group that may have been unable to attend in-person events. The software enabled them to create expanded donor reach, bringing people from all over the country to their event online. The team maximized three core features to drive fundraising success.
Ticketing Packages
Virtual Engagement Activities
Comprehensive Run of Show
Ticketing
To execute 'Sizzlin' with Sullivan's Steakhouse,' CSC leveraged the OneCause's online ticketing platform. This allowed donors and supporters to choose two levels of viewing access:
VIEWING PACKAGE + SWAG: They offered a viewing pass for $25 per person. This included a home delivery  'Thank-You' Box (with wine, CSC merchandise, and event recipes). It SOLD OUT fast!
LAST MINUTE VIEW PASS: offered at $10 per person to accommodate the high demand and late comers
Virtual Engagement Activities
With ticketing covered, the CSC team focused on creating an engaging online experience. The team brought their virtual event to life through the multi-layered donation options, pre-recorded video clips, and the innovative chat feature to engage guests from their own personal kitchens.
Another way they grabbed guest attention and connected supporters to the event was their creative use of the built-in storyboard, which served as a 'Q&A with the Chef' forum. This strategy added a personal touch for the viewers to engage with the demonstrator, creating an interactive online component.
Comprehensive Run of Show
'Sizzlin' with Sullivan's Steakhouse' developed a comprehensive Run-of-Show that allowed the intimate experience to flow seamlessly. The team choreographed each programming segment, curating and weaving in the pre-recorded video segments into a compelling online event experience. Program elements included:
Mission Video: Introductory video to highlight the CSC mission, fundraising need, and impact.
Cooking Demonstration: Special pre-recorded cooking demonstration, where guests followed along and indulged in the unique virtual experience.
Other Videos: Nutritional cooking tips and ideas and a 'thank-you' sentiment to close the event out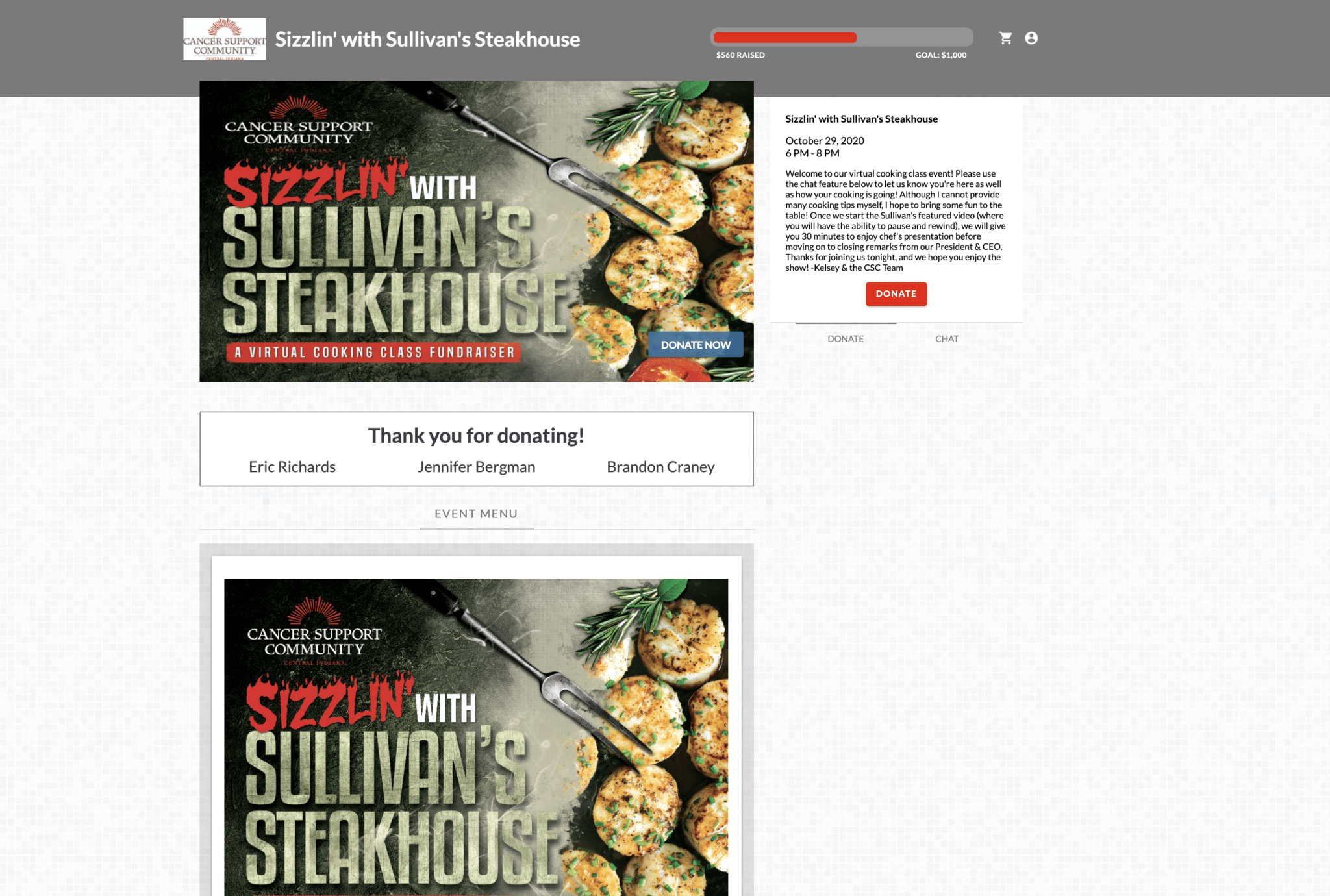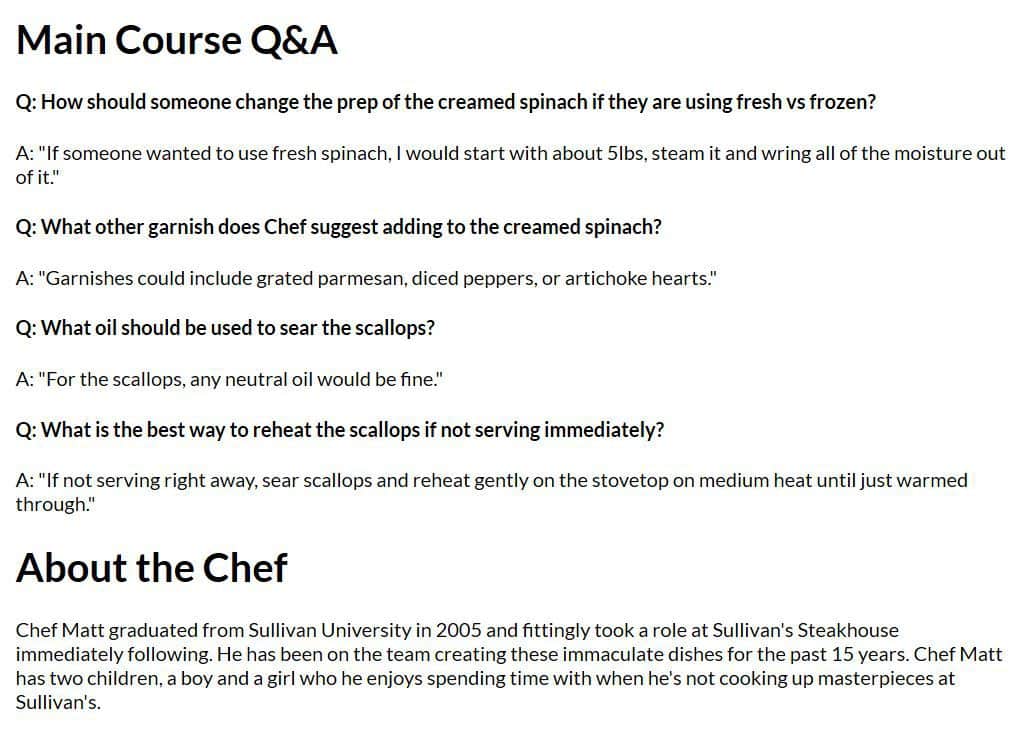 In the process of creating the 'Sizzlin' with Sullivan's Steakhouse' site, the CSC team was impressed with the user-friendliness and aesthetic value of the OneCause Virtual Event and Live Stream software.  It made fundraising easy to launch and get going.
 "Personally, I really liked the way that the Virtual Event and Live Stream software works," said Kelsey Singleton, Development Manager, Operations. "It was easy to configure; it was easy to set up."
Kelsey and the team were particularly surprised by the viewer engagement and satisfaction with the chat feature. It afforded supporters the opportunity to interact with one another and celebrate the CSC while physically separated.
"It was such a nice way to connect people beyond just knowing that they were all watching the same video," said Kelsey.