Ronald McDonald House of Chapel Hill
"Home is where you feel at home and are treated well."
Since opening its doors in April of 1988, the Ronald McDonald House of Chapel Hill has given hope, healing and a support to more than 36,000 families. Their mission is to provide a "home away from home" for families of seriously ill children that travel to UNC Hospitals for life saving or specialized treatment. From a warm place to rest, to finding support from community of parents who share their experiences and understand tough times, the Ronald McDonald House of Chapel Hill is a place where family and community flourish.
Like other not-for-profits trying to be a beacon of hope, Ronald McDonald House of Chapel Hill relies heavily on the generosity of their donors and the funds raised from community building and fundraising events.  According to Ronald McDonald House of Chapel Hill website, "It takes about $85 per night to house a family, and around $100 per week to provide milk, orange juice, eggs, bread and sandwich meat to feed a visiting family." Maximizing every dollar counts and there is no event too big or small for the Ronald McDonald House Development Team!
Trying to stay on par with cutting edge practices in not-for-profit fundraising, Ronald McDonald House of Chapel Hill began looking at auction automation in Fall 2012.  According to Elizabeth Hullender, Director of Special Events:
"We knew that paper bid sheets were going the way of the dinosaurs.  We needed to explore mobile bidding and auction automation.  This is what brought us to OneCause."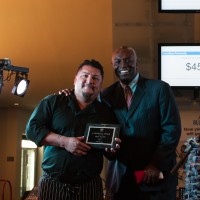 Over the last few years, Ronald McDonald House of Chapel Hill maximized their partnership with OneCause, holding 10 fundraising events with us and raising significant dollars.  In an effort to drive revenue and fund their cause, they've conducted everything from traditional mobile bidding galas, to golf tournament auctions, to food competitions, and community based fundraising events.  According to Elizabeth:
"No event is too small.  Bidpal can be used for any size event and even non-event events."
Great partnerships are born when creative ideas meet innovative tools.  Last year, the Development Team decided to expand their reach and promote online fundraising.  They used the OneCause Fundraising Suite to host six online event websites throughout the year, to sell event tickets, feature sponsor logos, generate online bidding, capture donations and sell merchandise.  Using OneCause and the year round fundraising software, the team quickly and easily created microsites for just about any effort, event and cause.  Elizabeth says:
"The Giving Center sites are a very nice added component to our fundraising. We have unlimited access all year and it's so easy to spin up fundraising pages."
OneCause's Fundraising Suite allows Ronald McDonald House of Chapel Hill to customize sites to suit their creative event ideas.  This past December 2014, Elizabeth and her team held an online "Share Your Stripes Campaign."  This fundraiser encouraged donors to buy striped socks for $10 to support 40 years of RMHC.   The enthusiasm caught on and a wave of donors posted pictures of their "socks and support" on social media.  By easily going online with OneCause, they we able to once again gain attention, garner donations and spread the word about Chapel Hill's "home away from home" for seriously ill children and their families.  According to Elizabeth: "We still use traditional marketing and invitations, to capture our mature donor base.  But the online fundraising allows us to target a wider group, expand our circles with social media and get support from people who can't attend our events.  Plus, it's so easy anyone can do it!"
The Result
With one event already targeted for spring 2015, we know Ronald McDonald House of Chapel Hill is just getting started.  Given their creative approach to fundraising and past track records of multi-event success, we look forward to building on our partnership.  After all, they have the Fundraising Suite tools at their fingertips again and we can't wait to see where they go next with OneCause!