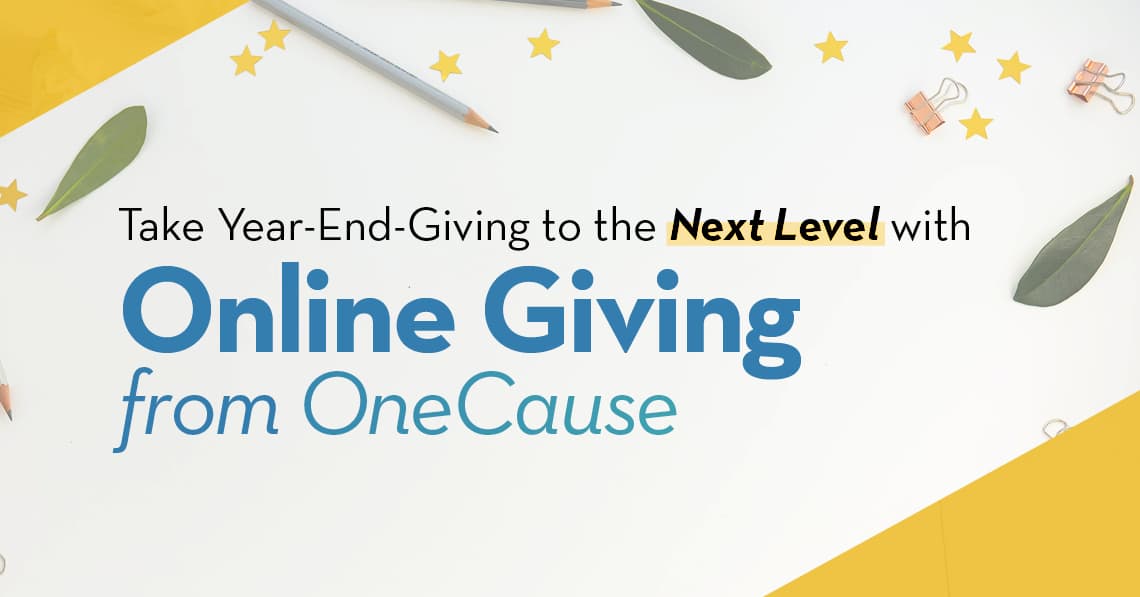 Take Year-End-Giving to the Next Level with Online Giving from OneCause
A whopping 30% of all donations come in the month of December. As you ramp up for this busy season, we're excited to announce our newest solution to help drive online giving – the Online Giving Solution from OneCause

Why is online giving so important – especially during the end of the year?
The world is moving online, and your donors are too. To ensure you meet your donors where they are, your nonprofit needs to be online too! This means delivering high-quality, secure online giving portals for every campaign – especially those coming during the crowded end of the year and Giving Tuesday season.
As a nonprofit, do you know how you're going to cut through this noise and motivate supporters to give to your cause?

Introducing OneCause Online Giving Solutions
This is where OneCause's newest solution can help. By making online giving sites easy to set up (we're talking 15 minutes or less) and instantly mobile optimized, nonprofit teams have a chance to create compelling, engaging content about your nonprofit. Your team can get up and running on a new, completely customized fundraising site in no time. Each site includes many new features, including:
Mobile optimization
More than half of all donors that engage in online giving do so via mobile. This means that any online site must be smartphone optimized. OneCause's Online Giving Solution looks great on any device and is streamlined for the best user experience. All OneCause products are completely secure and encrypted, so your team and your donors can rest easy knowing information is always safe.
Designed for donor engagement
If your end-of-year giving site is going to move the needle, it must be built for donor engagement. What does donor 'engagement' mean? It's all about ensuring your site captures the attention of donors and convinces them to take action. The look, features, and functionality of you site needs to be compelling enough to turn one-time donors into repeat givers. This important decision is often made in a single second, making your site content and layout even more critical.
The solution also provides access to a full menu of social engagement options, including progress thermometers to keep donors motivated, a full social gallery with hashtag integration, donation timeline showing donor activities, and a donor wall that is updated in real-time thanking and acknowledging donors.
Social engagement tools
The solution also provides access to a full menu of social engagement options to ensure your site visitors can see how other people are interacting with your site and donations. Innovative social engagement tools available through the OneCause Online Giving Solution include custom photographic progress thermometers to keep your donors motivated, a full social gallery with hashtag integration from any social site, and more:
Custom progress thermometers that enable your team to actually upload a custom photograph to your site or widget that acts as a progress thermometer to keep site visitors up-to-date on how much you've raised so far.
Social galleries that pull in hashtags from any social site so your donors can see all the pictures and posts that are associated with your cause in a single location, without having to manually crawl through individual social sites. Best part? You can integrate as many hashtags as you want for maximum visibility.
A donation timeline that shows the overall donation timeline and allows donors and visitors to leave comments and actually engage with each other directly over your microsite.
A donor wall that serves as your online 'honor wall'. Acknowledging and thanking donors is a critical part of the fundraising process, and the donor wall allows your team to make it an integral part of the donation experience. Leaderboards are a go-to part of mobile and online giving, and the OneCause Online Giving Solution makes it easy to add this element of instantaneous recognition to your online site.
Pervasive CTA's that can be added anywhere across your site – not just at the top in a banner – to increase the chances of donor engagement. Sometimes people need to read through your site or see those Donor Timeline comments to truly want to hit 'Donate'.

More than just a donation form
The new OneCause Online Giving Solution gives nonprofits the ability to create a brand new microsite — or add a fundraising-specific form to their current site — with just a few button clicks.
With the microsite option, your team will have access to a complete microsite that comes with a full menu and navigation. We get it – you're not a web designer. But that doesn't mean your online giving site shouldn't look and feel professional.
But what if I already have a website? No problem! You can take advantage of the following embedded features:
Modal forms that appear in a donor's browser once a 'Donate' button has been clicked. Since the Modal is NOT a pop-up, you don't have to worry about being blocked. Your team can customize your Modal form with various donation levels, social proof scores, patron payment choices, the ability to donate in memoriam, and even custom form questions to get some feedback from your donors.
Inline forms are embedded directly onto your current webpage. These forms sit directly on your site or webpage.
Widgets which are also housed on an existing webpage — similar to an Inline form — but hold only some of the details about your current campaign goals. Your widgets can show your custom progress thermometer, and they're  mobile-optimized and completely branded to match the look and feel of your existing webpage.
Want them all? Great! You can use one or all of them for your campaign. The pre-built templates and turnkey options make it easy to whip up a donation site or form options in just a few minutes.
Customer Success Story: Just take a look at the Autism Society of Texas, for example. After Hurricane Harvey, children with disabilities were being sent to shelters, which were ill-equipped to handle their unique needs. The organization wanted to raise funds that would allow them to hand out sensory kits to shelters that would help special needs families. The Autism Society was able to spin up a Online giving site extremely quickly and raised 121% of their goal!
Whether you're raising money for an end-of-year giving campaign, Giving Tuesday, an awareness day, or even for disaster relief, OneCause makes it easy to create donor-focused sites quickly. Learn more about Online Giving Solutions from OneCause — watch this on-demand webinar now!
Additional Year-End Fundraising Resources:
When it comes to #GivingTuesday, the campaign ideas are endless. And don't worry  – we've got you covered with some of our other helpful end-of-year resources: