Planning end-of-year giving campaigns can sometimes seem like a double-edged sword. On one side, there is the huge potential for nonprofits that often comes with the end of the year giving frenzy. It is consistently one of the busiest time for nonprofits and many organizations see a majority of their donations come through in the last few months! On the other side, however, is the risk of putting too much stock into end-of-year campaigns.
If a majority of your annual goals are focused around a single day (looking at you, #GivingTuesday) or a specific period of time, it can make planning for and executing on these campaigns stressful. This is why the number one rule of end-of-year giving is to spread it out throughout the last half of the year.
Don't let your campaigns pile up until you're just running them all at the end of the year! Spread the love throughout the entire year so that donors are pleasantly engaged for months at a time — not bombarded with content all within a two-week period. This way, donors are more inclined to engage with (and donate to) your cause when it comes to year-end.
Let's give into 4 more go-to tips to help maximize your nonprofit's end of year potential:
Get Your Planning Done Early
While your team is planning out your amazing end-of-year campaigns, just remember that nonprofit groups around the world are doing the same exact thing, and they're targeting the exact same timeframe.
Planning early, setting up your goals and campaigns, and communicating with donors can help get your message in front of audiences in the crowded year-end appeal craze. Instead of trying to shout to be heard above the noise, your team can calmly engage with donors like you would during the rest of the year — just with a more targeted message to spur donations during the giving season and instill a sense of urgency.
To cut through the noise early on and capture donor attention, you should:
Engage with current donors to let them know about your upcoming campaigns and giving opportunities.
Capture the attention of new donors with creative marketing programs outside of the typical email blast.
Educate audiences on the impact and importance of your charitable cause well before the end of the year.
Be upfront about how individuals and corporations can engage with your organization.
Use 'urgency' messaging like "One day only!" or "Last chance to donate" to spur last minute donations.
Figure out how #GivingTuesday fits in
It may seem like the star of the end-of-year giving season now, but #GivingTuesday wasn't even around until 2011. It's position after Cyber Monday at the end of the busiest shopping weekend of the year makes it a go-to campaign for nonprofits looking to hone in on the public's sense of charity and engagement.
To ensure your #GivingTuesday campaign stands out from the rest of your end-of-year events, create a dedicated online donation page or microsite that includes all relevant timelines, details, goals, and information, including a donation link so they can easily give via their payment of choice. Above all, include a story, and be sure to include 3 key elements on your #GivingTuesday microsite:
Need: First, outline the need that your nonprofit addresses.

Explain who or what is in need of help.
Give real life examples of your organization's needs.

Solution: Following the need is outlining the solution.

What result is your organization seeking?
What does it look like when that solution comes to life?

Hero: What's everyone's favorite part of any story? The hero. While your nonprofit is doing incredible work for your mission, it's all made possible by the generosity of your donors. Make them the hero of your story – every time.
PRO TIP: For today's mobile-savvy audience, also consider adding in a way for charitable givers to text-to-donate. It's also a good idea to include social media #hashtags to help donors share your nonprofit's cause and goals with their networks for maximum donations.
Nail down your communication plan
Your organization can truly maximize incoming donations by having a strong communication strategy in place across all channels, such as email, direct mail, advertising, PR, traditional media, and especially social media.
Creating your pre-campaign messaging is a critical part of the planning process. It should not only build awareness, but anticipation. Here are our top tips:
Be clear and creative: Include all the relevant details of your campaign and who/what the proceeds will benefit.
Include a call-to-action: Whether you want your supporter to make a donation or share with their networks, have a clear call-to-action in all your messaging.
Prioritize personalization: Using your donor data, tailor your communication in a way that feels genuine and relevant. It's the best way to build deeper donor relationships and drive participation.
Focus on impact: Donors want to see how their support is making a difference in the world. Incorporate impact statements, real-life stories of beneficiaries of your cause, and images of your mission at work throughout your messaging.
When building your communication plan, build a peer-to-peer network of like-minded donors who can share ideas and stories about your organization.
This can create a type of grassroots communication initiative that will help your organization thrive well beyond the end of the year. End-of-year giving doesn't have to be (and shouldn't be!) a one-time thing for your donors — in fact, by communicating effectively, you can help your nonprofit build lifelong relationships.
Have the right solutions in place
At the end of the day, maximizing donation potential requires taking advantage of the right solutions at the right time.
From tracking donations and campaign goals to communicating with donor audiences to driving new technological solutions like text-to-donate software, the right nonprofit fundraising platform can make all the difference.
Nonprofit-specific fundraising platforms like OneCause help organizations work smarter and get more done on the backend so more donations can be raised for charity on the front end.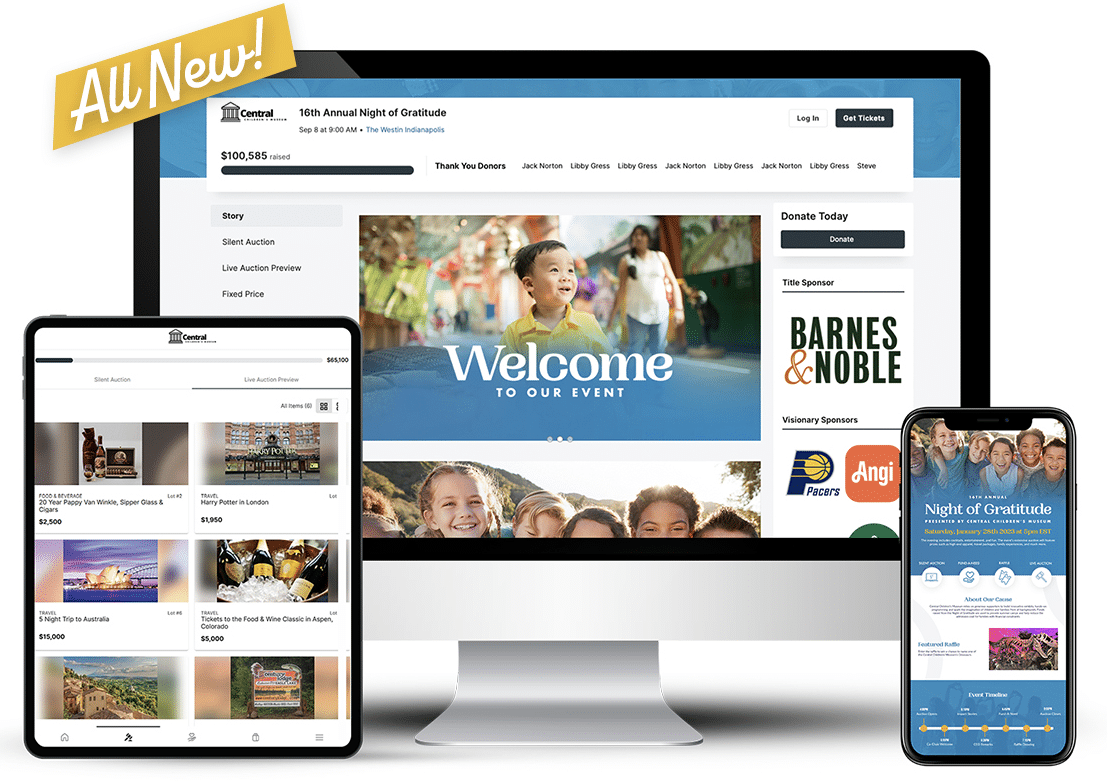 Take your end-of-year giving to the next level with OneCause
If your team is ready to take end-of-year campaigns to the next level, OneCause can help you get there. Need some more inspiration? Check out some of our other helpful end-of-year resources:
OneCause powerful fundraising solutions can help your team work smarter, streamline internal operations, and build a better donation experience for your audience. Learn more – take a tour of the OneCause platform today!