If you look at any of the 365 days in the year, chances are that there are dozens of specific 'giving' or 'awareness'  days' associated with specific causes.
From #GivingTuesday (the first Tuesday after Thanksgiving) to World Mental Health Day (October 10), giving days are dedicated fundraising campaigns that unite communities – both local and worldwide –  around charitable giving.
These giving days are about engaging with existing donors as well as identifying new supporters. On average, 40% of awareness day participants are new donors.
This number represents an exciting opportunity for nonprofits to broaden their donor base. Most giving days feature some sort of fun, exciting component to draw attention and start a social conversation.
While setting up a giving day can seem overwhelming at first, it is surprisingly simple if you have the right tools and resources in place.
Keep reading to discover a winning 3-step strategy for establishing your awareness day.
#1: Do Research
While Giving Days have always been an important part of nonprofit fundraising strategy, they've become especially popular in recent years thanks to social media and social networks.
Giving Days are dedicated days that bring together fundraising, supporter engagement, social networks, and awareness to create a highly targeted, multi-channel campaign.
Giving Days are popular with schools and alumni associations, traditional charities, and even larger nonprofit groups. Giving Days are virtual, and since they often don't have events or physical activities associated with them, nonprofits of any industry and size can easily add them to their fundraising calendar!
One of the most well-known Giving Days is #GivingTuesday, which happens right after Thanksgiving and engages people around the world to give back to charity.
Make sure to research so you can plan what would work best for your cause and community.
#2: Create a Plan
As your team is planning an awareness day, think about the topic or cause that you want to draw attention to. Giving days can be cause-specific, such as World Autism Awareness Day, or community-sponsored and competitive, such as a school district-sponsored fundraising competition.
When you're looking for a date, check whether there are any similar giving days already on the calendar, or if there is a particular awareness week or month that makes the most sense for your organization.
Make sure to consider:
To keep it simple, follow these steps:
#3: Time to Execute
On the actual Giving Day, kick things off with a big social media push across all channels. Don't be shy about over-communicating! Include your Giving Day hashtag in all posts, and ask your followers to share with their networks. Additionally, it's a good idea to send out an email to let your supporters know the Giving Day has officially started.
Keep people updated throughout the day by posting status reports, personal testimonials, and other donor-created content. Share posts from donors that offer emotional messages or personal stories about why people are connected to your organization.
And again, be sure to leverage the social influence of your Ambassadors by making sure they're geared up to tweet, post, and broadcast throughout the campaign!
Make sure to check these items off your list on event day:
Learn from example
Whether you're looking at global campaigns (like Red Nose Day Actually, which created a high-budget movie sequel that was released on the awareness day) or local campaigns (anything from local high school giving days to parks department campaigns), it's all great inspiration.
Keep in mind that your awareness day can be as involved or as simple as you want. Some nonprofits simply set up a donation microsite, share a few social posts, and watch the money roll in. Other times, awareness days involve an entire day of family-focused activities followed by a lavish gala or charity auction. Regardless of how your team decides to proceed, there is no wrong answer.
Taking the Guesswork Out of Awareness Days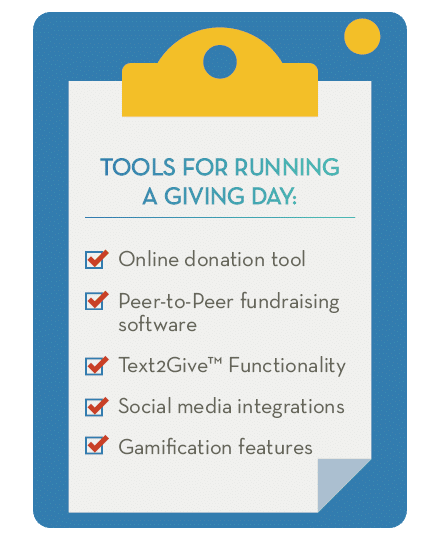 Spinning up these awareness days doesn't have to be hard. All it takes is the right
dedication of time, resources, and solutions to make your awareness day run smoothly from beginning to end.
As your team starts planning your next awareness day, think about how you'll combine technology and personal engagement in new, creative ways.
Not Done? Keep Learning with OneCause!
Interested in more Awareness Day material? Check out our other resources to help you create your next campaign!