As part of the global Ronald McDonald House Charity network, Atlanta Ronald McDonald House Charities is dedicated to optimizing the health and well-being of children and families in the greater Atlanta area.

Background
This is the story of how an established Ronald McDonald House Chapter learned from another chapter in a separate market, to target and engage a specific donor segment. It also explores how the joining of donor segmentation and fundraising strategy created a new path for charitable success.
Like many nonprofits, we host several special events and an annual gala, but we started to recognize we were missing out on a critical audience: women," said Caroline Tate, Director of Special Events at Atlanta Ronald McDonald House Charities. "We came to the realization that women are often the philanthropic drivers within a home, and that we needed to create an event tailored specifically to them".
Caroline and her fundraising team looked to other Ronald McDonald Houses for ideas and inspiration. With so many fashion shows and ladies luncheons out there, they wanted to think outside of the box and create a ladies-focused fundraising event where supporters could learn about their mission and engage with each other.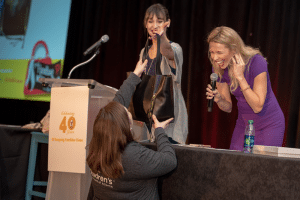 Challenge
In Atlanta, the sheer number of charitable organizations in the area makes it challenging to set an organization apart.
Breaking through the noise is difficult," Tate explained. "There are just so many charities having events and so many other things that people could be doing at night, that an event has to be that much more engaging to stand out."
The team decided to join mobile fundraising with two things most women love: handbags and winning!
Based on a successful idea pioneered by the Columbus, Ohio Ronald McDonald House Charities, they settled on Handbag HULLABALOO!™ . The event would target women who wanted to surround themselves with friends, go out and have fun, and give back to charity – all in one fun evening.
The 2018 inaugural event was a huge success, and the team decided to focus on growing the event and attracting more female donors. In 2019, the second annual Hullabaloo fundraiser exploded. The event attracted more than 400 women from the community, and every aspect of the fundraiser was tailored to the female donor experience.
Even more successful than the year before, the Charity used mobile fundraising to grow their "adopt-a-family" appeal so that attendees could learn more about the overall mission of Atlanta Ronald McDonald House Charities and be led to give.

Solution
The key to success was a fresh event concept, easy giving experience, and special attention paid to a specific audience.
Fresh Concept:
All onsite fundraising activities are geared with the female donor in mind. To generate maximum proceeds, they held raffles, conducted a purse auction, had jewelry for purchase, offered sponsored gift packages, and had available a variety of other fixed-priced items.
Easy Giving Experience:
The team uses the OneCause platform to sell tickets, preview prizes, and sell raffle tickets.
The first year of Handbag Hullabaloo we didn't use OneCause to sell tickets, and it was a nightmare," Tate said. "Attendees had to do so much manual content entry, from inputting credit card information to entering phone numbers to providing emails – it took forever. Plus, registration was very time-consuming and the attendees were frustrated with the experience. This year, using OneCause for ticketing was so much more streamlined."
Specific Audience Attention:
In addition to tickets, tables, and sponsorships, the organization also gave attendees the chance to purchase extra ticket booklets, which give attendees additional chances to win more handbags. "Women like to leave with something," Tate said. "So we like to give our attendees as many opportunities as possible to be engaged, involved, and 'win'. Everyone loved the event and raved about the experience."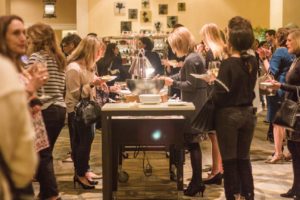 Results
Understanding this niche audience and providing what they want to get out of a charitable event has made Handbag HULLABALOO!™ an incredibly popular event in the organization's event lineup.
We wanted to create an event that was unique and geared toward philanthropic ladies," Tate explained. "Whether it's a stay-at-home mother or a working woman, this event gives them a different, fashionable, ladies-first way to engage with charitable giving."
These women have also engaged with the mission outside of the event. The attendees have become volunteers, advocates, and active supporters of Atlanta Ronald McDonald House Charities. In addition, because women are often involved with multiple causes and networks (Sunday school, school groups, Junior League, etc.), they have a high chance of becoming ambassadors for future fundraising events.
Tate and her team have long-term plans for how the organization will continue to grow HULLABALOO!™, including:
Increasing the number of handbags and raffle items available for preview on the campaign site.

Ramping up available content to drive more attendees and donors.

Potentially exploring a 'trade in' program to offer even more ways for attendees to donate gently used handbags for a "seconds auction" so more attendees leave with a new bag
In our world of fundraising, things are always changing," Tate said. "Seeing how traditional ideas can be tweaked to appeal to a certain audience is so inspirational. All nonprofits have different goals and different supporter profiles in mind, but it really comes down to finding this niche and running with it."