5 Silent Auction Rules for Smooth Sailing at Your Next Event
Silent auction events are opportunity for improving your organization both socially and financially. As your attendees place bids and enjoy your event, your organization's staff can mingle with donors while tracking bids and donations.
While your supporters learn more about your nonprofit, thanks to the conversation with your staff, your organization will have the option to encourage bids in a fun but competitive environment.
To see your event through to its highest potential and maximize your profit, you should follow the following rules for smooth sailing:
Read on to learn how to soar through your silent auction event with the best results and biggest donations!

Silent Auction Rule #1. Recruit volunteers.
First things first. In order to plan and run a successful event, you need to have a powerful and organized team of volunteers to help setup and manage the floor, answer any questions, and enforce any auction rules.
So where do you find these volunteers?
Round up your email lists that include your nonprofit's members, boards, and even previous volunteers. You'll want to send out email invitations to volunteer at your silent auction event that thoroughly explain the event, where the proceeds will go, and most importantly, what you need volunteers for!
You'll want to create several crews from the individuals who sign up to volunteer:
Setup crew. With setting up tables and ordering your auction items, you'll need some manpower to get your event off to a smooth start.
Table crew. During the event, bidders may have questions or lose sight of the auction rules. Your tables crew will be there to provide answers and insight for your bidders while keeping the tables tidy. They'll also close out their tables at the designated time.
Bank crew. Your event is sure to rake in plenty of bids, so you'll need a group of volunteers to manage the winning bids. They'll help your checkout process run efficiently, making sure all your winners pay their bids and receive their winning packages.
Cleanup crew. Just like you'll need a setup crew, you'll need a cleanup crew as well. For everything from taking down auction item displays to sweeping the floor, these volunteers will clean up your venue.
You'll also want to give your event volunteers a designated shirt, hat, or jacket that marks them as obvious officials so your donors know who to ask if they have questions and concerns.
Your registration process, for example, might be something your attendees have questions about or need help. Make sure your volunteers are well-versed with your auction software, pictured below, so they can properly help your attendees.

OneCause's Tip
Your fundraising solutions can help you select the perfect volunteers. For example, OneCause's event management software can help you draw a list of individuals from their donor management aspect. Our software saves personal information and previous interactions of your donors, so you can use it to approach interested supporters.
Bonus: If you're looking to integrate Salesforce with your event management solution, check out Fonteva's Salesforce Event Management Guide.

Silent Auction Rule #2. Organize each section.
Each auction item should be clearly labeled and visible, as should each section, as to avoid an excess of questions from your donors.
Because categories can have confusing boundaries, you'll want to make sure your auction sections are as transparent as possible.
Instead of listing sections in categories like "Camping" or "Travel," many silent auction events distinguish their sections by an even more simple method, like color, so the sections are easily understandable and easily found from the beginning of the event.
OneCause's Tip
You'll mostly likely want to begin with your less valuable section and end with your most valuable section to dramatically increase the competition. The saying "save the best for last" is highly applicable to your silent auction items and events, too!

Silent Auction Rule #3. Eliminate paper bid sheets.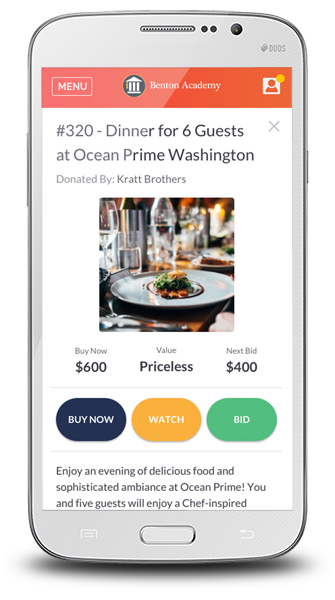 Paper bids have gone out of style. From deciphering handwriting to manually entering in bid data,
there's plenty of room for mistakes.
Luckily, mobile bidding software can help eliminate those mistakes by offering your donors a more convenient way to bid while creating an environment for competitive bidding.
Paper bids can't notify bidders if they've been outbid, but mobile bidding software will alert your donors the moment they've lost their lead.
They can even configure auto-bidding so when they're outbid, the software will automatically up their bid, making them the leading bidder for that particular item. Donors can put a monetary cap on auto-bidding to stay within their budget.
Plus, with the digital scoreboard your mobile bidding software can provide, you'll be able to excite your audience about bidding on the items you have to auction. In addition, you can recognize your donors for their support to strengthen donor relationships.
OneCause's Tip
Implementing mobile bidding software from OneCause also lets you include supporters who can't attend the event. Even remote donors can bid on their phones, maximizing your potential profit. Inclusion of bidders who aren't in your locale will strengthen donor relationships even more, making them feel as though you value their time and involvement with your organization.

Silent Auction Rule #4. Don't over-procure items.
You don't want to end up with more than you can sell. Many nonprofits stick by the rule of having no more than one item for every two attendees.
Too many auction items can result in lost funds, so try to keep your organization within a limit.
Procuring items can be tough, so it might be hard to imagine a situation wherein you've over-procured, but consider this scenario. You work at a nonprofit that specializes in disaster relief, and recently, a wildfire swept through an area that your organization serves. Your team jumps into action and puts together a fundraising gala and silent auction to raise money and fund the recovery work you need to do to help the community heal from the fire.
Since the wildfire is newsworthy and drawing a lot of attention, your silent auction gets a lot more donated items than usual. The influx is great, but if you end up with more than you can sell, you might actually harm bidding on the night of. Instead, you can package items together and/or save certain items for future fundraising events.
So, as you can see, it is critical that you don't over-procure items. It's a fundraiser, afterall, so make sure your intentions of raising money are met!
Having too many auction items on display can often be overwhelming for donors, but wrapping multiple items into a package will be much more digestible and enticing!
OneCause's Tip
With OneCause's partnership with WinSpire, your organization can auction off amazing packages and once in a lifetime opportunities. Pick from the Tuscany Culinary Escape or the Punta Cana Resort & Club Caribbean Paradise.
You'll be able to send your donors all around the world and only pay a fraction of the cost. The Punta Cana trip is listed at $2,650 for nonprofits with a retail value of up to $8,655, so just imagine what the bids on this trip will turn into!
Plus, with OneCause, you'll only buy what you auction off! There's no risk of losing money.

Silent Auction Rule #5. Police the traffic flow.
We say "police" for a reason. Your event's flow will need to be as thoughtfully planned out as the busiest intersection in town. You'll want individuals to be able to move quickly and efficiently through your auction items, bidding on those that strike their fancy.
Stay away from table layouts that cause clumps of people with no easy exit and instead encourage a steady pace from item to item and table to table.
You'll most likely want to go with a circular layout, as U-shaped table layout often traps individuals who want to get out in and those who want to get in out. Remember to avoid making too many corners in your layout as well.
OneCause's Tip
As both your organization and OneCause know, time is money. Save your attendees from the trouble of making their way through crowds and encourage them to use your online catalog.
With your mobile bidding software, bidders will be able to browse through your auction item listings on their phones (and then instantly place their bids). They could stay in their seats for the entire event if they wanted to! Bring convenience to your donors and show them you value their comfort and support, all with the help of your online catalog.
---
Now that you know our 5 silent auction rules for smooth sailing, your auction event is sure to be a success. Remember you can never be too organized or allow for too much time to set up. Happy auctioning!
Additional Resources
If you're interested in learning more about hosting stellar silent auction events and maximizing your online presence, check out these resources: