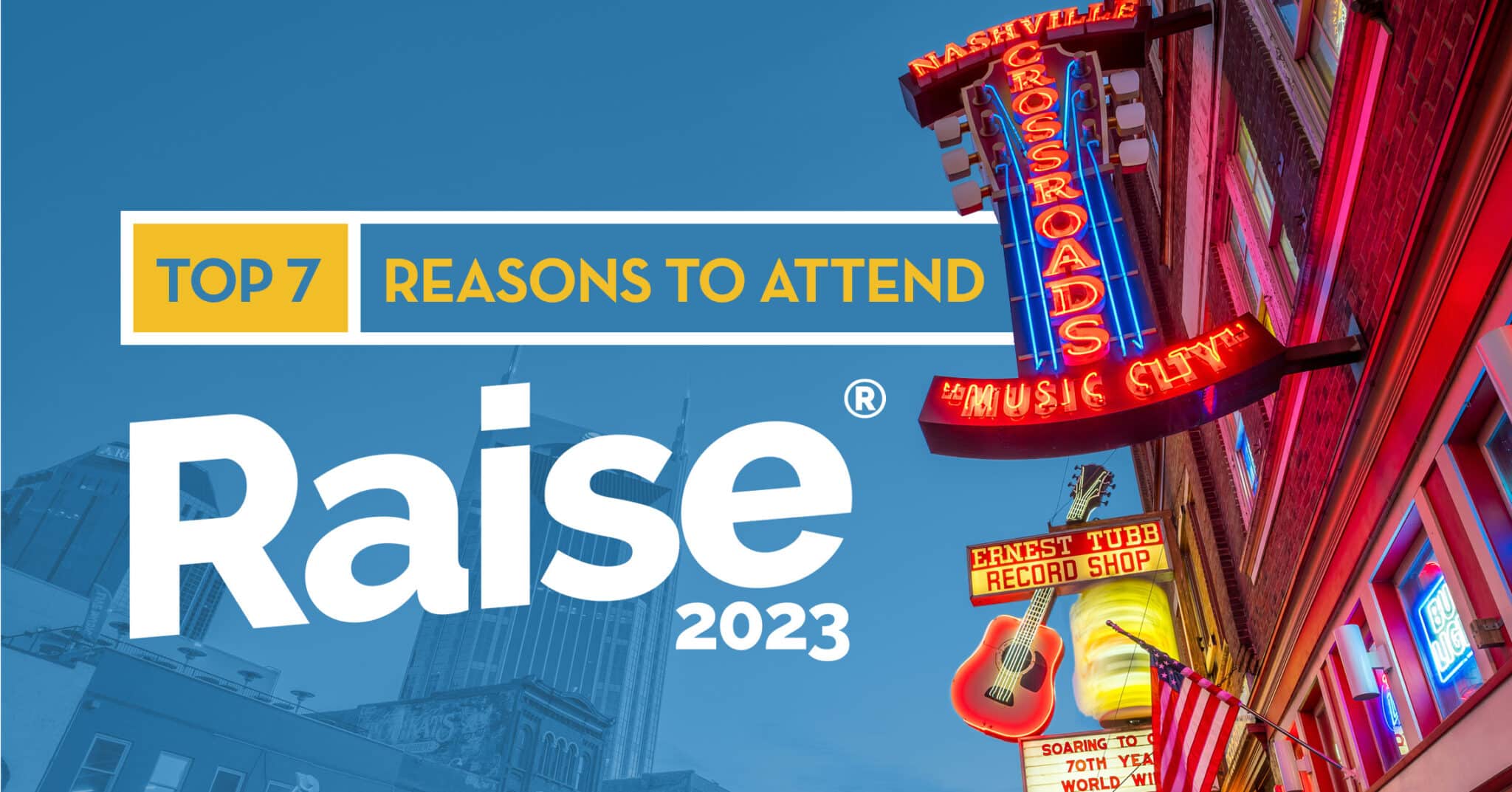 Top Reasons to Attend RAISE 2023
Calling all nonprofit leaders and #FearlessFundraisers, this is a conference you WON'T want to miss!
Raise 2023, presented by OneCause, is for nonprofit and fundraising professionals wanting to raise their fundraising game.
RAISE is part interactive learning + part crowd-sourcing = and 100% FUNdraising! Join cutting-edge nonprofits for two full days (September 11 – 12, 2023) of trends, best practices, and sessions to unlock the innovator in all of us.

Here are the top 7 reasons to be at RAISE 2023:
1.  Learn from fundraising experts
This conference provides a space for fundraising professionals from around the country to gather for 2 full days and learn from industry insiders. There are four session tracks to challenge fundraising innovation: Event & Auction Fundraising, Fundraising Strategy & Donor Engagement, Peer-to-Peer & Online Giving, and Storytelling & Brand.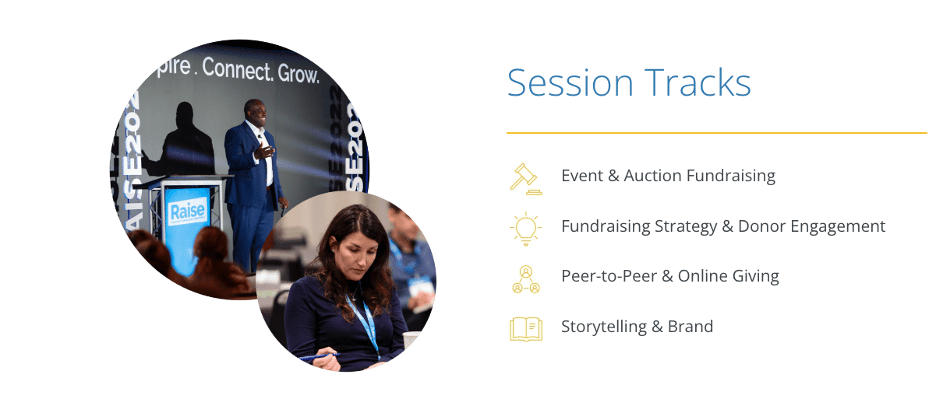 These session tracks expose you to current industry trends straight from industry thought leaders. You will hear the newest ideas to level up your organization's fundraising initiatives.
The schedule for Raise 2023 will be released in summer of 2023. In the meantime, check out the fundraising inspiration from last year with Raise On Demand.
2.  Receive CFRE Credits
Participants at RAISE 2023 have the ability to earn up to four Certified Fund Raising Executive (CFRE) continuing education credits. CFRE is an independent global organization that oversees a certification process for fundraising professionals. 
Full participation in RAISE is applicable for 4 points in Category 1.B – Education of the CFRE International application for initial certification and/or re-certification. 

3.  Interact with amazing speakers
Event fundraisers, industry experts, and thought leaders from across the country will present fundraising best practices and share relevant trends. They will leave you feeling equipped, inspired, and energized.
Speakers are set to be announced in the coming months!
Here's a sample of speakers from last year to get you excited for those to come: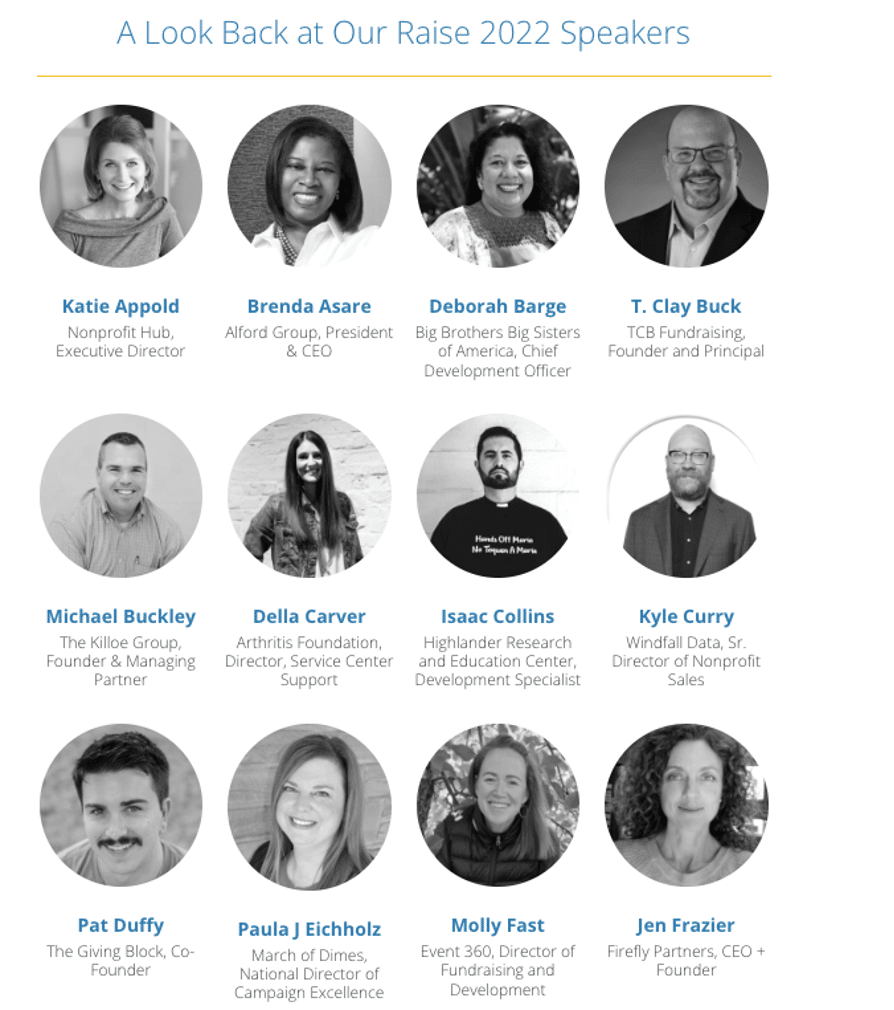 4.  Honor our 2023 Raise Award Winners   
The annual Raise Awards honor the vision, passion, and dedication of top fundraising professionals and their nonprofit organizations.
Submissions open on April 3rd, 2023, for the following award categories:
Fundraiser of the Year: This award acknowledges the rock stars among us, who aspire and inspire us each and every day. These individuals live out the organization's mission, are dedicated to the donor experience, never stop learning, and always give 100% to the cause.
Storyteller of the Year: This award goes to a nonprofit recognized for excellence in communicating their purpose and vision through branding, narrative, and promotion that informs the mind and moves the heart. Share your story with fellow Raise attendees.
Innovative Nonprofit of the Year: This award goes to the nonprofit most marked by creativity in the fundraising process. This organization is one that pushes itself, inspires others, and consistently reaches for new heights by implementing new ideas.
To learn more about these awards and how you can apply, visit the Raise Conference site today. Want to learn about past winners? Check out the Raise Awards Hall of Fame.

5. Hosted in Nashville, TN!
With past locations varying from Chicago, IL to Washington, D.C., this year's Raise Conference will be held in Nashville, TN at the Country Music Hall of Fame. This vibrant city, rich with culture and history, provides a great location for not only the Raise Conference but a fun place to explore after all the sessions are complete.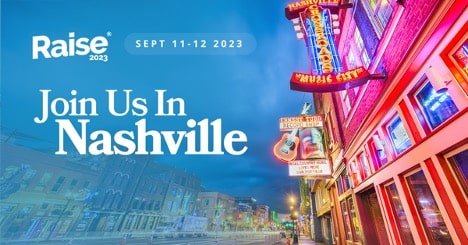 6. All-Star networking & legendary Raise soiree
At RAISE, we believe we're at our best when we share ideas and work together. So, we build in plenty of time for attendee, speaker, and sponsor interaction and fun. Meet like-minded fundraisers, industry experts, and expand your circle of contacts while having a blast.Join us for the best Raise party yet! Monday night will feature a full on country music celebration at the Wild Horse Saloon in Nashville, just a short distance from the Country Music Hall of Fame. Drinks, food, line dancing – all included with your Raise registration. You won't want to miss!
Limited space available. Registrations will go fast, and you don't want to miss out, so join us in Nashville for Raise 2023!

7. Meet our Raise sponsors
We value the power of partnerships. Raise features fantastic sponsors, well versed in supporting nonprofits and fundraising. At the conference, stop by our sponsor pavilion and meet them, or learn more about our Raise sponsors here!
We are grateful for our amazing partners who help make Raise possible.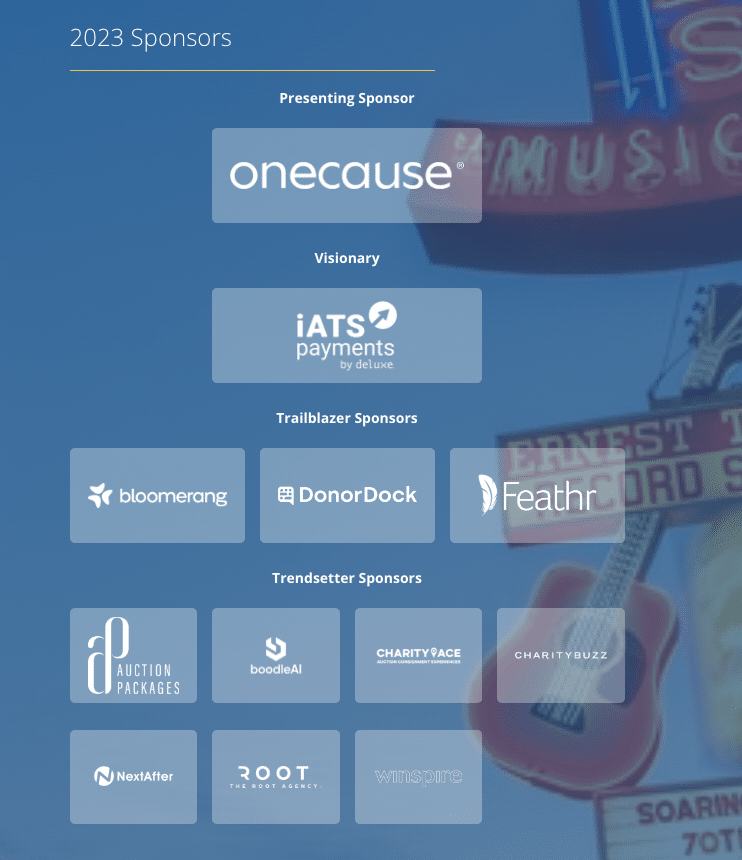 Wrapping Up!