Let's dive in and cover the following new features:
New User Interface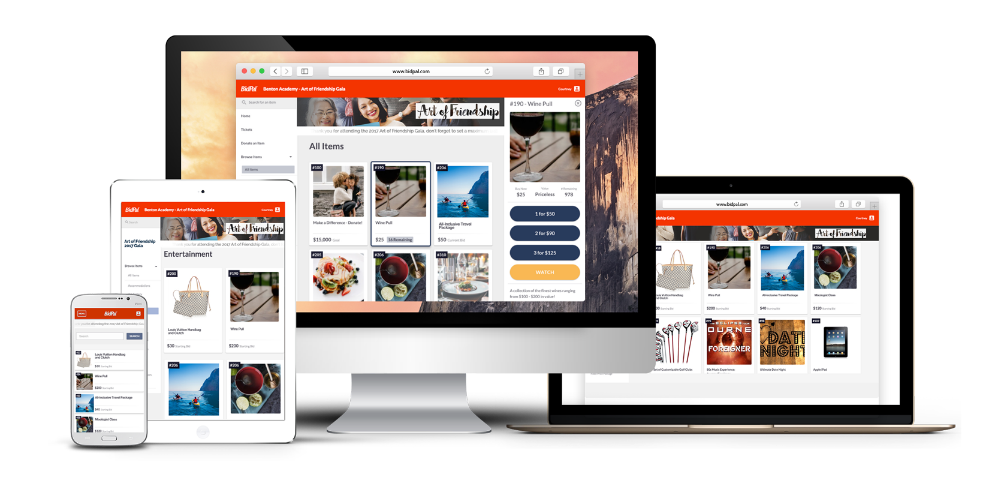 Deliver the ultimate visual experience.
Our updated user interface is more than a new look and feel. It's a complete makeover of the guest experience. It takes advantage of the latest mobility has to offer, so your guests have the simplest and most enjoyable experience engaging with you online – before, during, and after your event.
"We want everyone that interacts with a OneCause product, on any device, to feel comfortable, powerful, and secure! From the ticket purchase at your desktop, to pre-event browsing on a tablet, to bidding on your phone at a Fundraiser, the experience is familiar and simple."
– Will Dyar, UI/UX Designer (Indianapolis, IN)
SmartPay Anywhere®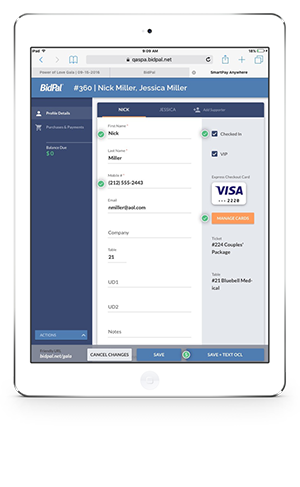 Painless payment processing for seamless registration & check-out.
Streamline check-in to keep registration lines moving, while capturing the information you need to ensure a quick and painless check-out. Easily process fundraising payments via a web browser from a laptop, desktop, or on-the-go via a smartphone or tablet.
"SmartPay Anywhere (or SPA, as we call it) has made the check-in and check-out process so user-friendly! Volunteers learn it, love it, and don't miss a beat. And anyone can access it on their phone or tablet. A huge win!"
– Alana Nolan, Regional Services Manager (Louisville, KY)
Salesforce & Raiser's Edge Integration
Use your data for all its worth.
We work hard to help you build a database through many, valuable donor interactions. So, with our OneCause Connect integration with Salesforce.com and our Importacular integration to Raiser's Edge, you can enjoy the benefits of that data – wherever you need it – with a few clicks of your mouse.
"Time – we all could use more of it. So, our integration strategy is focused on putting time back in your day. It's all about streamlining the process of quickly and accurately moving data into your donor management system, with flexibility to determine where it goes."
– Dan Gross, Director of Partnerships (Indianapolis, IN)
Spotter Tool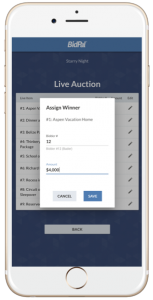 Paddle? No Paddle? No problem.
Quickly and easily capture all donations during your appeal and bids during your live auction. Deliver a top-shelf donor experience by displaying each donation on the Scoreboard, whether you prefer your guests to use their phones or their paddles. And make life a lot easier for you (and your auctioneer!).
"The Spotter Tool combines the best of both worlds, traditional fundraising techniques and technology, to help organizations bring their donation appeal to the next level. The visual display of real time paddle raise donations is helping organizations far surpass their goals and creates a special moment of celebration and community to build upon all year long."
– Dannielle Hokanson, Area Director (Minneapolis, MN) 
Custom Fundraising Pages
Any way you want it. That's the way you need it.
Now, the sky truly is the limit with what you place on your Giving Center®. Create unique pages to thank Sponsors, detail hotel accommodations, show off raffle options, display map & directions, even explain check-out & pick-up. Maybe one day, your entire program can go digital. Maybe.
"Customizing the Giving Center means my clients can build a deeper connection with more donors, while staying true to their brand. They can cast a wider net to corporate sponsors, eliminate printing expenses, and better connect with their constituents year-round."
– Jen Mendoza, Client Success Manager (Indianapolis, IN)

Enhanced Social Media
Reach beyond the ballroom.
Spreading the word through social media is as powerful as it is free. So, we help enable your guests to share your event and auction packages via Facebook, Twitter, and other social communities. With every post, you create buzz around your event and grow awareness of your mission.
"Social media is such a huge part of our lives now. So, if guests can share their involvement and support with large networks of friends and family, it can mean new supporters for the nonprofit and more revenue for the cause in the years to come!"
– Eric Sparks, Area Director (Boca Raton, FL)
Simpler Item Procurement
Better process. Less headache.
The heart of your auction is the collection of items you've worked tirelessly to procure and organize. Now, with our updated and mobile-responsive item donation form, you can request, collect, and track auction items in an easier procurement process that works for you.
"I work with dozens of nonprofits and hear the challenges of procuring auction items. The item donation form makes this so easy! It's built right into each Giving Center site and is ready to use.  It saves so much time and adds to the bottom line!"
– Holly Shields, Senior Consultant (Charlotte, NC)
Stronger Item Engagement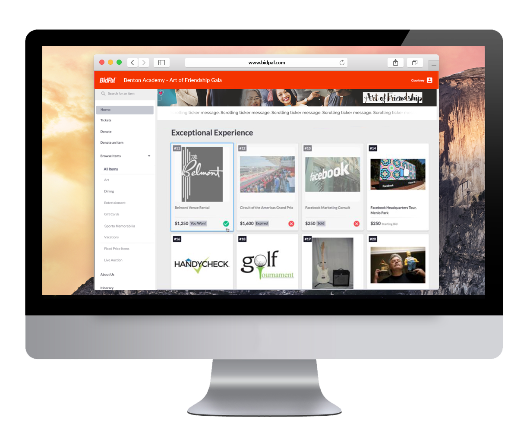 More eyes. More bids. More raise.
With our new interface, we've made some significant changes to how your auction items are displayed in our software (with many more on the way!). A more intuitive navigation and cleaner presentation are sure to help drive item engagement and bidding activity from your guests.
"If you have used BidPal Mobile Bidding in past years, you'll be amazed at the difference in the way packages are presented today. When guests are greeted with an intuitive way to view and bid, they view and bid more often, raising more by the end of each night. That's what it's about."
– Joe Duca, Director of Product (Indianapolis, IN)
Ticket Assigments
Ticketing just got a whole lot easier.
If seating for your event is driven largely by your own internal contacts, Sponsors, or table captains, your life just got easier. Now, you can allocate tickets for your contacts to assign and, if needed, reassign. And when it comes time to nudge them over the remaining unassigned tickets, our one-click login process makes it simple for everyone to complete their guest information.
"The ticket assignment process is so simple and allows my clients to focus more on fundraising rather than data entry. I love seeing the improvements to our software like this, which save our clients time and energy."
– Kim Hall, Consultant (Atlanta, GA)
New Social Fundraising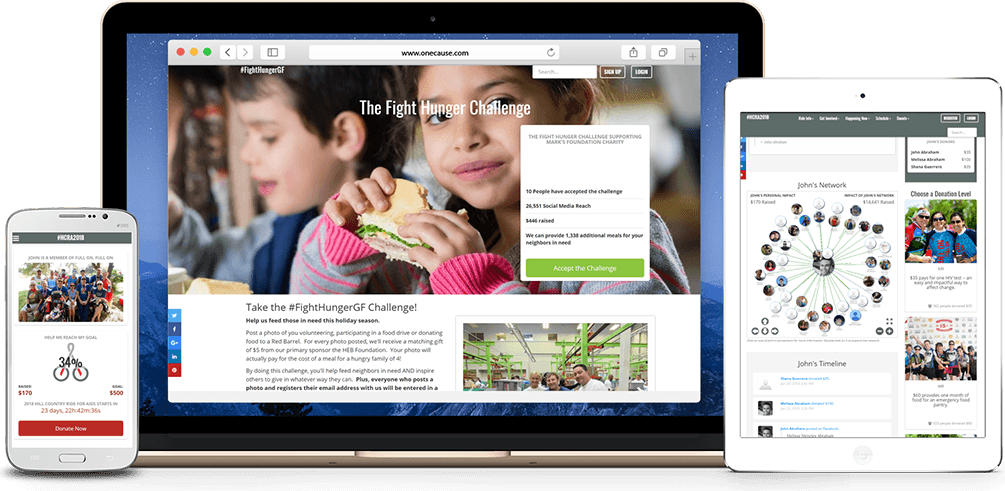 Turn 500 donors into 5000 with our NEW Peer-to-Peer platform.
We are redefining peer-to-peer (P2P) fundraising – making it more social, mobile, and FUN! So, whether you're hosting a traditional event (run, walk, ride), a DIY campaign, or a more creative contest or challenge, turn your donors into powerful fundraisers with the NEW OneCause P2P platform!
"Given the growth of peer-to-peer fundraising over the years, given how popular it is today, I'm super excited to see our clients succeed with this new offering. When I saw it, I was blown away! There's nothing quite like it out there today."
– Mark Chavez, Area Director (San Diego, CA)
More to Power Your Fundraising
There you have it! Ten of the top enhancements to the OneCause fundraising suite. Here's the list one more time – just to take it all in!
Whether you're a current OneCause customer or just looking to take your fundraising to the next level (and make life easier!), reach out and contact us today. We'd love to hear from you and share more about these important enhancements to our fundraising solution!