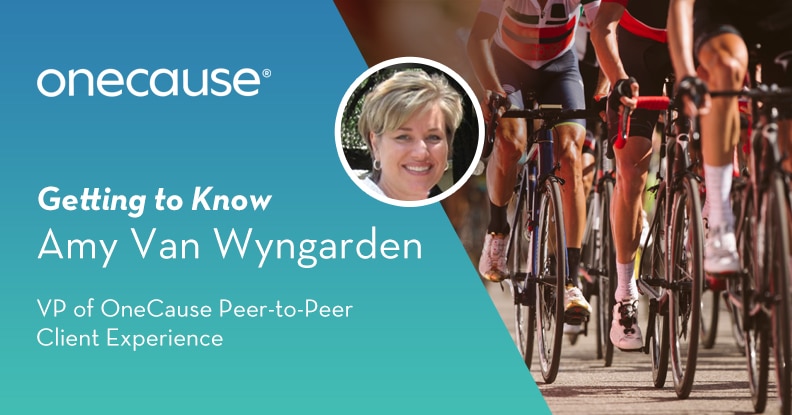 Getting to Know Amy Van Wyngarden, VP of OneCause Peer-to-Peer Client Experience
Yes, we are pumped here at OneCause. Recently, we acquired Great Feats' Peer-to-Peer Social Fundraising Platform! We want to share with you – our incredible nonprofit leaders, volunteers, supporters, and donors, the opportunity to get to know the newest additions to our fundraising team.
In our interview with Amy Van Wyngarden, Co-Founder of Great Feats, it became clear just how much passion she has for helping nonprofits innovate. This passion is one of the reasons we are so excited about her joining our OneCause family!
How High Tech Led Amy to Giving Back
Amy had an interesting introduction into technology. Her first job was working in London for a computer security company where she realized she wanted to return home and pursue a career in technology. "Home" was Austin, Texas where a small (at the time) company called Dell computers was headquartered and where she began her career.
With just 4 floors and access to Michael Dell, she got to be part of the computing and Internet revolution from the ground up. Amy started in sales and soon, had the opportunity to move to marketing and use those skills to help Dell frame how to package products, message products, and how to sell them.
Amy was a founding member of the "Dell Online team" responsible for launching Dell's first website, online store, and support site which revolutionized technology sales and service. Dell was one of the first companies to sell direct to consumer and engage online – and Amy had a front row seat to it all. In her time at Dell, she learned something about herself: she wanted to give back; to combine technology with service.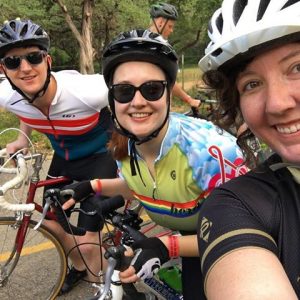 Amy's career then took her to Convio, an industry leader in online fundraising and nonprofits marketing software. Amy loved that the company was doing what she had dreamed of: providing technology to do good. It was during her time at Convio that she worked alongside Dave Hart, the founding CTO of Convio and a very gifted technical leader who conceived of a peer-to-peer product that supported walks, runs, and rides for charities (you'll meet Dave later on in this series!).
She quickly realized that traditional runs, walks and rides were out of reach for many nonprofits due to costs, complexity, and logistics. While the product was fantastic for traditional events, it wasn't set up to be able to fully utilize then-booming social media and to support a variety of creative, virtual campaigns. Amy believed these were missed opportunities and that you enable charities of all sizes should to reach more donors and raise more funds with peer-to-peer.
These were the seeds for Great Feats!
The Making of Something Special: Great Feats
After leaving Convio, Amy consulted with several high-tech companies putting technology to good use to help K-12 education, higher ed, and social services sectors. She began talking with her soon-to-be Co-Founder of Great Feats, John Abraham (who you'll also meet later on!) about ideas for a new business.
After a few pivots, they landed on the idea of creating a new peer-to-peer platform that would center fundraising around people completing challenges of any kind. "Fundraising is awkward and difficult for most people, but we thought if we could give them something to do first, then they would have a compelling reason to want to share what they were doing, making it easier for them to take the next step and ask for donations," Amy explained.
When the Ice Bucket challenge took off in a massive way (it raised $115M in one summer), the team took this as validation that their idea was on the right track and personal fundraising could be something huge!
Amy and John knew they needed the right technology leader and co-founder — their "Dave Hart", as Amy recalled.
"By chance or maybe pure destiny, I ran into none other than Dave Hart while at a movie theatre and learned that he was recently retired. After just a single meeting, Dave decided to join our team, and we hit the restart button. It was the best decision we could have made because we were able to take advantage of the latest technology so we could create something truly unique and even better than we had imagined," Amy explained.
The team entered the market in 2016 and have been rapidly innovating their peer-to-peer platform ever since. "It was truly an exciting time to launch Great Feats because peer-to-peer fundraising was gaining so much more attention, and the market was ready for a change." Amy said.
Amy's Vision For the Future of Peer-to-Peer Fundraising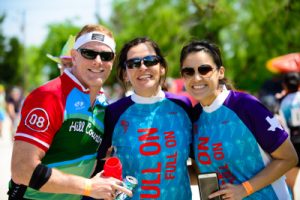 To Amy, the sky's the limit for peer-to-peer fundraising. With it being the fastest growing form of fundraising, it IS the future of fundraising. Supporters demand a social and mobile experience as well as the ability to fundraise on their own terms.
They want to choose how they express their support for the causes they care about and how the funds are used, and with the rise of Millennial givers, this desire for personal and social centered fundraising will only grow. Amy explained that Great Feats was deliberately designed to be social, mobile, and fun.
Even More Social, Mobile and Fun
"Our aim is to give participants the best possible experience to keep them involved and empower them to give back in their own way," Amy said.
"It means making joining, recruiting others, and fundraising easy through social channels, not just email. And it means giving participants many ways to get involved, motivating them along the way, and rewarding them for more than just fundraising.
Because of our modern platform architecture and ability to rapidly innovate, we're poised to take advantage of any new technologies that make our platform even more social, mobile and fun."
Great Feats + OneCause = Building on the Promise
Amy loves being part of a team, and she feels as if Great Feats "found their people" when they joined with OneCause.
"From our very first interactions with OneCause, it was clear that our brands, our vision, our values, and our mission are all aligned. Both teams are incredibly committed to innovation in the nonprofit space, and we're ultimately all working towards the same goals.
"After just a few weeks of working together as one company, we're already taking steps toward creating even better solutions for nonprofits and their supporters—it's incredibly rewarding," said Amy.