Organizations Have Inconsistent Access to Data
As nonprofits determine priorities and plan their fundraising strategies for 2023, it's clear that access to data and the ability to form actionable insights based on fundraising analytics will be a major roadblock for many organizations. Only 18% of nonprofits reported having all the data they need and using it in nearly every decision they make.
Not only is access to data an issue, but the time and ability to analyze and act upon that data are both challenges. Nearly half of nonprofits reported that they have a lot of data, but they either don't have time to really sit down and analyze it (26%) or they don't have the necessary training or tools to form actionable insights (22%). Another quarter of nonprofits said they have some data, but that it's not usable in decision-making due to being disorganized.

Smaller nonprofits are really feeling the crunch when it comes to data access, with 16% of organizations with AORs below $350,000 saying they don't have the data they need. Compared to the next highest-reporting group at 5%, that's quite a disparity.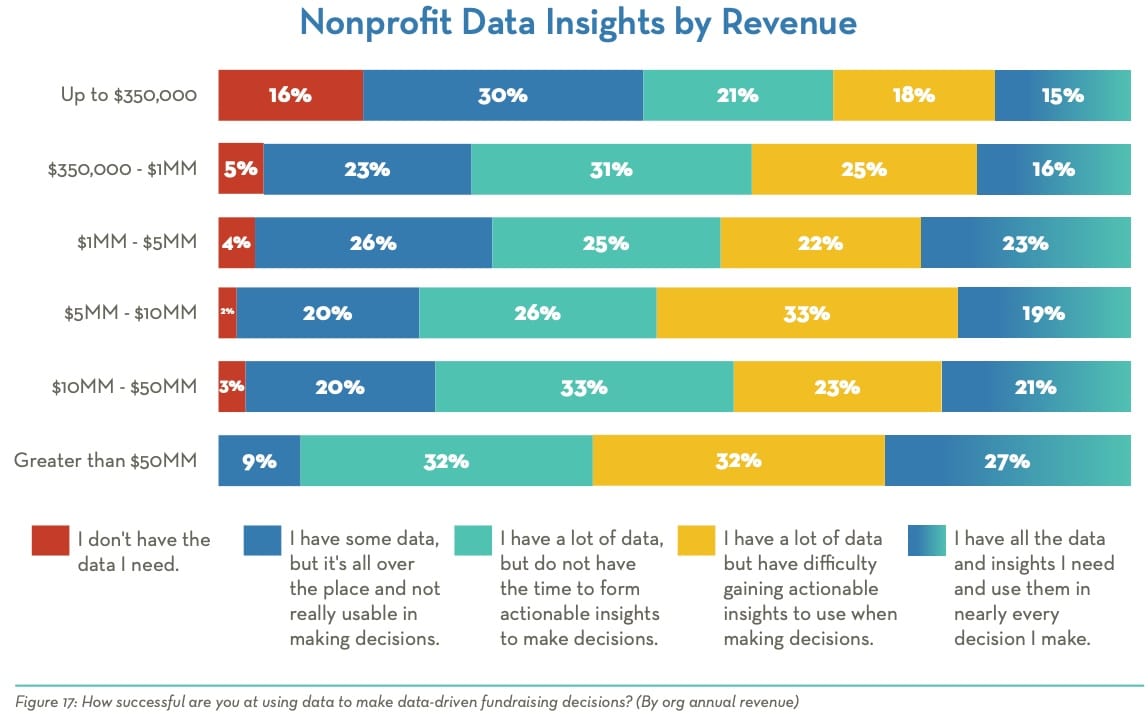 If your organization is grappling with time and resource limitations, it will be important to start small in 2023. The seemingly unlimited number of metrics can be overwhelming, so choosing a small set of data that's useful to your strategy is a good place to start. For example, if you're looking to increase recurring giving, start by focusing on recurring-relating metrics. It's also important to evaluate your tech stack to be sure you're getting sufficient data analytics and insights, and audit how your organization is using data in fundraising practices across teams and according to roles.