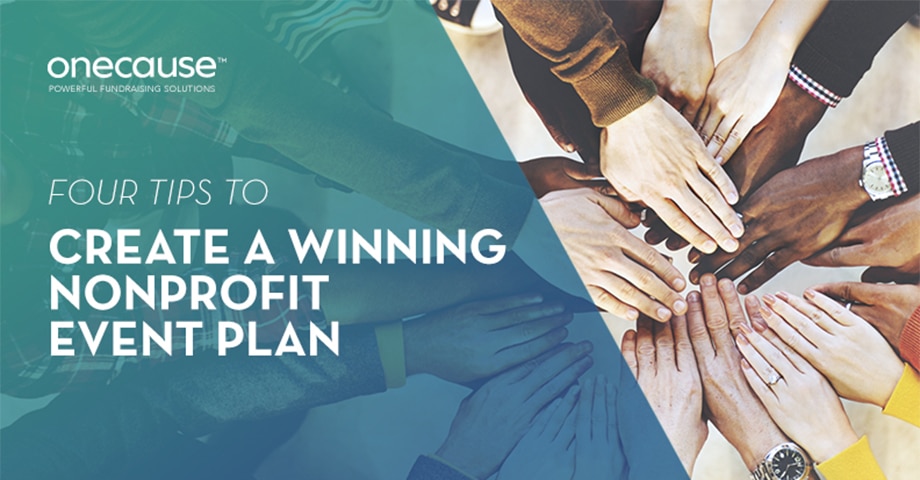 4 Tips to Create a Winning Nonprofit Event Plan
When it comes to nonprofit fundraising events, measuring success is tied directly to how much revenue an event brings in for your cause. For marketers, this means that every event requires the right publicity before, during, and after to help drive attendance and revenue. Planning and executing successful nonprofit fundraisers takes up a ton of time and resources, and the outcomes should reflect this input. With the right front-end planning and focus, your nonprofit events are sure to be highly successful—and profitable.
Below are the steps that your nonprofit marketing team should take when planning a successful event or fundraiser:
Tip #1: Build out a comprehensive marketing plan
It doesn't matter what industry you're in: when it comes to event planning, timing is everything. Time management is a critical piece in nonprofit event planning because there are so many moving parts and people. Marketing managers (or volunteers, in some cases) not only have to worry about their own team or volunteers, they also have to deal with vendors, venues, sponsors, VIP guests, and attendees. The sheer number of people involved makes having a master marketing plan a critical step in the successful event planning process.
It can take months to finalize the details and logistics of a successful event, from booking the venue to sending out invites to finalizing sponsorships and volunteers. This is why event teams should build a comprehensive marketing plan well prior to a fundraiser and map out all of the logistics in advance. Marketing plans should include:
All of the important deadlines relating to the venue, caterer, online Giving Center and RSVP link, and rental vendors.
A detailed write-up of all sponsors, donations, and volunteer groups.
Drafts and mock-ups of any marketing materials such as flyers, invitations, t-shirts, and banners.
A calendar with all social posts, ads, and promo emails planned out in advance.
A clear outline of how post-event follow-ups and thank-yous will be handled.
There's no need to reinvent the wheel—your team can use your nonprofit's existing marketing channels. Just keep in mind that all marketing tools and solutions are different, and there can be a big difference between generic solutions and those built specifically for nonprofit users.
Tip #2: Decide which traditional advertising channels to use
While traditional advertising channels can get lost in the glitz and glamour of flashier online platforms, they're still some of the most impactful and successful ways to promote events—especially nonprofit fundraisers. Traditional channels include newspaper ads, radio spots, paper flyers, and TV commercials. Leading up to an event (and based on a pre-built marketing plan), nonprofit event marketers should reach out to local radio, newspaper, and TV stations to learn more about sponsorship opportunities. Many of these types of channels will often 'trade' a free advertising spot for a presence or sponsorship opportunity at an event, which can translate into a free channel for marketers. Even the online search can be viewed as a traditional platform nowadays, and with nonprofit-focused tools like Google Ad Grants, nonprofit groups can drive online ads without a high price tag.
Another successful traditional channel is word-of-mouth advertising. This type of traditional channel is popular with events that deal with teams or tables (eg. a Table Captain is responsible for filling their entire table with attendees), but it can work well with almost any type of event. Event marketers can work directly with board members, executives, and other members of the event team to reach out to the community. If an event has any VIPs or celebrities in attendance, marketers should see if they can spread the word through the nonprofit's social channels. Word-of-mouth advertising may seem old-school, but it's actually a surprisingly effective driver of event publicity and attendance.
Tip #3: Reach out to existing contacts through email
Every nonprofit has a list of past donors, attendees, and contacts that can be used as a jumping off point for event invites. With all of these names, marketers can segment out lists and send promotional emails to drive ticket sales, excitement, and attendance. With the right tools in place, marketers can segment lists into groups like:
Guests who attended a previous event but didn't purchase any auction items
Donors who have never attended an event (i.e., first-time donors)
VIPs who attended a previous event
Donors who attended a previous event and spent over a certain amount
While segmenting out contacts, marketers should make sure to not send any event invites to guests who have already registered or RSVP'd. Instead, send a thank you email with pictures and descriptions of possible auction items. Another email marketing snafu to avoid is just blasting out a BCC'd email from a personal account to an entire list of potential guests. This looks cheap and hurried when it lands in a recipient's inbox. Many email service providers (including MailChimp and Constant Contact) offer free or discounted services to nonprofit teams. With an ESP (Email Service Provider), marketers can leverage images, logos, and other dynamic content to make email marketing messages appear professional and official.
Tip #4: Don't forget about social media, the king of nonprofit marketing
In the past few years, social media has become the nonprofit marketer's best friend. Social platforms like Twitter, Instagram, and Facebook are all free to use and serve to help reach large untapped audiences like never before. Another good option for event marketers looking to raise awareness is Peer to Peer fundraising, which allows them to tell the nonprofit's story with content that informs the mind and moves the heart. They can then share the page (complete with a donation link) across consumer platforms like Facebook to help spread the word like wildfire.
Social media makes it easy for attendees who have already registered to 'share' an event with their networks, or even invite individuals to join one-off, extending the reach and advertising for your nonprofit event. viewing event details. For busy nonprofit event marketers, using a social scheduling tool like Buffer allows them to schedule social posts in advance, leaving one less thing to worry about when it comes to fundraisers.
The Nonprofit Manager's Pre-Event Checklist
Use this checklist to make sure you're on top of your next nonprofit event or fundraiser.
The entire team has 100% visibility into deadlines, vendor information, and event dates.
Our online Giving Center and RSVP link has been setup, or a launch date for the site has been determined.
Our venue, vendors, sponsors, and volunteers are all scheduled and confirmed.
All social channels (Facebook, Instagram, Twitter, etc.) have been established and our social handles appear on all marketing content.
We have double-checked advertising content (print, radio, on-air, email, etc.) for the right date and time.
All of our event promos and invites have been scheduled or mailed.
We have a clear schedule in place for the day of the event.
Our event team knows exactly how to keep up engagement and excitement during the event.
The follow-up process is in place and ready to go after the event.
For more information on organizing and executing on successful, lucrative nonprofit events, learn how OneCause can help your team. In the meantime, check out our other resources to help during your event and after it's over!